Richard Sauers is as close to a being a guide to the underworld as you can get. And during this season — with Halloween and All Souls Day — the chemist-turned-cemetery tour guide has been mixing history and chills during his popular tours at the Riverview Cemetery in Trenton.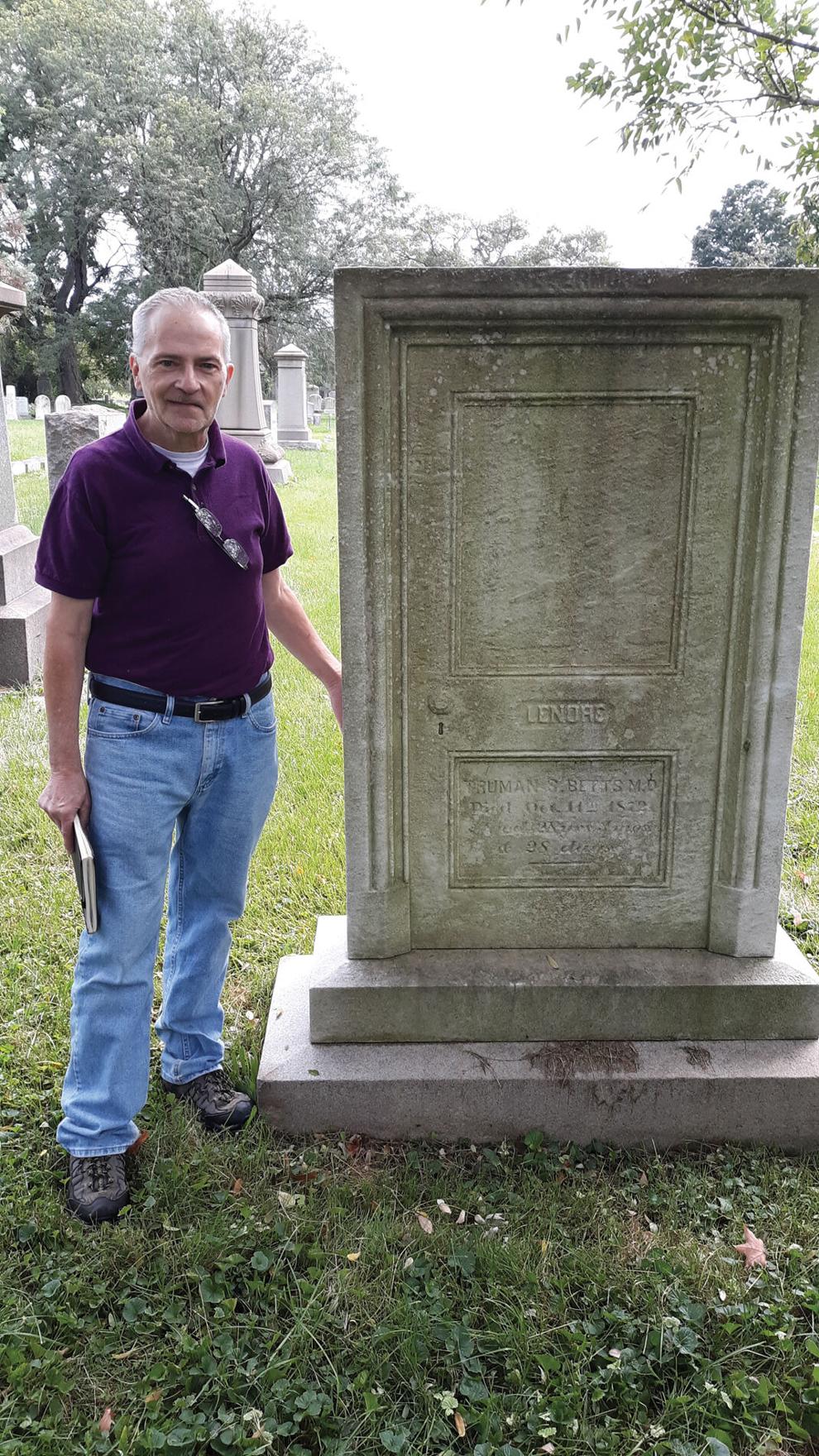 That includes his upcoming "Poe Walk: Morbid Curiosities" on Friday and Saturday, October 15 and 16. The annual event cooks up an odd Trenton connection to the famed 19th-century American writer of mystery and imagination, Edgar Allan Poe, and serves it up with a side of ghoulish tidbits.
But first, it's best to get to know the lay of the land of this prominent necropolis on the outer fringe of Trenton's southern boundary — it's where some of Trenton's most prominent past citizens now rest and history stirs.
During a recent rainy day private tour and through some notes, Sauers was happily sharing details of the 41-acre resting place situated on a bluff overlooking the Delaware River.
The Levittown resident says the current urban cemetery style with ornate memorials and park-like settings was incorporated in 1858. But it started more modestly in 1685 when the area's Society of Friends used the grounds to bury congregants.
Stopping along a winding road and facing north with the John A. Roebling sarcophagus behind him, Sauers points to a small field of modest, weather-rubbed tombstones, and says that was the original land donated by John Lambert — hence the cemetery's early name of Lambert's Burying Ground.
Sauers then points to a few stones with the names Smith and Stevens and says they were some of the Quakers who saw advantages offered by the urban cemetery movement and formed the more religion and race-inclusive Riverview Cemetery Corporation. Sauers provides tours for the nonprofit Riverview Conservancy Foundation.
As he talks, Sauers sugars history with observation — such as how people try to read a worn grave stone by sprinkling powder on the letters when using a mirror works better — but he makes it clear that the main course is history.
That is especially true when he stops at the 1869 granite memorial for the innovative designer and Brooklyn Bridge builder John A. Roebling, whose stone follows his request to be remembered only as a civil engineer.
Sauers then notes that the stone was fashioned by the company Batterson, Canfield and Company, Hartford, Connecticut, and that the bronze bas-relief of Roebling was rendered and designed by Brooklyn sculptor Henry Baerer.
The recipe is continued at several other memorials among the scores of prominent Trentonians, regional citizens, or soldiers.
Depending on the theme of the tour, stops may include any of the following:
Charles Gustavus Roebling (1849–1918), an engineer and son of John A., who along with his brothers continued the engineering company after their father's death. His granite sarcophagus includes a cenotaph (or empty grave) to the memory of his son, Washington A. Roebling 2nd, who perished during the sinking of the Titanic.
Edmund C. Hill (1855–1936) was the businessman and city councilman who devoted his time and resources for various public improvement jobs, including the establishment of the city's first public park, Cadwalader, and commissioning famed American landscape architect Frederick Law Olmsted to design it.
Walter Scott Lenox (1859–1920) and his Lenox Company produced world renowned bone china products, including the traditional Whitehouse tableware, begun when former New Jersey Governor Woodrow Wilson became U.S. president.
Charles Conrad Abbott (1843–1919), whose grave is marked by a large unfinished stone, was the Trenton born and educated doctor, archaeologist, and naturalist whose collection and research turned the area near the cemetery into the nation's first significant archaeological excavation.
Then there's Civil War general and New Jersey Governor George McClellan (1885) whose memorial is the most prominent and imposing on the grounds, it also comes with a story.
As Sauers says, McClellan was originally buried in another plot near the grave of his father-in-law and supporter, Major General Randolph B. Marcy, who seems to have forgotten that one can't order someone into love.
"Marcy insisted his daughter, Mary, marry McClellan despite her dislike of him," says Sauer. "When he died, he was buried with a modest marker near Marcy. Twenty years later a public subscription was started and a monument was built first. Then he was moved, then his wife was moved to be buried with him," despite the reality that she wanted to be buried near him in the first place.
In addition to the monuments, there are also several mausoleums that greet visitors when they arrive through the Centre Street entrance.
The Bowman Egyptian-revival styled Mausoleum is named for Oliver O. Bowman (1838–1926), a prominent manufacturer and banker. It contains a stained glass window, designed by Alfred Godwin and Company, Philadelphia, and consists of a cluster of lilies on a blue field that is suggestive of a risen Christ.
The Lee Mausoleum, for the Lee family, is the Art Deco structure constructed by New York City-based Presbrey-Leland Company in 1937. Its bronze door shows sculptor Maxfield H. Keck's depiction of an angel holding a flower.
And the Risdon Mausoleum contains the remains of Levi B. Risdon (1844–1920), president of Trenton Mills and Elevator Company, a flour, feed, and grain establishment. It was designed by the Presbrey-Coykendall Company in 1920.
Another named structure set away from the entrance is the vault of John Taylor (1836–1909), the Trenton businessman who established Taylor Provisions, later Taylor Pork Roll. He also established the city's first theater, the Taylor Opera House, and Inter-State Fair Association, which became the New Jersey State Fairgrounds. The gray granite vault with red granite plaster features an iron gate and fence created by Brown and Owen of Philadelphia.
About 50 paces from Taylor vault is another that is a highlight of Sauers' walks and a perfect stop for the Poe Walk, the receiving vault.
Buried into earth the now moldering and dank structure — a fitting set piece to a supernatural film — was designed to temporarily hold bodies during the winter months when the ground was too frozen to dig graves or to arrange for transport to another burial ground or place of rest.
As cemetery documents report, the brownstone and brick structure has four arched-ceiling vaults, two on either side of the entranceway, each of which originally had wooden shelves capable of storing three caskets, or a total of 12 caskets. On the lintel above the iron door is "Receiving Vault 1859" in raised lettering.
Sauers says one of the vault's most notable occupants was the Irish poet and nationalist Fanny Parnell (1848–1882), brother of Irish Home Rule nationalist Charles Stewart Parnell. His sister died suddenly while visiting her mother in Bordentown, New Jersey. Her body remained in the vault while Irish officials and American family members argued about where she would be buried. But her brother felt she should be buried where she died and her body was sent to a site in Boston selected by family members.
The vault's current occupants are shadows and scores of crickets that make portions of the wall seem to move. Sauers says that it often makes tour-goers scream, even though such things should be expected on the Poe Tour.
This popular event is anchored around a peculiar cemetery monument: an actual-sized limestone door bearing inscriptions from Poe's most famous poem, "The Raven."
It marks the resting place of 28-year-old Truman F. Betts, MD, who committed suicide on October 11, 1872. It also represents several mysteries: What spurred him to his death? Why was he so enraptured with Poe's melancholy poem? Who designed the piece that was carved by a George Weston? And what happened to the poem's "pallid bust of Pallas just above my chamber door" replica that stood atop this stone door?
Sauers, who retired 20 years ago from IMS in Princeton, says he plans a different Poe walk every year and researches the history of other graveyard occupants who died unusually.
This year, he says, he's considering including the grave of Stephen Tice, a late 19th-century train crossing guard who miscalculated the speed of a train that struck a carriage transporting several young women. While no one was killed, an incensed mob chased Tice and beat him to death. Another tour stop candidate is Roebling Broome, electrocuted at the Panama Canal.
Sauers can also select cases from one of his other tours, "Accidents and Disasters." This walks includes stops to remember Trenton passengers killed when the City of Trenton steamboat exploded on the Delaware River in 1901, the body of Trentonians killed during the 1915 submarine attack on the RMS Lusitania, and the victims of two sensational train wrecks, the "Teacher's Excursion" in 1911 and the 1901 "Nellie Bly" collision, and the 1893 Trenton aeronaut who drowned in a pond near the cemetery after his winged parachute malfunctioned when he jumped from a hot air balloon.
"People like to hear how people died and the more bizarre the better," says Sauers, adding that there is also a grave for a man named Butcher who was shot in the head by a prison inmate.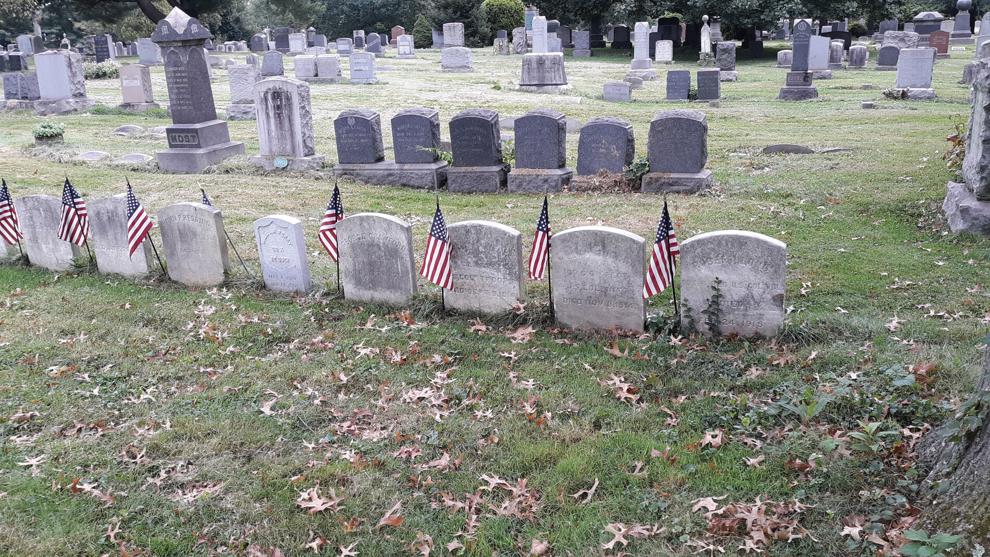 Other tours conducted by the son of a machinist father at Princeton University's Plasma Physics Lab and former a Thomas Edison State College secretary commemorate the memory of soldiers from various wars, including a section devoted to the 1915 US Colored troops, and the grave of Revolutionary War soldier and later pastor of the First Presbyterian Church in Trenton, James Francis Armstrong. And "Beneath Stately Trees" focuses on the arbor-life and topography of the park-like grounds and the involvement of one the nation's most noted landscape architects Calvert Vaux, who, along with Frederick Law Olmstead, co-designed New York City's Central Park.
The significance of the cemetery's grounds and landscaping were such that the cemetery qualified for federal and state aid after Hurricane Sandy ravished it and other portions of the region. The funds were used to remove fallen trees and create a grounds status report currently guiding arbor culling and planting.
While Sauers says he never thought he would be involved with a graveyard to this extent, he also suggests his interest in history, science, and gathering information has paved the way.
One of his first steps was when he started a finance-related newsletter a few years before retiring around 2000. Out of interest, he wrote about a gold mine disaster.
But he took a larger one when he attended a party where he met J. Joseph Edgette, professor emeritus and folklorist emeritus at Widener University, and chair of the cemeteries and grave makers section of the American Cultural Association.
Sauers says when Edgette started talking about cemeteries he suggested he do a study about the graves of coal mine disaster victims and how they were buried in rows. In turn, Edgette suggested Sauers do it, and he started his first graveyard study and then another. "You get infected with it," says Sauers.
He also began presenting at the ACA and developed a friendship with Edgette, who serves as the president of the Riverview Conservancy Foundation.
Sauers' big step to the Riverview Cemetery began when he visited to do research for an ACA paper on John Roebling and met director Randy Niederer. He in turn became friendly with Sauers after attending a presentation the researcher did for the regional postcard collectors club on Trenton monuments, including those in the cemetery or involving those buried in it.
Sauers' frequent visits to Riverview gave him more expertise, and he eventually helped establish the nonprofit that now supports and creates more awareness of the grounds — including the introduction of tours in 2017.
In addition to thinking about having a tour that commemorates Trenton firefighters buried at Riverview, Sauers says he's also working on another called "Trenton Streets and Their Monumental Dead Ends." It would deal with the people in the cemetery who gave Trenton some of its street names.
But for now, Sauers' attention is focused on the upcoming tour advertised as a "Halloween-like evening walk along the dimly lit pathways of a cemetery," and he is also looking to nail down the date for the November "Photography Night in the Cemetery."
During the final length of stroll in the rain, the obvious spook tour question appears: "Is the cemetery haunted?"
Sauers says that he's asked that on every Poe Walk, and while he doesn't believe in spirits he says other members of his family have claimed sightings.
Then he closes the subject with a brief anecdote. "I took a series of three successive images (in the cemetery). Photo one was fine. Photo two had a white orb in the middle. And photo three, nothing. So who knows?"
Poe Walk: Morbid Curiosities, Riverview Cemetery, 870 Centre Street, Trenton. Friday and Saturday, October 15 and 16, 6 and 7 p.m. $15 includes booklet. Rain dates, October 22 and 23, same times. riverviewcemetery.blog­spot.com or historian.riverviewcemetery@gmail.com.