The holiday season is here, and there's something glowing brighter than ever. That's because the region's cultural presenters are once again adding an abundance of color and life to a season that is dark and cold. Yet, there's more. This year's ever-growing list of concerts, stage offerings, and outdoor events also is a signal that our collective effort to contain a nearly two-year-old pandemic has been fruitful.
And while there is news that COVID-19 virus variations are appearing and cultural presenters are using health related protocols and may change their schedules as needed, the season is sparkling with activity and hope. So, in that spirit, we merrily raise the curtain on the 2021 season with our annual Holiday Preview.
Classical Music
Bravura Philharmonic
The West Windsor youth orchestra presents its annual winter concert featuring the gold medal winners of its annual Young Artists Concerto Competition performing works by Berg, Prokofiev, Ravel, and Tchaikovsky and featuring the annual holiday sing-along. $15 to $30. Sunday, December 5, 7 p.m.
Princeton Alliance Church, 20 Schalks Crossing Road, Plainsboro. www.bravuraphil.org
The Capital Singers of Trenton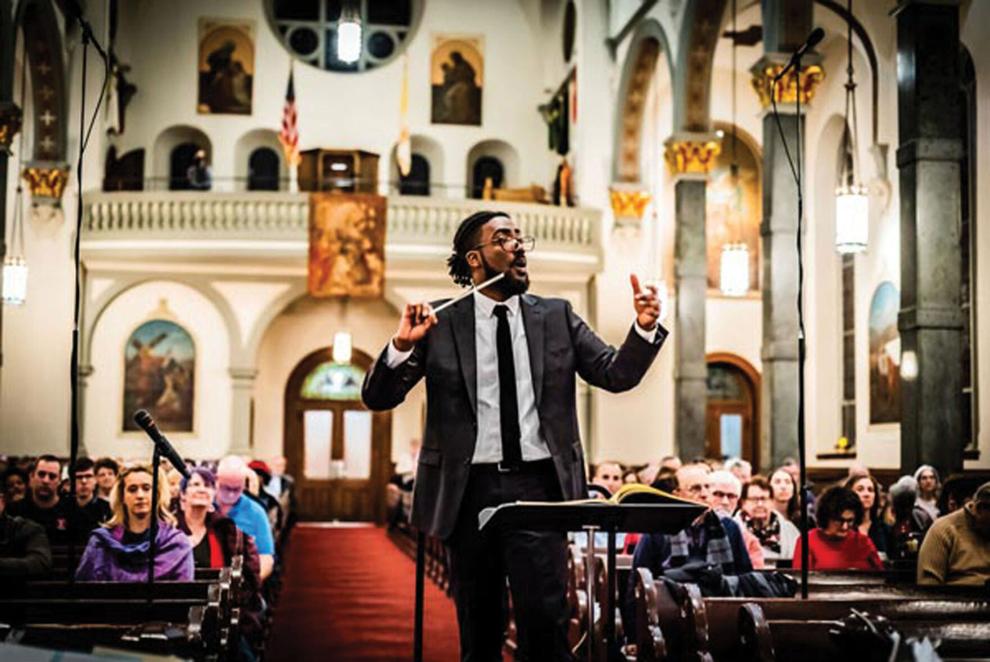 The Trenton-based choral group presents its annual "Winter Songs." Conductor Vinroy D. Brown Jr. will lead the semi-professional chorus and orchestra's presentation of Handel's "Messiah" $15 to $25. Sunday, December 12, 4 p.m.
Sacred Heart Church, 343 South Broad Street. 609-620-0160 or www.capitalsingers.org
Capital Philharmonic of New Jersey
"Classic Christmas" arrives at the Trenton War Memorial with Lambertville soprano Gianine Campbell hosting a matinee celebration of holiday favorites that include "March of the Toys," "Carol of the Bells," and selections from the opera "Hansel and Gretel." Also performing with the full orchestra is the legendary War Memorial Organ. $35 to $65. Sunday, December 5, 4 p.m.
"The New Year's Eve" concert follows with an organ presentation by celebrated regional organ master Brett Miller and the main program featuring the lively music of Johann Strauss, Richard Rodgers, George Gershwin, and others. WWFM radio host David Osenberg hosts the Trenton tradition. $45 to $75. Friday, December 31, 8 p.m.
War Memorial Building, 1 Memorial Drive, Trenton. www.capitalphilharmonic.org
Westminster Choir College at Rider
Westminster Choir College at Rider University offers a slate of holiday concerts:
Holiday concert performed by the Westminster Concert Bell Choir conducted by Kathleen Ebling Shaw. $15 to $20. Saturday, and Sunday, December 4 and 5, 4 p.m.
Fall concert with the Westminster Pop/Rock Ensemble. Free. Thursday, December 9, 7:30 p.m.
Gill Memorial Chapel, Rider University.
Ruth Ochs conducts the Westminster Community Orchestra in the annual community Holiday Sing-Along. Free. Sunday, December 19, 6:30 p.m.
Robert L. Annis Playhouse, Princeton.
Rider University, 2083 Lawrenceville Road, Lawrenceville. www.rider.edu/arts.
Princeton Symphony Orchestra
Look out for the Princeton Symphony Orchestra's annual "Holiday POPS!" Maestro Rossen Milanov leads the orchestra in a program that features orchestral favorites, seasonal melodies, and presentations by soprano Laquita Mitchell. $20 to $50. Tuesday, December 14, 7:30 p.m.
Matthews Theatre, McCarter Theatre Center, 91 University Place, Princeton. 609-497-0020 or www.princetonsymphony.org
The Princeton Singers
Under the musical direction of a Steven Sametz, the Princeton Singers, a group dedicated to producing high-quality choral performances of all cultures and periods, returns with its annual Christmas concert, titled "What Sweeter Music" and featuring music and readings by candlelight. $20 to $40. Friday, December 10, at 6 p.m.
Trinity Church, 33 Mercer Street, Princeton. 800-838-3006 or www.princetonsingers.org
Princeton Pro Musica
Artistic director and conductor Ryan Brandau and the highly respected regional choral group return with its annual holiday concert. This year's event, "Comfort and Joy to the World," highlights traditional and contemporary favorites as well as sections from Handel's "Messiah" and Bach's "Mass in B-Minor. $25 to $50. Sunday, December 12, 4 p.m.
War Memorial Building, 1 Memorial Drive, Trenton. www.princetonpromusica.org
Voices Chorale
Musical director David A. McConnell leads Voices Chorale in the presentation of its 2021 holiday concert, "I Dream A World." The concert featuring works based on the inspiring poetry of E.E. Cummings, Robert Frost, Langston Hughes, Emily Dickinson, and more, will be presented live and in-person, with a streaming option also available. $20 to $25; $10 for livestream. Friday, December 17, 8 p.m.
Trinity Episcopal Church, 33 Mercer Street. www.voiceschoralenj.org
Theoria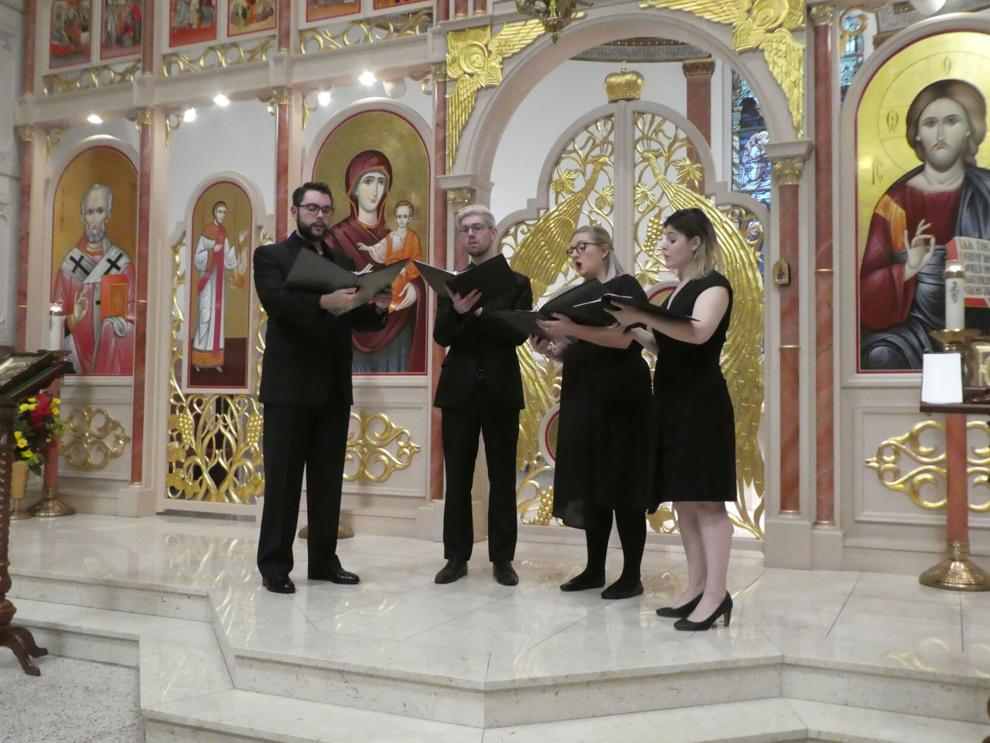 The a cappella group specializing in Eastern European sacred music performs a Christmas-themed concert at the Assumption of the Virgin Mary Byzantine Catholic Church in Trenton. The group was founded by Andrew Skitko, a Westminster Choir College graduate who sings with the Opera of Philadelphia Chorus and serves as the cantor of the church currently celebrating its 130th anniversary. Donations accepted. Saturday, December 18, 4 p.m.
Assumption of the Virgin Mary Byzantine Catholic Church, Grand and Malone streets, Trenton. www.avmbcc.org.
McCarter Theater
The Chamber Music Society of Lincoln Center arrives with its annual presentation of Bach's six Brandenburg Concertos — featuring 20-plus all-star musicians. $55 to $70. Thursday, December 16, 8 p.m.
Sweet Honey in the Rock, the female American group from Washington, D.C., presents "Celebrating the Holidays," an eclectic evening of music ranging from traditional American songs and spirituals as well as those from Africa and Israel. $40 to $60. Friday, December 17, 8 p.m.
Stewart Goodyear, the acclaimed Canadian pianist noted for his presentation of Beethoven's complete piano sonatas, returns to McCarter to perform selections from Tchaikovsky's "The Nutcracker." $5 to $55. Sunday, December 19, 3 p.m.
McCarter Theater, 91 University Place, Princeton. 609-258-2787 or www.mccarter.org
New Jersey State Museum
The Trenton Brass Quintet presents a concert of sacred and secular holiday music in the State Museum Auditorium. The group was co-founded in 1973 by member Karl Megules, a pianist and tubaist who has performed with the Greater Trenton Symphony, Princeton Chamber Orchestra, and New Jersey Opera Orchestra. Free. Sunday, December 26, 3 p.m.
New Jersey State Museum, 205 West State Street, Trenton, Tuesday through Sundays, 9 a.m. to 4:45 p.m. Donation. 609-292-6464 or www.nj.gov/state/museum.
Princeton Theological Seminary
The Chapel Choir of Princeton Theological Seminary presents an abbreviated, outdoor version of its Carols of Many Nations concert with scripture lessons read in many of the languages represented by the Princeton Seminary community and carols from around the world.
New songs added to the repertoire this year are Shawn Kirchner's setting of the Kenyan song "Wana baraka" and William Dawson's grand setting of the spiritual "Behold the Star," which will be directed by student conductor Otis Byrd. Perennial favorites include Carolyn Jenning's setting of the Chinese carol "Pengyou, ting" and a choral processional accompanying David Willcock's arrangement of "O Come, All Ye Faithful." Free. Wednesday, December 8, 8 p.m., weather permitting
Princeton Theological Seminary Quadrangle, Mercer Street, Princeton. www.ptsem.edu
Princeton University Chapel
Holiday musical performances dot the December calendar at the Princeton University Chapel. First up is the Advent Concert, "My Spirit Rejoices," featuring the university's Chapel Choir and organist Eric Plutz. Free. Sunday, December 5, 2:30 p.m.
The traditional community singing of Handel's Messiah returns, led by conductor Nicole Aldrich with Eric Plutz again on organ. Bring a score or borrow one at the door. $5; free for students. Monday, December 6, 7:30 to 8:30 p.m.
The Candlelight Service of Lessons & Carols is a service of readings and music of the season featuring the Chapel Choir, Glee Club, and a cappella groups. Free. Wednesday, December 8, 7:30 to 8:30 p.m.
The Festival of Christmas Lessons & Carols features Trinity Church and Choirs. Free. Sunday, December 26, 11 a.m.
State Theater New Jersey
The New Brunswick theater invites you to waltz into the new year with its traditional "Salute to Vienna" New Year's Eve concert. The program led by the Strauss Symphony of America includes selections from beloved operettas, dances, overtures, and the Blue Danube Waltz. $39 to $125. Friday, December 31, 4 p.m.
State Theater New Jersey, 15 Livingston Avenue, New Brunswick. 732-246-7469 or www.stnj.org
Jazz & Pop Music
The Man Cave
The New York based musician Ed Hamell brings his "Hamell for the Holiday" — a mix of personal storytelling, gritty wit, rock 'n' roll, and punk — to the Man Cave, the shop and music venue run by veteran City Garden promoter Randy Now. $12.50. Sunday, December 19, 6 p.m.
The Man Cave, 134 Farnsworth Avenue, Bordentown. 609-424-3766 or randy-nows-man-cave.ticketleap.com
The Candlelight Lounge
The region's most authentic jazz club celebrates Christmas with a performance by the Trenton-born Grammy Award-nominated pianist, bandleader, and producer Orrin Evans. Performance and free buffet. $20 cover, $10 bar minimum. Saturday, December 25, 3:30 to 7:30 p.m.
Candlelight Lounge, 24 Passaic Street, Trenton. www.jazztrenton.com
Theater
Bristol Riverside Theater
The annual "An American Christmas Songbook" returns with music director Keith Baker, the BRT Concert Band, and guest artists to create merry and bright holiday music. $15 to $47. December 9 through 19.
120 Radcliffe Street, Bristol, Pennsylvania. 215-785-0100 or www.brtstage.org
Passage Theatre Company
For the Trenton-based professional theater's seasonal fundraiser, artistic director C. Ryanne Domingues directs a two-actor version of "A Christmas Carol," where the story's author and story teller, Charles Dickens, transform himself into a series of characters who encounter the tale's infamous miser, Ebenezer Scrooge. $50. Sunday, December 11, 7 p.m.
Mill Hill Playhouse, 205 East Front Street, Trenton. 609-392-0766 or www.passagetheatre.org
Kelsey Theater
The Mercer County Community College venue comes alive with the seasonal favorite "'Twas the Night Before Christmas," based on Clement More's beloved poem of the same name. $10 to $12. Friday, December 10, 7 p.m.; Saturday, December 11, 1 and 4 p.m., and Sunday, December 12, 1 and 4 p.m.
Mercer County Community College, 1200 Old Trenton Road, West Windsor. 609-570-3333 or www.kelseyatmccc.org
McCarter Theater
Missing this year is the traditional presentation of Charles Dickens' classic "A Christmas Carol," but for the sixth year the theater is partnering with Princeton Public Library to offer a community read-along of the beloved Victorian masterpiece. People of all ages and reading abilities are invited to register for a slot to participate in the reading to be held in the library's community room. Attendees will also receive goodie bags with a cookie and a hot drink packet. Free. Saturday, December 4, 2 p.m.
Princeton Public Library, 65 Witherspoon Street, Princeton. www.princetonlibrary.org
Music Mountain Theater
The community theater in Lambertville is presenting the Alan Menken and Lynn Ahrens Madison Square Garden musical version of "A Christmas Carol." $25. Currently on the stage and continuing through December 12, Friday and Saturdays at 8 p.m. and Saturday and Sunday at 3 p.m.
Also on stage is the Mother Goose-character filled "Babes in Toyland." $10. Saturdays at 11 a.m. and 1 p.m. through December 18.
It's followed by the holiday concert, a song and dance presentation of holiday music performed by MMT artists. $25. December 17 through 19. Friday and Saturday, 8 p.m., and Saturday and Sunday, 3 p.m.
1483 Route 179, Lambertville. 609-397-3337 or www.musicmountaintheatre.org
State Theater New Jersey
Lightwire Theater, which uses total darkness and electroluminescent technology to bring stories to life on stage, brings its Christmas spectacular, "A Very Electric Christmas," to the New Brunswick stage. The family-friendly performance includes colorful birds, marching nutcrackers, holiday displays, and more. $15 to $35. Wednesday, December 1, 7:30 p.m.
Cirque Dreams Holidaze combines Broadway musical and circus extravaganza with a show featuring original music as well as Christmas, Chanukah, and Thanksgiving songs. Gingerbread men soar through the air, toy soldiers march on wires, penguins spin, snowmen walk on balance beams, and more. $40 to $98. Wednesday and Thursday, December 8 and 9, 8 p.m.
State Theater New Jersey, 15 Livingston Avenue, New Brunswick. 732-246-7469 or www.stnj.org
Dance
The American Repertory Ballet
The company presents one of the nation's oldest ongoing presentations of the famed Christmas season ballet featuring dancing snowflakes, sugar plums, and candy canes. Performances are set for the Trenton War Memorial, Thursday and Friday, December 9 and 10, with $10 general seating, and at the State Theater in New Brunswick, where the company will be performing with a live orchestra. $25 to $65. Friday through Sunday, December 17 through 19. www.arballet.org
Roxey Ballet
The Lambertville company is busy with two holiday related presentations. The first is the sensory-friendly performance of the holiday classic "Nutcracker" for children and adults with autism spectrum disorder and other sensitivity issues or special needs. $25. Saturday, December 4, 4 p.m. and Sunday, December 5, 1 p.m.
The Eagle New Hope Fire Hall, 46 North Sugan Road, New Hope, Pennsylvania.
The second is "A Very Lambertville Holiday Celebration." A collaboration between Roxey Ballet and the Lambertville Historical Society, the town-specific event features the company's professional dancers, original choreography by Mark Roxey, and local music selected from the Historical Society's annual Holiday CD. General admission is $50. Wednesday, December 22.
Music Mountain Theater, 1483 Route 179, Lambertville.
Roxey Ballet, Lambertville. 609-397-7616 or www.roxeyballet.org
Kelsey Theater
"The Nutcracker," the New Jersey Dance Connection's abridged and child-friendly version, returns to welcome new audiences to the holiday themed ballet. $14 to $16. Friday, December 17, 7 p.m., Saturday, December 18, 1 and 4 p.m., and Sunday, December 19, 1 and 4 p.m.
Kelsey Theater, Mercer County Community College, 1200 Old Trenton Road, West Windsor. 609-570-3333 or www.kelseyatmccc.org
Decked Halls and Houses
Morven Museum & Garden
The annual "Festival of Trees" is already in place and decking the halls and rooms of the historic home of Declaration of Independence signer Richard Stock and poet wife Annais Stockton. Area and state groups participating with tree and mantel decorations include the American Spaniel Club, Contemporary Garden Club, Mount Laurel Garden Club, Neshanic Garden Club, New Jersey Audubon Society, Nottingham Garden Club, Princeton Public Library, Stony Brook Garden Club, The Garden Club of Princeton, The Present Day Club, and West Trenton Garden Club. $8 to $10. Wednesday through Sunday, 10 a.m. to 4 p.m., through Sunday, January 9.
Morven Museum & Garden, 55 Stockton Street, Princeton. 609-924-8144 or www.morven.org
Drumthwacket
New Jersey's official "First House" or governor's mansion, is opening the 19th-century Greek revival-style house to visitors in holiday style. Organized by the Drumthwacket Foundation, visits are confined only to the first floor and are unguided, but docents are available to answer questions. This year's displays were created in partnership with the Allentown Garden Club, Belvidere Garden Club, Keyport Garden Club, Long Valley Garden Club, Warren Garden Club, and the West Trenton Garden Club. Free but reservations required. Thursday, December 16, and Monday, December 20, at 10 a.m., 11 a.m., and noon.
352 Stockton Street, Princeton. www.drumthwacket.org/visit/open-houses
Kuser Farm Mansion
Christmas at the farm mansion in Hamilton returns with rides on a holiday express train, walks through Santa's Village and workshop, a petting zoo, photo sessions with Santa, the Jersey Valley Model Railroad Club display, and tours of the period decorated Victorian-era Kuser Mansion. Free. Friday, December 3, and Saturday, December 4, 5 to 8 p.m.
390 Newkirk Avenue, Hamilton. 609-890-3630 or www.hamiltonnj.com
Trenton Mill Holiday Houses
The 2021 installment of its annual Mill Hill Holiday House Tour appears as the "Holiday Walkabout." As a response to COVID-19, coordinators say the event "is all outdoors unless homeowners welcome guests inside" and "focuses primarily on the first-floor room that faces the street, the exterior of the home, and for some, an area in front of the home where guests can relax, mingle, and enjoy refreshments."
According to the Old Mill Hill Society, the annual fundraising "House Tour started 55 years ago, is Mill Hill's signature event and a Trenton tradition. Approximately 20 homes in the neighborhood will display special decorations through their front windows and/or on their exteriors, with some of the homeowners hosting visitors with holiday music, refreshments, and insightful conversation on their stoops and sidewalks. With the variety of home architectural styles, sizes, and ages, Mill Hill's 19th century streetscape is one of the most interesting between New York and Philadelphia." $20. Saturday, December 4, noon to 5 p.m.
Start at Artworks, 19 Everett Alley and South Stockton Street, Trenton. 609-815-1359 or www.trentonmillhill.org
Pennsbury Manor
The annual "Holly Nights" at the reconstructed Colonial-style home of William Penn provides a trip back to the 17th century to experience open fires, yule logs, hot cider, colonial crafts, and history. $8 to $14. Thursday and Friday, December 2 and 3, 6 to 9 p.m.
400 Pennsbury Memorial Road, Morrisville, Pennsylvania. 215-946-0400 or www.pennsburymanor.org
Howell Living History Farm
The annual "Christmas on the Farm" takes visitors back to an old fashioned American holiday season. In addition to the visits to peek inside a decorated circa-1900 farm house, visitors can stroll the farm, visit the barnyard, talk selfies in a horse-drawn sled, and visit the gift shop featuring farm made products. Free. Saturday, December 4, 10 a.m. to 4 p.m.
Valley Road, Hopewell, just off Route 29, two miles south of Lambertville. 609-737-3299, www.howellfarm.com, or www.mercercounty.org
Old City Hall Bordentown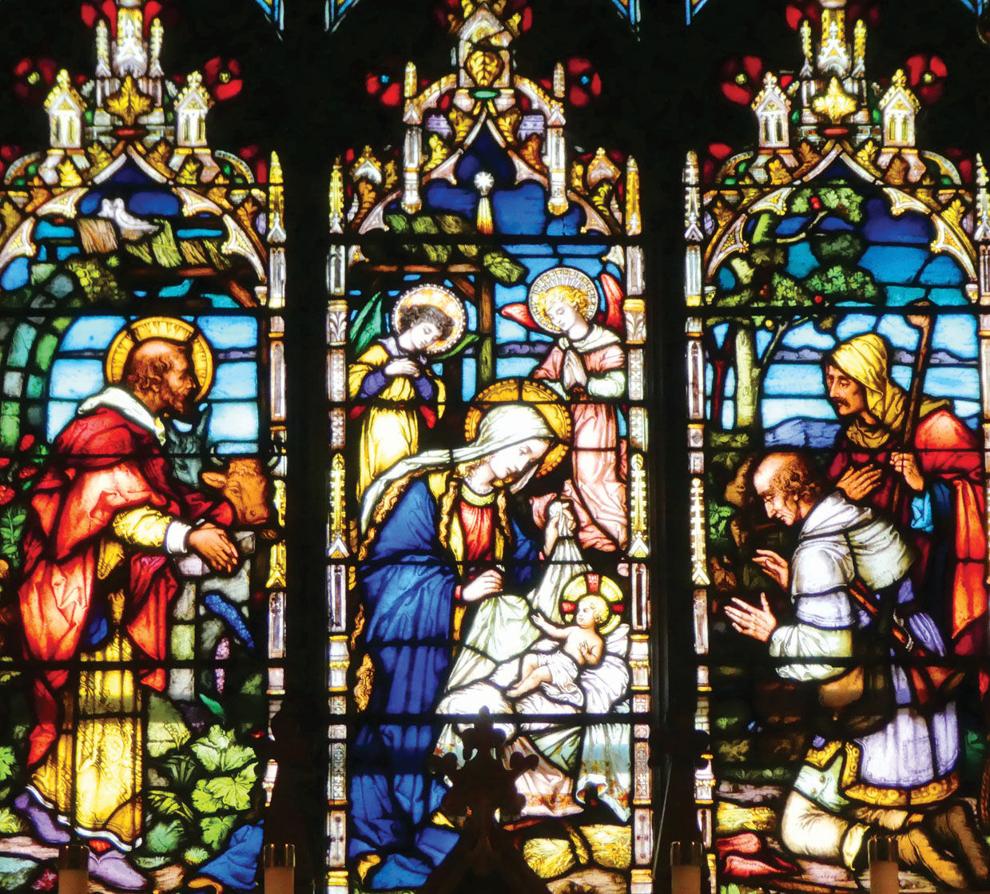 While the annual Bordentown model train display is on hold because of COVID, the Old City Hall Treasures Restoration Committee in Bordentown City is presenting "Treasures In Plain Sight," a colorful holiday-themed look at the region's stained glass history. Topics include the region's stained glass tradition, regional masterworks, important state glass makers, the need for preservation and documentation, ongoing mysteries, and images of City of Bordentown glass.
The presenter is Bordentown resident (and U.S. 1 arts editor) Dan Aubrey, former New Jersey State Council on the Arts public art program associate, former New Jersey State Museum communications director, and past exhibition writer for the Franklin Institute and Philadelphia Zoo. Free; reservations required via EventBrite. Saturday, December 11, 5 p.m.
The presentation will be held at Old City Hall, 11 Crosswicks Street, Bordentown.
Out and About
Grounds For Sculpture
"Night Forms: dreamloop" is an after-hours multi-media event that uses light and sound and, according to coordinators, creates "a dialogue with the sculptures in the collection, offering new perspectives, and turning the act of viewing into an immersive event. Sculptures shrouded in the winter landscape become beacons to remembering a long-forgotten ritual."
Created by the Philadelphia-based Klip Collective, Nightforms will be on view through the holiday season and continue through February. $14 to $28, Thursdays through Sundays, with viewing sessions from 5 to 9:30 p.m.
Grounds For Sculpture, 126 Sculptors Way, Hamilton. 609-586-0616 or www.groundsforsculpture.org
Palmer Square
Palmer Square in downtown Princeton is setting the holiday mood by reopening its outdoor skating rink behind the Nassau Inn. Hours are set Thursday and Friday, 4 to 7 p.m., and Saturday and Sunday, noon to 3 p.m. and 4 to 7 p.m. The $10 cash or $12 credit card fee includes the skate rentals, although skaters can bring their own skates.
The shopping district is also presenting a musical countdown to Christmas with free events and visits by St. Nick. This year's schedule includes the Holiday Jam and Toy Drive with Princeton University on Friday, December 3; Courtney's Carolers, Saturday, December 4; the Harmonics Quartet, Sunday, December 5; Princeton University's Tiger Tones and a strolling Santa, Saturday, December 11; Harmonics Quartet and Santa, Sunday, December 12; and the Spiced Punch band, again with the popular strolling Santa, on Saturday and Sunday, December 18 and 19.
For more information, visit www.palmersquare.com.
The Artist Chalet Winter Village
The Arts Council of Princeton's outdoor project features artisans and artists selling artwork, cards, jewelry, handcrafts, and more in downtown Princeton through Sunday, December 19. Each week features a different slate of artists and crafters scheduled Wednesday through Sunday, noon to 6 p.m. Look for the village at Hinds Plaza on Sylvia Beach Way, next to Princeton Public Library.
Arts Council of Princeton, 102 Witherspoon Street. 609-924-8777 or www.artscouncilofprinceton.org
Living History
Washington Crossing Lantern Tour
The Johnson Ferry House in Washington Crossing State Park presents its annual Lantern Walking Tours of the park's historic sites. The two scheduled one-of-a-kind tours include stops at three historic sites where George Washington's beleaguered army crossed the Delaware River. $6 to $12, reservations required, rain or shine, December 17, two tours available at 7 and 7:30 p.m.
355 Washington Crossing Pennington Road, Titusville. 609-737-2515 or www.state.nj.us/dep/parksandforests/parks/washcros.html
Washington Crossing Reenactment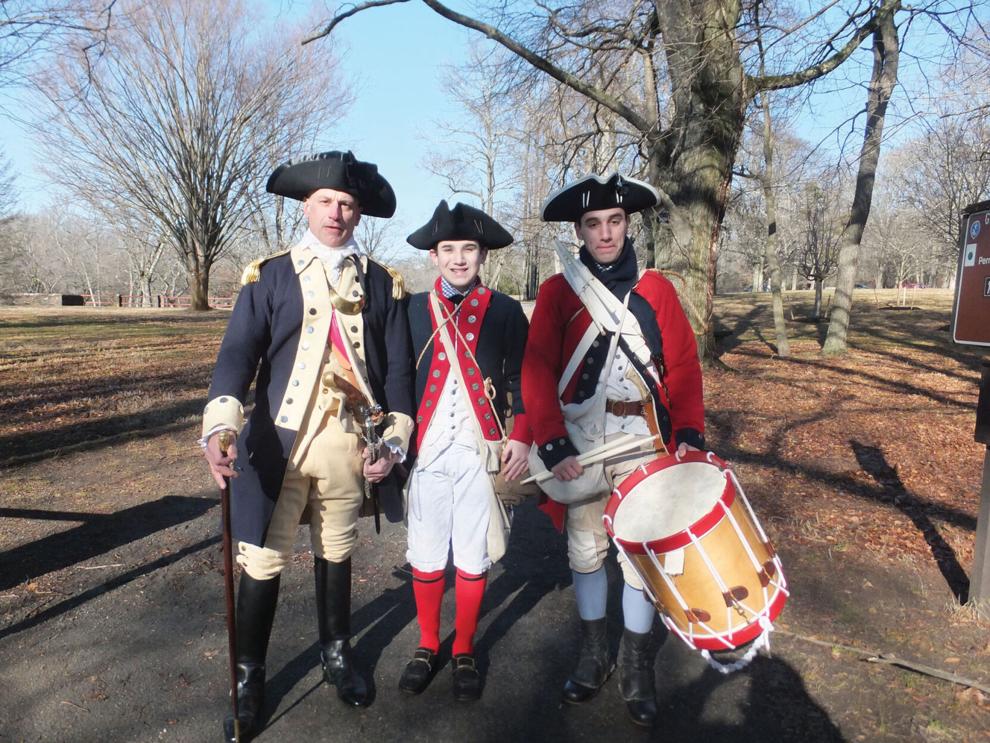 The reenactment of George Washington's Christmas Day crossing of the Delaware River to take Trenton — at the very location the major historical Revolutionary War event occurred — is one of the area's big holiday attractions. And there are two opportunities to see this one-of-a-kind area event starting at Washington Crossing Historic Park in Pennsylvania and ending at Washington Crossing State Park in New Jersey.
The first crossing — or the annual dress rehearsal for the official reenactment — is set for Sunday, December 12, from 10 a.m. to 4 p.m. The ticketed event is designed to accommodate those who cannot attend the actual Christmas Day crossing and to raise funds that support it.
This day will include Fox News contributor and former military officer Peter Hegseth's narration of the crossing, Colonial-era activities, and demonstrations. Patrick K. O'Donnell, the military historian and author of "Washington's Immortals" and other books examining the Revolutionary War and other American conflicts, will also be present and talk at 11 a.m. and 3 p.m. about his new, book "The Indispensables: The Diverse Soldier-Mariners Who Shaped the Country, Formed the Navy, and Rowed Washington Across the Delaware." Entry tickets are $8, adults, $4, ages 5 to 11, and free for younger children. The crossing re-enactment is set for 1 p.m.
Then there is the free Christmas Day crossing. The main event is at 1 p.m., but visitors can arrive early and march with the troops, tour buildings, and join fellow festival lovers waiting for the cannon shot to signal the launching of the boats. An early arrival also helps to secure a parking place or a good viewing spot.
Washington Crossing Historic Park, Routes 32 and 532, Washington Crossing, Pennsylvania. 215-493-4076 or www.ushistory.org/washingtoncrossing/index.htm
Patriots Week
The popular and important history-related event returns to downtown Trenton on Sunday, December 26, and continues through Friday, December 31. The multi-day event traditionally includes tours of historic spots, camp reenactments, puppet theater performances, a Colonial-era ball, and more.
Most events are free. www.patriotsweek.com.
Family Fun
New Jersey State Museum
"Season of Light" is the planetarium show that explores the human impulse to light up the world during the December holiday season as well as look at the meanings behind seasonal traditions and stories, such as the "Star of Bethlehem." Other planetarium offerings include "One World, One Sky," a celestial tour featuring Sesame Street's Big Bird, Elmo, and Hu Hu Zhu, and the annual "Laser Holiday Magic!," a show mixing music and images made in light. $5 to $10. December 4, 5, 11,12, 18, 19, 26, 28, 29, 30. Shows scheduled from noon to 3 p.m.
New Jersey State Museum, 205 West State Street, Trenton. 609-292-6464 or www.nj.gov/state/museum.
Shop Local
Gallery 14
The Hopewell-based fine art photography gallery presents a holiday members show and small gifts boutique. The exhibit includes fine art photographs both on the walls and in the artists' bins along with many smaller gift items including calendars, note cards, purses, scarves, and jewelry accessories that can make perfect gifts and stocking stuffers. There are also items from the "Water Color Women of Gallery 14.'
The exhibit features works by all of the member artists: John Clarke, Alice Grebanier, Larry Parsons, Charles Miller, Philip "Dutch" Bagley, Martin Schwartz, Joel Blum, John Strintzinger, Mary Leck, Barbara Warren, David Ackerman, and Bennett Povlov. Free. Saturdays and Sundays, noon to 5 p.m., December 4 through 18, or by appointment.
Gallery 14, 14 Mercer Street, Hopewell. www.gallery14.org
Artworks Trenton
The annual Red Dot 10x10 Fundraising Exhibition opens at Artworks Trenton on Saturday, December 11, and will be on view both in person and online.
More than 100 Trenton-area and regional artists have created artworks on 10" x 10" canvases. Each artwork sells for $100 with the funds raised going to support Artworks. Opening reception Saturday, December 11, 6 to 8 p.m. Online through January 8.
Artworks, 19 Everett Alley and South Stockton Street, Trenton. www.artworkstrenton.org
West Windsor Arts Council
The annual Off the Wall Holiday Market features a variety of fine arts and crafts created by local artists and artisans. Framed and ready-to-hang affordable fine art is available for viewing and for sale on Saturday, December 4, from 1 to 5 p.m. or by appointment at the West Windsor Arts Council's headquarters at 952 Alexander Road in Princeton Junction.
At Whole World Arts inside the MarketFair mall, additional affordable art as well as jewelry, ceramics, women's accessories, and more are available for sale. Hours are Wednesdays and Thursdays from 1 to 7 p.m.; Fridays from 1 to 6 p.m.; Saturdays from 10 a.m. to 4 p.m.; and Sundays from 11 a.m. to 5 p.m. through December 24. www.westwindsorarts.org