Artist Zarina Morgan fulfilled a lifelong dream last summer when she exhibited some of her paintings at Boro Bean in Hopewell Borough.
The fact that she was not yet a high school senior at the time may have hinted at the possibility that she had more such exhibitions in her future.
And indeed, another one is coming up already. Morgan's artworks will be on display at Small World Coffee's Nassau Street location in Princeton from Jan. 4 through Feb. 7.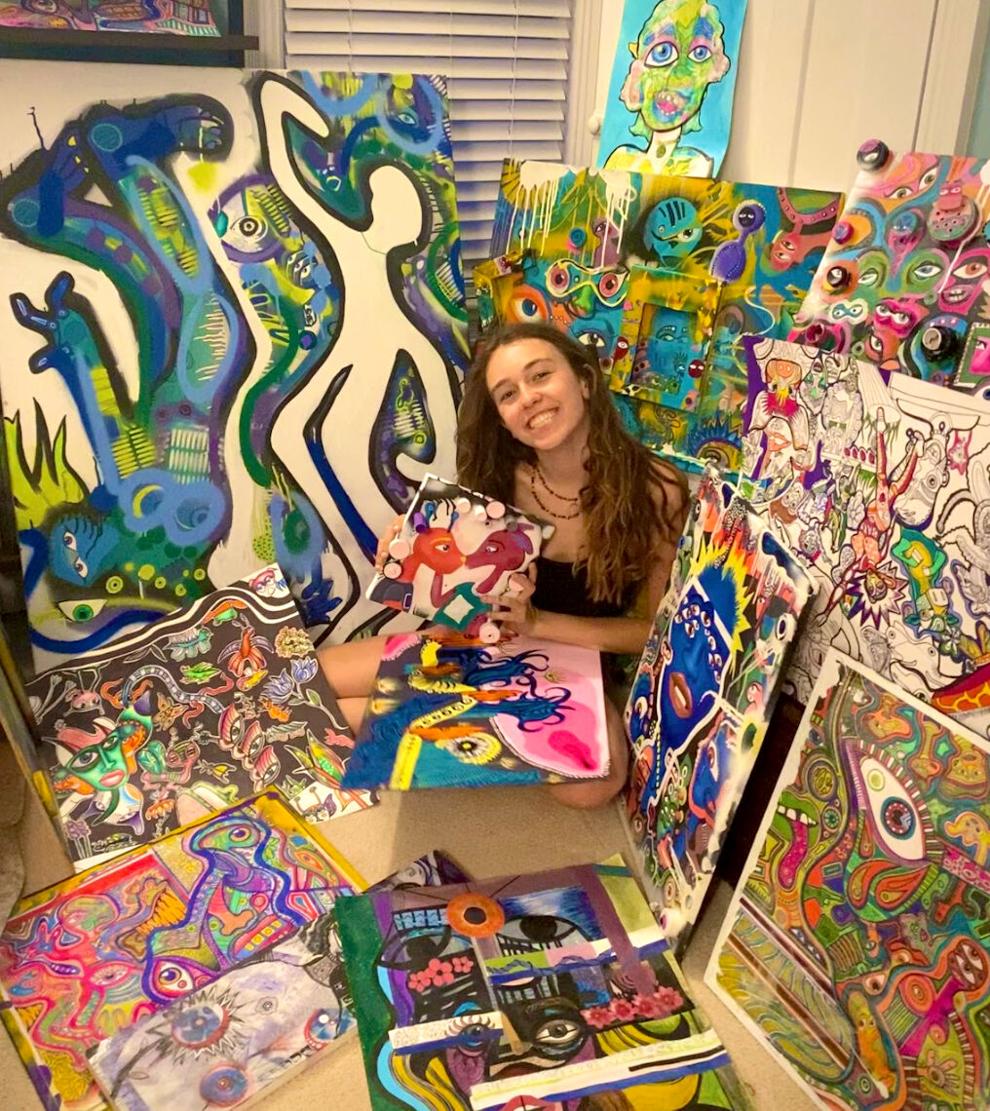 Nor are those the only venues where her original works have been on view. Over the summer, she created a butterfly mural at the Quarry Swim Club, where she was also working as a lifeguard. And in April, she also had a show at Time restaurant and whiskey bar in Philadelphia.
Then there was that day when she was showing some of her pieces to a friend's mother, who is an art collector. She recounted the experience during a phone interview from her home attic studio in the borough.
"She was looking at one piece and she said to me, 'How much?' and I said, 'What do you mean? I'll just give it to you.' I had no idea what to say. And she said, 'No, how much?' So I ended up selling that piece to her. I signed the back, I titled it — I had never done any of that before. I had just made art in my bedroom for fun. She displayed it in her home, and that's when I realized people actually might want to buy my art."
Impressive milestones for any artist, much less one who is still working toward a high school diploma.
Zarina Morgan Cohan — she uses just her first two names as an artist — says she has been making art since she was at least three years old. The Hopewell Valley Central High School senior had attended Hopewell Elementary School, Timberlane Middle School and the Pennington School before settling in at Central, where she says teacher Carolyn McGrath has been instrumental in her development as an artist.
She describes her style as modern figurism — or maybe a modern version of surrealism.
"I'm not really sure. It's modern, especially when I use spray paint. It's modern especially because of the bright colors," she said. "It's figurative. I use a lot of eyes, and I use so many made-up creatures in my painting, but there's not one word to describe it all. That's what I think makes it special, that I can't really put it in any kind of group."
She credits McGrath, CHS' visual arts teacher, with "creating the turning point" in her artistic career.
"I don't think I would have had the confidence to even make art at the expressive level that I do if it wasn't for Ms. McGrath," she said. "She let me use all her materials, and I had never been in a situation where I was given so much creative freedom. She would let me work on more creative things while there was a different lesson going on. She would let me do whatever art I wanted, whenever I wanted."
In an email to the Express, McGrath called Morgan "an exceptionally creative and imaginative artist. It has been a pleasure working with her over the last year and a half."
McGrath said she is impressed by Morgan's commitment to the artmaking process and her willingness pushing herself into areas of discomfort in the effort to create her work.
"She also has a remarkable drive to share her work with others by putting it out into the world, whether that's through conventional means, like art shows, or public art projects, like the mural she painted for the Hopewell Quarry," she said.
* * *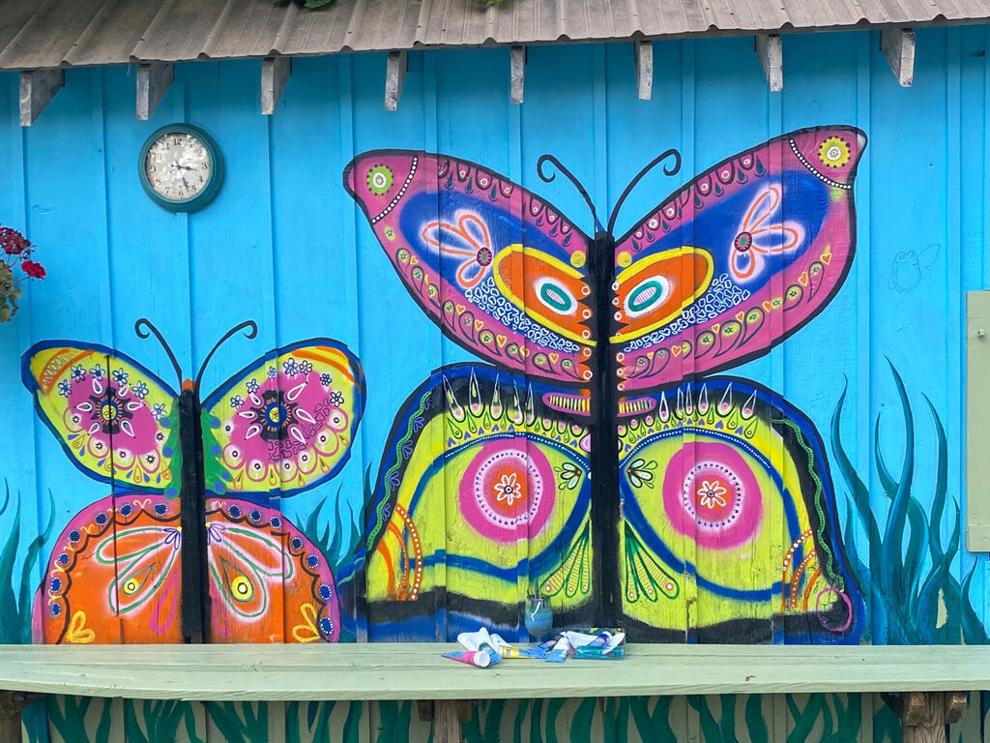 Morgan says the opportunity to make the mural at the recently reopened Quarry Swim Club came about somewhat unexpectedly. It all started after club operations manager Lindsey Young-Lockett, who had just hired her as a summer lifeguard, asked if she had any other hobbies.
After she said that she was an artist, Young-Lockett invited her to decorate one of the bare walls at the swim club with a mural. The only requirement was that the mural had to include two butterflies.
"I went up and completely did my own thing, the way I wanted to do it," Morgan says. "And then after it was done, I continued to work on it during my lifeguarding breaks. It was awesome to do something like that without really any experience."
The opportunity to exhibit her artworks at Time in Philadelphia came about just as suddenly. Her cousin, who is also an artist, was a bartender at the restaurant, and DM'ed Zarina one day to ask if she wanted to display her own work there.
"Obviously, you ahd to be 21, so I just didn't tell anyone (that I wasn't) and I just presented my work," she said. "I was scrambling to figure everything out. I had sold a few pieces, but a show is completely different. I was so stressed out."
It turned out to be the best day of her life. "It was just amazing, watching people look at my work," she said. "My work is very modern and figurative, there's lots of different creatures, and people were just looking at it going, 'That's me, that's you.' They were tagging themselves in the art, and it was so empowering and such a good night. Especially since everyone was treating me like I was so much older."
To satisfy her long-standing desire to exhibit her works at Boro Bean, she took a direct approach.
"One local dream that I've constantly been reminded of as I walked into this coffee shop throughout my life was to have my art displayed in Boro Bean," she said. "I've always wanted to have my artwork displayed there. One day, I was in there with my friend, and there were the new owners, and we were joking with them — 'What would I have to do to get my art in here?'
"They said, 'Just show us your art and give us your number,'" Morgan said. "I didn't know these people. This was the same week they moved in. The owner ended up loving my work."
The show was up from July to September. Morgan wasn't even totally ready to exhibit a show at the time. "Some pieces were just finished. I was literally drying them with a blow dryer before bringing them in," she said.
Morgan estimates that she has more than 50 completed works in her studio, and says she has spent 20 to 25 hours a week making art for the past year and a half. She tends not to sketch works out beforehand.
"I get into a space of mind, and after that, I don't really think about much of anything," she said. "It's completely intuitive. It comes completely from wherever my head is at the time."
She says that any meaning that she finds in an artwork is usually not apparent to her until the work is mostly finished.
"I usually have a loose inspiration, and toward the end, I come up with an interpretation that I like or feel connected to, and I'll go with that for the rest of the painting," she said. "I usually dont start with any particular idea, but I always have an idea that i come up with at the end."
* * *
Zarina's mother, Zora Andrich, is known to some as the winner of the first season of Fox TV's show Joe Millionaire. Morgan also has two brothers, Hudson, who is in kindergarten, and Blake, who is in 5th grade.
When asked what the future olds, Morgan said she is not sure what she will do, but she is "definitely considering" art school.
"It's great, because I already have this experience, and my passion for art seems to be ever growing. I just feel like I'm going to keep learning, keep experimenting, and I don't think I'll ever not be an artist. I feel like it was just like what I was made to do," she said. "I'm applying to art schools. I'm not sure if I'll get in and I'm not sure it will work out."
McGrath says that she is excited to see Morgan at the start of her journey as an artist, and to see where that path takes her.
"Perhaps it will include art school, or it may look like a less traditional route. Regardless of what the future holds, I have no doubt that Zarina will continue to make amazing art and find ways to share her unique vision with the world," she said.