With upwards of 25,000 alumni and guests about to descend on Princeton for Reunions, Princeton University's alma mater, "Old Nassau," is poised to stir both pride and sentiment. The university song will be sung repeatedly over the four-day event.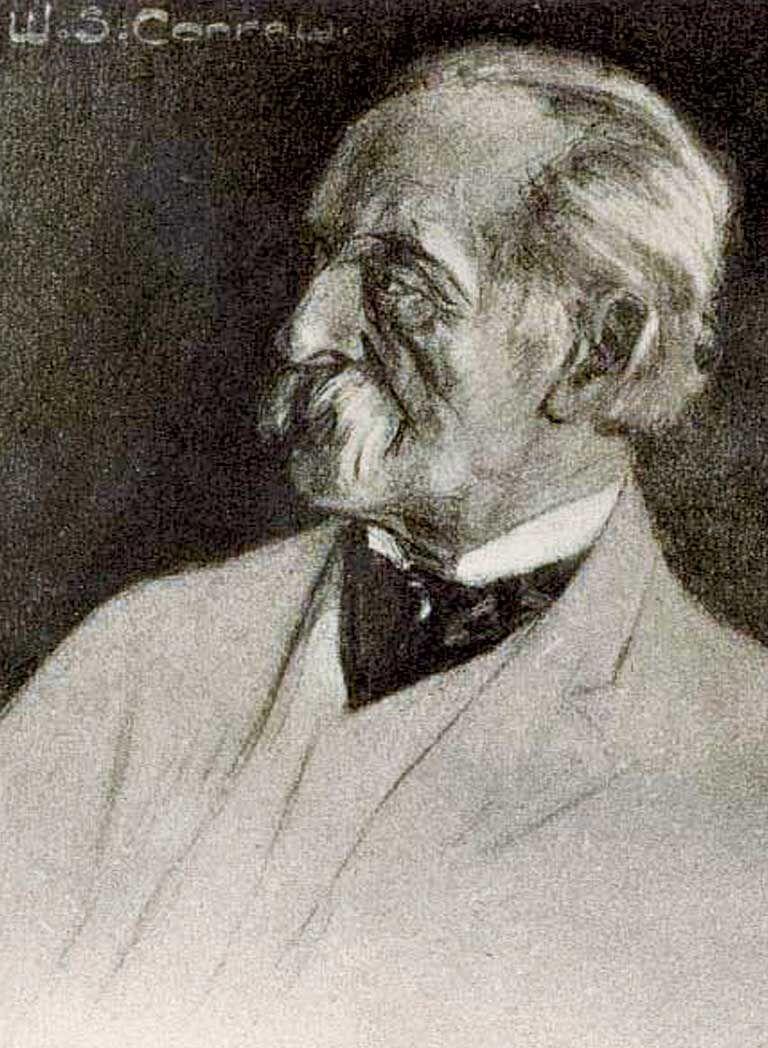 In fact, so much a part of the fabric of the Princeton experience it is, it seems as if it's been around forever. And since the song was originally penned in the middle of the 19th century, I suppose it may as well have been. But how much do we know about its composer?
In an article that appeared in this paper on October 26 of last year ("A Requiem for Princeton's Passed Composers"), I reported that Carl A. Langlotz — his first name frequently spelled with a "K" — was one of several notable musicians to be buried in Princeton Cemetery at Witherspoon and Wiggins streets.
Langlotz's headstone is fairly easy to locate, as his grave is positioned along the drive, wending east, not far from the entrance on Greenview Avenue.
He's in very good company. The cemetery, founded in 1757, is also the final resting place of, among others, U.S. President Grover Cleveland, U.S. Vice President Aaron Burr, "Great Awakening" fire-and-brimstone minister Jonathan Edwards, Paris literary magnet Sylvia Beach (proprietor of the bookstore Shakespeare and Company), best-selling novelist and short story writer John O'Hara, architect Michael Graves, mathematician Kurt Gödel, and Declaration of Independence signer John Witherspoon.
"Old Nassau" is acknowledged right there on Langlotz's grave marker. The headstone was "erected by the alumni of Princeton University," no doubt in gratitude for his evergreen anthem.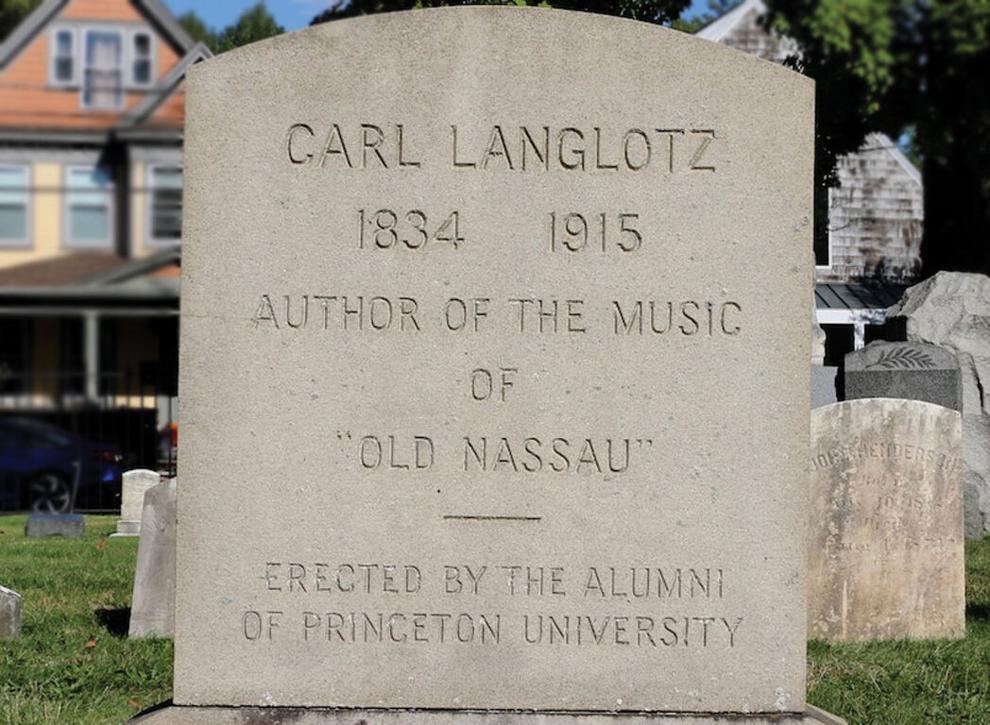 ---
Born in Germany on June 25, 1834, Langlotz received a rigorous music education. He learned to play piano, violin, and cello. His father was a court musician with connections to the Royal Family at Saxe-Meiningen (in present day Thuringia).
Young Carl studied with Franz Liszt in Weimar in 1851. Liszt, whose lasting fame is as a virtuoso pianist, was also in charge of the court opera house. It's said that Langlotz was in the pit, as a violinist, in the orchestra that gave the world premiere of Richard Wagner's "Lohengrin." Some sources relay that Wagner himself conducted the performance, but the reality is that the composer was unable to attend, since he was living in exile in Switzerland, having fled the country as a wanted man for his part in the Dresden Uprising of 1849. Liszt was not only a champion; he was also Wagner's father-in-law, who frequently supported the composer, both artistically and financially.
Langlotz, by contrast, doesn't seem to have had a revolutionary impulse in his body. Nor, as a composer, does he appear to have been especially ambitious. Instead, he chose to express his love for music through teaching and the formation of various performance groups.
At the age of 19, he immigrated to the United States, where he lived in Philadelphia, Princeton, and Trenton. He taught German at the university (and, for a time, fencing), while directing a choir, the Nassau Maennerchor, on the side.
"Old Nassau" has served as Princeton University's alma mater since 1859. The text was written by Harlan Page Peck (who would graduate from Princeton in 1862). As a freshman, Peck submitted it for a contest held by Nassau Literary Magazine for best college song. His entry was declared the winner. Originally the lyrics were set to the melody of "Auld Lang Syne." But there was a general sense that they could be served better by an original tune.
Langlotz was petitioned repeatedly, and he vaguely assented, but never sat down to do the work. Then one afternoon, with one of the more determined supplicants standing at his shoulder, he simply dashed off the melody while smoking his pipe on the front porch of his residence at 160 Mercer Street. A plaque in front of the house commemorates the laidback musician's lasting achievement.
Langlotz himself was bemused by its success and said, "Its music was quickly and carelessly composed, yet I suppose it will have a place among the songs that never die."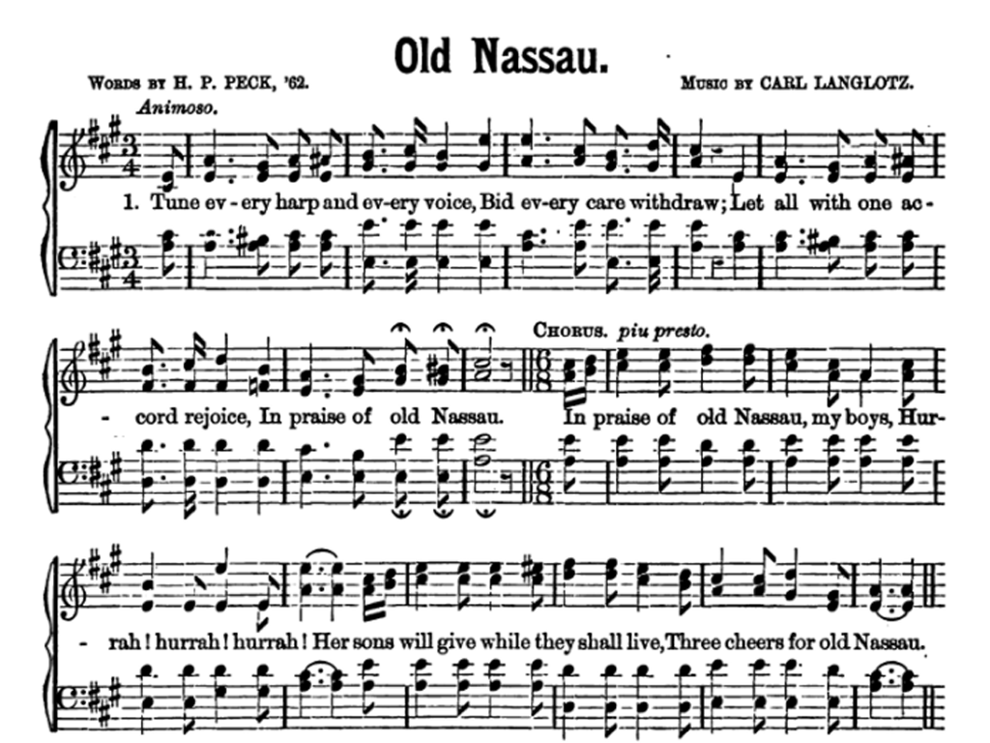 "Old Nassau" was sung for the first time after evening prayers at the Bulletin Elm, a campus hub that stood at the northeast corner of Nassau Hall. The elm was cut down in 1888. The musicians were members of an informal glee club, possibly Langlotz's Nassau Maennerchor. According to an eyewitness account, Peck was there, but the composer was not.
Any chance at anonymity was short-lived. Because of Princeton's influence, Langlotz's celebrity soon extended far beyond the town. Over the years, several reports about Langlotz appeared in the New York Times, which characterized "Old Nassau" as "the most famous of alma mater songs."
A Times article of June 4, 1903, reports that Langlotz (his first name spelled with a "C") was injured by funeral horses, when he attempted to pass between a hearse and a carriage bearing mourners. He lost his footing and fell, but as the frightened animals reared, he was able to roll out of the way. Described as badly injured, he escaped with only bruises to his side, scratched hands, and a gash to the head. Langlotz was approaching his 69th birthday.
On November 28, 1915, the Times reported on his funeral. "Princeton University's favorite son" (this time identified as "Karl A.") was laid to rest, surrounded by Princeton students and faculty who remained in town over the Thanksgiving break. Langlotz died on Thanksgiving Day. The students draped his coffin with a banner that read "Old Nassau" and sang the last two stanzas of the song, as his body was lowered into the earth. The article further notes that Langlotz died in Trenton "after a long illness at the age of 82." (He was actually 81.)
On October 29, 1939, it was reported in the Times that memorabilia related to Langlotz (his first name again spelled with a "K") and "Old Nassau" were donated to Princeton University Library by friend and admirer Wilford Seymour Conrow, Class of 1901.
On February 22, 1987, the Times belatedly questioned if "Old Nassau" might be sexist. After 128 years, it was reported, the campus was debating whether or not to alter the original text, which refers to "my boys" and "sons."
There was vigorous debate on campus, but in the end the refrain was changed from "In praise of Old Nassau, my boys, hurrah! Hurrah! Hurrah! Her sons will give while they shall live, three cheers for Old Nassau." to "In praise of Old Nassau, we sing, hurrah! Hurrah! Hurrah! Our hearts will give, while we shall live, three cheers for Old Nassau."
It should be pointed out that Peck's original lyrics were not designed to be exclusionary, as Princeton admitted women for the first time only in 1969. In 1987, women made up 35 percent of the student population.
Langlotz married twice. He met Emma Rae during the two years he spent in Philadelphia. The day after their wedding, on January 10, 1856, the couple moved to Princeton, where Langlotz worked as a private teacher of music. He also introduced fencing to the Princeton community, later reflecting that "I think that… I may lay claim to the honour of being the first, or among the first, to introduce athletics into Princeton College life." (Princeton was not officially identified as a university until 1896.)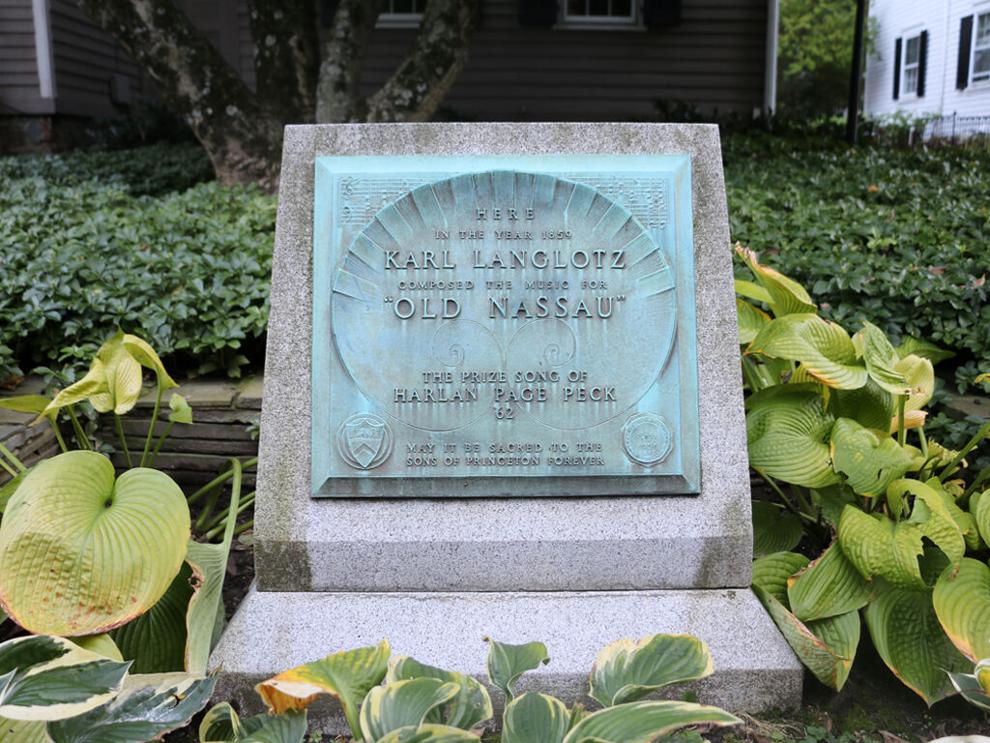 In 1857, Langlotz was appointed as an instructor of German. He also played the chapel organ and organized the Nassau Maennerchor, which gave concerts in Princeton and the vicinity.
Rae died in 1868, leaving him with four small children. In 1872 he married Virginia Dunn, with whom he had another daughter.
At 45, Langlotz left the college to enter Princeton Theological Seminary. He later conducted an orchestra in Trenton and returned to teaching German.
Princeton students continued to visit him at his Trenton residence, where he lived as "an infirm old gentleman." Conrow, a student in the art department, was among them. He made the pilgrimage to Langlotz's house with the intention to do some sketches of him. The two hit it off, and Conrow wound up publishing a book, "Old Nassau," in which he allowed Langlotz to tell his story. The royalties kept Langlotz in comfort for the remainder of his life. For his 80th birthday, admirers presented him with pipes of every size and description.
Conrow's largesse inspired another article about Langlotz, "In Praise of Old Nassau," by Audrey Read Jackson, in the Princeton University Library Chronicle (Volume 1, June, 1940, Number 4). The article mentions that in 1917 Princeton alumni proposed that an oil painting of Langlotz be undertaken, with the aim of hanging it in Madison Hall, the dining hall then under construction. Because of World War I, the plan did not come to fruition until 1923. It was Conrow who painted the portrait, which is now among the holdings of Princeton University Art Museum.
(Parenthetically, Langlotz's piano is located in Prospect House, and his violin is stored in the university archives.)
Jackson opens the piece by recollecting a rousing ovation Langlotz received at a Princeton-Yale baseball game during the 1906 commencement weekend. Homage was paid again a few days later at an alumni luncheon at the gymnasium, with 700 voices raised in "Old Nassau."
That number will be dwarfed by Princetonians who no doubt will sing the song over and over again at this year's Reunions.
Reunions is an annual event held the weekend before Princeton University's commencement. The four-day celebration features large outdoor tents, elaborate costumes, sporting events, alumni and faculty presentations, live music, fireworks, a parade (the P-rade), and lots and lots of orange and black.
Langlotz would likely have been a footnote of a footnote in the most arcane of music histories, if not for his enduring roost in the hearts of Princeton students and alumni. Something of his spirit lives on in "Old Nassau."
---
For more information on Princeton Reunions, visit reunions.princeton.edu.