Gloom and doom were the tunes for piano manufacturers and their sales/service outlets.
The piano industry had to face the music, so played the reports. "Hitting a low note: Pianos becoming extinct in US homes," declared the seacoastonline.com news service in July, 2018.
And only this past May 12, the research department of the online statistics portal Statista illustrated a report on the number of acoustic pianos sold in the United States with a bar graph looking like a mangled piano keyboard whose black keys had been chopped progressively smaller.
In just five years, from 2005 through 2009, annual sales plunged from 95,518 to 33,060. After a slight stabilization, sales played a discordant descending scale from 31,073 in 2019 to 20,870 in 2020 — a loss of nearly a third.
And now, in 2021?
"The demand far exceeds the supply," says Robert Rinaldi, vice president, education, for Jacobs Music and co-principal of the company with his brother Chris, president and CEO.
Headquartered in Philadelphia, Jacobs Music is an authorized dealer for the internationally renowned Steinway & Sons brand. Jacobs has a total of seven stores in Pennsylvania, Maryland, Delaware, and New Jersey — including a showroom at the Windsor Green Shopping Center on Route 1 in West Windsor, just opened last autumn after 20 years in Lawrence and, before that, on North Olden Avenue in Trenton.
Has the piano industry really gone from a funeral dirge to a pastoral symphony in less than a year? Robert Rinaldi insists it's so.
"From the industry as well," the Marlton resident reiterates, "I can tell you demand far exceeds supply. We cannot get pianos for all the people who want them."
"And people want a higher quality instrument," he adds. "People are more thoughtful about the expectations they have."
What happened? In an almost operatic plot twist, COVID-19 temporarily left its villainous role to play a helpful supporting part.
Of course, among the pandemic's many tragedies was its devastating effect on the performing arts, especially live music. The urgent need to reduce, even suspend, crowds closed businesses and schools, sending many workers and students to carry on at home. And live venue performing arts —including music concerts, festivals, and club shows — went on life support.
But for the multitudes of persons working or studying remotely — many of them already music lovers and even players — the idea of having their own pianos at home to enjoy and share with family became quite attractive.
And sharing with friends and neighbors, too. "Now with the vaccinations," Rinaldi says, "people are more comfortable about having other people in their homes."
The cumulative result? Sales of pianos for home use not only recovered but became robust.
"This is something unique because of the pandemic," says Rinaldi. "I've never seen it."
Prices vary: Rinaldi says a new quality grand piano starts in the neighborhood of $10,000, whereas a new nine-foot Steinway concert grand runs about $180,000, though used ones are substantially discounted. Smaller pre-owned Steinways begin at about $25,000.
The Princeton store has, as of this writing, a formidable inventory of some 50 new and pre-owned pianos, including seven concert grand pianos from venues and programs as prestigious as Carnegie Hall, Jazz at Lincoln Center, and the New Jersey Center for the Performing Arts.
Forced to close its factories for four months due to the pandemic, Steinway & Sons urgently needed to boost its income stream. These concert grands were not owned but leased by the venues. Steinway was forced to call them in and alert their dealers' network to their availability for sale as very special certified pre-owned Steinways. Jacobs Music seized the opportunity: "While other people reduced their inventory, we doubled ours."
"There's never been a time when we had seven concert grands in our showroom," Rinaldi says, adding that it's more than in Steinway Hall in Manhattan.
Modern acoustic pianos range from the full 88-key, nine-foot long concert grand pianos and baby grands, to uprights and compact 66-key baby uprights. Modern grand pianos have some 12,000 parts including strings, levers, miscellaneous hardware, and multitudinous wood pieces (from a veritable ecosystem of trees providing specific qualities of resonance, strength, or appearance). To create richness of aural textures, there may be three strings per key. Hence the total string count far exceeds 88 and is often 230. The combined pulls of these strings, tuned to full concert pitch, can total an astonishing 20 tons of tension.
"There's a whole lot more to a piano than many people realize," says Rinaldi with smiling understatement.
The modern piano evolved from simpler, yet ingenious, ancient instruments whose strings were raised on thin wooden support "bridges" and sounded via striking with small wooden mallets (similar to today's hammered dulcimers). Advances in mechanical technology led to systems in which the sounding mallets were hinged and fixed within the instrument's body, operated by keys depressed and released by the player.
Italian instrument maker Bartolomeo Cristofori is credited with inventing the first true piano circa 1700. Its name came from "pianoforte," meaning "soft-loud," distinguishing it from earlier keyboard instruments such as the harpsichord in which the volume of notes could not be varied.
A major movement in piano history — both metaphorically and literally — came a century and a half later with the 1853 immigration to New York City of German piano builder Heinrich Engelhard Steinweg — soon to anglicize his name as Henry E. Steinway.
Henry was skilled in traditional piano construction but also eager to combine the latest advances in mechanics, wood joining, and iron and steel casting with innovative interior and exterior designs to further develop the instrument.
"So many of the elements of the [modern] piano itself are by Henry Steinway," says Rinaldi, noting that the now-familiar shape of the grand piano was itself a Steinway innovation.
Henry's brother William proved to be a wizard at promotion and sales. His brilliant stroke was to build a roster of the greatest living pianists and send them on concert tours with, of course, Steinways, which he dubbed — with declarative forte — "The Instrument of the Immortals."
Steinway & Sons American headquarters, including a major factory complex, is in Queens, with a "Steinway Hall" showroom in Manhattan. Its European and international headquarters are in Hamburg, Germany. Flagship Steinway-brand pianos are made in those two locations. Its Boston line of mid-level market pianos are built in Japan, and its Essex budget line in China.
Steinway is by no means the sole manufacturer pianos for American and world markets. Mason & Hamlin, Bosendorfer, Fazioli, Baldwin, Yamaha, and others have found their loyal market niches. But the decline of the piano as a standard, if specialized and expensive, piece of American home furniture has been very real. And it's told by the history of Chestnut Street in Philadelphia.
Chestnut Street once held the city's "piano row," boasting 13 successful firms during its heyday. Jacobs Music — which had been founded in 1900 — arrived in the neighborhood impressively in 1937 with a four-floor, art deco-styled sales and service building. Today, it is the only survivor.
Al C. Rinaldi, Chris and Robert's father, established his career with the lease departments of major Philadelphia stores Gimbles and John Wanamakers in the late 1960s. In 1976, Al purchased Jacobs Music. It too was a family venture, with Chris and Robert's mother working there. "I never thought I'd get involved with the business," Robert says. "But music is infectious."
Sadly, the coronavirus is also infectious. Steinway had to close its factory last year for some four months. Jacobs Music has some 50 employees between its seven locations, including some 15 tuning and repair technicians plus their support persons.
"We still had bills, rents, and benefits to pay. But we were afraid to close. And we bet on surviving."
Chris and Robert took inspiration from family history. "My father beat cancer 14 times," Robert reflects. "I thought, we can beat this."
Their faith in the future coincided with a major move in the Prince­ton regional piano markets. When their lease on a Business Route 1 store in Lawrence expired last year, they opted to stay open but relocate a few miles north. They moved into the Windsor Green space last fall; also approximately 5,000 square feet but now much closer to their core Princeton-area clientele.
As it turned out, this risky move perfectly positioned Jacobs Music for the sudden boom in home piano sales. The Princeton-area store has returned to regular business hours, confirms manager Randy Brown (although he urges buyers to make appointments so they will have personal attention and be able to play and hear the pianos without competing sounds from many additional patrons).
But there are still challenges. Electronic keyboards had already cut into the general piano market with their versatility (especially in performing various styles of pop music), compactness, mobility, and prices.
Steinway has countered with its Roland line of digital pianos. These use a "modeled" tone generation system instead of recorded "samples" that typified the first generations of electric pianos. The keyboard and pedal responses are designed to reproduce the feel of standard acoustic pianos. But with Bluetooth and Midi capability the Rolands can interface with Apple and Android devices.
And — as proof that "everything old is new again" — Steinway & Sons is reinventing the player piano.
Obviously, its Spirio player piano system isn't the punched paper roll-operated piano of old cartoon movie sight gags and dimming first-person memories. But the Spirio is a true piano with a digital interface and memory containing some 4,000 tracks by more than 250 Steinway-endorsing virtuosos. And it has a real-time capacity — named with true Steinway flourish as "Spiriocast" — that activates the subscriber's piano so that it plays in the home exactly what the performer is playing in concert: at the same time and with the same notes, volumes, pedal workings, flourishes, and nuances.
"This brings live performance into your home," says Rinaldi. "We're just starting to digest what it all means. I think people can't wait to experience live music again."
That may apply to the new owners of an upright piano that was recently being carefully padded up and wheeled out by a moving crew from B&N Piano Sales & Services of Aston Township, Pennsylvania. They readily agreed with Robert Rinaldi — they've never been busier.
Cue the piano flourish to herald the final act of the COVID-19 pandemic?
Jacobs Music, Windsor Green Shopping Center, 3495 Route 1 South, West Windsor. 609-434-0222 or www.jacobsmusic.com/locations/jacobs-music-piano-store-princeton-nj.
A Gilded Steinway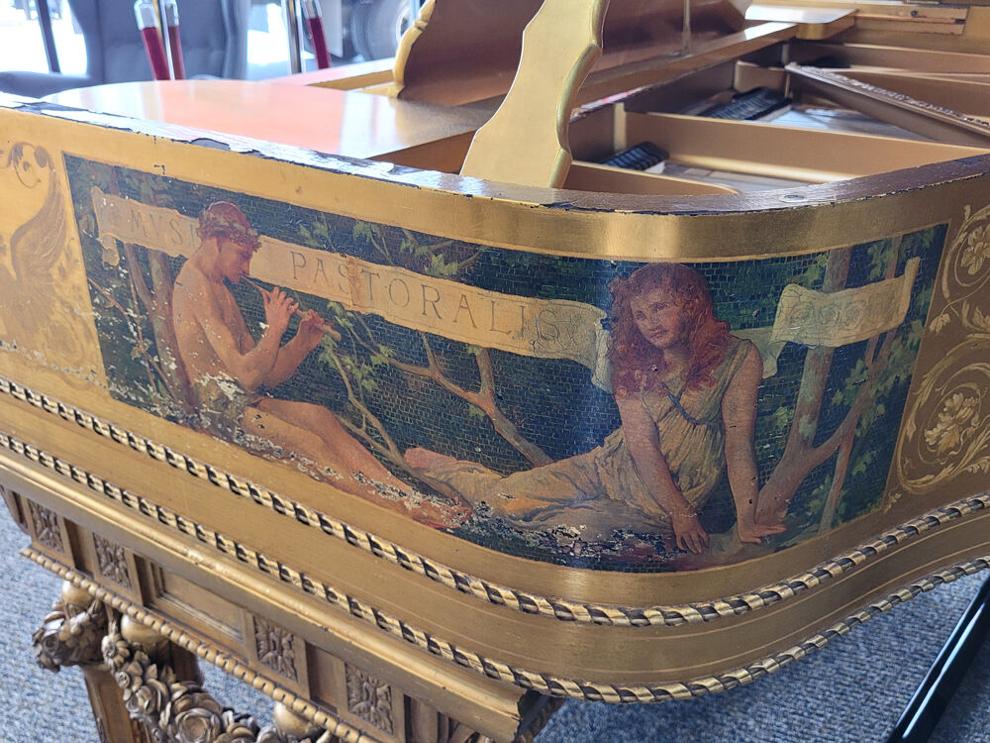 Glowing at the front of the Jacobs Pianos showroom in the Windsor Green Shopping Center is a gilded piano with a golden history.
Philadelphia newspaper publisher George W. Childs Drexel (1868-1944) and wife Mary Irick Drexel (1864-1944) were lovers and patrons of music. Their Beaux-Arts style mansion, built in 1894 at 18th and Locust streets, eventually became part of Philadelphia's world-renowned Curtis Institute of Music.
George Drexel was a serious amateur pianist and, also in 1894, commissioned a gilded Steinway grand piano adorned with illustrations inspired by classical themes. In this era, Jacobs Music's Bob Rinaldi notes, "piano decorations were not uncommon for the wealthy." But these particular embellishments have an uncommon pedigree.
They were the work of American painter Edwin Howland Blashfield (1848–1936), whose murals grace state capitols, churches, courthouses, and universities across America, as well as some private residences — including the Drexels' home. The murals on the dome of the Library of Congress main reading room are, literally, his overarching achievement. Such is his reputation that the instrument has become known among music historians as "The Blashfield Piano." Like the mansion, it was donated to the Curtis Institute.
"The Curtis Institute wanted to bring it back to a viable state," Rinaldi says. "It had not been played for years." Indeed, it had been in careful storage at the school. It was removed to the Steinway factory in New York for maintenance and restoration.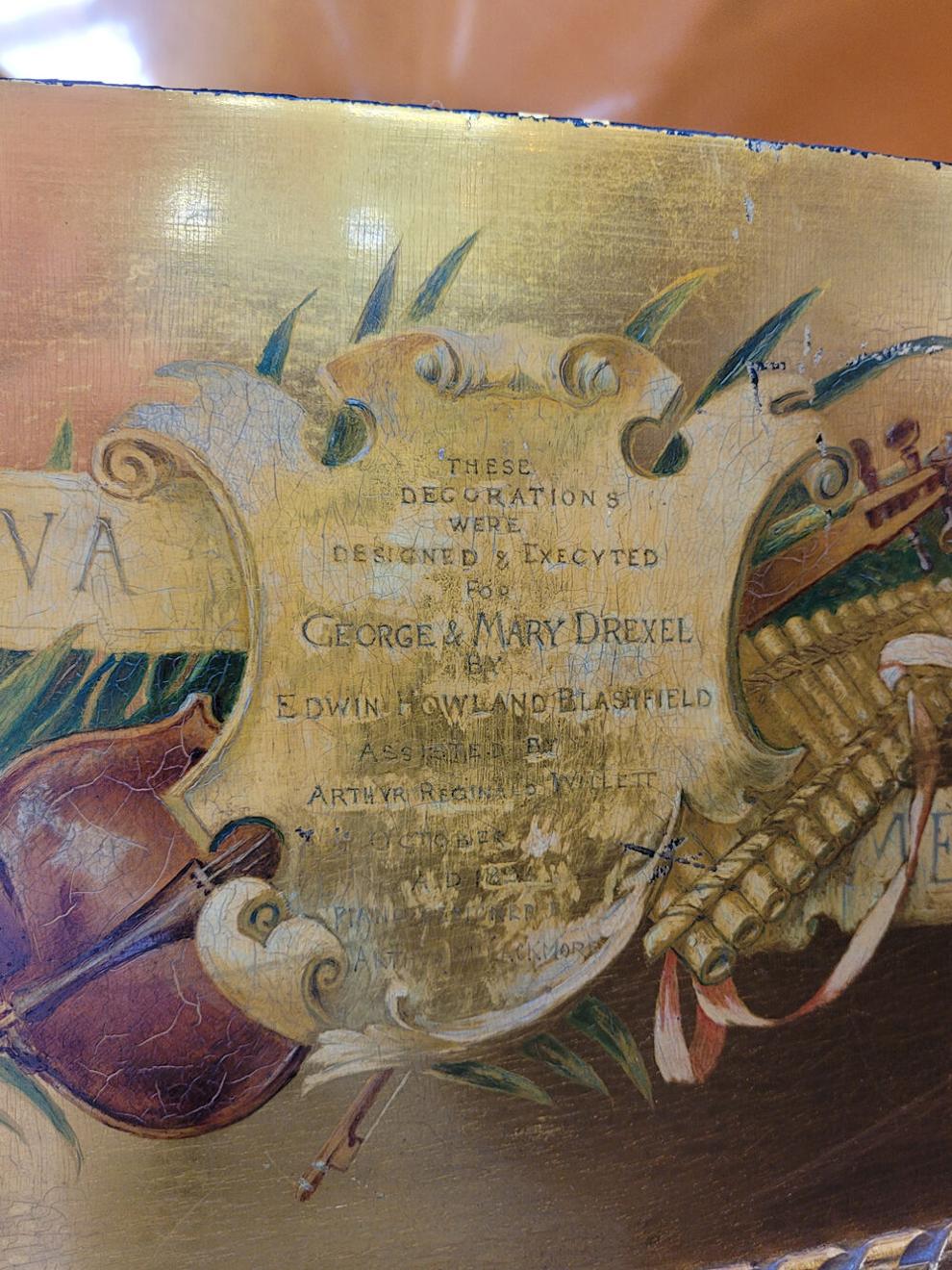 But in the interim, Curtis undertook a major facility modernization (taking logistical advantage of its temporary closure due to COVID-19). The Institute will reopen to students in the fall, but the renovation project will likely continue to year's end. For now, the Blashfield Piano enjoys the company of its fellow Steinways in the Jacobs Princeton showroom.
So is it for sale?
"It could be, but it's not currently," Rinaldi smiles. "It's still the Curtis's piano."