Toasting to Malbec, the signature red wine of Argentina, Matt Patel and his co-founders-to-be resolved over dinner to match their fervor to the body, the integrity of the wine, by saying goodbye to their struggles with corporate inefficiency.
What started fermenting that day, besides the grapes and abundance of berries that give the dark drink its fruity flavors, was a name for their new company — one with a mission to balance the commitments of business contracts using a modern, effective software solution.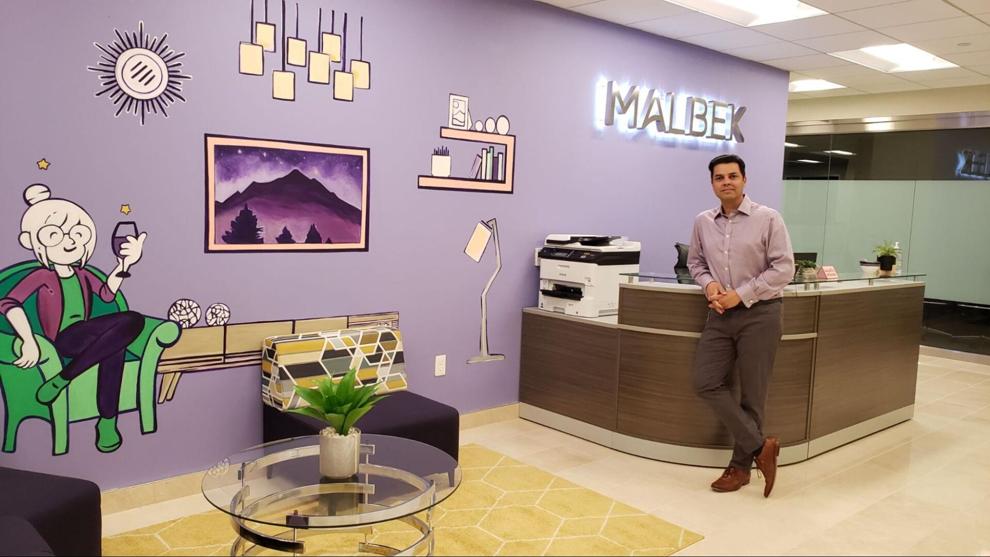 But for COO Patel, he envisioned that their technology startup's title would go beyond the industry cliches. Referencing memories of the trio's tableside moment, "Malbec Solutions" became the placeholder name, swapping a letter out to become Malbek in 2017.
Following a grand opening ceremony on April 28, the contract lifecycle management (CLM) company recently moved to brightly colored new headquarters in Carnegie Center. The lavender tones and custom murals on the walls, painted by artist Samantha Stransky, diverge from the traditional gray cubicles.
It's an intentional choice that coincides with Malbek's branding, an aesthetic invitation to break the mold with an atmosphere that optimizes comfort and fun. Getting work done is important, but the space is equally populated by foosball tables, drawing boards, and live plants.
Patel works from New Jersey, while the other two co-founders, CEO Hemanth Puttaswamy and CTO Madhu Poolu, are based in the Bay Area in California. With employees across more than 20 states and multiple countries, including their offshore subsidiary in India, Malbek was completely remote for its first four years. This latest change of pace to a hybrid model gives employees the ability to be productive from home, then come in for office collaboration as they see fit, Patel says.
"In terms of our corporate initiatives, we are very different from your traditional company," he says, noting that many employees came from a very "bureaucratic, large corporation mindset — and sometimes a toxic environment" where their voices were not heard.
"Malbek is a much smaller organization. We're very agile, and everyone's opinion and voice matters. First and foremost is empathy," he explains. "We respect each other, and we understand each other's perspective."
CLM tracks contracts throughout stages of an essential process that Malbek believes "sits at the heart of business and touches almost every department from finance and sales to legal and procurement."
Software steps in where the older, back-and-forth between Microsoft Word to email can fail, with the margin of human error making for a complex passing off of responsibilities during each step. This model can fall victim to poor communication, often causing a loss in revenue no matter the size of the company.
Malbek's product, Contrax, aims to organize and simplify contracting processes using a configurable, contemporary platform with "a proprietary AI core" called Lifecycle AI — one that requires no coding at all. Requests are first submitted into the system, ranging from sales or supplier agreements to renewals, amendments, and other agreements that must be addressed in a timely, efficient manner.
Patel acknowledges that every company has a problem with "manually managed" contracts, as the actions of reading, signing, and returning documents complicates the experience for all parties involved. When it comes to large businesses, they may have millions of agreements in front of them.
The job still gets done, Patel adds, yet there is a "struggle" when any conflict, such as auditing, lawsuits, or mergers and acquisitions happen. A missed cancellation can lock businesses into a year of wasting money on services or products when, Patel points out, software solutions like what Malbek offers can avoid these issues entirely — they are designed for automation and user accessibility that limits these pitfalls.
Instead of being lost in a sea of employees and varying waiting periods, a click of a button from the requester allows Malbek to generate and send a draft out to external parties "within seconds," Patel says, thus eliminating the overwhelming reliance on individual responses. This keeps track of the contracts, streamlining their approval flow, he continues, by using a smarter interface that handles any volume of incoming requests. Another benefit is the "smart AI capabilities" that inform users about risks and deadlines as a digital advisor.
"The amount of insight you can get from a document, you could never imagine. Before, everybody thought it was just a signed piece of paper, but there's a lot of things in there that AI can bring forward and give all those details to business stakeholders that can make key decisions for their upcoming year for forecasting, growth plans, mergers and acquisitions," Patel says.
Patel immigrated to New Jersey from India with his parents and sister in the late 1980s, calling it his "first big change" where he did not "have the luxury" of working on a singular skill or passion. "Coming from that experience, frugality and just doing what it takes no matter what in order to succeed became part of my personality," he says, adding later that "You do what you have to — focus on your strengths and results will come naturally."
Patel received his bachelor's degree in electrical and computer engineering from Rutgers, then went on to work at places like Deloitte Consulting. He moved from the technical side to working "directly with customers and people."
"I think the hidden talent of talking with a business user — understanding their requirements, sales, marketing — all became evident. I wasn't just a software programmer, but I had a presence with people, and was able to communicate, relate to their needs and find solutions," he says. This propelled Patel into the world of CLM, where he was the director of product management for contract management solutions at Revitas for a decade.
Patel helped implement CLM, working in tandem with sales, marketing, and "building analyst relationships," even when he notes that "it wasn't part of my role…but there was an opportunity to help these teams and learn from it, which otherwise I would never have known." Going beyond that gave him the exposure, as well as the courage, to expand on the niche.
Through attending events, demoing products and pitching solutions onstage, Patel's position at Revitas turned him from an introvert with stage fright into a public speaker at Malbek, one who helped start a company in recognition of the difficulties associated with faulty systems.
Years of working in their fields years before starting Malbek helped prepare the founders for success built on lessons learned from past experiences. Patel compared their take on CLM solutions to Zoom, saying that while other companies were already tackling the concept of online meetings, Zoom created a platform that was "better, modern, and more cost-effective" than what was already in existence.
"If you're going to go after a market with existing solutions, the main differentiator is you need to know what you're talking about, then coming from that space and living through the pain," Patel says, noting that concepts are being revamped, not reinvented, allowing them to "break into an area which had a lot of potential for disruption and innovation."
Patel has familial inspiration to draw from as well. His wife, Janki, has her own startup as CEO of Innovative Business Concepts, as does his sister, Shefali, who is the CEO of SunDensity, a company that uses a coating for solar technology that "increases clean energy production, significantly reducing carbon emissions," according to a 2020 report.
Even though Patel is the COO of Malbek, he says the executives are actively ready to "roll up their sleeves" if issues arise. "It's a very can-do attitude here," he adds.
To create an ideal work culture that goes against the grain — and the status quo — Malbek focuses on employee morale, cultural and LGBTQ+ inclusivity, and initiatives that break up the corporate structure. "We have a very diverse group of professionals with an amazing attitude," he says, adding that half of their executive team is female.
Their direct sponsorship of employees' leisure is also an unconventional business move.
"Every few weeks, different groups in each department will take half a Friday off, and Malbek will pay for their wellness activity, whether it is yoga or a spa or go out and go golfing, not just giving out a dinner certificate. We want to make sure the employee actually takes time off and relaxes," Patel says. "It's easy to get lost."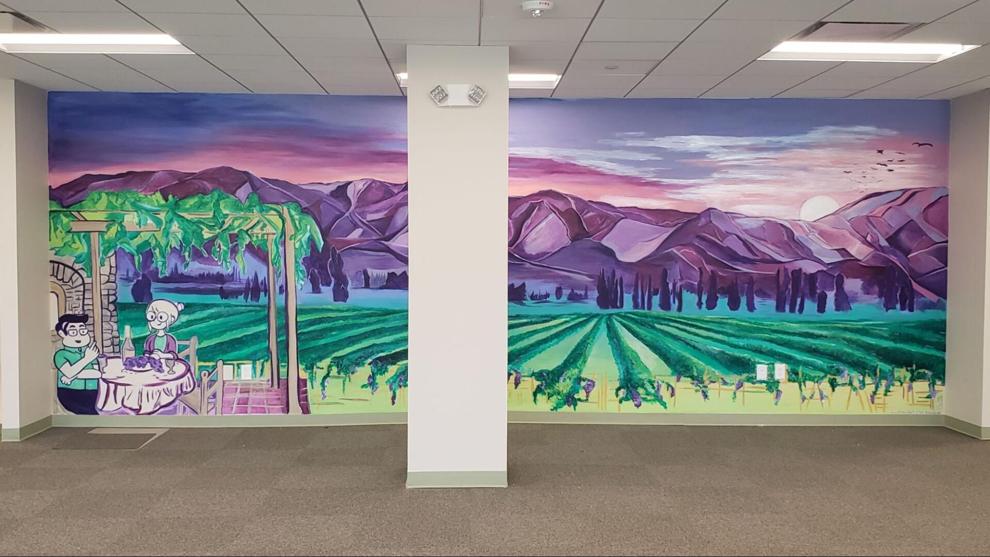 As another reprieve from work, Malbek's workforce includes many musicians, who regularly partake in jam sessions, karaoke, and concerts. Equal time in their monthly meeting is dedicated to the itinerary and activities, which range anywhere from a Kahoot game to a sommelier-hosted wine event. There are even team happy hours — not for drinking wine — where coworkers can watch movies or participate in a book club together.
Patel says that Malbek is currently focused on growth, having tripled its revenue. That includes adding new modules to the CLM system, increasing its capabilities and enhancing product functionality.
"At the end of the day, when you work with customers and partners, they are people, and we want to break this whole barrier of supplier versus a customer. People buy from people, it's based on emotion," Patel says. Those who choose Contrax find a connection to "that culture, the empathy, the feel when you talk to someone at Malbek."
This is also facilitated through Malbek's mascot, Bek, whose friendly disposition and green colors contrast with the purple backdrop almost like the stem of a grape. As personas, Bek is also trying to reach the character of Bob, whom Patel describes as a "traditional thinker."
Speaking to their core mission, Patel says that Bek represents the "modern-day user trying to make change, use a better application and convince Bob" to use Malbek, to improve, and to kick his feet up, knowing their contracts are finally in good hands.
As Bek relaxes with wine in one part of the office, she and Bob sit by a lush vineyard against the mountainscape in a visual reconciliation of both perspectives. But do these illustrated figures, alongside the rest of the unorthodox Malbek office, motivate people to work?
Patel gave a resounding yes, because although Malbek is a newer company, what attracts employees to them are the palpable differences in attitudes, approach, and atmosphere.
Malbek's branding is born from the perspective of those who grew disillusioned with outdated processes or feelings of powerlessness, becoming a blooming, purple violet that blends two views of the future — classic and modern, or Bek and Bob, the personas, working in harmony to change the business model.
"We have come a long way since our early days. We've grown a lot," Patel says. "In a way, I think we're just getting started. We have a long roadmap and journey planned ahead."
Malbek, 300 Carnegie Center, Suite 210, West Windsor. For more information, visit Malbek's website at malbek.io.