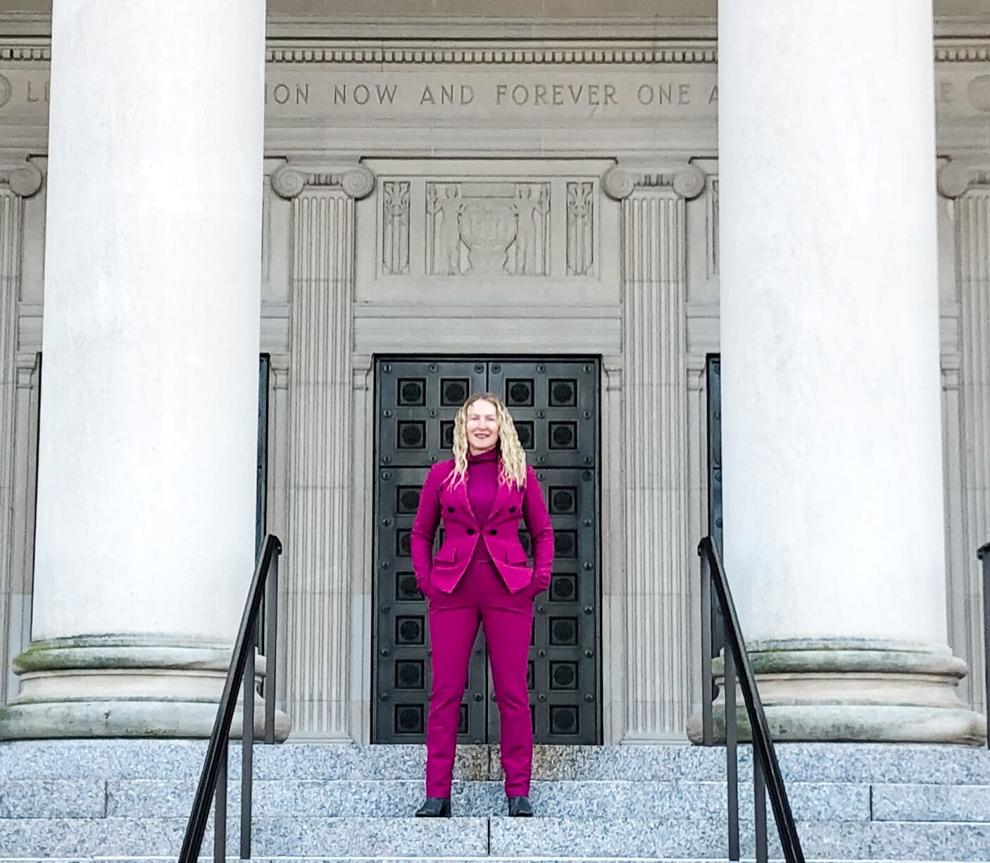 Trenton's Capital Philharmonic of New Jersey has hired a new executive director. In fact, it's its first executive director. And with more than 20 years' experience in arts management, Kate Mulligan would seem like a sound choice.
But then when you hear her talk about her other passion — she's an award-winning equestrian jumper — you soon realize you're listening to a champion with a drive for excellence.
Mulligan has held the executive reins of several organizations, including Princeton Pro Musica and Trenton Children's Chorus. She has overseen the merger of the chorus with Trenton Music Makers to form a new entity, Capital Harmony Works. And she has revitalized a therapeutic equine facility in Hunterdon County, Riding with HEART, again becoming the organization's executive director.
So the Capital Philharmonic is in very good hands.
On Friday, April 1 (no fooling), the orchestra will present its New Year's Eve concert. Like everyone else, the Capital Phil has had to roll with the pandemic punches. The orchestra's ninth season has been a bumpy one, marked by unavoidable cancellations and postponements over COVID concerns. Now that state mandates have been lifted (with a recommendation for the wearing of masks to indoor events, especially for the unvaccinated), the orchestra can get back to work.
The concert, "New Year's Eve Redux" — to be held at Trenton's Patriots Theater at the War Memorial — will celebrate the turning of a page, with a program featuring festive works by Johann Strauss, Leroy Anderson, Richard Rodgers, and George Gershwin, among others.
Mulligan, who took up her position on January 31, will be formally introduced at the concert. In addition, Brett Miller will present a virtuoso recital on the Möller Theater Organ, a half-hour prior to the 8 p.m. start time.
Also at the War Memorial, on Saturday, April 23, at 7:30 p.m., the orchestra will perform an all-John Williams concert, with music from some of the composer's classic film scores, including selections from "Star Wars" and "E.T." Also on the program will be his "Olympic Fanfare and Theme." Saxophonist Jonathan Wintringham will be the soloist in a suite from Williams' music for Steven Spielberg's "Catch Me If You Can."
Mulligan and her family make their home in Frenchtown, where they live on a 70-acre farm —enough land to accommodate their collective passion for horses. There are 20 horses on the farm.
"Horses are a very important, big part of our lives," she says. "It takes a lot to compete."
Her older daughter, 12, is a polo player. Her younger daughter, 9, is a show jumper. Her husband, Mark, has a polo team.
She recalls being obsessed with horses as a child. "Nobody else in my family rode," she says. "I grew up pretty close to a county stable, where luckily it was $10 a lesson, and that included the horse rental and everything. I got my first job working in a barn when I was 12, and just worked my way up the ranks, until I competed internationally, and have done quite a bit, up to the grand prix level."
But she has also always been rooted in music. "I was singing as soon as I could talk. My mom was a jazz vocalist when I was a child, and one of my aunts graduated from Westminster Choir College. On my father's side, everyone was a musician and a teacher."
Holidays and summer vacations included an hour of band practice, with arrangements written by her grandfather. Participation was mandatory.
"I grew up listening to music being practiced and performed. I studied voice, piano, and trombone, briefly. The family band consisted of flute, tuba, saxophone, trumpet, and trombone, with grandparents, parents, and cousins all participating. Growing up, I performed in choirs and as a soloist, singing both classical and jazz repertoire."
She found she also had a good head for practical matters, starting a dog-walking business at 12, managing a restaurant at 16, and renting rooms out in college so she had a free place to stay.
"At Westminster, I decided that I wanted to do more than just perform," she says. "I wanted to support arts organizations so that they could thrive."
She earned a B.A. from Westminster in arts management and marketing, and then went on to collect an M.B.A. from Rutgers in nonprofit arts management and marketing.
She and her husband first met at Westminster in their mid-teens. Then they met again a few years later, singing in Salzburg, Austria, when Kate was in her senior year. The couple will celebrate their 20th anniversary in July.
Mark holds a master's degree from Juilliard in opera. He also runs a redevelopment company, VM Development Group, based in Easton, Pennsylvania. "It has nothing to do with music at all," Mulligan says, "but he also has a love for old buildings and rehabbing things. So he buys these old mills that are abandoned and then tries to save as much as possible, the original floors and the original walls and the original staircases, and repurposes them for apartments and commercial space."
Mulligan herself ran a film festival in Easton for a few years, for which short films were selected by committee and projected outside, onto the wall of one of the buildings. "We had V.I.P. tickets and bands and a DJ and all kinds of stuff," she says. "Initially, it was a way for the city to attract interest to the site, because it was just falling-down buildings and weeds that were four-feet high, and nobody had done anything with the property since the '60s."
Mulligan is a lifelong resident of New Jersey. For the past 22 years, she has lived in Hunterdon County.
After completing her graduate studies, she was buying horses in Germany and reselling them in the U.S. One of the people she rode with was a trainer at a therapeutic facility in Pittstown. The concept intrigued Mulligan. "I went in as a consultant and tried to give them some advice, and ended up being the executive director for five or six years."
The organization was rebranded and given a new name, Riding with HEART (Hunterdon Equine Assisted Recreation and Therapy). The facility welcomes participants with a wide range of disabilities, including ADD/ADHD, autism, PDD-NOS (Pervasive Developmental Disorder-Not Otherwise Specified), Down syndrome, cerebral palsy, spina bifida, visual impairments, and traumatic brain injury.
Mulligan's three-year stint with Princeton Pro Musica came after her graduation from Westminster and before she moved on to Rutgers. More recently, she was executive director of Trenton Children's Chorus for four years. In 2019 she arranged for a performance at the White House. Bearing the family's musical torch into the next generation, her daughters were also with the chorus, prior to the outbreak of COVID-19.
In her last 15 months in the position, Mulligan worked with Carol Burden at Trenton Music Makers to merge the two organizations. The plan finally came to fruition on February 16. Mulligan's move to the Capital Philharmonic eliminated any possibility of redundancy, and Carol Burden is now executive director of the organization's combined forces, now known as Capital Harmony Works.
Alicia Brozovich, formerly Trenton Children's Chorus' director of development, marketing, and communications, has also moved to the Capital Philharmonic, becoming its outreach coordinator. All other youth music-related positions have been retained.
"Trenton Music Makers has an orchestral program for kids, and Trenton Children's Chorus has a choral program for kids, serving the same community with an almost identical mission," Mulligan says. "It just really made sense for the two of them to come together as one organization. I was moving on to a new project, and it was the right time."
Mulligan continues to act as a merger coordinator, one day a week, as plans for Capital Harmony Works continue to evolve. One priority is locating a space large enough to accommodate everything.
In the meantime, the Capital Philharmonic board must be breathing a sigh of relief. "They're going from eight years as a fully volunteer organization," she says. "Some of the board members were basically working a full-time job running the orchestra. They were just ready to have somebody else take it over and help them into what will be the next chapter in the orchestra's future.
"We did get $150,000 from the governor. He announced that there will be money in the budget for next year, and I think we've got a lot of exciting things coming up. We're planning to do at least one concert this summer that will be in Hunterdon County. Our tentative plans for next year include a concert in Somerset County. So we're going to be doing some run-outs. I think that you're going to see us around more, doing a chamber concert series, trying to do some things maybe during lunch time in the Capitol Building downtown, and really trying to get ourselves out there in new ways."
With feet in stirrups, the inaugural director seems poised to ready the Capital Philharmonic to meet new challenges.
New Year's Eve Redux, Capital Philharmonic of New Jersey, Patriots Theatre in the War Memorial, 1 Memorial Drive, Trenton. Friday, April 1, 8 p.m. $45 to $75. www.capitalphilharmonic.org.