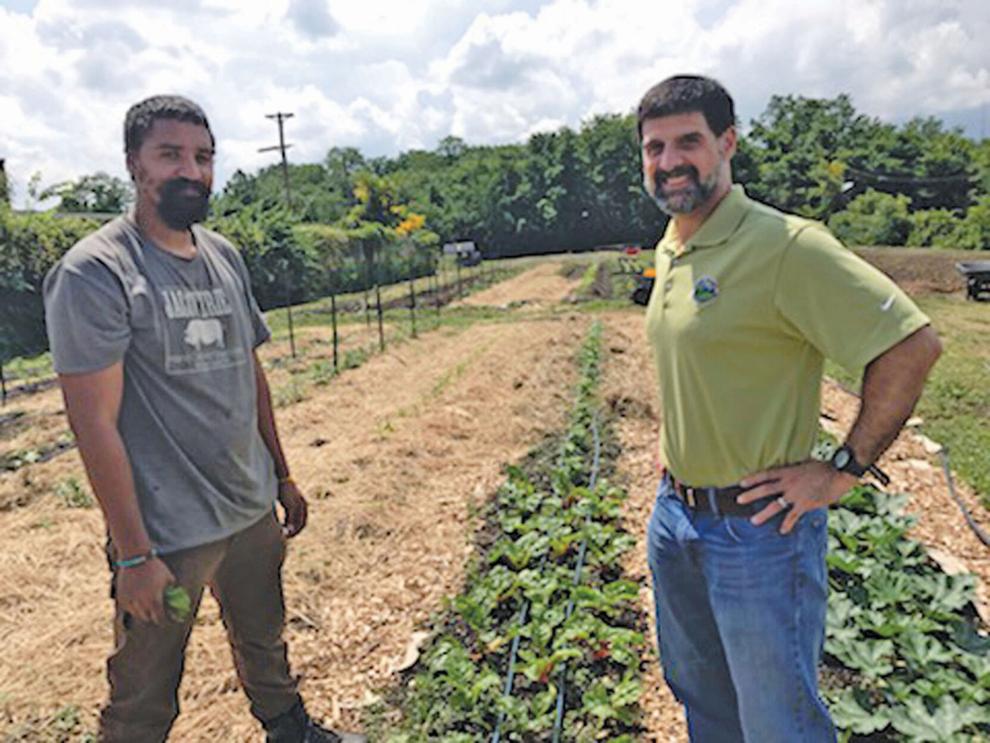 Trenton may well be the nation's only state capital city with a farm. And for good reason. It is definitely the only state capital whose people were faced with a polluted two acres, abutting a soup kitchen, in a poverty-stricken area, that were destined to become a vehicle dumping lot.
It took a lot of work, a lot of volunteers, and a lot of funding from various state, county, and nonprofit sources to create Trenton's Capital City Farm. And it wasn't done overnight. But now, 10 years after Kate Mittnacht, a volunteer at the Trenton Area Soup Kitchen, convinced Jay Watson, then vice president of the D&R Greenway Land Trust, to have that Trust spearhead the effort, the farm has reached a firm footing.
While the Capital City Farm officially opened in 2016, with a guarantee that it would always remain open space, its management and funding structure were never quite solidified. That changed this past April, when the Mercer County Park Commission agreed to assume responsibility and ratify the farm's purpose.
CCF is a unique sort of entity — one that not only grows produce but also seeks to grow a community, to embed that community with heart, hope, and health. It is this dual goal — grow produce and community — that convinced Aaron Watson, Mercer County Park Commission Executive Director, to oversee the farm becoming part of the Park Commission. (Well, let's get it all out here: Aaron Watson is Jay Watson's brother, and Jay, now with the New Jersey Conservation Foundation, was not shy about continually telling Aaron in family gatherings about the crucial and needed role of the Capital City Farm.)
In order for the farm to have a new landlord, so to speak, a lot of legal work and agreements were put into place. This is where Anthony Cucchi, superintendent of parks comes in. He was responsible for working with and obtaining approvals from D&R Greenway Land Trust, the City of Trenton, and the Mercer County Park Commission. As legal agreements go, this one is rather simple as it is only eight pages long.
"The vast resources of the (Mercer County) Park Commission can now be brought into this area of Trenton," Aaron Watson says. This includes not only funding for personnel but also the ability to tap into the abilities and program expertise of the Howell Living History Farm (already providing hay for mulch in the planting areas), Mercer County Stables ("Wouldn't it be fun to bring some demonstration horses to the farm?" Cucchi says), and Mercer County Park's Environmental Education Department, among others.
This programming and scheduling will be under the overall purview of Cucchi, who will also work with the Garden State Agrihood Project (GSAP). This Trenton-based nonprofit had been keeping the gardens at the farm growing for the past four years and will continue to volunteer its services and community contacts for programs and special events.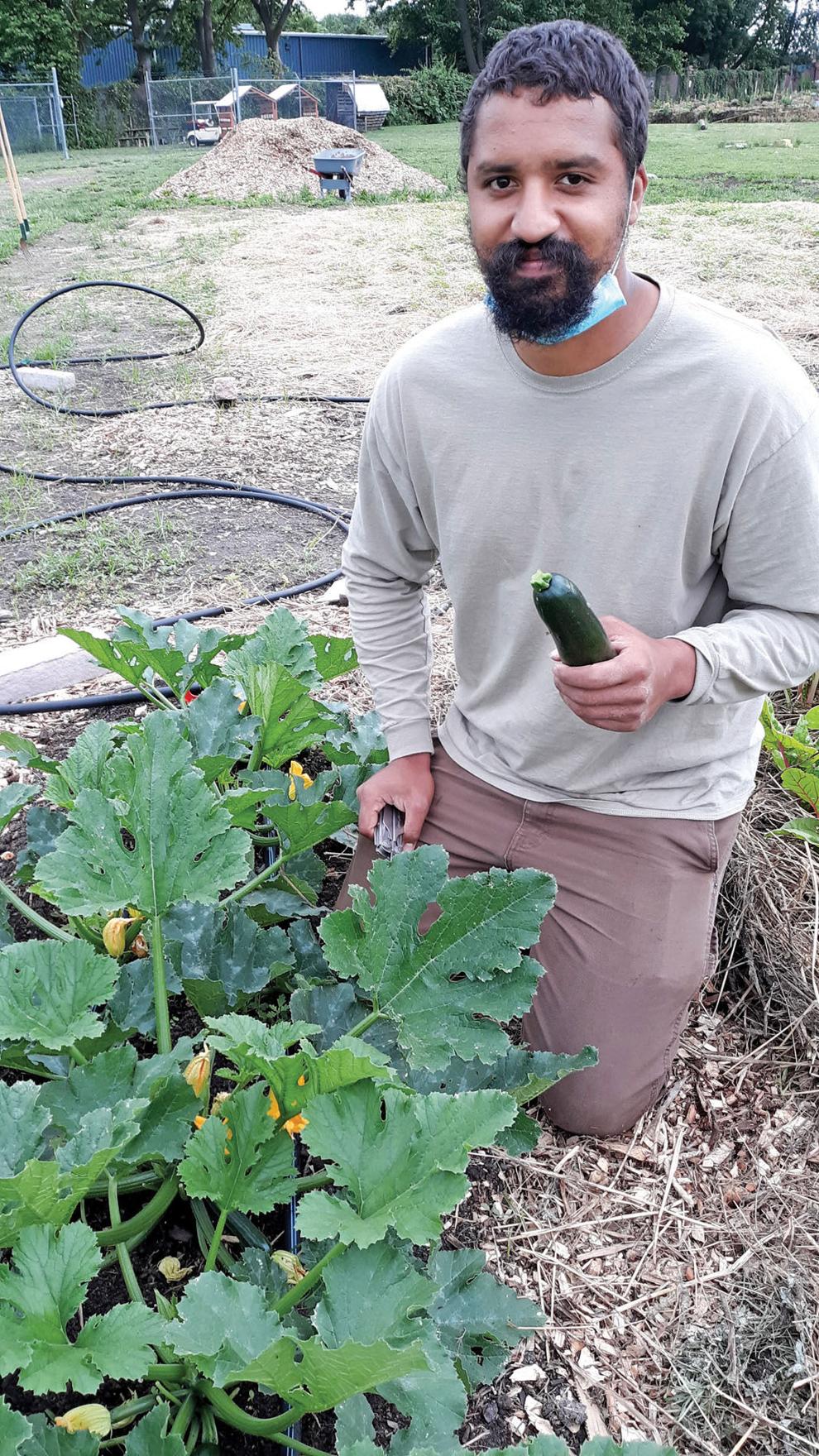 Still, the bottom line is that this property must function as a productive farm site, and running a farm is a challenge, a huge challenge when that farm is in an area with abandoned buildings and little greenery.
Logan Davis, the newly hired farm manager, thinks it is exciting.
It is a project that allows him to not only put his seven years of farm experience to work (this after a B.A. from Bard College) but also to serve both as a role model for neighborhood children and an advocate for redressing the discrimination that Black farmers have had to deal with over decades.
When not talking about regenerative farming, extended harvest periods, and the importance of fresh vegetables grown under organic guidelines, he likes to cite Senator Cory Booker's sponsorship of the Justice for Black Farmers Act.
"It is this passionate commitment to racial equity, combined with his farming expertise," Cucchi says, "that was key to Logan's being hired to manage the farm."
Davis hit the ground running, so to speak, with his involvement in the farm's straw bales project this spring. This art project, funded by the Alliance for Watershed Education and with GSAP involvement, was something different.
Following a design by Seattle-based artist Sarah Kavage, more than 300 feet of stacked straw bales were constructed in sinuous lines and circles throughout half of the property. These formed artistic garden beds. Definitely different. And surprisingly productive. Davis reports that in just four weeks more than 200 pounds of produce — leafy greens, cauliflower, cabbage, broccoli, herbs, and onions — have been harvested for the soup kitchen.
This harvest is due to careful preparation beforehand. At first, they had to be conditioned with fertilizer and put under a watering regime for two weeks. After potting soil was placed on top of the bales, planting began. The local Trenton community, Davis likes to point out, helped with this last bit of work.
Here, and in the farm beds in the remainder of the property, Davis chose plants for multiple harvests. "I did this," he says, "because my goal is to provide as much healthy food for those in need and to teach people from the community, especially those in need of greater food security who are gardeners or may become gardeners, what are both the easiest crops to grow seasonally and that produce the most food." The straw bales are expected to be productive for several years and provide a geometric counterpart to the long, straight rows of vegetables in the property's other half.
"We love the farm," says Jaime Parker, TASK director of programs and patron services. "It's a neighbor that not only makes this area of the city more beautiful but also — and perhaps even more important — supplies us with nutritious produce."
Agriculture was not part of Davis's childhood. He was born in Manhattan, where his father was an actor and his mother a social worker. His parents had met at Newtown, Pennsylvania's George School as students and as his father says, "jumped at the chance to return" as staff when Davis was a little boy. It was Davis's college courses in anthropology, where he studied human societies and their engagement with the environment, that set him on his career path and where the term "food desert" became part of his vocabulary.
Seven years after college, Davis now finds himself as a literal field worker, trying to transform a food desert and with such a transformation to also affect the surrounding community. As farmers know, while you may hit the ground running on the first day of spring, you do not relax until the first heavy frost. Davis is not relaxing. He has rows of tomatoes, peppers, and summer squash sprouting up in the farm's beds. Last week, he was busy planting potatoes for fall harvest. There will be pumpkins and winter squash as well, plus lots more.
"I'm really excited about what we will be able to produce this year for the Trenton Area Soup Kitchen and the local Trenton community," Davis says. "I'm also excited about all the teaching opportunities there will be for the underserved community of Trenton. It is great to already have help from volunteers from the local community, and I'm hoping to increase community involvement even more."
Davis emphasizes that "This farm is not for me or any outsider, it's for the Trenton community. I believe the community should benefit the most from its existence." With the backing of the Mercer County Park Commission, Logan Davis does not believe alone.
Capital City Farm is located at 301 North Clinton Avenue, Trenton. Look for Strawbale Garden and Farm Tours on Saturdays, July 17 through August 14, 10:30 a.m. Tours include background on the farm and its connection to Trenton's Coalport area. Find more at www.facebook.com/CapitalCityFarmTNJ.