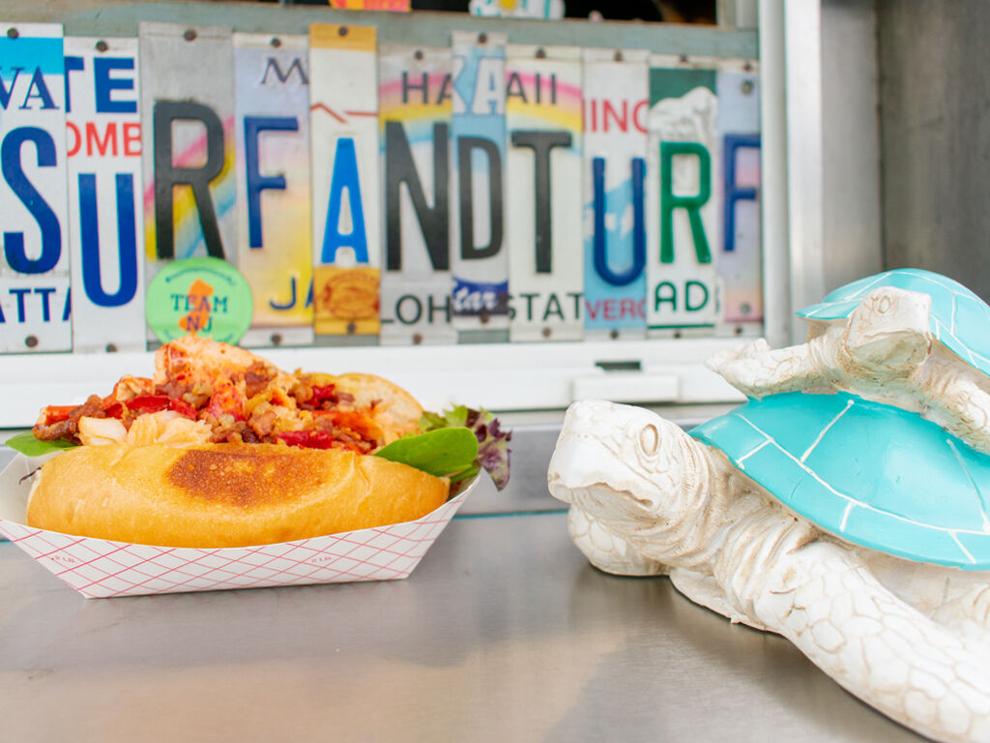 Food trucks are equal parts determination and delicious food. They are run by families, couples, independent owners, and partners, some of whom see their work as an extension of their culinary school experiences, while others view the business as a side hustle allowing them to pursue their passion for cooking on more movable terms.
With these varying backgrounds comes an explosion of culture and talent in the industry, a niche that BestofNJ.com contributor and photographer Patrick Lombardi has written a book about alongside the publication's editor-in-chief, Vincent Parisi.
The first paperback to come from Best of NJ, "The New Jersey Food Truck Cookbook" evolved from Lombardi's "The Best New Jersey Food Trucks," a web series that has run every spring and summer season — considered the prime time for food trucks due to the increase in outdoor festivals and events — since March, 2018.
Released on February 13 through The History Press, an imprint of Arcadia Publishing, every chapter of the book centers on a different food truck business from throughout the state. Of the 20 food trucks featured, Lombardi highlights the biographies of the people involved, more than 30 recipes, and Q&As with the business owner(s).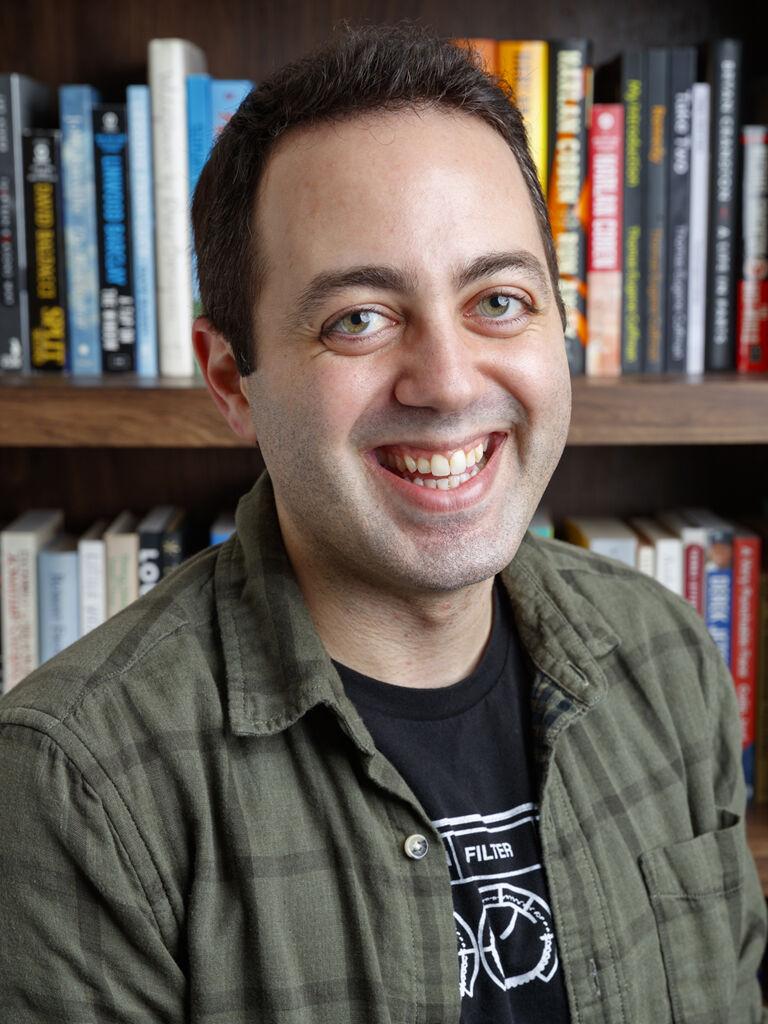 A self-described "foodie" and lifelong New Jersey resident, Lombardi grew up in Hillsborough and graduated from Rider University with a bachelor's degree in English. In 2018 the Lawrenceville resident self-published his first book, "Junk Sale," on Amazon as a "collection of humorous short stories and essays."
He currently works full-time for the state of New Jersey yet still has the same love of writing, covering food, hiking ("The Best NJ Hiking Trails"), and history ("Jersey Through History") for Best of NJ, with previous credits for websites such as NJ.com, MyCentralJersey.com, and Patch.com.
The concept for "The Best New Jersey Food Trucks" began as a pitch Lombardi made to Parisi in late 2017, which the latter documents in the book's preface as growing from a standalone piece Lombardi had been writing at the time on Bearded One BBQ, a Monroe-based food truck.
But Lombardi sensed a greater potential than just a one-off could provide when, upon reflecting on the interview, he noted how owners Chris and Jess D'Addario"were quick to mention — completely unprovoked — the deep bonds and close relationships they had formed with the other food truckers who attended the same events," according to Parisi's preface.
After its successful debut, the web series would continue highlighting six food trucks per year to reach the current number, which is, as of press time, 30 total.
By 2021 Lombardi was considering publishing a book about food trucks when Parisi joined him. Parisi's initial vision for the book was an "oversized coffee table book featuring large color photos of the trucks, the teams behind them, and their signature menu items," according to his preface, but Lombardi had another idea.
As a way of differentiating the compilation from the web series, Lombardi thought that featuring recipes from the food trucks would add "a little bit more of a draw," since the direct know-how would not give away the star recipe — such as Maddalena's cheesecakes or the Brownie Bar's brownies — but inform readers on how to follow in similar footsteps.
The personal nature of Lombardi's interviews matches the atmosphere of the ordering process at these mobile munching spots. By simulating this amicable yet intimate environment in literary form, Lombardi invites the reader to learn more about the creative geniuses and culinary talents behind each business.
The book, which divides the state into four areas — south, north, central, and the Jersey shore — includes names like the one that started it all for Lombardi, Bearded One BBQ, as well as Maddalena's CheeseCake & Catering, Good Food = Good Mood, Five Sisters Food Co., and two owners from nearby Hamilton, Andrew Dudich of Mama Dude's and Cindy Matas of Surf and Turf Truck, among many others.
---
As Lombardi writes in the "NJ Food Truck Cookbook" acknowledgements, "there's no community like the food truck community. The industry is often glamorized on television and in movies, made to appear like some lax service business with low overhead and little work. The amount of effort and drive (pun intended) it takes to run, maintain and operate a food truck is no joke, and the ones who last wouldn't be out there if they didn't truly love what they do — blood, sweat, tears and all.
"When I first started going to food truck festivals, I had no idea what went into the business. I figured it was easy enough to finance a truck, stock some food and supplies, post up on any busy city street and make buckets of cash every day. (Sometimes I still laugh at my foolishness.) I had no idea about commissary kitchens — or permits, health and fire inspections, county and township fees, event charges, street vending statutes, food and supply shortages, water reserve, five-thousand-watt generators, outfitting commercial vehicles, employing staff, scheduling events, developing a menu and scrupulous inventorying. Not to mention, it takes me twenty minutes to microwave taquitos — foodies don't have that kind of time.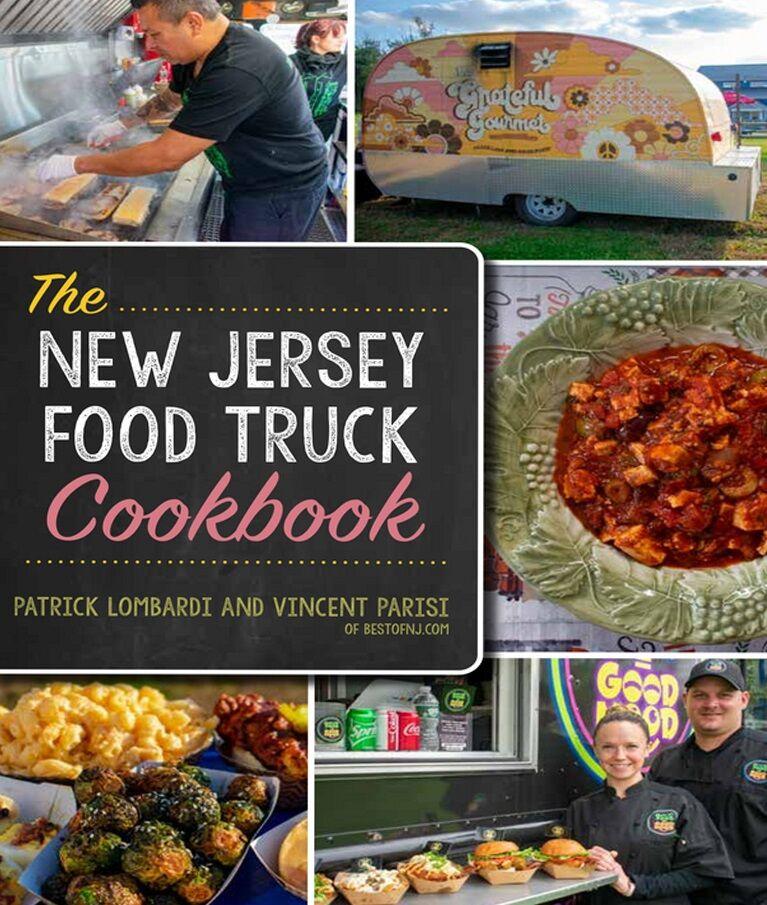 "If you're ever wondering how difficult it might be to run a food truck, just think about how painstaking it is to keep up with car maintenance. Now imagine you have a kitchen in your backseat, and every time you park, four different people have their hands out looking for payment. Then, after driving fifty miles away from your home, someone comes up to your window just to complain that you're charging too much for fries.
"It's not all bad. It truly isn't. But all of these challenges underscore just how outstanding the owners in this book — and other food truck operators — are, in that they juggle all of that and more and still deliver quality food. And if it weren't for these struggles, the food truck community wouldn't be as strong as it is today. The owners and workers have built bonds since seeing each other day in and day out. More so, however, they're there for each other whenever someone runs out of serving boats or someone else's generator dies. They hang out, joke around and share their stories, laughs and, of course, food," Lombardi says.
After thanking the owners for their contributions and kindness, Lombardi starts the book's introduction by explaining the origins of his own food truck journey:
"Not one of the trucks in this book has ever served me a meal that didn't make me lick the wax-paper boat when I was done. At food truck festivals across New Jersey, you'll probably find me nose deep in a taco bowl or brisket grilled cheese's foil wrap. Either that or I'm picking at the crumbs of a fried buffalo chicken egg roll or fresh Cuban sandwich. Sure, I could always go order a second helping — which I do — but I still crave every last morsel. I'm not embarrassed by it.
"One might say I love food trucks a little too much. My wife and I even had one (Good Food = Good Mood) cater our pandemic wedding in my mother-in-law's backyard. But that's reductive of the relationship New Jersey has developed with food trucks in recent years. Point being: I'm not nearly the only one who loves them.
"Food trucks have become a booming industry in the Garden State, each one a powerhouse of culinary innovation — on wheels. Those greasy lunch trucks that serve industrial parks and college campuses after 2:00 a.m. — well, they're still around and admittedly a guilty pleasure. But they didn't just slap on a gourmet sticker and start catering bridal showers. No, this generation of food trucks is a whole new fleet. They'll burn past you on the parkway and then hand you a heaping pile of pulled pork fries with a smile. They're a family on the road who always have each other's backs in the fields. Some will pound the pavement as early as 6:00 a.m. and won't get back home until midnight. They don't waste time worrying about 'competition' because each truck offers something different. We as foodies make room in our stomachs for a taste of every last one of them, anyway.
"The best of them don't just throw patties on a flat top and drench their buns in butter; they spend most of their weeks prepping and cooking in commissary kitchens, scrutinizing each ingredient and every step. They've developed exclusive recipes and precise methods that can't be pumped out of an assembly line. When they're not cooking, they are on their hands and knees scrubbing every inch of their mobile kitchen. No corners are cut and no avenues ignored.
"You'll find many of those mouthwatering recipes in this book, which features twenty of the best food trucks from all around the state. Thanks to the masterminds who have already perfected their signature dishes, you'll learn how to cook like an elite New Jersey food trucker. Each truck has a distinct cuisine, teaching you how to make everything from Surf N Turf Burger Sliders to Chookie desserts (which is a cheesecake sandwiched between two chocolate chip cookies). Despite their differences in menu, each truck shares a common thread: they all cook with respect for both their patrons and their products, serving meals that leave you smooching the plate it was served on. After trying a few recipes on your own, you won't be embarrassed about doing it, either."
---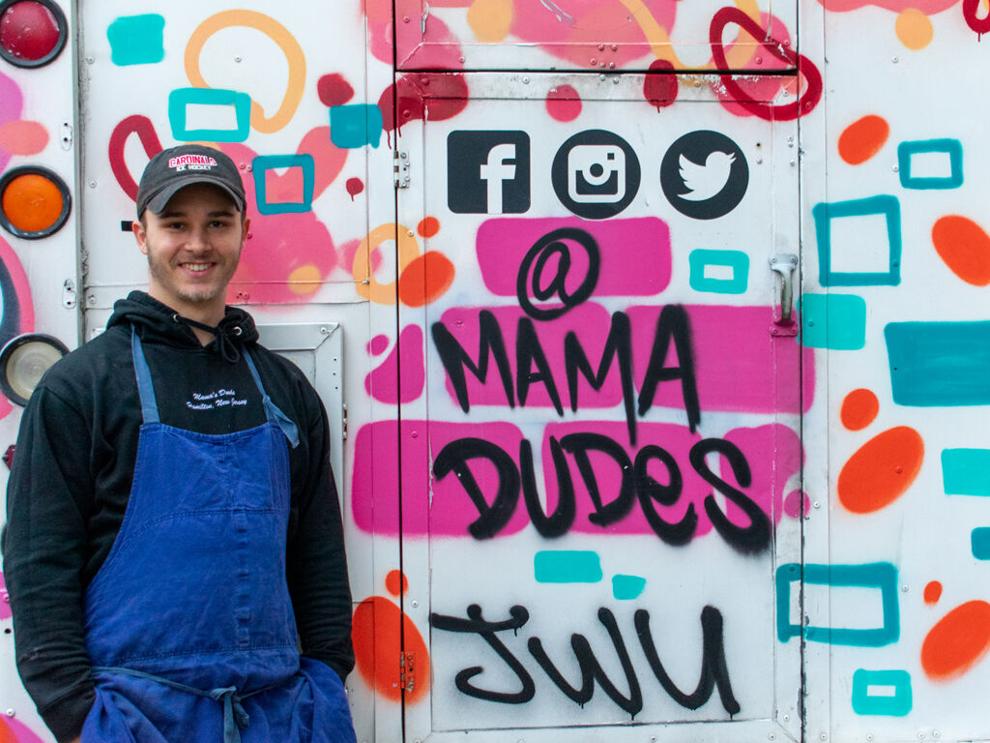 While the northern and southern parts of New Jersey have their alliances with the corresponding cities in proximity, Lombardi conveys how central New Jersey not only exists — a hotly debated topic among the state's residents — but has its own distinct flair, a feat that is shown through food trucks like Mama Dude's, House of Cupcakes, and more.
Andrew Dudich is the owner of Mama Dude's, having first established the business' signature farm-to-table truck with a name that paid homage to his late mother, who was also a chef and passed away during his senior year at their shared alma mater, Johnson & Wales University in Providence, Rhode Island.
Mama Dude's opened under a simple premise: to source all produce from five local New Jersey farms, which would then be featured in a revolving menu that changes per season. The truck, whose exterior was designed and painted by Trenton artist Leon Rainbow, was one of the first of its kind in the state.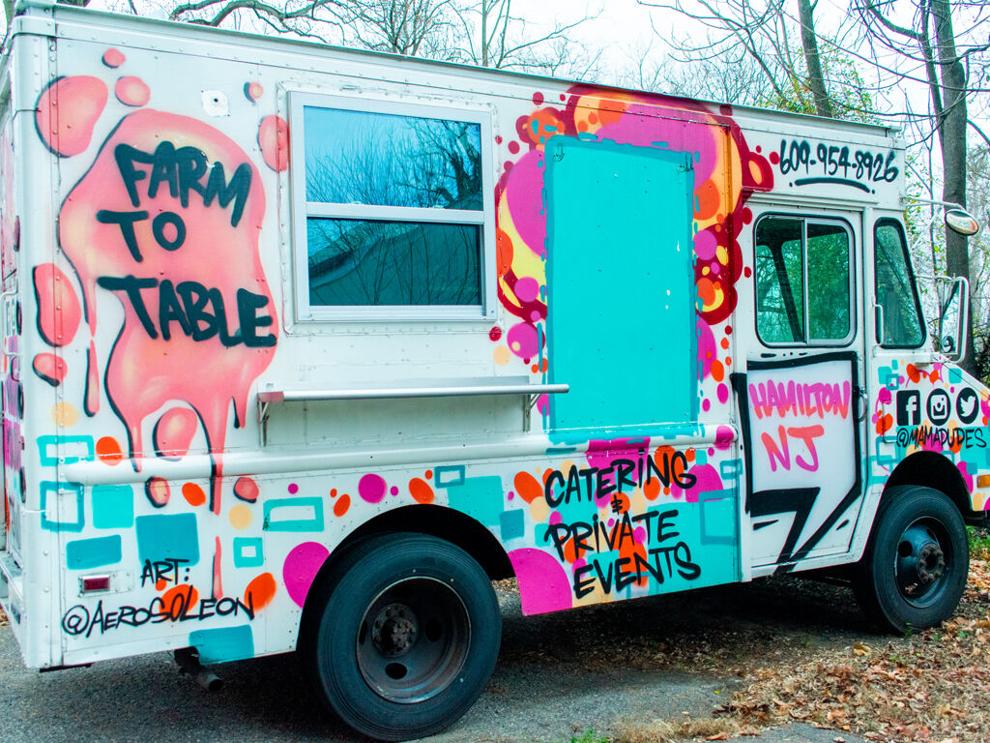 "When guests order from Mama Dude's, they choose a base, protein, topping and sauce. Base options include local greens, jasmine rice or half and half, while proteins range from meats like pork, beef and chicken to vegetables such as squash, avocado, cauliflower and even ratatouille. Patrons then select one or more toppings from a list of cucumbers, cheeses, asparagus, cured egg yolk, mozzarella in basil oil and more. Of course, the available choices depend on the season. However, Andrew keeps a steady selection of sauces," Lombardi writes.
Dudich shares a recipe for his Griggstown turkey breakfast tacos, which utilize several other components; fresh thyme honey, pepper jam, and tzatziki sauces are in the book, coming alive to complement the ground meat in the tortilla. Another hack in the book replicates his go-to method for replicating pickled cotton candy grapes (and yes, you heard that right).
"Mama Dude's makes everything in-house, sourcing local ingredients to create dishes patrons can't find at many other places in the state. Andrew takes pride in his food, but more than that, Mama Dude's is a testament to his mother, whose inspiration, imprint, and legacy live on through his success as a chef and a food trucker."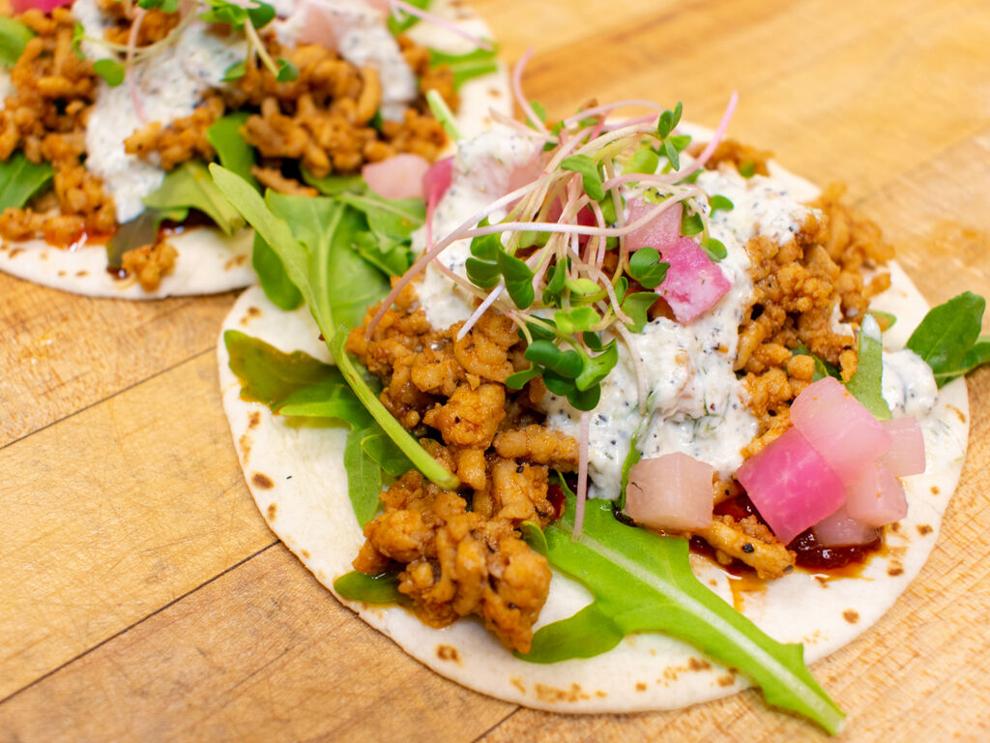 Dudich bought his Hamilton storefront the day before the 2020 government shutdown, which delayed its opening but did not deter customers for long. Now with a cult following over wintertime "fan favorites" like burnt carrots, Mama Dude's only adds to the dimensions of its owner's culinary endeavors on the journey from Mercer County VoTech's high school culinary program to the spot at 11 Sunnybrae Boulevard.
Mama Dude's, 11 Sunnybrae Boulevard, Hamilton. Open Mondays through Saturdays, 11 a.m. to 8:30 p.m. 609-954-8926. www mamadudes.com.
---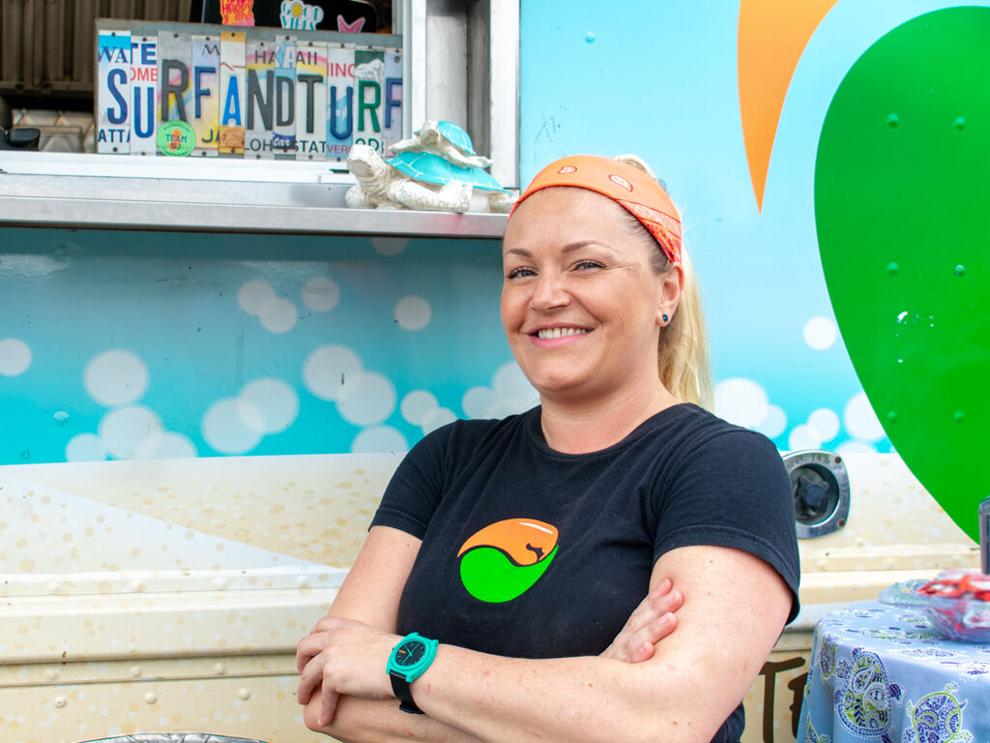 Cindy Matas, who co-founded the Surf and Turf Truck in 2013 with her sister and brother-in-law, Beata and Adam Browne, was born and raised in Hamilton before she moved to California. When she returned to New Jersey a decade later, Matas helped establish the business, which grew in popularity after being featured on the Travel Channel show "Food Paradise," before taking over the northeast operations in 2015.
Adam developed the menu, which marries the land and sea in glorious, meaty harmony through a "signature menu" boasting three styles of lobster rolls, a rosemary steak sandwich, shrimp tacos, and more — like a "secret" surf and turf sandwich that Lombardi says "combines the warm lobster roll and the Rosemary Steak Sandwich. This behemoth of a hoagie actually overflows with lobster and beef, and hardcore Surf and Turf Truck followers never miss an opportunity to order it when they spot the vibrant red-and-green logo at festivals and events."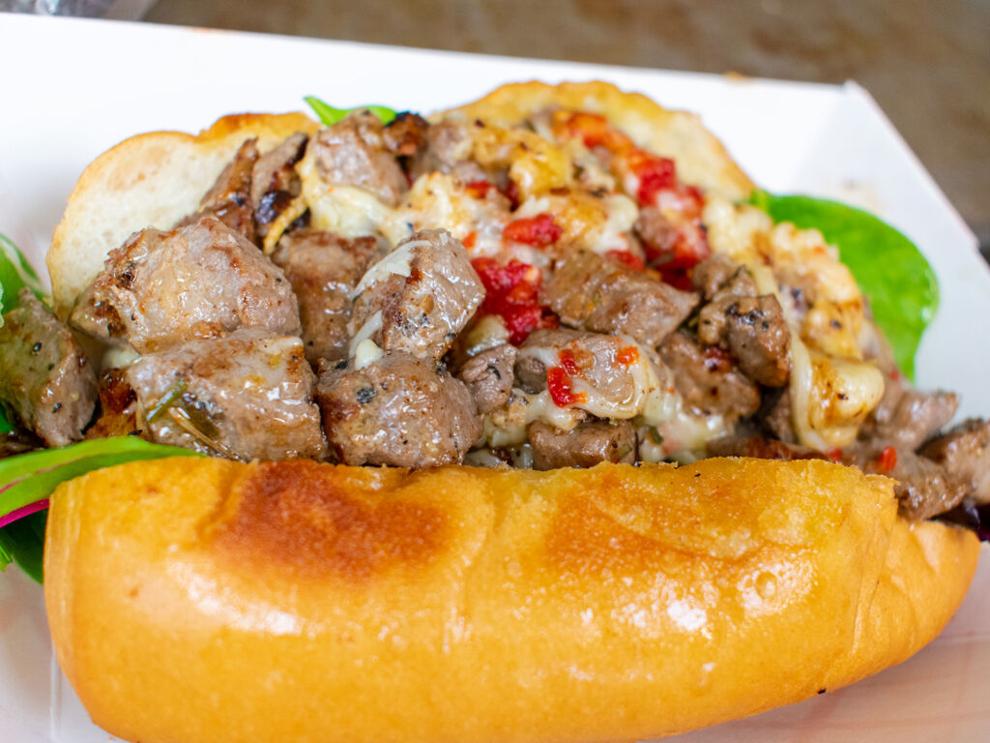 ---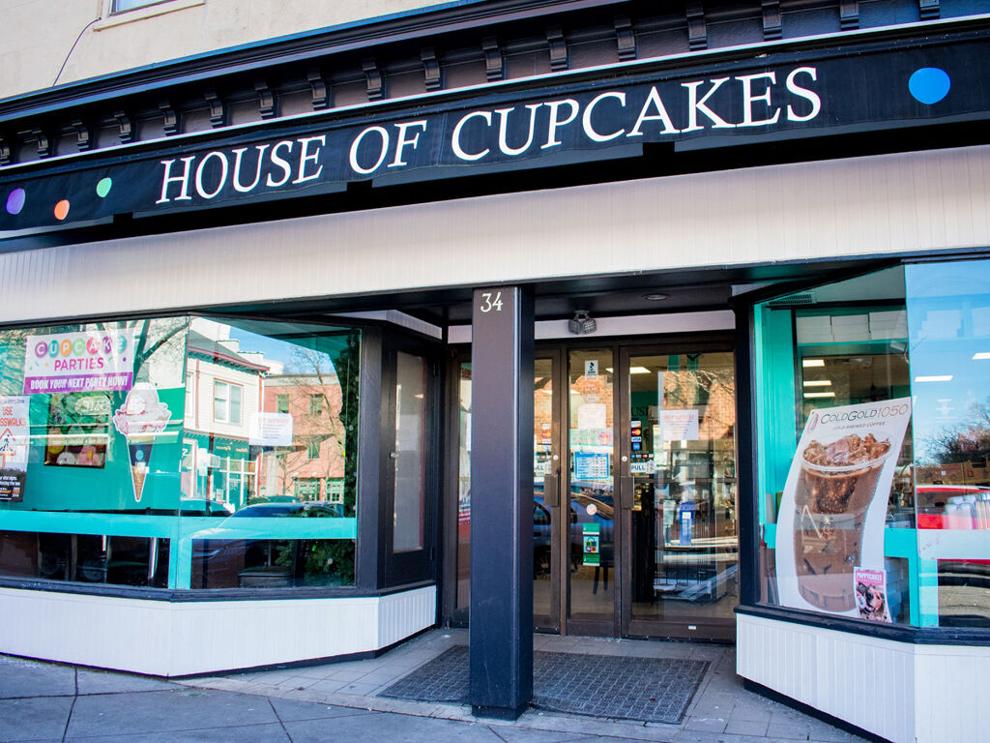 The recipes for espresso dark brownie cupcakes with peanut butter fudge frosting and oatmeal raisin cupcakes with orange cream cheese icing can only come from House of Cupcakes in Princeton.
During the Q&A, owner Ron Bzdewka shared that he ran two Party City stores with his wife, Ruthie, before she was inspired to start a business specializing in cupcakes.
Lombardi writes: "Ron and Ruthie Bzdewka, along with their young sons Rage and Riot, started their family business in 2008. Ruthie — a lifelong baker — found a little vacant shop on Witherspoon Street in Princeton, just a short walk from Nassau Street. After years of developing and perfecting her own recipes, she was ready to open a bakery.
"Ron and Ruthie developed the business concept together. They decided that Ruthie's cupcakes would be the focal point, but they also wanted to offer pastries and other treats like cookies and chocolate-covered pretzels. The plan was to offer an expansive selection of cupcakes, including flavors people couldn't make at home or find at any other bakery. After finalizing the menu, renovating the shop and building the staff, House of Cupcakes officially opened in 2008.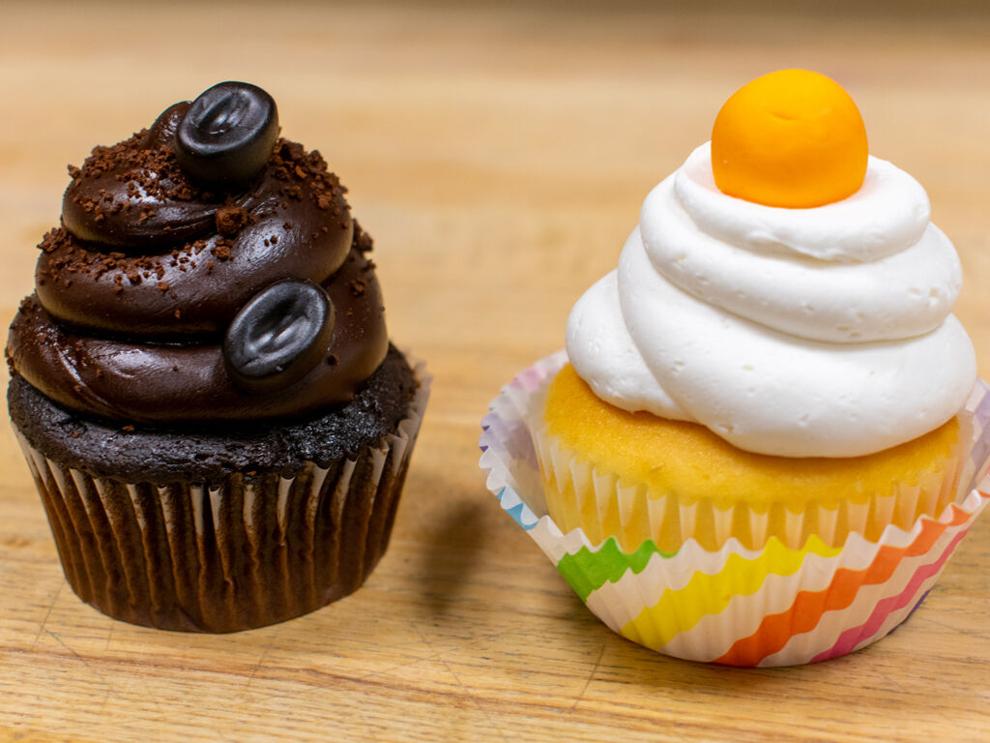 "And then the Great Recession hit. It took some time, but House of Cupcakes was able to survive, and eventually thrive, building a massive following in the process. Patrons love that the shop's cupcakes are always fresh and made from scratch.
"A year after House of Cupcakes opened, Ron received an email from the producers of Food Network's 'Cupcake Wars.' He deleted it. They sent him another message. He deleted that one, too. Then Ron got a phone call from an unknown number. He answered it, and the man on the other line invited him to audition for Cupcake Wars. It was being developed for cable as a reality competition series in which contestants would face off in separate challenges, and one contestant would be eliminated each round. The winner would receive $10,000.
"The family auditioned for the competition and were selected to participate. Ron and Ruthie flew out to Los Angeles, California, to film their segment, taking on three other bakers and coming out victorious after three rounds. Ron and Ruthie returned home to New Jersey and donated all of their winnings to the St. Jude Children's Research Hospital."
After winning Cupcake Wars just a year after opening, Lombardi explains, House of Cupcakes "exploded in popularity," attracting visitors who, as Ron Bzdewka adds later with shocked emphasis, would "even drive two hours to come" to purchase the signature sweets.
"Over the next five years, business was great. Then, in the early fall of 2014, Ron got a call on his cellphone at 1:30 a.m. from the Princeton Police. The shop had caught on fire, leaving the kitchen completely charred and destroyed. Though it pained them to bid farewell to their original location, within a month they had moved one door down into a space nearly double the size.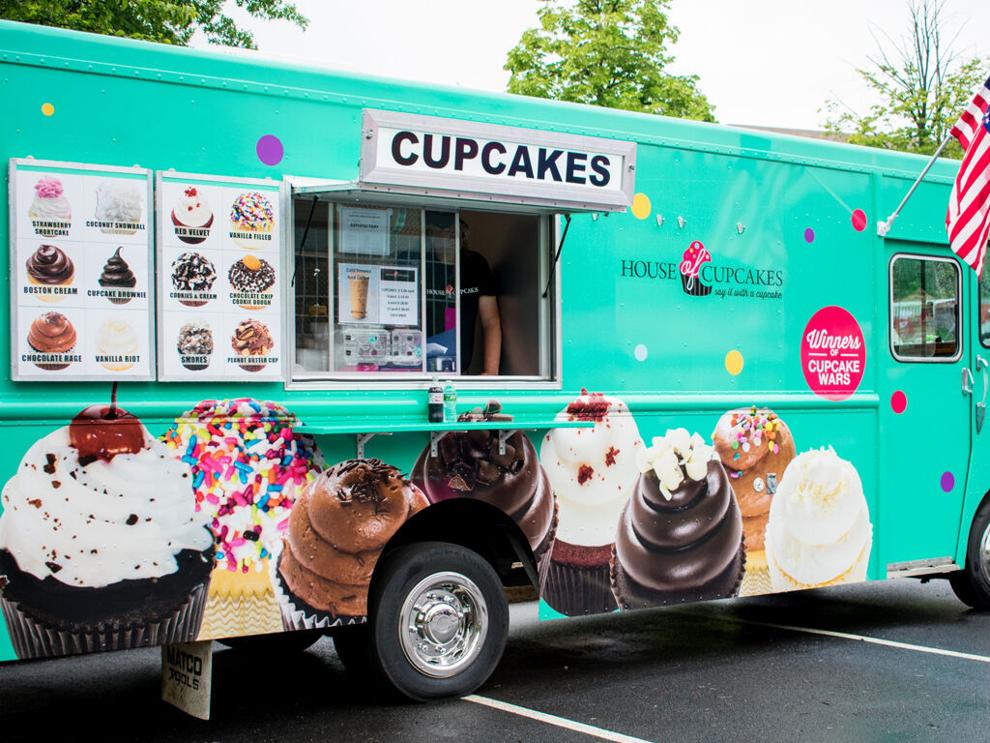 "Then, in June, 2015, the Bzdewka family purchased their first food truck. It wasn't long before House of Cupcakes was attending everything from seafood and barbecue festivals to street fairs and farmers' markets. They even offer catering options for any occasion. Now, House of Cupcakes proudly operates out of four locations in Princeton, East Brunswick and Clifton, New Jersey, as well as Jeddah, Saudi Arabia. Each one offers an amazing assortment of cupcakes, with about sixty flavors in rotation at a time. In addition, they serve ice cream, cookies, edible cookie dough, chocolate-covered pretzels, cookies and crackers. They will even design and prepare custom items, from full-sized cakes and gourmet cookies to, of course, cupcakes."
"House of Cupcakes keeps a mix of favorites and seasonal items on the truck," Lombardi explains, with the Bzdewkas sharing that the most popular flavors are peanut butter cup to vanilla-filled, chocolate, red velvet, chocolate chip cookie dough, and more.
---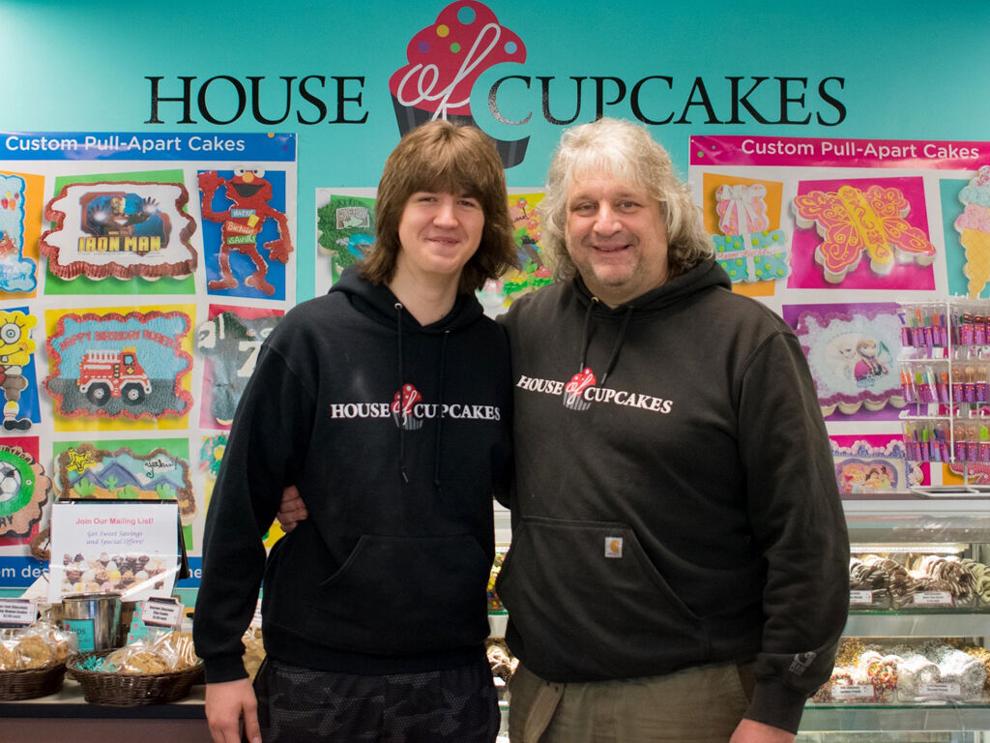 He then asks, in the Q&A, "'What was your experience like on Cupcake Wars?'"
Ron: "…I think that [show] is a major part of why we're still here today.
Rage: Mom wanted to keep busy. She got more than she bargained for [laughs].
You've said food truck owners who frequently attend the same events become like family. Can you describe that?
Rage: They're all great people, and so you'll go around and say hi to everyone and ask how everything has been.
Ron: Yeah, we're all very friendly with each other. So, say someone runs out of forks or napkins, you don't ever really run out, because there are a lot of other trucks you can go get the stuff from. Everybody is willing to help each other out. If someone's generator goes, everyone's got cords running from theirs to get their power going. You meet a lot of really nice people."
House of Cupcakes, 34 Witherspoon Street, Princeton. Open Mondays through Thursdays, 9 a.m. to 8:30 p.m.; Fridays and Saturdays, 9 a.m. to 9 p.m.; and Sundays, 9 a.m. to 8 p.m. 609-924-0085. www.houseofcupcakes.com.
---
Lombardi is also in the early stages of launching DevourNJ.com, his own website for foodies that "aims to boost independently owned food businesses throughout the state" and "highlights the best of a booming culinary scene by introducing in-depth profiles and photographical and video tours of local eateries and their owners."
Lombardi hopes to follow this up with new collections of work in the genres of humor and horror, in which he has been dabbling since the end of last year.
He will also be present at upcoming promotional events such as a book signing at Commonplace Reader in Yardley, Pennsylvania, on March 11, Mama Dude's on March 18, and the Lawrenceville Spring for the Arts Festival in Weeden Park on May 6.
"I hope that [readers] take away that there are people behind each and every one of these businesses, and not just the 20 that are featured in the book, but that anytime they go to a food truck festival, there are people behind those businesses," he explains, extending that "on a grander scale" to any local shop, "that there are owners behind it, and there are families behind where they are and what's being offered to them" as customers.
"As much as I love to promote New Jersey in so many different ways, I hope that no matter where everybody [goes], they're taking into consideration just exactly what shop they're in, or what restaurant they're in, and who might be behind that counter," Lombardi says.
---
The New Jersey Food Truck Cookbook, Patrick Lombardi and Vincent Parisi, Arcadia Publishing. Available through Arcadia, Amazon, Barnes & Noble, etc.