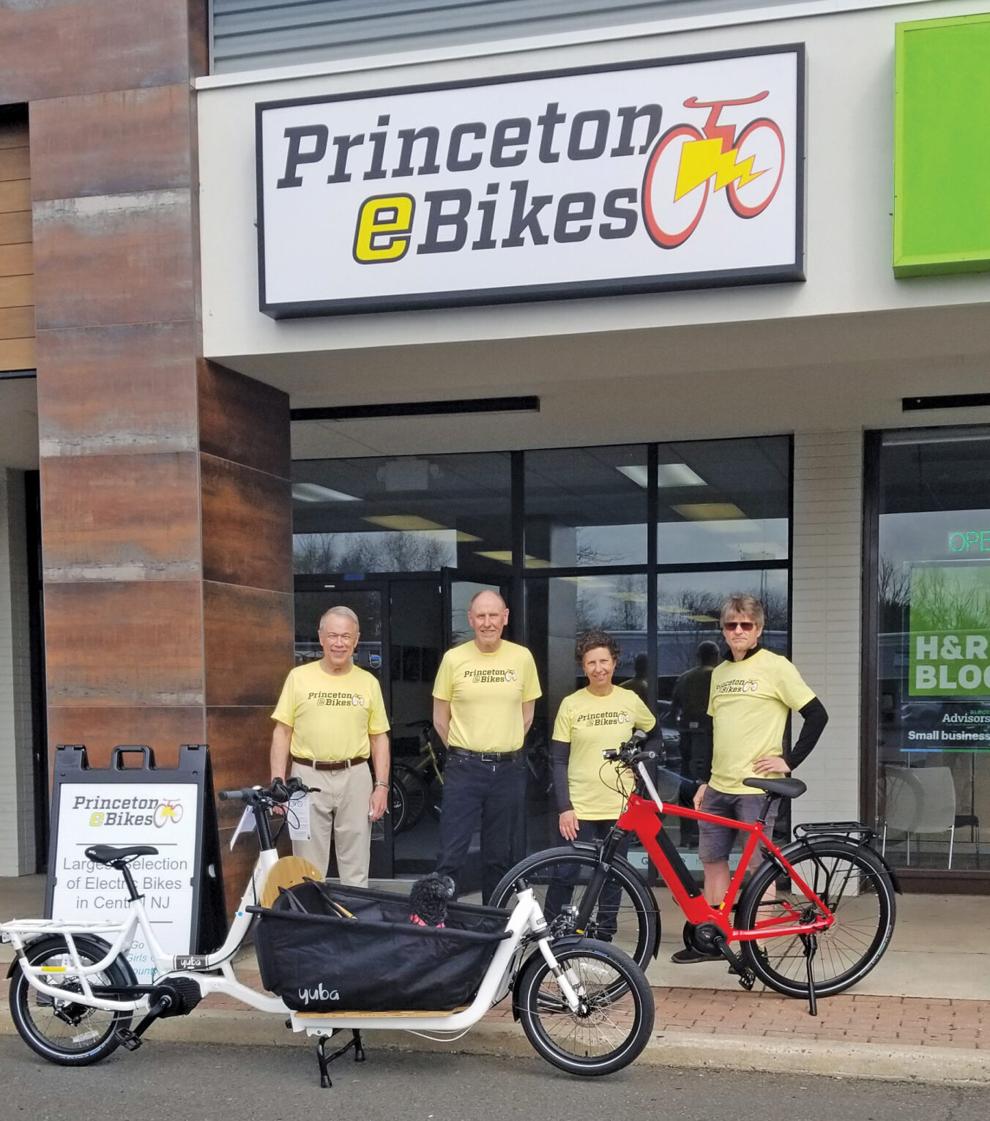 So, asks a drop-in visitor to Princeton eBikes: Is this a bicycle or a motorcycle?
Princeton eBikes founder and co-partner Russ White assures the man that despite its compact but formidable-looking electric motor and battery, and its assertive design (part curvaceous retro, part sharp-edged futurism) the device he's eying — like all the others lining the recently opened store in the Lawrence Shopping Center — is indeed officially and legally a bicycle.
And — with a sales pitch as understated as the operating whirr of the vehicle's motor — White adds that all sales proceeds at Princeton eBikes after store expenses benefit the Boys & Girls Clubs of Mercer County.
The Mercer chapter of the national service organization for young people has already been benefiting from another cycling-related, nonprofit business brainchild of White's: the Boys & Girls Club Bike Exchange, located in the Capitol Plaza shopping center.
And now both stores are themselves benefiting from a largely unforeseen consequence of the COVID-19 crisis — a sudden increased demand for bicycles as recreation and fitness options, when quarantining and at-home work became almost claustrophobic but many gyms and other exercise outlets remained closed.
With e-bikes, an additional trend is pumping up the action. Namely, the appeal for aging cyclists of motor-assisted bikes that can still allow enjoying fairly lengthy or hilly rides (from 25 to 75 miles before recharging, depending on how much pedal power the rider contributes and how much energy-intensive climbing is encountered). And citizens "going green" welcome e-bikes as alternatives to gasoline-powered cars for light shopping trips and other local errands.
Also notable are the innovative business models of both the BGC Bicycle Exchange and Princeton eBikes: They lower costs by using dedicated volunteer staffers and being open only one or two days a week.
Self-described as "a pretty serious cyclist," Russ White's road to bike sales for fundraising has been like a good day's ride: Even when seemingly seemed improvised, even whimsical, it's been motivated by an unflagging determination and an intent as specific as any printed route cue sheet.
Born in 1940, Russ White had a normal American childhood — literally. He grew up in the heartland town of Normal, Illinois, where his father was a Methodist minister and his mother a home maker who later became an elementary school art teacher. White earned a degree in physics at University of Illinois, then became professionally involved in computers during the old IBM mainframe days. He started at the Esso corporation (today, Exxon-Mobil) in operations research. A major pioneering project was making computer models of oil tankers to determine the most efficient designs.
He worked in computers from 1962 to 1980. Then, until 2000, he focused on publishing and was involved with transitioning a major construction industry subscription newsletter from print to digital.
Approaching retirement in 2001, Princeton resident White was already thinking of charity-related activities "and finding an organization I really wanted to work with. Someone introduced me to the Boys & Girls Clubs of Mercer." Not only was he was impressed with the large but compassionate and efficient organization: "The best thing you can do with your time and money is to help kids at risk."
He volunteered at the Boys & Girls Club location on Trenton's Spruce Street — right across from the Capitol Plaza where the Bike Exchange would one day be established. White had already taken a part-time cycle shop job to learn how to fix bikes; he also co-founded Sourland Cycles in Hopewell, seeing a business opportunity for a first-class bike shop in one of Central Jersey's most popular riding regions.
He deflects a suggestion that impulses to charity and working with youngsters are in his genes from a clergyman father and teacher mother. "It's fun to help the kids," he replies.
Dave Anderson, CEO of the Mercer Boys & Girls Clubs, also came highly recommended as an innovative and effective executive. An early conversation involved an ongoing nonprofit operation in which citizens could donate used bicycles to be repaired and resold, the proceeds benefiting the Club.
Thus was born, in 2009, the Boys & Girls Clubs (BGC) Bike Exchange. Says Anderson, "Russ and I discussed what his vision was, and how can we create a [charity business] model around that?"
White notes that the Exchange thrives because it answers two frequent questions: "What can I do with my old bike?" and "Where do I get a good used bike?"
At the outset, Dave Anderson's son, as a bar mitzvah project, collected some 200 used bikes, demonstrating that the regional community could be a productive source of donations.
But no one imagined that in the slipstream of the novel coronavirus of 2019 would ride a powerful demand for bicycles, new or used. By mid-2020, the BGC Bike Exchange was drawing customers from as far away as Brooklyn.
"In one day, we could sell out most of our supply," Anderson says. "People needed bikes."
The Exchange sold some 2,000 low cost used bikes last year — which, Anderson says, with both a laugh and absolute seriousness, "probably makes us the biggest single bike shop in the state. And it's all run by volunteers."
That figure was per usual for annual Exchange sales, but then the mix was suddenly quite different. From a ratio of adult to child bicycles of about 60/40, it tilted to 80/20 as home-bound grownups were eager, even desperate, for wheels.
The Mercer Boys & Girls Clubs are grateful for the income. The organization had been primarily offering after-school programs and services. With COVID-19, education went essentially online. But few low-income families have reliable internet access. And most of the parents did not have the relative luxury of remote work options. They had to keep showing up at a place of employment, unable to leave young children home alone.
Now, instead of only having some children at 3:30 p.m. for after-school programs, Club locations have a total of about 200 youngsters per day starting at around 7:45 a.m. They're provided with internet services and helped to access remote learning sites. Activities continue into late afternoon when parents can come by for them. That means numerous extra expenses for the Club (including some 2,000 lunches and snacks per week).
By happy circumstance, Russ White was already developing the concept of selling brand new bicycles — specifically, the increasingly popular e-bikes — as a second donation stream for the Boys & Girls Clubs of Mercer County. (To concentrate on developing Princeton eBikes, White sold his share in the well-established for-profit Sourland Cycles to his partner.)
White and BCG Mercer CEO Anderson were soon, so to speak, in tandem on the concept. As Anderson notes, "The e-bike is not replacing the person-power bike, it's expanding the marketplace."
But their newness makes many new users understandably reluctant to buy them online. "People want to know what it's like to ride them," Anderson says. "And if there's a problem, how do you return an online-purchased item that might weight 50 or 75 pounds?" Another plus for the local store.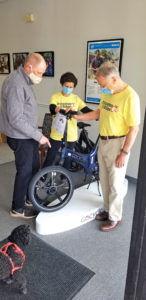 Finding a physical home for what Russ White named "Princeton eBikes" — and what is currently the only fully dedicated e-bike store in New Jersey — proved relatively straight forward. He identified the Lawrence Shopping Center as a prime site. In addition to its convenient location between Business Route 1 South and Princeton Pike, "it's a big center. They're getting a big food store and other new tenants. It's really hopping after years of being almost dead."
Seeing that Princeton eBikes is a nonprofit and would also generate additional shopper visits, center management offered the nonprofit an essentially perfect 3,000 square feet in a former financial services office space, plus a reduced rental rate — a win-win situation for center and store.
White is grateful to draw on volunteers from the BGC Bike Exchange, many of them also members of the Princeton Freewheelers bike club. Among these are Theresa and Jay Wrobel, who joined White as partners in providing Princeton eBike's seed funding.
"This store in Russ's brainchild," Theresa emphasizes. "It's the joining of two interests: the Boys and Girls Club, and the emergence of e-bikes."
Says Jay, "Russ saw the possibilities of e-bikes taking off in this area. They're gaining acceptance everywhere due to 'going green' and bikes in general for recreation due to COVID-19."
The Wrobels report particular interest in the larger "cargo bikes," fitted with a sturdy rack over the rear wheel or a large open box in front of the cyclist, safely carrying everything from groceries to kids. (One Princeton eBikes customer now transports her 5, 7, and 9-year-old children four miles each way to school with one.)
The variety of e-bike makes and models featured at Princeton eBikes fill a variety of other adult cyclist needs. A couple came in because the husband had developed some limiting health issues; now an e-bike helps continue the cycling recreation they enjoy together. And a woman from Lawrenceville especially enjoys biking around nearby Mercer Meadows; but a daunting uphill grade must be conquered to get there. Her new e-bike's motor assistance keeps the loop well within her capabilities.
Says Jay: "One of the questions many people have is, 'Do you still get exercise?' The answer is, the amount of exercise you get is up to you. You can put it in a lower power setting and get more."
Jay came to the project already favorable to e-vehicles. "We have an electric car [which] piqued my interest." He subsequently purchased a Gazelle, one of the most popular of the makes sold at Princeton eBikes.
A full e-bike tutorial is not possible here. The reader is encouraged to do a web search and/or consult with a shop like Princeton eBikes. Or, of course, regular bicycle shops also carrying e-bikes (although floor and storage spaces already devoted to the variety of non-electric bikes can limit how many e-bike makes and models they currently offer).
Among main e-bike differentiating factors: Most e-bikes feature mid-mounted motors, taking advantage of the bike's gearing system and providing good overall balance. Rear mounted motors (which directly drive the rear wheel) have acceleration advantages; but because the motors do not operate within the pedal-and-gearing system, they can be challenged, even harmed, by very steep or prolonged hill climbs to which the rider is not contributing significant pedaling force.
E-bikes also differ in whether the motors automatically turn on and assist based on the intensity of rider pedaling, or if the rider must activate and regulate the motor via throttle switches on the handle bars.
Most e-bike designs place the battery on the downtube (front-central frame support) or on a carrier rack above the rear wheel. Central positioning of the battery and motor benefit the bike's balance.
Specialties span a spectrum from the comparatively large-framed cargo bikes to small folding bikes, ideal for commuters who complete a major part of their work travel by train: After pedaling from a station to the workplace, these e-bikes can be refolded, carried onto an elevator, and stored in an office or cubicle.
White offers an historical perspective on today's e-bike boom: "It's like the car market was in 1900. Most of [the manufacturers] are not going to be in business in 10 years. Where are you going to get parts and service? We service them now, and we'll be here to service them." Indeed, along with fundamental quality and value, Princeton eBikes buys from manufacturers most likely to keep providing bikes and parts for years ahead.
Currently at Princeton eBikes, the least expensive model is about $1,500, with many in the $2,500 range, and up to $4,500.
Dave Anderson, the Wrobels, and volunteer workers are quick to praise Russ White's development of a wise, workable business model for Princeton eBikes. And by drawing on a pool of dedicated volunteer staffers, the expenses of (and record-keeping time devoted to) salaries, insurance, and tax withholdings are eliminated.
As White discovered with the successful BGC Bike Exchange, such a shop need not be open six days per week. Customers seeking high-quality units are fine with scheduling their visits for a Friday or Saturday on which the store is open. (Appointments can also be made.)
But it's not a real cycling tour without twists and turns in the road, and so it was with Princeton eBikes. Its nonprofit operation and charitable donations notwithstanding, the store is buying new products at wholesale and selling them at retail. Hence it cannot operate as a nonprofit entity. So, Princeton eBikes is officially an LLC (limited liability corporation).
There is growing speculation about — and agitation for — federal tax credits on e-bike purchases. In February, a bill was introduced in Congress colorfully called the "Electric Bicycle Kickstart for the Environment Act." As written, it would allow a tax credit of 30 percent (capped at $1,500) of a new e-bike's purchase price (maximum $8,000).
Just as no world class cycling team can succeed without top mechanics, Princeton eBikes benefits crucially from a highly skilled technician — Matthias Paschetag. As Jay Wrobel says, "The whole shop is so well set up because of Mathias," who has created the data system that tracks the bikes, important not only for inventory and sales but for warranty and service purposes.
Born in Germany, Paschetag grew up near Hanover. At age 15, he opted to get a bicycle instead of a moped. "I haven't stopped pedaling since," he says with a smile.
A computer systems expert with a specialty in retail, Paschetag earned a degree in business engineering at the University of Karlsruhe. He has worked in his native Germany, the United States, Spain, and the United Kingdom. He returned to America when his wife accepted an executive position with Church & Dwight, and the couple settled in the Princeton area.
Not surprisingly, e-bikes have computer systems more extensive and operationally central than the small mileage, speed, and pedaling cadence measurers of regular cycles. "You have to do updates and diagnostics on e-bike computers," Paschetag says, but adds that the diagnostic equipment needed by e-bike mechanics can be surprisingly inexpensive. "You can buy an interface box for about $100."
Last year, Germany had a 40 percent increase in e-bike sales. "Now there are more e-bike sales than standard bikes in Germany," Paschetag reports. The United States might seem on track for e-bikes to win the yellow jersey of cycling popularity here, too: A half-million were imported in 2020, fully double from 2019. However, Paschetagcautions that American culture may not embrace e-bikes (or bicycles in general) in the way that Europe has.
For example, frequent — even daily — food shopping is a consumer norm in many European countries. Americans tend to make more infrequent shopping trips, but return home with much greater weights and volumes of purchases. Thus, even cargo e-bikes cannot handle our typical food shopping patterns. However, Paschetag ventures, a cargo-style e-bike could replace a second car for many Americans.
He offers another intriguing insight. Not surprisingly, the best-established manufacturers of bicycle components are also into e-bikes. (For example, the Shimano company of Japan, a leading provider of gear-shifting component systems for major bicycle manufacturers, is also widely selling its hardware to the e-bike industry.) But Bosch, the German company best known for automobile electrical system components, has nimbly applied its expertise to making rugged and reliable e-bike motors.
"A lot of car parts manufacturers have gotten into e-bikes," says Paschetag. "E-bikes are a big revenue stream. They can't afford to miss it."
And given today's demand for bicycles but concurrent uncertainties about manufacturing capacities and shipping chain reliability, neither can Princeton eBikes afford to pass up opportunities to bulk up inventory.
As White says, "We buy bikes when they have the bikes because I know we can sell them."
The e-bike-buying public may be expanding in non-traditional ways, too. On a recent weekend, another curious drop-in visitor to Princeton eBikes is a heavy-set man in non-cycling clothes. His decades-old Raleigh is secured outside with the effective but low-tech (and to cycling elitists, surely déclassé) combo of a heavy chain and a bulky, key-operated Master lock. Russ White answers all his questions fully and with attentive cheerfulness. The man leaves, clearly impressed.
"He'd never go into a [regular] cycling shop," says White, optimistic that the fellow will return someday soon for that all-important introductory ride.
And when he does? As store mechanic Paschetag says, "When people come back from a test ride on an e-bike, they're all smiling."
Princeton eBikes, Lawrence Shopping Center, Unit 13, 2495 Brunswick Pike, Lawrence Township. info@princeton-ebikes.com. 646-283-7883 or www.princeton-ebikes.com.
Boys & Girls Clubs (BGC) of Mercer County Bike Exchange, Capitol Plaza Shopping Center, 1500 North Olden Avenue, Ewing. Bikeexchange@bgcmercer.org. 609-571-9476 or www.bgcmercer.org/bgc-bike-exchange.
Boys & Girls Clubs of Mercer County: www.bgcmercer.org/home.
A Quick Taste of Road Testing
A journalist who's also a fairly serious cyclist test-rode two models at Princeton eBikes: a Gazelle Medeo T-10 and a Bintelli Trend. The Lawrence Shopping Center parking lot didn't allow for a hill climbing test, but even the limited experience was instructive — and enjoyable.
The mid-motor Gazelle ($2,999 at Princeton eBikes) felt more balanced. The rear-motored Bintelli ($1,900) seemed somehow a sportier ride but had a slight but noticeable "sprint" factor when setting off from a standstill (analogous to a horse that suddenly trots off as soon as the rider mounts). Although disconcerting at first, the test rider quickly became used to it and felt in control when setting off on the Bintelli.
Using pedal power alone (no electric motor assists), the journalist was able to hit 18.5 m.p.h. on both within fairly short distances. (Of course, the riding surface was completely flat, the bikes carried no additional loads, and the rider was in fairly good condition.)
Both the Gazelle and Bintelli seemed well-designed and sturdy. All components — including the shifters, power throttles and brakes — operated smoothly and flawlessly.