James Levine eagerly leads a private tour of a 5,000-square-foot shop in the Princeton Shopping Center.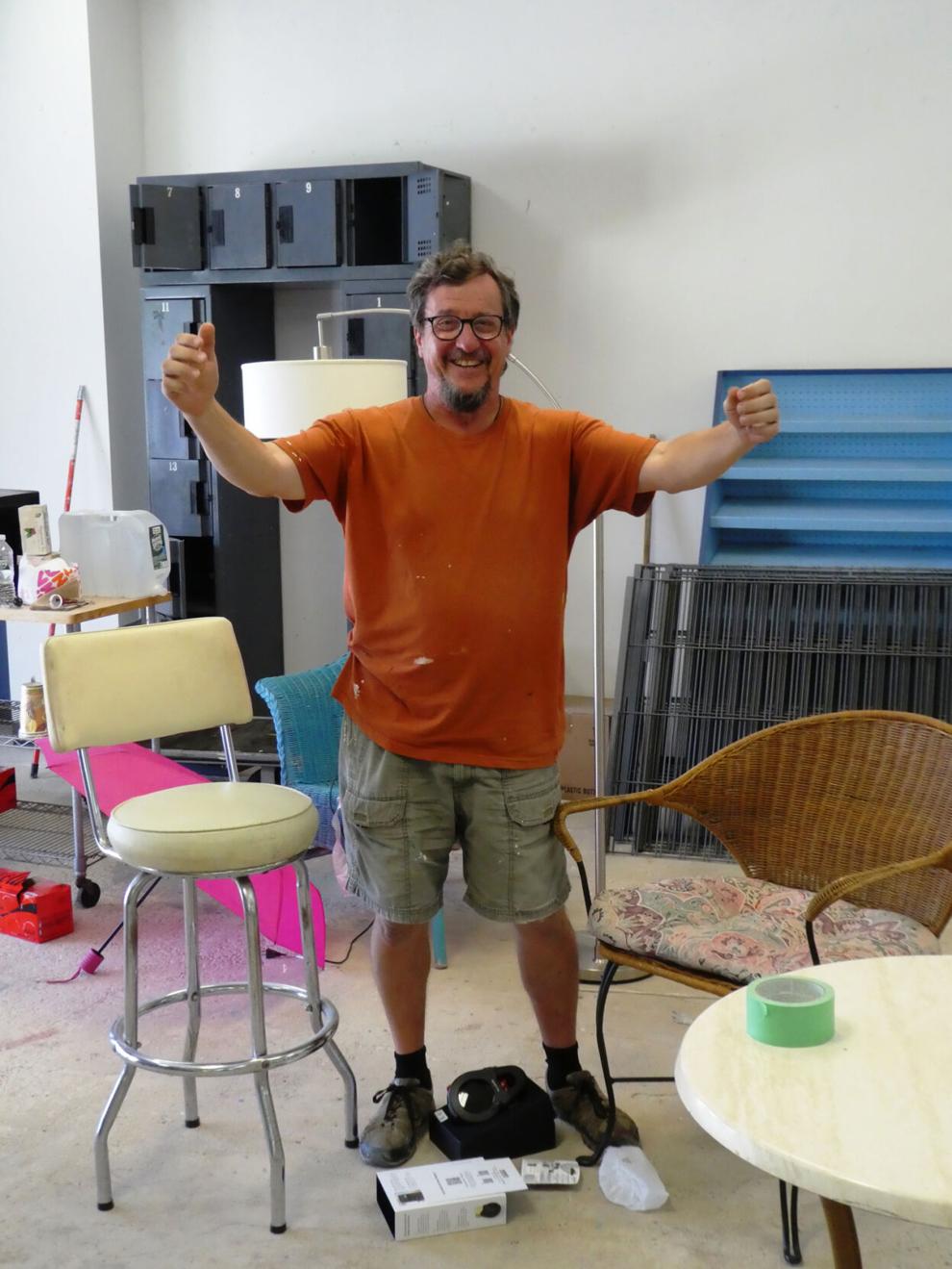 "The shopping center has worked with us to make this financially viable," says Levine about the space's transformation from a former sports shop to the 25-member Princeton Makes arts cooperative that opens on Saturday, September 18.
The spark behind Princeton Makes, Levine quickly offers, "I come from a business background and not an arts background." That includes being a retired Church & Dwight human resource manager.
However, in addition to being a stained glass maker, he was also involved with arts management at the Arts Council of Princeton. He first served as a board member, then board president, and then as interim executive director from 2018 to 2020.
Getting back to the business at hand, he says, "The goal is to build a community. But, at the same time, I don't want to lose money."
On that point, he credits Julie Drobits, regional property manager of the shopping center owned by the Boston-based company EDENS.
He says she was excited about the project when he first pitched his idea several months ago and has been instrumental in getting the venue up and running.
"We entered an arrangement where we share in the success of the venture," one that mixes studio spaces and a retail shop.
"It's a good space for the use," continues Levine citing its proximity to McCaffrey's supermarket, events in the courtyard right outside Princeton Makes, and the "fair amount of foot traffic."
Additionally, he says, the space is about local artists and has the ability to draw people from Princeton and surrounding areas.
Levine says he used an LLC he had already established and an initial personal investment to enter a month-to-month lease that started in August.
Artists also have a month-to-month contract that includes paying a minimum of $100 per month for a 150-squre-foot studio, contributing a percentage of on-site sales, and staffing the shop.
Levine says artists are contracted to be on site eight hours every two weeks. That translates into a formula that assures at least three artists on site whenever the space is open. One will be working in the studio. And since there are no employees, two others will tend the shop and talk to visitors.
He says the idea was born when he was the ACP's interim executive director. "There were people looking for studio space at the arts council, and we didn't have it available. So I knew there was desire. I was also on the third floor making stained glass and looking for a studio outside as well. Originally the idea was to have studios and have artists sell out of them. After talking to others, (it) morphed to having studios and areas dedicated to retail space. When that happened the idea of having people in studio and people consigning art work came together. The community has made it better with their ideas."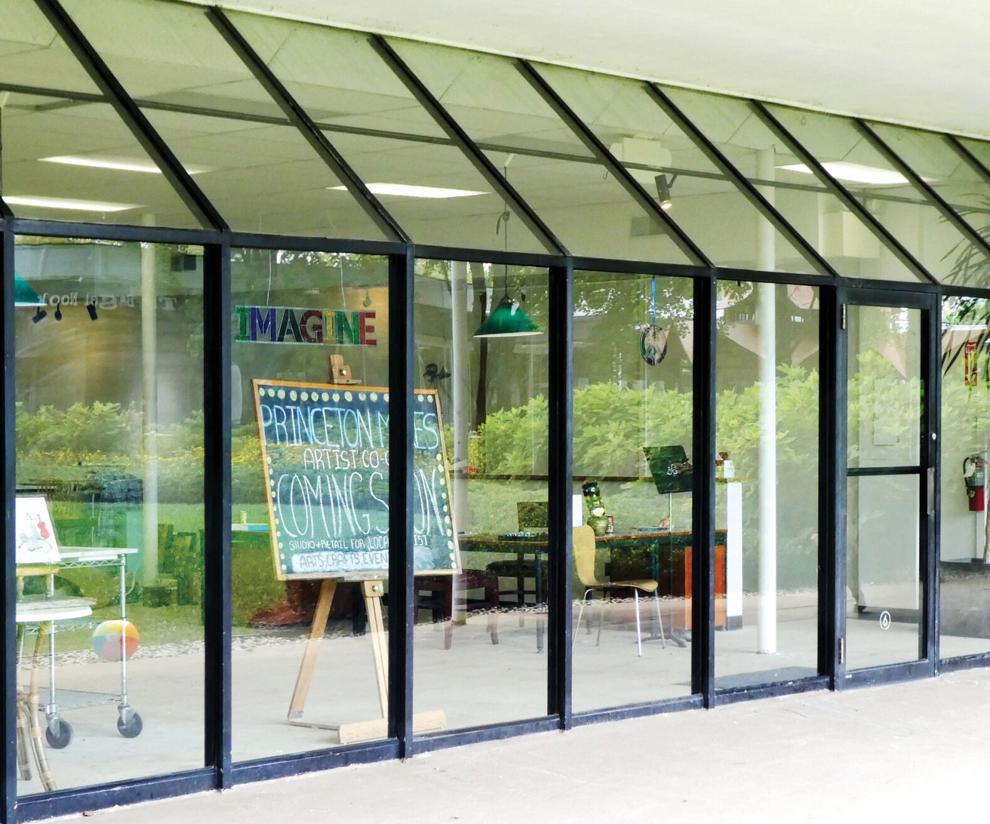 Levine says other coop projects helped the design. "As much as I could travel during the pandemic, I have visited other coops and talked to them about their models," he says. "Typically they are charging more of the artist and they have different motives. There is one in Cambridge, Massachusetts, that has been there for 35 years, so the model can work."
He was also informed about the operations of Artworks Trenton. His wife of 33 years, Lisa Levine, is one of its former board members.
Regarding the coop management, he says, "In terms of structure, I asked for volunteers to serve on a steering committee because 25 people can't make a decision. But a small group is. It's just good governance."
Overall, he says, he wants people to know "this is not a gallery. This is a retail space for art. I see this as a place where people can get accessible art work from $5 to more" — that includes a variety of two-dimensional work, stained glass panels and objects, sculpture, jewelry, custom-made greeting cards, and window hangings.
A resident of Princeton since the 1990s, Levine is originally from Port Washington, Long Island, and graduated with an economics degree from Tufts University in 1983 and promptly spent three years as "a national level Frisbee player."
After he "decided to embark on my career" and rece8ved a University of Michigan graduate business degree, he went to work at FMC in Indianapolis and New York State before being transferred to Princeton. In 2000 he moved to Church & Dwight.
He says his stained glass work started with a class at the Princeton Adult School about 15 years ago. He says he got more interested in stained glass as a hobby about 10 years ago and began making gifts for people
However, after seeing one of his work sell at the Arts Council of Princeton's annual Sauce for the Goose fundraising event, he says it made him think that he could sell enough to support his interest. "I consider myself more a craftsperson than an artist."
Whatever the name, Levine says his work is influenced by the early 20th century Roycroft Movement, an arts and craft reformist group that used elegant, simple designs. The movement developed outside Buffalo, New York, where Levine's wife is from and where he spent time during his FMC days.
He also says it will be a positive to move his studio from a room in his house to a studio space with storage area. That includes a large basement that has the potential of being a venue for poetry readings or small events.
But that will have to wait. Right now, he says, the emphasis is to get the project moving — like the official September 18 free opening that includes plein air painting in the courtyard, artist demonstrations, open studios, and live music from 2 to 6 p.m.
It will also provide a time for people to meet the coop's other artists. Among them are Heloisa dos Devaneios, a Brazillian-born architect turned Princeton painter; Jessie Krause, a painter and greeting card designer in Princeton; Gary David Fournier, a Hightstown nature painter; Jessie Lee Kent, a mixed media artist in Princeton; Lenora Kandiner, a Princeton-based polymer jewelry maker; and others.
"It's clear to me that many artists enjoy being part of an artist community," says Levine about the hopes connected to the opening. "They're energized by it, and that's been the real attraction."
They were also attracted by Levine's efforts to alert artists about the space. "Listings went out in a variety of places, the Princeton Arts Directory and the Arts Council posted it." He especially points out Mark Fenton, who operates Hand Made Art Studio in Hightstown and has an "extensive mailing list of artists."
Talking about the coop's name, Levine says it's a nod to the famous "Trenton Makes" spelled out in large lights along one of the capital city's Delaware River bridges. "Trenton was a manufacturing hub and now Trenton is an art making hub. We're Princeton-based people making things. It came to me, and I said that works."
Princeton Makes, Princeton Shopping Center (Next to Metropolis Spa), 301 North Harrison Street, Princeton. Current hours, 10 a.m. to 6 p.m., Thursday through Sunday. Opening celebration Saturday, September 18, 2 to 6 p.m. Free. www.princetonmakes.com.