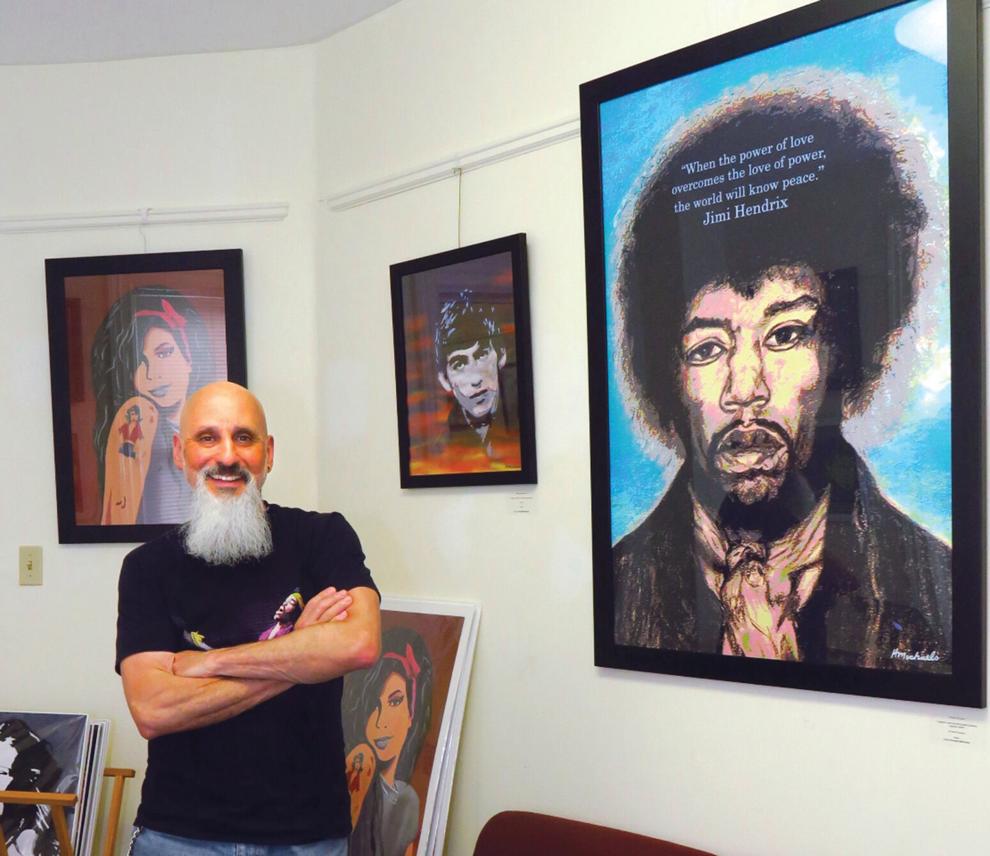 "American novelist F. Scott Fitzgerald famously wrote, 'There are no second acts in American lives,' but Hamilton resident Howard Michaels is proving otherwise. Since he retired from Lawrence Intermediate School, where he taught art for some 17 years, Michaels is launching what might be the fourth act of his life," so U.S. 1 writer Susan Van Dongen wrote at the opening of a story on Michaels (U.S. 1, September 19, 2018).
Van Dongen was reporting that the newly retired Michaels had "found an artistic niche with his one-of-a-kind graphic portraits of rock music icons like Jimi Hendrix, Janis Joplin, Jim Morrison, George Harrison, David Bowie, Tina Turner, Bob Marley, Prince, and Amy Winehouse."
Michaels, born in Paterson in 1951, says he didn't come from an artistic family, but he always seemed to be drawing anyway and had a knack for it.
"Everyone knew I could draw, but I didn't take extra classes or anything. I was actually more into sports," he told Van Dongen.
The son of a 5 & 10 Cent shop owner father and homemaker mother, Michaels says his skills and interests in art blossomed at William Paterson College, where he received a bachelor's in fine arts and minor in arts education.
As Van Dongen reports, "After graduation, Michaels found himself Down Under, recruited to teach in a remote town in New South Wales, Australia, for two years. He recalls having only about 10 students in a small classroom where, outside the windows, a herd of sheep might pass by at any time. He says some of his kids were partly Australian Aborigine in ethnicity, and he has maintained an interest in Aboriginal art and culture. Sometimes he also uses Aboriginal design elements to accent his rock musician portraits, such as in his likeness of Prince."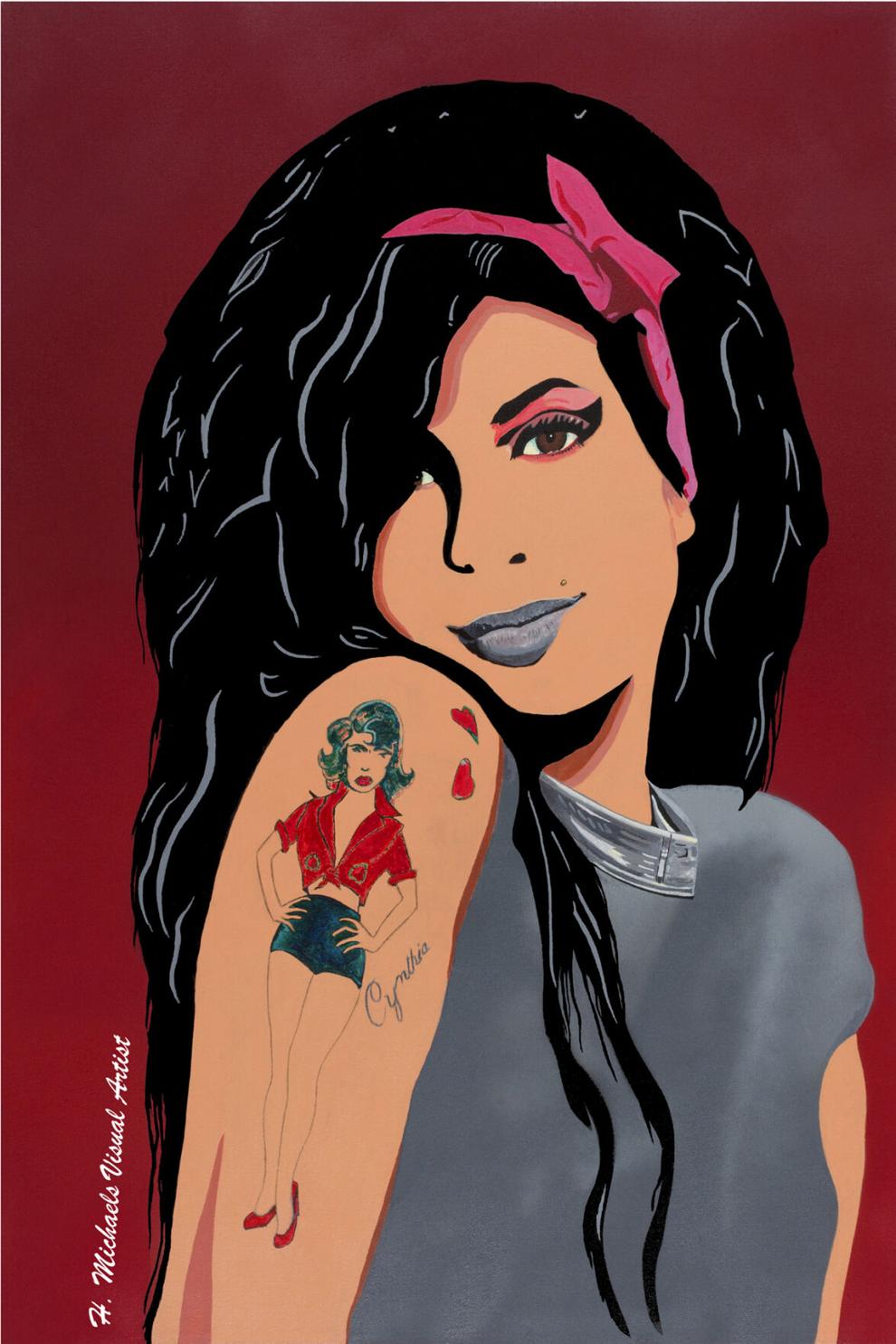 When he returned to New Jersey he became entranced with Garden State scenes. In the 1980s he and writer Marsha Cudworth self-published two illustrated books on Cape May and his own series of hard works using hand-tinted vintage photographs of the New Jersey shore. As Van Dongen notes, "The hand-tinting work kept him quite busy for some time — with Michaels providing a 1991 cover for the Princeton Alumni Weekly commemorating the attack on Pearl Harbor.".
He also provided art for Scholastic magazine, New Jersey Outdoors, and Victorian Homes and is featured in the textbook "The Marshall's Hand Coloring Guide and Gallery Book."
He returned to teaching in 1990s for the Ocean County school district, then moved to the Lawrence School District in 2001.
Recently regional artist and Community News Service contributor Thomas Kelly conducted a question-and-answer interview with the 70-year-old forward-looking artist to find out about what he is doing after retiring.
Here's his report:
Howard Michaels is a pop artist. He paints images we know, but in a different way. He sees things more colorfully and simplified than we do. Teaching for many years at the intermediate school level, he is now retired and diving into his art full time.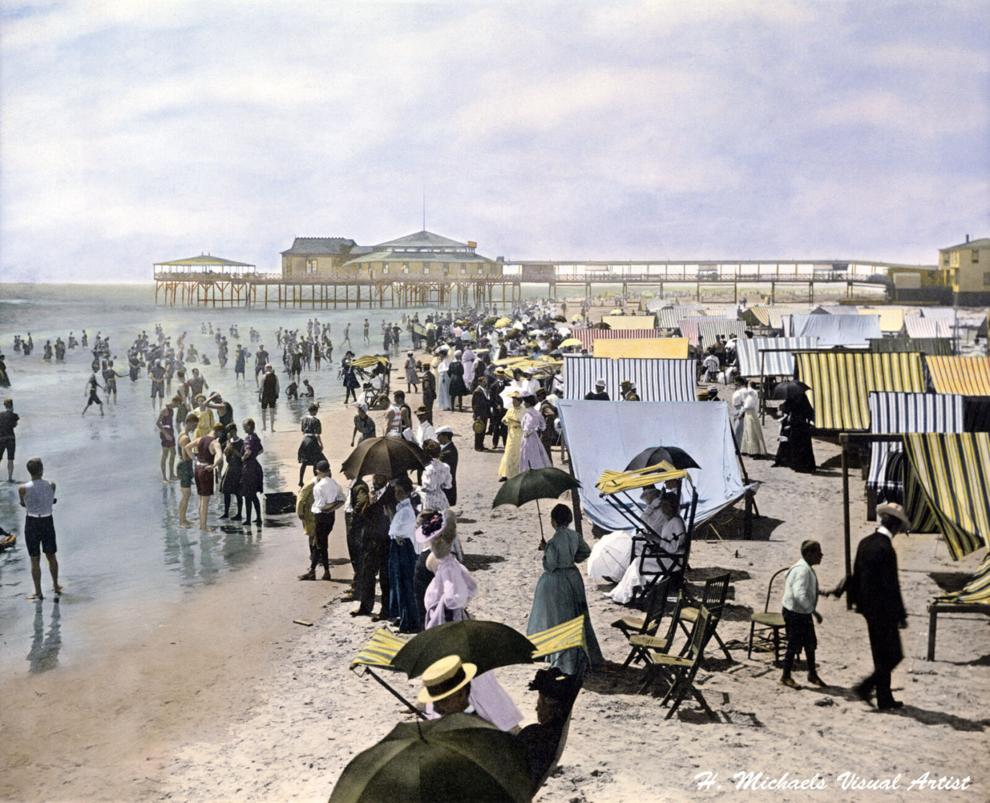 Kelly: How did you get started in art?
Michaels: I had talent in the visual arts as far as I can remember. In elementary school I sometimes was given extra time during the school day to create art for class projects. I drew maps for geography as well as historical portraits from photographs.
Kelly: What do you miss about teaching?
Michaels: What I loved about teaching art was the independence I had to interpret the curriculum in my own way. I maintained myself in the classroom as an artist teaching art rather than a "by the book" art teacher. It was a challenging yet fun career to develop creative projects to inspire young students no matter what their skill level.
What was most satisfying choosing this as a career was knowing the impact I made on so many. It is so heartwarming when, from time to time, former students approached me with wonderful memories of my class.
Kelly: What drew you to represent music and pop icons in your art?
Michaels: My focus on musical superstars began after Prince died in 2016 and the SAGE Coalition artists of Trenton created a large wall mural in his tribute. It was this group of artists that inspired me to create an "Urban Style" stencil and spray paint likeness of Prince. Graffiti artists Will "Kasso" Condry, Jonathan "Lank" Conners, and Leon "Rain" Rainbow were three artists from SAGE I most admired and wanted to emulate. This was the first time I used spray paint as a medium.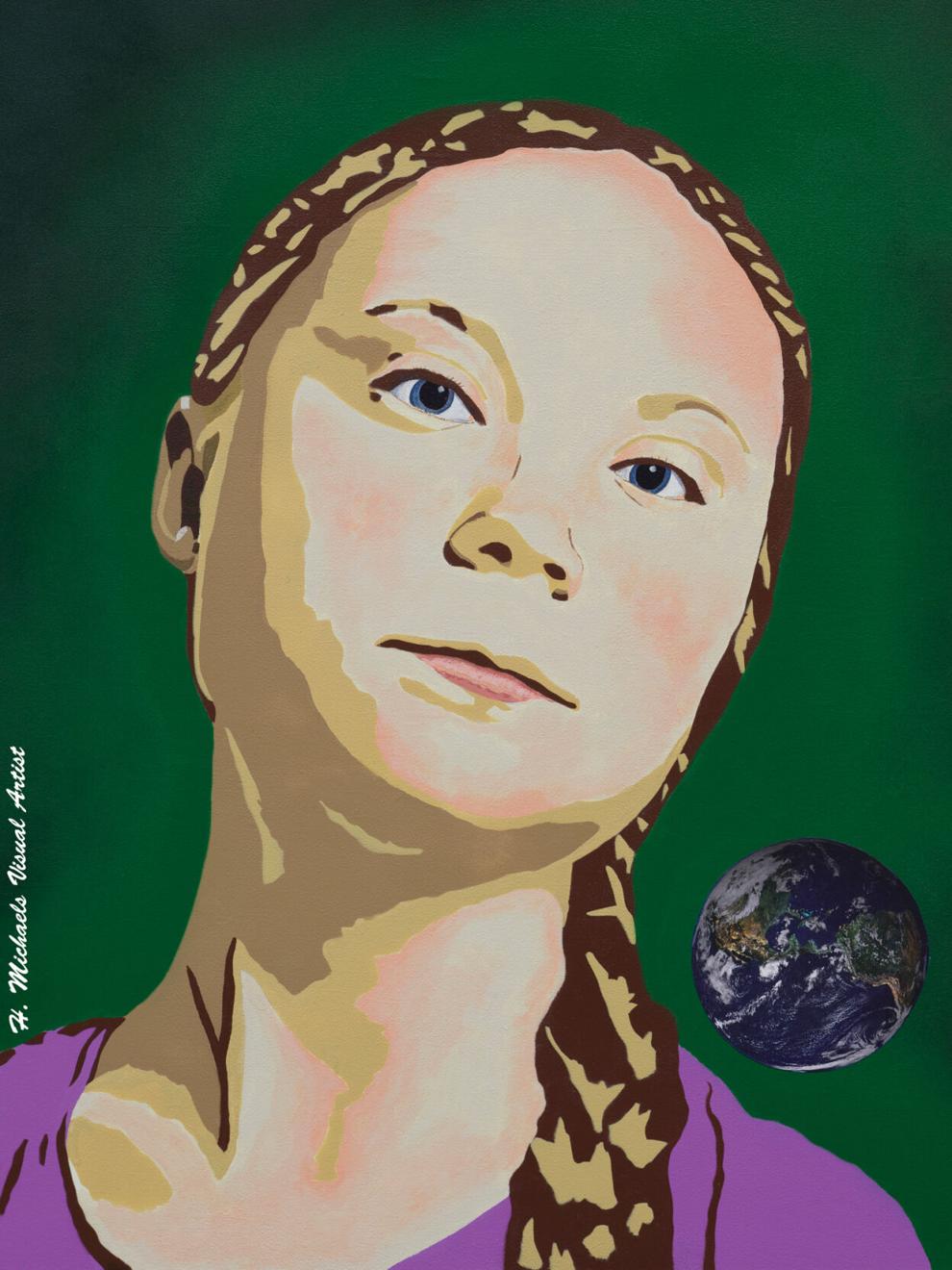 That was the beginning of my ongoing music icons and most admired portrait series.
Kelly: Who are your influences and favorite artists?
Michaels: I gravitate to the work of the silk screen POP artists of the 1960s like Andy Warhol and Roy Lichtenstein. In college I experimented with various dark room manipulations of my black-and-white photographs. As an art form I always preferred hard-edge graphics, which would eliminate gray tones. I was naturally drawn to the sharp edge look of a hand-cut stencil.
Watching Trenton artist Jonathan "Lank" Conner," originally with SAGE Coalition, spray painting his joyful creations had a great influence on me and impacted my current artistic style. I also appreciate the painterly style of masters like Van Gogh and impressionists such as Monet and Renoir.
Kelly: What fight/struggle do you have regarding your art?
Michaels: Living in a townhouse has its limitations, but I have been able to carve out studio space utilizing an extra room and porch. Retired three years as a public school art teacher, I have all the time I need to create my art. My process is long and time consuming and, although I wouldn't call myself a prolific artist, I do try to produce at least three major paintings a year.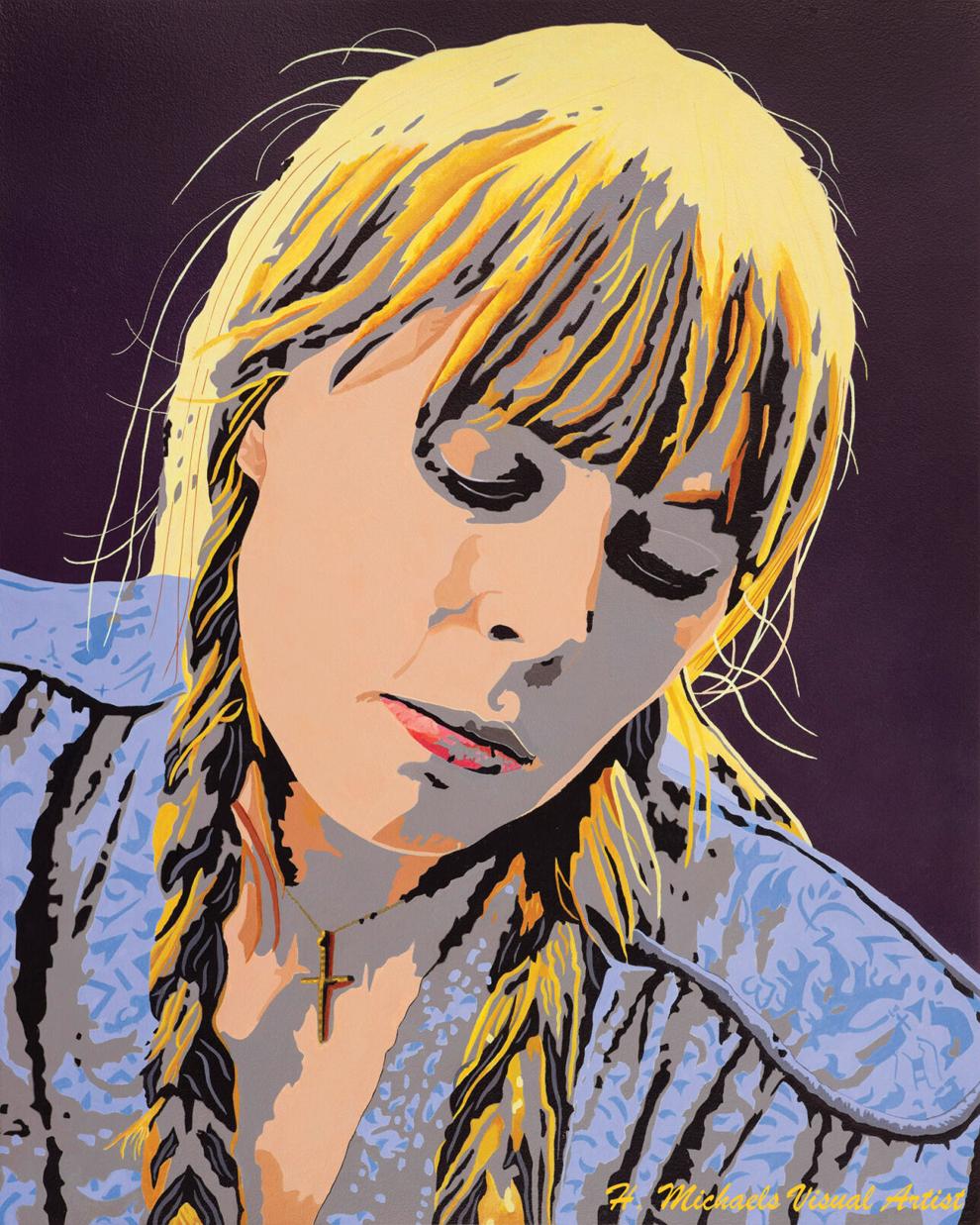 Kelly: You use many processes, photography, printmaking, and painting. What does each add to the process and end result?
Michaels: The choice of the reference photograph is the key to a successful portrait for me. At first I take the image to its bare essence, reducing the full tones of the image into high contrast. The end result is to separate shadow from highlight to be able to cut the individual stencils.
Since there will be a minimum of five stencils, they all must register with each other perfectly in the end. The stencils are then carefully cut with an exacto razor blade, which is a long process. I then assemble the colors which at times are as simple as white, gray and black and apply the spray paint through the stencils onto a wood panel or canvas.
This will create a monochrome hard edge graphic version of the portrait when completed. With earlier portraits like my Tina Turner (What's Love Got to Do with It), I was completely satisfied with the stencil work alone.
Kelly: Who do you think are current icons that should be represented in a pop art portrait?
Michaels: Coming to mind there are a few sports figures that are definitely a possibility. NBA basketball legend Kobe Bryant and hall of fame MLB player Roberto Clemente to name a few.
Kelly: What is your dream project, where cost, time, and materials are not a hindrance?
Michaels: A dream project would be to be asked to put together a show of my work in a contemporary museum of modern art. To be recognized for creating a unique aesthetic combining unusual mediums and cultural figures as subject matter.
Kelly: Where can we see your work? Are any exhibitions coming up?
Michaels: I am always interested in opportunities to show my work. Recently, my painting "Earth Day is Everyday" (portrait of climate change activist Greta Thunberg) was hanging at the 2021 Ellarslie Museum Open show.
I also am being shown in the current virtual shows for Las Laguna Art Gallery, Laguna Beach California.
Kelly: What is most fun about being an artist?
Michaels: This passion, creating art, is being part of something bigger then myself. I love to share my work with my friends and contemporaries through social media and various forums such as gallery exhibits, virtual shows, flea markets/art festivals, or even restaurant shows.
Although there is much solitude while actually producing a work of art, when completed, there is this opportunity to connect and share thoughts.
Visual artist Howard Michaels' website is twinpoppictures.com. Facebook: facebook.com/hmichaelsart.