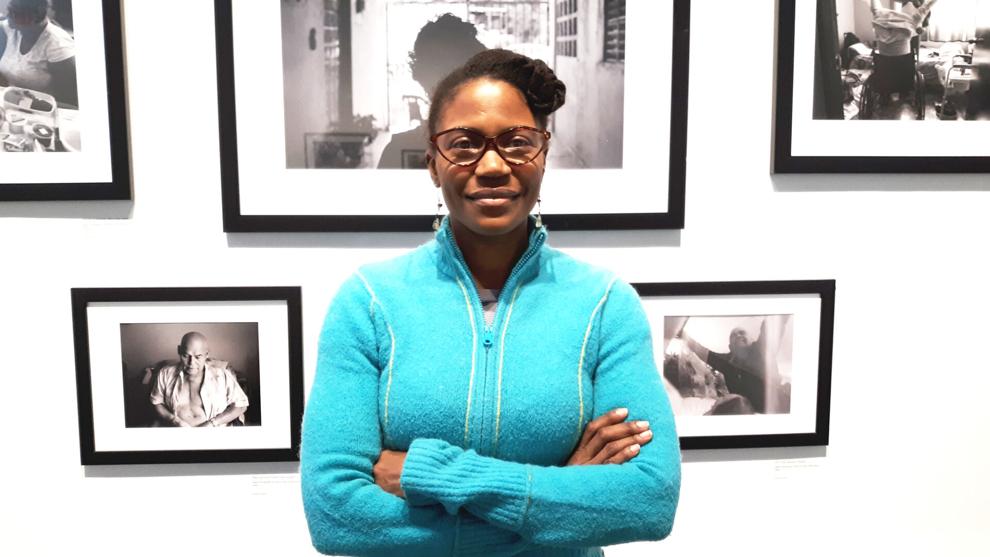 M'kina Tapscott takes a seat at the Up One Down coffee shop in Trenton to talk business.
In her case, it's running an urban arts organization.
Tapscott recently took the helm of the nonprofit Artworks Trenton.
Situated in a former Sears warehouse in the capital city, the organization is known for its artists' studios, workshops, exhibitions, and two signature art events: Art All Night is the 24-hour arts festival, and Art All Day, a day for visiting Trenton artists' studios and seeing exhibitions around the city.
Its current business model is a $400,000 budget that allows for two full-time and two part-time employees.
A native of Texas and a product of the Houston art scene, Tapscott replaces Lauren Otis, who announced he was ending his six-year tenure in late 2021.
Otis successfully maintained the organization through two difficult times. One was after the popular Art All Night festival became the site of a shooting. The other involved guiding the organization through the uncertainty of the pandemic.
Now Tapscott, the first woman of color to run the 34-year-old arts center, is following the organization's pre-established two-year plan as well as looking to the future of both the organization and city.
With 15 years of experience working with community arts development, starting with the Houston-based social and art service program Project Row Houses, Tapscott says she senses opportunities for more public engagement in the arts.
For proof, Tapscott points to the growing number of Trenton public art projects. That includes Artworks' active leadership with the recent New Jersey State Council on the Arts/NJ Transit's Trenton Transit Station arts project and work supported by a Bloomberg Philanthropies Asphalt Art Grant. She also mentions initiatives and programming happening in the public schools.
"I feel this means the city is asking for more opportunities. The community is asking for it," she says.
Another is the potential "economic upgrade in Trenton because of the engagement with the arts" — a phenomenon that has worked in other small post-industrial cities but has stalled in Trenton.
Tapscott then jumps ahead and starts talking about something that has also happened in those small cities: gentrification.
"There is opportunity for renewal without displacement," she says. "Finding the balance is tricky. Art has been used by cities to revitalize the area but not able to provide the services for the people who are living in those spaces."
But that will wait. Tapscott says now is the time for Artworks and other nonprofits to help communities reconnect and rebuild after the effects of the pandemic. "This is time for nonprofits to turn the gas on, rev up our engines, and actively find ways to find ways to deal with mental health and wellness and getting back into the stride of things."
Assessing the state of the nonprofit arts business, she admits that "times are tight" and funding organizations presents a lot of challenges. "It will be difficult. Artworks will need to prove to people why it is important."
To do that, she will have to tap into variety of her past experiences. In addition to Project Row Houses, she has held education and outreach positions at the Whitney Museum of American Art, the Museum of Fine Arts Houston, and the Houston Center for Contemporary Craft.
And with a MFA from the University of Houston and a BFA from Texas State University, she also has taught art history and studio art at the University of Houston and Houston Community College.
She is also a practicing artist whose works touch on human issues and consumption. "I am an interdisciplinary concept artist who has worked in ceramics and enjoys creating objects by repurposing found materials. I really like working with my hands, and the opportunity to get dirty and work with clay and glass and metal to create something."
A reviewer of her installation for an Art League of Houston exhibition called it "refreshingly immersive and cohesive" and a "space womb."
Tapscott's connection to art is through her family. She says her mother, a stay-at-home-mom turned office administrator, and father, a Houston oil rigs draftsman, exposed her to the arts by taking her to plays, films, and museums.
Additionally, she says her uncle is the Los Angeles based jazz musician Horace Tapscott and that she comes "from a long line of piano players and singers and actresses."
In addition to Project Row House, Tapscott also co-founded the online publication Not That But This to use her creative energy and provide artists with opportunities to share work and ideas.
Tapscott says the move from Houston to Trenton was appealing for a few reasons. "There's a bigger audience here," she says about the East Coast. "There is also the lure of history." That includes being in a state that was home to music legends Dionne Warwick and Bruce Springsteen — something that makes her want to incorporate more music in Artworks programs.
She also says that it seemed easy because Trenton and Houston have a lot in common.
Similarities include the needs of communities, such as the African-American population involved with Project Row House, and a "need or desire to revitalize the city and bring people back downtown."
Although the decision has been made to put Art All Night on hiatus for 2022, Tapscott says the project is important and will be back in the future. She also wants to develop "an artist in residency program, involve artists of color into community mapping and placemaking, and engage more artists using digital media.
"There are a lot of opportunities for Artworks and artists going into communities and neighborhoods and finding ways to broaden our borders.
"When I learned that Trenton has a population of 80,000, I dreamt that we should be able to service every person, even digitally. Especially thinking about the numbers reached in Art All Night."
To begin working towards that goal, she says, "One of the first things I want to do is to hire additional artists and arts administrators and art educators."
Then in 2023 she intends to add additional classes, including print making workshops, and providing after school and summer art programs for youths — just in time for the organization's 35th anniversary.
In a statement she released when accepting the position, Tapscott says, "As a city, Trenton continues to struggle for resources and recognition despite being the state capital. It is in these likenesses of needs, of opportunity and space where positive change can be enacted through deepening connections to people, art and community."
Then demonstrating her ability to speak Spanish, she adds, "I genuinely believe — el arte cambia a la gente y la gente cambia el mundo," which translates as, "art changes people, and people change the world."
Asked to provide an example to show that belief, she quickly answers, "Me. As a child, having a family that allowed me to express myself in art making and going to see plays changed me. I think I'm a kinder person. I think that's because of art. Seeing the beauty in things. I love beauty."
She also knows the effort that an organization faces to make change and beauty and says, "It's going to take some heavy lifting."
Artworks, 19 Everett Alley, Trenton. 609-394-9436. www.artworkstrenton.org.