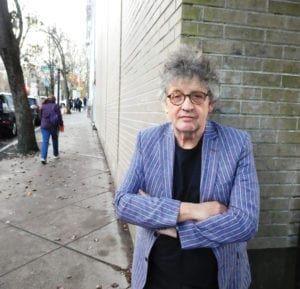 Forget the idea of a lyre-strumming muse. Internationally known poet and Princeton professor Paul Muldoon packs a Fender guitar.
In addition to creating 13 volumes of critically praised poetry — including the just released "Frolic and Detour" — and a slew of writings ranging from children's books to criticism, the Irish-born Muldoon has been in a long-term relationship with rock 'n' roll and says, "The idea of writing a song has always had a lot of attraction to me."
So much so that he will once again be rocking and reciting with his band, Rogue Oliphant, at the Hopewell Theater on Saturday, December 14.
During a recent rainy-day interview at Small World Coffee, Muldoon talks about his not-so-secret passion and the poetry and song connection.
"Rogue Oliphant is a group of musicians who specialize in playing songs written by me," he says over chatter and music. "I use the word 'group,' but it is probably a bit of a misnomer. If it is a group, it is a large group. It is not a band in itself."
Yet, he says, there are a few constants. One is area musician and visual artist Chris Harford. "I have been working with him for a few years in various manifestations," says the poet sipping a ginger ale.
Other "main musicians" include drummer Ray Kubian (who plays with Dean Ween Group), bassist Cait O'Riordan (formerly of the Pogues), guitarist David Mansfield (Bob Dylan's Rolling Thunder Revue), and Warren Zanes (Del Fuegos).
The song-writing relationship is simple. Muldoon writes the lyrics. The others write the music.
"Each is a talented song writer in his or her own right," he says. "They write songs in a very large range of styles, though rock 'n' roll is the mainstay."
About his lyrics, the Pulitzer Prize and Queen's Medal-winning poet says, "I have been interested in trying to write a song. I don't know if I have done it. A very good song is mysterious."
The mystery, he says, is that the writing does not need to be "literature in a conventional sense. If you think of nonsense songs, for example, the lyrics mean nothing. But the song works. If you think of the Beatles' song, 'I am the Walrus,' who knows what they're talking about. But it's engaging. Yet it is preferable if (the words) do mean something."
The former Oxford poetry professor who has been called "the most original and influential poet of the past 50 years," adds, "It's the culmination of words and music that is the fascinating thing. What is missing in the words is filled out by the music. In fact one of the difficult things about writing songs is making sure that you leave something out — to leave some room for what the music will do. That doesn't come naturally to a writer."
Sharing another thought about songwriting, Muldoon says, sometimes raising his voice to overcome the din, "A lot of my songs are cliche-ridden. And that's okay. You can get away with that with a song in a way that you can't with a poem. In fact it is almost preferable that you revisit the cliche, and a lot of my songs do that."
He then lists some of his titles — "Rain or Shine," "Repeat Offender," "Go to Guy," "Loud and Clear," "Got it Made" — and says, "They're very basic but immediately successful ideas. A lot of the time you can tell everything about the song from the title."
Born in Portadown, Northern Ireland, in 1951, Muldoon says his interest in rock 'n' roll was something literally in the air – even on the farm where his father grew vegetables to take to the market. "There was a radio and a gramophone player, so rock 'n' roll, popular music, was part of our lives. I grew up in the 1950s and '60s when Chuck Berry started, Elvis was on the go, and things were kicking off. That was an aspect of life that I felt connected. I was coming of age when the Beatles and the Stones were out there and redefining things. It was there. You'd have to work very hard to avoid it."
It was also when he became interested in popular songs. "The lyrics were written out on the LP when I was kid. I always liked to read the lyrics. I wrote the lyrics out."
Yet more pressing at the time was an awakening to poetry. "I thought of myself as a serious poet when I was 16, and I was. I knew lot about poetry in the way kids do when they get interested in something. It seems crazy now, but that is how it was. I just stared early and never stopped. I was into poetry the way my friends were into Tolkien or tennis or trout fishing. I was a fanatic."
"The works that got me started were anything by T.S. Eliot," he continues. "I was aided and abetted by teachers and librarians, who helped me get books. I studied the Metaphysical poets — Donne, Herbert, Vaughn — and they became my main influence right up to this day. When I hear the latest scientific discovery, I wonder 'What would John Donne do?'"
Meanwhile his parents — especially his teacher mother — were asking their own questions. "They knew I was doing this stuff. I was working on poems day and night. I was learning to write poetry. They were concerned that I wasn't going to be a proper student or get a proper job. My mother was worried. I don't know what they thought I was going to do. But most parents are worried when their kids go into the arts. I hear it, 'don't go into the arts, you got to go into mechanical engineering.'"
Muldoon brings up the historical connection between poetry and music. "We know the persons who delivered 'The Iliad' or 'The Odyssey' were using some kind of musical accompaniment. We know that the Anglo Saxon poets were using some musical accompaniment. And we know that the Irish used accompaniment. The term lyric poem has some idea of vocal representation to it — not sung but recited, chanted, and presented."
Turning to his own presentations, he says, "I speak the poems, or better still, the poems speak through me. I see myself as a type of instrument where the poem comes into the world — a drum that beats itself out, an instrument of some kind, a wind chime. It sounds a bit fanciful, but I believe it. I believe in what used to be called inspiration."
Muldoon notes that there is something intrinsic in language and what happens with words gathered together in one place. "They assemble, work off one another, create sparks, and summon up images, and cause disturbances of peace. And I think of art as having to do with overturning preconceived ideas of how things are, things introducing us to a reality that we haven't quit grasped."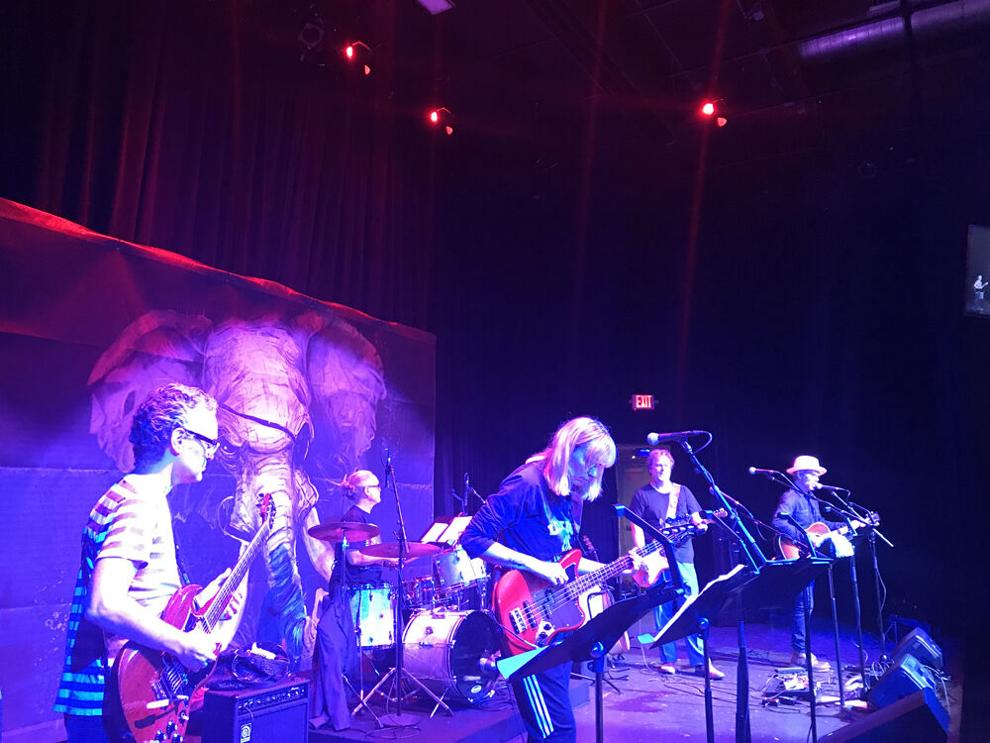 The influential Poetry Foundation sums up Muldoon by saying he is known for his use of paradox and "his poems are playful but serious, elusive but direct, innovative but traditional. He uses traditional verse forms such as the sonnet, ballad, and dramatic monologue, but alters their length and basic structure, and uses rhyme and meter in innovative ways. His work is also notable for its layered use of conceit, allusion, and wit. The cryptic wordplay present in many poems has often been called Joycean, but Muldoon himself has cited lyric poets such as Robert Frost, Dylan Thomas, and Louis MacNeice as his major influences."
Turning back to the band, Muldoon says while the name Rogue Oliphant "sounds like something from one of those band name generator sites," the "rogue" and the suggestion of an elephant do something more — as demonstrated by the image of an angry elephant with an eyepatch and a sword-tusk on one of his recent CDs.
"I like the idea that there is a dangerous aspect to art," he says. "I think it is true of music. It is a very powerful force in the world. Music can literally get you on your feet. It can literally sway people. It has power over people. And that's fine. People were always worried about the impact on the young — rock 'n' roll, the Beatles, Stones — its impact on the world. There was something to that. I like the idea that the song or poem has some kind of profound effect on you. You want to have something that has impact. You want to have people listen to something and go, 'Ha! I would never have expected that.' And you hope that others would have the same experience."
And while saying Oliphant is related to the word elephant, Muldoon, double-checking the name on his smartphone, says it is also a common Scottish name and that there was a popular novelist known as Mrs. Oliphant.
But most important, he says, "It's a band name. It has attitude to it. Rock 'n' roll is about attitude. It's about fun too.
"What I'm interested in is writing rock 'n' roll for of grownups, and it is sort of possible. Historically country music is about extramarital sex and drinking and rock 'n' roll is about premarital sex and drugs. I like to think that rock 'n' roll can talk about other subjects."
It also helps Muldoon's poetry. "One of the reasons I like writing songs is because I don't want to write poems all the time. I think writing poems all the time is one of the worst things a poet can do; it is better to lay off for some time. So I write songs to vary the diet and to amuse myself and other people.
"But there is a paradox that songwriting is more difficult, which you wouldn't think is the case. When you start out with a particular vein you have to have the craftsmanship to see it through. In these days it is much more difficult to do this. Most people are writing free verse and the songs are more structured and more formal. They use rhyme. So in a strong way it is much more difficult." This matter is something Muldoon brings up during his regular Princeton University songwriting class (see U.S. 1, April 22, 2015).
According to a New York Times story by Muldoon's wife, novelist Jean Hanff Korelitz, the poet began getting serious about rock 'n' roll around 1999, when he started playing an electric guitar in the basement of their home in Hopewell (they since moved to New York City). Eventually, to her surprise, the mother of two found herself attending his gigs in rock club basements.
That has turned into various stages and recording sessions, like the one for the Rogue Oliphant's newest release, "Sadie and the Sadist," featuring some of the names previously mentioned as well as "Fatty Liver Blues" and the title song (written with Harford and Kubian).
Talking about his musical influences or "heroes," Muldoon leans back and names the British musician Ian Druy and the Blockheads. "They never really made it here. He was an absolutely brilliant songwriter. In this country the guy I learned a lot from is Warren Zevon. I wrote a couple of song with him that got me in the songwriting business. I'd like to be half a good a writer as he is. He's brilliant." Other favorites include Bob Dylan, Paul Simon, and Bruce Springsteen.
He also praises his current collaborators and how they use his words to bring "new shapes into the world, new things — new objects."
As he slips his telephone into his pocket and prepares to leave, Muldoon says the Hopewell presentation will include both songs and readings from his new book. "I do spoken word with — not accompaniment — but with a musical bed, which we like a lot." And, as he said before, "It's about fun too."
Paul Muldoon and Rogue Oliphant: An Evening of Poetry and Song, Hopewell Theater, 5 South Greenwood Avenue, Hopewell. Saturday, December 14, 8 p.m. $23.50 to $28.50. 609-466-1964. www.hopewelltheater.com.