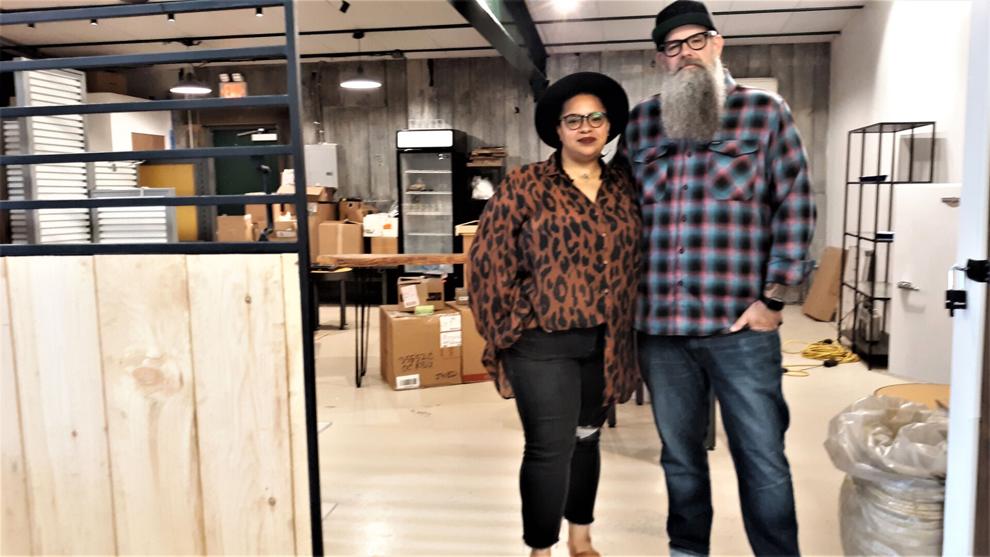 If owning and running the Trenton Punk Rock Flea Market has been Joseph Kuzemka's full-time job for a while, owning and running the new Out of Step Offbeat Boutique and General Store will now be his other full-time job.
Teaming up with his long-time life partner, Meaghan Callahan Singletary of the Trenton Downtown Association (TDA), Out of Step is a natural evolution from the TPRFM.
The couple plans to take advantage of the relationships they've forged throughout the years with small businesses, artists, craftspeople, and makers from around the city of Trenton, the state of New Jersey, and even around the country, to offer all kinds of unusual wares, from handmade housewares, to repurposed art and custom clothes, to specialty foods.
While the pandemic did not close down the TPRFM, the quieter times gave Kuzemka space to re-evaluate his business model. But long before 2020, he and Singletary had sensed that TPRFM fans would relish a brick-and-mortar store.
"We knew for a while that this (store) was probably something that was going to happen," he says.
As of this interview, construction was ongoing at Out of Step, which will be housed in part of the old Amish Country Store within the Trenton Farmers Market in Lawrence. And while Kuzemka had originally hoped the "go-date" would be October 29, material and inventory hold ups have pushed the opening to November 12. 
"We've been in flux because construction took much longer than we anticipated, because of various material shortages," he says. "(Meaghan and I) started working on the store in June and we did not wrap until late September. There wasn't that much to do, but things were harder to get because of the pandemic."
"We're working with Chris Cirkus (market manager of the Trenton Farmers Market), and we've (divided the former Amish store) into two spaces of equal size," he says. "We'll take the back, and the other store will be just on the other side of us. Our hours will be standard Trenton Farmers Market hours, but we're looking to expand on that for the holidays."
For Out of Step, Kuzemka says he and Singletary are picking "the best of the best" from their numerous contacts at the TPRFM, from around the United States and into Canada.
"We also did a lot of research and found new artists and makers from all over the country," he says, but notes, "there will be a very strong focus on locally made food, pre-packaged and shelf-stable foods such as locally made sauces, jams and jellies, pickles, vegan mayo, jerky, coffee and tea, peanut butter -- things that complement the fact that we're in a farmers market."
Out of Step will also offer refillable home items, such as hand sanitizer and hand soap, bath and body products, housewares and home décor, cooking/kitchen-related items, repurposed/recycled art, select custom t-shirts and hoodies created by local artists, original artwork and sculpture by local and regional artists, vintage curios, handmade jewelry, and what Kuzemka calls "oddities and curious goods."
A small portion of the store will be dedicated to both local and nationally recognized music, with a carefully curated selection of new and used vinyl records and cassettes, VHS tapes, and more.
One of the more famous vendors at Out of Step will be Misfits guitarist Acey Slade, a coffee aficionado and longtime presence at the TPRFM who will offer up his Newark-based Cat Fight Coffee.
Kuzemka borrowed the name Out of Step from a song by Minor Threat, "the founding fathers of hardcore (punk)," Kuzemka says.
And yes, the brick-and-mortar store will have a similar vibe to the TPRFM. But like the flea market, Out of Step will be more than the concept of a "punk store," which brings to mind a market selling only recordings, art, and clothing related to punk rock.
"Out of Step has the same feel as the flea market, and that's what I love about it," Kuzemka says. "Yes, there will still be punk rock related stuff being sold, but the thing about the flea market is that it's become a haven for makers and artists and craftspersons. All these misfits found a home with us."
"TPRFM started out with punk rock, but became something more," he says. "It's much more on a global scale, with all these non-corporate businesses, things that deserve support."
Kuzemka reflects that the flea market served as an incubator of sorts for thousands of small business from dozens of states by providing many home-based businesses with a retail outlet that regularly attracted thousands of eager shoppers per day.
Out of Step will give Kuzemka and Singletary a chance to work with some of the same do-it-yourselfers. They hope this new brick-and-mortar location will serve as an inspiration for even more creative types to, in turn, make the leap into creating their own brands and businesses.
"It can be done," Kuzemka says. "The TPRFM and Out of Step are both concrete proof of that."
Singletary has more than a decade of experience in high-end retail management and merchandising in major retail markets. Out of Step supports her belief in watching out for and nurturing self-starters and small businesses.
"After leaving the retail industry many years ago, it's exciting to come back to a project that has so much potential," she says. "It's important to prioritize small businesses, watch them grow their brand, and all the while offer something different, fresh, and fun to the Trenton Farmers Market."
It's a bold move to open a physical store in the online age, but Kuzemka and Singletary are confident Out of Step will have plenty of foot traffic. This will be the kind of place, much like the TPRFM, where browsing and shopping is a multi-sensory experience, a place to touch, feel and smell, to listen to music, see friends, and do some great people watching.
"We hear all the time, 'can you have a flea market every weekend or month?' and that's not possible," Kuzemka says. "Instead of waiting for the flea market, here's a location where you can shop five days of the week."
Kuzemka is a founding member of Art All Night and helped get annual the event off the ground in 2007. He's been running AAN since 2011.
In addition, he was the event runner for the Levitt AMP Trenton Music Series for a couple of years, saying, "Much of that was due to the TDA and my partnership with Meaghan, who is an employee there."
TPRFM is Kuzemka's best-known endeavor, though, successful enough for the Huffington Post to name it as one of the best flea markets in the United States in 2014.
The Trenton native, whose parents are both retired from the New Jersey Network, says he is still attending Mercer County Community College, majoring in advertising design.
The current Hamilton resident deflects too much focus on himself, however, and notes "my partner Meaghan has dedicated just as much work to opening (Out of Step) as I have. She's a native Trentonian, a successful Black woman, and very involved in her community."
The much-illustrated man (Kuzemka is known for his ink), who is in his mid-40s, says he'd been visiting flea markets in Columbus and Englishtown since his youth, but first imagined Trenton's own punk rock flea market when exploring such an event in Philadelphia.
"As I got older, there was a punk rock flea market in Philadelphia, and that inspired me," Kuzemka says. "It disappeared though, and we started up (in Trenton) and became a phenomenon. Now the Philadelphia flea market is up and running again."
He absorbed the vibe at the Philadelphia flea market and realized that the Trenton area was primed to launch something similar, especially with the capital city's location between New York and Philadelphia, crisscrossed by major transportation routes. The city was rife with original art, music, and craftspersons/makers, which would fold in perfectly with a multi-faceted, somewhat rebellious flea market.
He'd had quite a bit of experience in marketing and graphic design, and said to himself, "let's do this, and do it just a bit differently."
Incidentally, the TPRFM is and will still be running and thriving. Although numerous events were cancelled, it never went away completely during the pandemic and recently moved from the Historic Roebling Wire Works to the Cure Arena.
Kuzemka is planning to expand the TPRFM even more.
"Next year, we'll be adding pop culture guests, people who will sign autographs, take selfies etc., along with the food trucks," he says. "We're also be having live music, a live barber (on the premises), live tattooing, and more."
Kuzemka and Singletary invested between $60,000 and $70,000 of their own funds to launch Out of Step. They feel they've invested their hearts as well.
"It's just us putting our money into this, because we believe in this, we want to get if off the ground and make it grow," Kuzemka says. "Meg and I are really looking forward to bringing something different to the Farmers Market, which is in the process of growing. We hope to inject some new life into it, be part of its transformation."
Out of Step Offbeat Boutique and General Store opens Friday, November 12, at 9 a.m. Hours will be similar to those of the Trenton Farmers Market: Wednesday through Saturday, 9 a.m. to 6 p.m.; Sunday, 9 a.m. to 3 p.m. Located at the North End of the Trenton Farmers Market, 960 Spruce Street, Lawrence. www.outofstepnj.com.
Trenton Punk Rock Flea Market: www.trentonprfm.com.