The humidity and heat are high. The day is fading. Yet parents lean or stand by the track fence and watch while coach Al Jennings calls to their children as they pace their feet in starting blocks and prepare to sprint.
"Try it and see how it fits," calls Jennings, "Try 'em out."
As the young runners take off down the College of New Jersey track, Jennings gives a supportive nod and reflects on the next tip for the dozen or so teenage athletes whose parents have driven from around a large swath of central New Jersey.
"I try to help them succeed in school and give them a better perspective of track," Jennings says as the sun closes this session of the Trenton Track Club's summer young athletes program.
One of the first sessions of the season, the event is helping the club get back on track after the pandemic forced the 48-year-old group to suspend operations.
It is also helping young people to embody Jennings's belief that track "can help you go to school and build lifelong friendships."
Or in the case of Athing Mu, it can open the world in unexpected ways. The young Trentonian is currently representing the U.S.A. in the 2021 Olympics in Tokyo and is one of several successes that sum up the club's motto: "Running is a way of life."
Jennings adds that running should also "be fun. We want (young runners) to enjoy and learn and make it work for you. A disciplined sport like this makes you a disciplined learner. Most track students are more disciplined."
Another benefit, he says, is "there are protocols (in track). They don't let you use short cuts because they don't work. You can't hide. That's what I like about this sport. This is an individual sport that has a team concept."
The club's founder and head coach "who oversees everything," Jennings, is a retired Trenton and Lawrence public school teacher. He says the club is designed to introduce track to younger athletes and techniques to older ones. "The more you learn, the better you are as an athlete," he says matter-of-factly.
True to its Trenton name, the club is Trenton-born. Jennings says it goes back to 1971 when he graduated from Maryland State College, now the University of Maryland Eastern Shore, with a degree in physical education. Back home in Philadelphia and searching for a job, he accepted a fulltime substitute teaching position in Trenton and became a regular for the school's physical education department.
Jennings says he got his foot in the door when administrators heard he participated in collegiate track meets and engaged him to coach Trenton students.
"Once I started coaching, my kids wanted to go to (summer training) camp, but camp is expensive," the Ewing grandfather says. "So, I figure I could do a camp here and then I thought I would create a club. Because you can't run any relays without a club. We formed the first club in 1973. Every summer, we've had kids come out to Trenton Central High School."
The club moved to the fields at TCNJ five years ago, and Jennings continues to pull students from Trenton and the region in fall, spring, and summer events to compete against area schools and clubs.
He also uses the occasion to spot talent from other teams, invites them to participate in the club, and "gets the best kids from each school" to create teams that win national events.
No matter the year or location, Jennings says he and TTC face the same problem. "Funding. That's where we're hurting the most. I haven't had any problem getting (volunteer) personnel. But if we don't have the funds, you can't take the kids anywhere. Sometimes kids can't afford travel." Uniform costs are also a consideration.
"We've tried to get a company sponsor, but nobody believes in a city sport. Most of the clubs do it with fundraisers and fees. What we generate from the club is $75 indoor (programs), $250 summer. We're probably one of the cheapest clubs around."
While track has dominated his life, the son of a mother who worked for a fish house and a truck driver father says his involvement with track wasn't planned. "I was a gymnast. I did it for four years in high school."
While he hoped to continue gymnastics when he went to college to study science and physical education, he found that everyone had to participate in cross country and track. "I ran enough to get onto the traveling squad and the rest is history. I was on the team with guys who were Olympians. They were national champs."
He says they were also one of the few black teams that could win against strong college teams, such as Villanova, and participated in meets sponsored by the Philadelphia Inquirer and Bulletin newspapers.
"I saw some of the best Olympians that anyone could see," he says.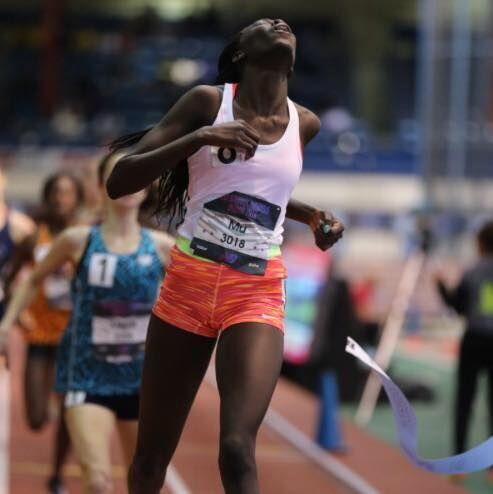 Another, however, got his attention with the help of Trenton Track Club coach Bernice Mitchell, who brought Mu to Jennings' attention.
"When I started working with her, I didn't know that she was going to be the wonderful individual who she is now. I saw she was special and knew she was different," says Mitchell about her years working with the Olympic contender.
Mu — who broke several records in winning the 800 meter race at the U.S. Olympic trials — is a strong medal contender in Tokyo. Preliminary races begin July 29, and the 800 meter final is Tuesday, August 3.
About Mitchell's own life in track, the Trenton-raised Trenton kindergarten teacher says, "I started running as a youth with the track club, coming out and just to get exposed. I went to Trenton Central High School, and Coach Jennings was my coach."
After her four sons began running with the club, she decided to get involved.
Now, she says, "Coach Jennings was my coach, my mentor, my coach and partner, and now my family. We've been a coaching team for 25 years."
With a Trenton Head Start Program employee mother and welder father, Mitchell says she was "always a sports kid, a tomboy maybe. My male cousins were big in sports and I liked my cousins and I wanted to be like them. I was one of those girls who said I can do anything you can do and got into sports."
Being in one of the first group of ninth graders to be brought into Trenton High gave her the opportunity to work with stronger athletes, including the 1984 Trenton track Olympics running Wenda "Wendy" Vareen.
Mitchell says they developed a friendship that helped her through high school, continued, and recently became part of "Team Athing," the professional group supporting the young Olympian.
While Jennings says he provided "a lot of couching" for Mu, he gives Mitchell credit for guiding the young athlete.
That includes traveling with her, coaching her on life on how to handle herself publicly and personally, and how to cope with the sometimes lonely life of traveling to meets. That includes developing celebratory rituals to mark milestones and achievements for the under-21-year-old athlete – like the "getting wasted on ice cream."
Since Jennings and Mitchell helped Mu focus on specific track events rather than multiple events that would fatigue her during competitions, the Trenton High student did not join the school team and trained mainly with the Trenton Track Club.
Using her familiarity with the Trenton school system, Mitchell made it a point to monitor Mu's academic work and studies. "When she was (busy focusing on track-related activities), people didn't know she was studying. I made sure her work was done. The only thing I asked her do is to keep her grades up. But she did it.
"The track club has been a feeder for athletes from not just Trenton but for Mercer County," and mentions a list of students who, like Mu, have gone onto college — including her own sons.
The Lawrenceville resident says she makes it point to see current and former track members while they participate in other sports. "I'm a sports mom. I'm known around the county, during football season you can hear me chanting."
As for Mu, Mitchell says, "I told her I won't be in Tokyo, but I'll meet you at the finish line. My spirit will always be with her. When she crosses that finish line you'll hear me — and yes, I will get 'ice cream wasted' to celebrate her victory."
As the track clears and families leave, Jennings sits down on a nearby bleacher and shares some thoughts about the club's future. "I am transitioning out. I don't have the energy I used to. And in the summer time I have to spend time with my grandchildren."
But Jennings admits "it's hard for me to leave this stuff alone. You always feel like you can run it the best because you stated it. It's hard."
Then, pointing to another former track club member and coach, Dr. Reverend Kevin Davis of the Holy Nazarene Church of God in Trenton, Jennings smiles and says, "I'd really like him to run things. He's a born a leader. He's a leader in Trenton."
And if Jennings' eye is correct, he'll fill the shoes and likewise go the distance.
For more on the Trenton Track Club, visit www.trentontrackclub.org.