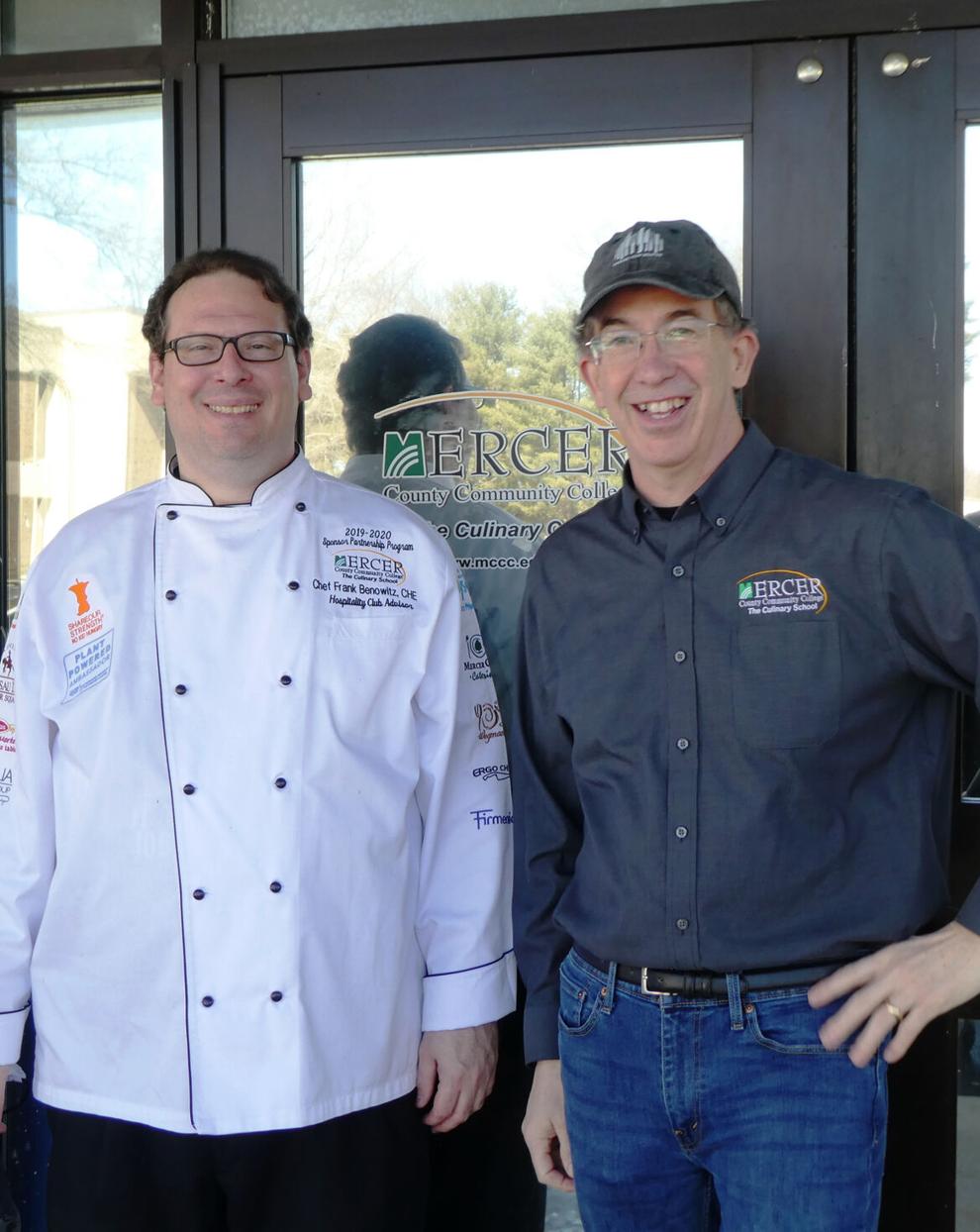 One doesn't need to be an expert to know the impact that COVID-19 is having on restaurants and hotels; shuttered eateries and empty parking lots offer ample evidence. Those businesses that continue to operate make do with limited capacity, takeout menus, and adaptive changes to their business models.
What may not be so obvious are the impacts, great and small, that COVID-19 is having on the training of future entrants into the culinary and hospitality industries. For a deeper dive into that subject I turned to two industry veterans and professors at the Hotel, Restaurant and Institution Management (HRIM) program at Mercer County Community College, Douglas Fee and Frank Benowitz.
Chef Fee has served as coordinator of hospitality programs at MCCC for nearly 20 years. Chef Benowitz was one of the first graduates of the program 20 years ago.
Mercer's HRIM program prepares students for employment in various entry-level management careers in the lodging and food service industries and includes an internship in a hotel, restaurant, or institutional food service facility.
Participants are a mix of full and part-time students, something that sets it apart from other programs, according to Fee. "That's where we're different from any other culinary school that I know of," he says, noting that currently about 200 students are enrolled in culinary and pastry and management studies, plus a "sprinkling" of culinology (a blend of culinary arts and food science) students.
Interest in the program has grown along with the advent of the Food Network and the celebrity chef, Fee notes. "The Food Network made things a little crazy," he says. "It also gave some people some false expectations as to what our profession is really about. This is a challenging business, a tough business, and you have to be passionate about it. We're fortunate to attract passionate students that love what they do."
"Students are also attracted to the HRIM program because we're a community college and offer the skills and knowledge they need at a value price," Chef Benowitz adds. "In my opinion our partnership for employment is as good or better than the CIA's (Culinary Institute of America) or Johnson & Wales. We have partners within and beyond the community, within the hotel and restaurant industry, grocery industry, that know that our students are here and ready to go to work for them. Students leave here without of a huge amount of college debt, so they can better afford to take on an entry-level position and gain real-world industry experience."
Like every other institution, the onset of COVID-19 presented existential challenges to the continuation of the HRIM program. "When COVID first happened last April, the college was highly proactive, Fee says. "They involved the greater college community and asked what needed to be done and the best way to do it."
Fee notes that, unlike a course of study that's primarily lecture based, hands-on, skills-based training presented a unique set of challenges. "For our specialty courses, the courses that take place in labs or kitchens, we had to stop what we were doing," Fee says. "In some classes, like a restaurant production class, there's no take-home lab. So we called a timeout and regrouped. We restarted our classes at the end of August, when all the procedures were in place here to keep everybody safe and it was okay to go ahead and complete those courses. The administration has been incredibly supportive."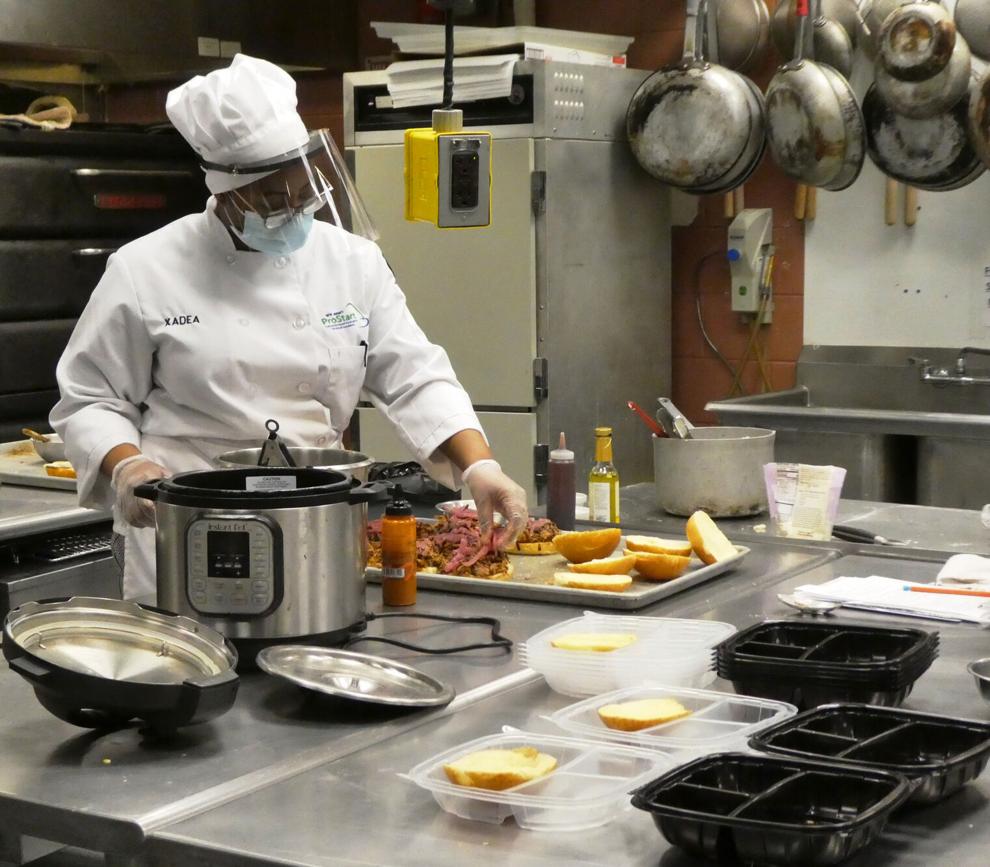 Remote learning tools have also become part of the instructional mix and have been a positive addition to the HRIM program, according to Fee. "We're using the technology to our advantage," he says. "Where possible classes are offered both remotely and in-person, so students have a choice. Thanks to virtual learning, we have so much more accessibility to students in terms of the pre-prep for class. They've done their research at home so when they walk in the door, it's like 'Okay, it's game time!' and they can hit the ground running."
One impact of COVID-19 that has not affected the HRIM program as much as other courses of study is implementing best practices to help prevent the spread of the virus. "Because of the nature of our business, there hasn't been a huge change from a sanitation standpoint," Fee says. "I've been teaching sanitation for well over 25 years; the main difference now is that we wear a mask and a face shield."
Indeed, observing students and their instructor in the kitchen with their multiple layers of PPE reminded me more of recent visits to the dentist's office than to a restaurant kitchen, a comforting sight.
In addition, Fee noted that the college has also put institution-wide procedures in place to guard the heath of the faculty, students, and staff who do spend time on campus. "We have a symptom tracker that must be completed online by everyone who is attending an on-site class," he explains. "It's been highly effective. I have a son that's immune compromised, and I feel very comfortable coming in and meeting with my class every day."
The symptom tracker rule applies to journalists as well. The night before my on-campus interview with chefs Fee and Benowitz, I dutifully completed an online form detailing the time, date, and purpose of my visit, current state of my health, and other pertinent information. Shortly after submitting the form, I received an email clearing me to visit the campus.
"In our classes we required the use of gloves even before COVID, and during this very contagious virus we're constantly emphasizing the importance of sanitation and good food-handling practices," Benowitz says. "It's really driven home the importance of the practices we've been teaching all these years."
So, what is Fee's and Benowitz' take on the current state of the industry?
"Restaurants are being economically crushed," Fee says. "The survivors that are still operating are those few that have a good cash reserve, or who have really been thinking outside the box in terms of how they do business."
"A lot of establishments have taken out PPA (Payroll Protection Act) loans, and New Jersey has recently increased permissible indoor dining capacity, but still that's only a third of capacity, and that's only the people who are comfortable enough to dine out," Benowitz adds. "The takeout business has increased extraordinarily compared to what it was pre-COVID, but the average consumer doesn't realize that takeout containers and boxes of gloves have tripled in price."
Speaking of takeout, what about the impacts of COVID-19 on employment opportunities, and the disproportional effect of different segments of the market — takeout, fine dining, hotels?
"In a fine dining establishment, the dining experience is as much a part of the equation as the food, so they're in a much tougher position than an establishment at a lower price-point whose primary revenue stream was takeout pre-COVID," says Benowitz.
Hasn't COVID impacted job placement opportunities for HRIM students?
"To an extent it does," Fee admits. "Pre-COVID, we had more people contacting us to hire students than we had students in the program. The hotel industry has really been slammed, so for us the hotel industry is a dry market right now, and because hotels have let people go, and they're going to hire them back before they hire someone new.
"But I think that's going to result in a weeding out process among our students," continues Fee. "The people on the fence who see it as just another job will be gone; the people that are passionate about what they want to do and hang in there will be in prime shape to get ahead in their field and do phenomenally well when the industry bounces back."
"Pre-COVID there were more job opportunities, but if a student wants part-time work they can find it, even during COVID," says Benowitz. "With so many full-time employees staying home on unemployment, there's demand for people to fill those positions, at least temporarily."
Fee and Benowitz addressed the ways that the challenges presented by the current emphasis on takeout are being addressed by the HRIM curriculum and by commercial food establishments.
"Today we're conducting a menu class," Fee says. "Each student's assignment is to design a menu, from which we then create a single menu that they will actually have to produce. One of the considerations is that it's going to be a takeout meal, so how do you design that? It's a whole other layer to consider. How do we present it for takeout? Will it fit into a takeout container?
"One of the required classes for our pastry and baking students is Experimental Kitchen, learning the science behind food preparation," Fee continues. "As their final project they're given a topic, say, Thai food or American regional cuisine. They have to come up with a product that they have to freeze and then reconstitute. So they have to experience the 'gold standard' of preparing the meal and then reconstituting the meal, how to make it shelf-stable, and how the science affects the final project. That's training we offer that restaurateurs may not have had to consider previously."
"Another consideration is whether the items on a takeout menu will re-heat well and reliably in customers' homes," says Benowitz. "And how far a restaurant is willing to go to ensure they've had a good experience. Are you willing to follow up with customers, get their feedback, and thank them for their business? That's what can set you apart right now."
On the topic of maintaining touch-points with customers, isn't COVID accelerating a trend away from personal service, the human touch? More folks are using the web to make and manage reservations, the use of contactless payment, keyless entry, self check-in and check-out at hotels, etc?
"I had to go to Rhode Island recently," Fee says, "And I stayed at a Hilton there. There's a seal on your door when you come in, there's a QR (Quick Response) code that you scan that informs you how they prepared the room, that everything has been sanitized. The remote for the TV is in a sealed plastic bag, and there are sanitizer wipes everywhere."
Both Fee and Benowitz agree that one lesson learned from dealing with the pandemic is that the human touch needs to be a bigger component of post-COVID business models.
"The people who are going to survive are the people who can offer a reason for people to come out and dine with them, who can take it to the next level and get the ball rolling to get people in," Fee says. "By catering to specific niches for example, like focusing more on plant-based items."
"We've taken the importance of being in a social situation with others for granted," Benowitz adds. "One lesson re-learned because of COVID is the importance of fulfilling that basic need. I emphasize to my classes that this is the time to introduce more table-side service items, because that experience is going to get people to your restaurant. It's old-school, but I think it's time to bring a bit of theater back to the dining experience, preparing a Caesar salad, carving meat, or making a flambe dessert like cherries jubilee table-side."
Benowitz' comment begs the $64,000 question: Just how far is the industry from a return to a semblance of normalcy?
"The COVID situation is going to be in people's memories for a little bit," says Benowitz, "But I tell students that Americans tend to have shorter memories than they might think. A year post-COVID we'll still remember it, but not with the same intensity.
"Will people continue to use Zoom more often than they did before? Of course, but I think that by holiday time at the end of this year, definitely in 2022, you're going to see parties starting again. I believe there's going to be a huge boom in 2022. The hotel industry will be coming back, and once the mandates on eateries are lifted there's going to be a huge increase in business. Restaurants must be prepared if they're to succeed."
For more information on MCCC's Hotel, Restaurant and Institution Management Program, visit www.mccc.edu/hrim, email feed@mccc.edu, or call 609-570-3447.