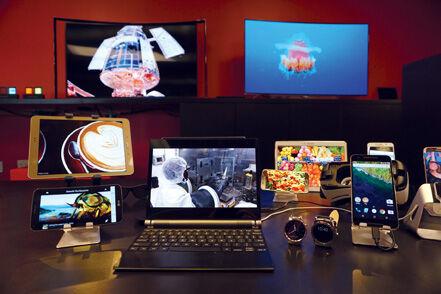 Despite all the advances in smartphone technology since 2008, the actual shape of an antique first generation iPhone doesn't look remarkably different from today's advanced models, aside from being a bit smaller and squatter. Every phone is still a slim, glassy rectangle just like it has been for the last decade.
But Universal Display Corporation, the Ewing-based company that developed the phosphorescent organic LED technology that is used in high-end cell phone screens, is paving the way to what some believe will be a new era in wild electronics screen designs: foldable, rollable, and flexible models, that will soon hit the market. Designers can now realistically dream of creating a tablet computer that rolls up to the size of a pen.
Among those who have dreamed of having a single device that combined the portability and pocketability of a phone with the large screen of a tablet is Michael Hack, vice president and general manager of OLED lighting and custom displays at UDC. Hack, who has worked with the company for 20 years, is a scientist who earned his doctorate at Cambridge University in England and has helped UDC create the tiny, extremely bright and extremely efficient PHOLED components that help make science fictional devices like rollable screens possible.
Hack will speak at an upcoming research symposium hosted by the Princeton Institute for Science and Technology of Materials (PRISM) on Tuesday, March 26, at Maeder Hall at Princeton University's Andlinger Center. Hack will speak at 1:30 p.m. on the first day of the two-day event. The symposium begins at 8 a.m. and goes to 7 p.m. on Tuesday and from 8:30 a.m. to 6:30 p.m. on Wednesday. Princeton faculty, technology business leaders, venture capitalists, and researchers across the materials research and engineering community will give talks, present research, and lead workshops.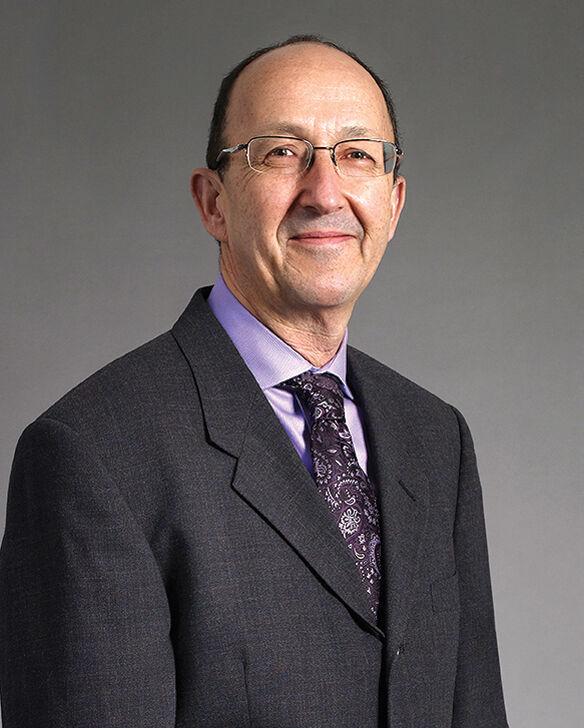 Other notable speakers include Stephen R. Forrest, founding director of the New Jersey Advanced Technology Center for Photonics and Optoelectronic Materials (POEM); Nobel prize winner and Princeton physicist Duncan Michael Haldane; PRISM director Craig B. Arnold; physicist and astronomer Alison Sweeney; materials researcher Romain Fardel of Modern Meadow; and scientist Jan Ringalda of Thermo Fisher Scientific Company.
Hack said consumers will likely be surprised with the radical smart phone designs that will be hitting the market over the next few years, and the speed with which they are released. Already, companies have built prototype devices that hint of a rollable future. At an industry convention last year, electronics maker LG showed off a prototype TV that rolled up into a box, similar to a projector screen but with no projector, which it plans to launch as a consumer product.
Samsung's Infinity Flex display announced in November is the first of these commercial foldable devices. The display allows the tablet to fold into the shape of the smart phone with no crease in the screen. Huawei and Lenovo are also planning foldable phones. As with most first-generation consumer electronics, Samsung's model is priced out of reach of most smartphone buyers: the Galaxy Fold costs nearly $2,000.
Hack noted that the consumer product cycle usually follows this pattern, with MP3 players and DVD players starting off as expensive luxuries only to become commonplace as manufacturing ramped up.
It's a revolution long dreamed of by Hack and others at UDC. Hack grew up in England, where his father was an engineer. He graduated from Cambridge with a doctorate and later worked for Xerox, where he worked on flat panel display technology. Rollable screens is a longtime goal of the company.
Universal Display contributes to the foldable screen market in two ways: First, it owns patents on technologies related to phosphorescent organic LED displays and secondly, it manufactures the materials used in this type of display and sells them to companies that make screens. (Most of the world's screen manufacturers use UDC technology, mostly in smartphones.) Phosphorescent LEDs, based on discoveries made by Princeton University researchers in the 1990s, are extremely efficient compared to their conventional counterparts. Where a regular organic LED turns about 25 percent of the energy put into it into light, with the rest being heat, a phosphorescent LED is near 100 percent light. Currently, PHOLED displays are made with red, blue and green diodes: UDC makes phosphorescent red and green diodes, but they don't yet manufacture blue ones, so these are made with traditional OLED materials using technology developed by Kodak.
PHOLED screens can be much thinner and brighter than conventional displays. Darice Liu, director of investor relations and corporate communications for UDC, says that in 2013 Samsung, which was just using PHOLED red diodes, switched over to green ones, their devices saw a 25 percent increase in battery life. UDC is currently developing blue diodes, and Liu says that when they come out, manufacturers who adopt them can expect a further 25 percent gain in battery life.
PHOLEDs are part of a suite of technologies that have made foldable screens possible. Making an entire rollable phone will require every single component of the phone to be flexible: from screens, to the battery, to the circuitry.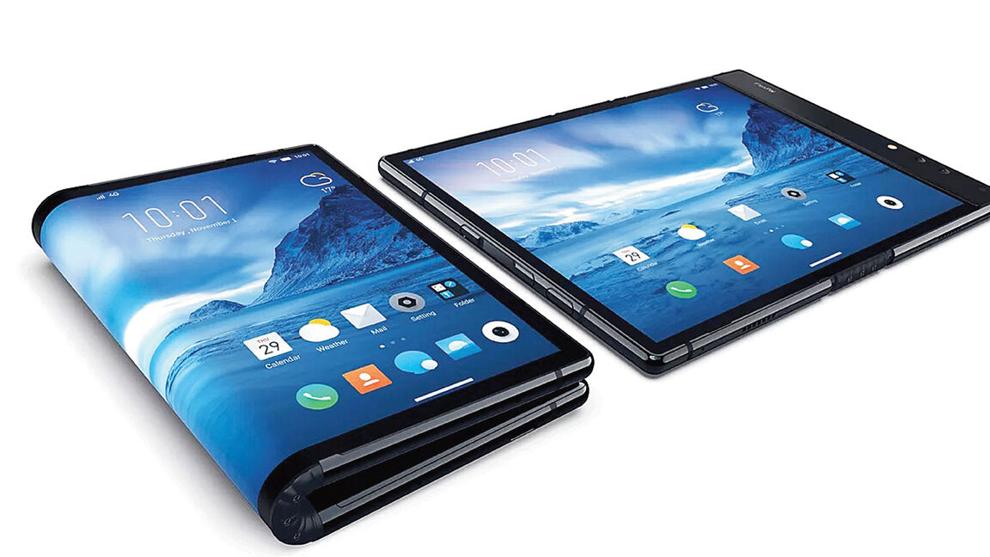 Take, for instance, the surface of the phone itself. Until now, screens have been covered by high strength glass because it is highly transparent and does not scratch when abused by the user. They also used glass as a backing material. A phone surface that gets scratched and cloudy would be worse than the downside of glass, which is its vulnerability to being shattered. Hack says that recent advances in plastic technology and scratchproof coatings have allowed plastic screens to perform well enough to be used in commercial products. Another major hurdle to flexible plastic is preventing it from creasing. Now, the glass backing has been largely replaced by plastics, and plastic covers will make phones extremely more durable in addition to allowing them to be built in new forms. "Plastic on plastic is essentially unbreakable," Liu says. "A lot of new applications can materialize if you remove the rigidity of glass."
Other companies are experimenting with extremely thin flexible glass, which potentially could be used instead.
It's not just smartphones that could be revolutionized by rollable technology. Tablets, traditional computers, and as-yet unimagined categories of device could be completely re-imagined or invented.
The flexible trend actually started out four years ago with the introduction of curved edges on smartphones, along with curved screen televisions. Organic LEDs were key to these devices. Since they are inherently flexible, the tiny diodes can be mounted on a wide variety of surfaces.
All of this could be leading up to a device that UDC has long held up as a kind of holy grail of communications technology: a "universal communication device" that would look like a pen but have a full-color display that rolls out for use. Right now the communicator only exists in concept art and in a few extremely rough prototypes at UDC headquarters on Graphics Drive in Ewing. But Hack says it gets closer to reality every day.
Currently there are about 1.6 billion smartphones in the world, with 400 million using UDC's OLED technology. The next frontier for UDC is televisions, as currently less than 1 percent of them are made with OLEDs.
UDC is not all about screens however. The company is also developing PHOLED lighting which can be created in strips and applied to any surface. So far, this technology has caught on the quickest in the automotive world, with luxury automakers BMW, Mercedes, and Audi beginning to use OLED tail lights in some of their cars. The light weight and low power consumption of OLEDs make them appealing, and Hack says designers are experimenting with using them on the interior surfaces of cars as well.
Currently, UDC is focused on two major research projects: the first is creating blue PHOLED emitters, which would enable all-PHOLED devices. The second is a manufacturing technique that would allow emitters to be printed on surfaces like an inkjet printer. This would drive down the cost of PHOLED screens, making OLED TV screens cheaper and more practical. "By some estimates there will be 10 million OLED TV sets by 20201. We believe the market will have grown to 200 million plus units by then," Liu says.
The Route 1 corridor has a tradition of pioneering television technology. Color television was invented at Sarnoff Labs, which also created the world's first liquid crystal flat screen displays. UDC's core technology was developed at Princeton University, and Hack says he's proud of his company's deep ties to the region and the university.
Liu says people in the industry are a bit sick of hearing references to "Minority Report," the 2002 sci-fi movie that showed a near future world with advanced computer technology everywhere. But nevertheless, she says we may soon see screens on transparent surfaces, as in "Minority Report," as well as screens built into mirrors, or in heads-up displays for cars.
While the initial foldable phones are niche products for "early adopters" and tech junkies, and will probably be manufactured in very small quantities, Liu predicts they will be adopted quickly as consumers see the value in having a two-in-one product. Future foldable phones will likely be cheaper and have any initial bugs worked out. "I carry a smartphone, a tablet, and a laptop with me when I go on business trips," Liu says. "If I could only carry two of those, that's great."
Universal Display Corporation Inc. (OLED), 375 Phillips Boulevard, Ewing 08618. 609-671-0980. Steven Abramson, CEO. www.udcoled.com.