When Susan Rizzo began looking for a space that could serve as a combination art studio and gallery, little did she suspect that she would find what she was looking for just down the street.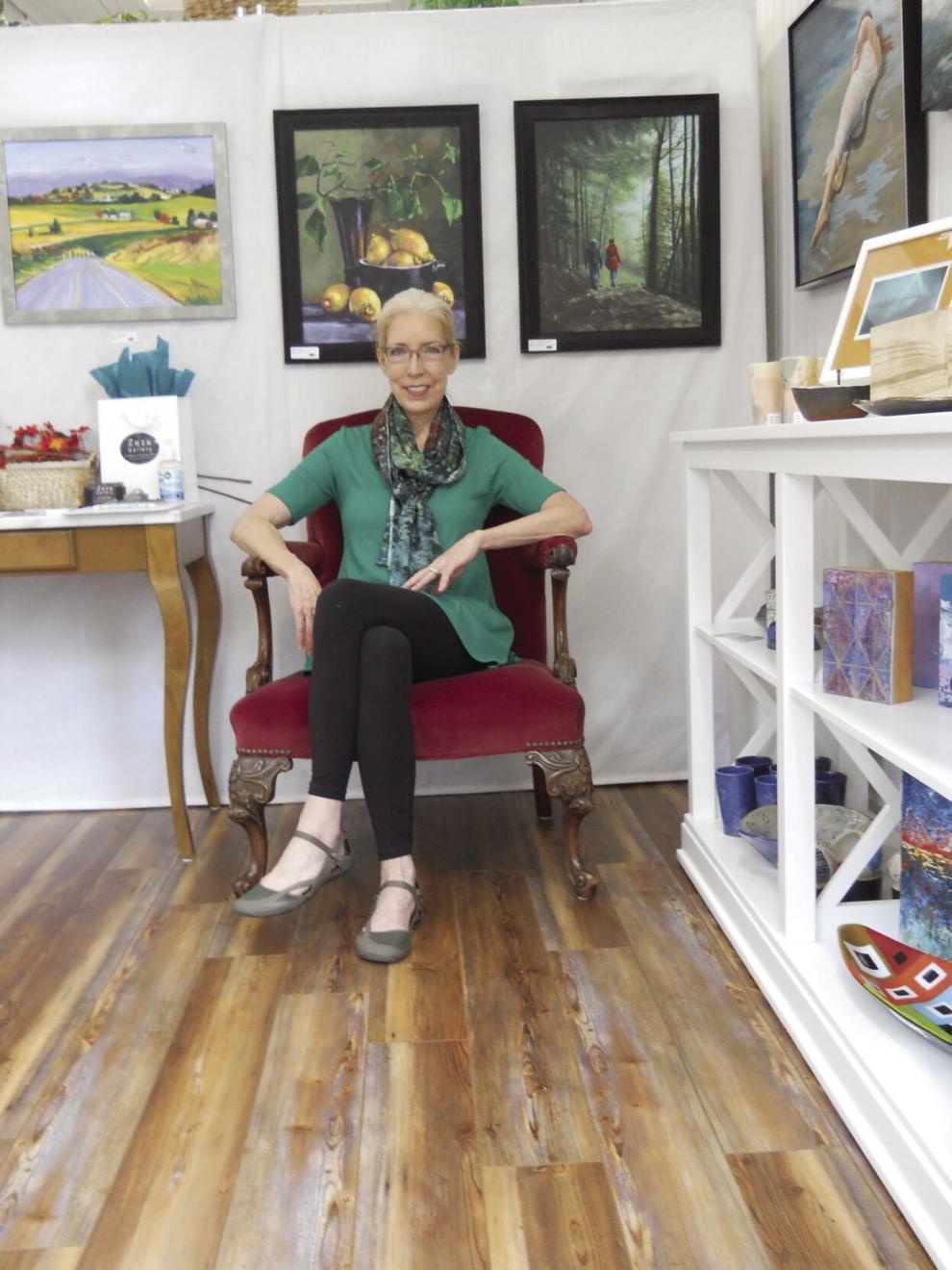 Rizzo's roots in the Princeton area run deep. "My parents moved to Princeton right after World War II, so I was born and raised in Princeton," Rizzo says. "I lived in San Francisco with my first husband for 15 years and had two daughters, and when that marriage ended, I came back and settled in Lawrenceville. I've lived on Gordon Avenue for 31 years."
Her passion for art runs deep as well. "When I was a child I was always drawing," Rizzo says, "and I excelled in art in high school." While living in San Francisco, she attended the Academy of Art, where she pursued her love of painting. Founded in San Francisco in 1929, it is one of the largest private, accredited art and design schools in the nation.
Art beckoned, but, as the saying goes, life can get in the way when you're making other plans. For a time, Rizzo ran her own business in San Francisco before making the move back east and securing a position at Princeton University.
"I was an administrator at the Woodrow Wilson School for 26 years and retired a year before COVID" she says. "Holding a full-time job and being a single parent for a number of years, I didn't do a lot of painting while my kids were growing up. I got back into painting around 2005, dabbled here and there, but I took it up seriously about eight years ago."
How did the idea of opening a gallery come about?
"As an artist, and like so many artists that I know, we work in a basement or a spare bedroom in our home," she says. "As we begin to take our craft more seriously we want our space to be serious as well, a designated space to make art.
"I was painting in a 12 foot by 12 foot bedroom that I would have to turn into a guest room when the kids were home, so I was constantly having to dismantle and reassemble. So I was looking for a studio, and we were looking to buy a house with a large walk-out basement we could renovate for studio space for me, with enough space for a small gallery, where I could invite people inside without walking through the house, and invite other artists to join me for gatherings."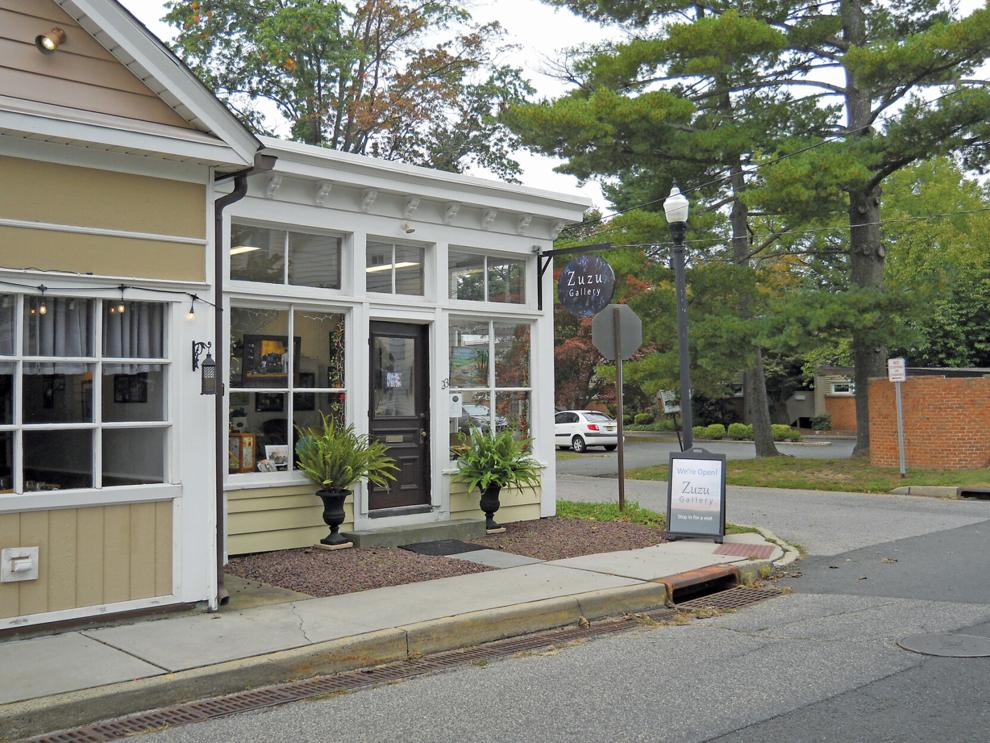 Rizzo recalls searching the popular real estate website Zillow daily throughout March and April for a suitable property. "The housing market of course is crazy," she says, "But then I happened upon the 'For Rent' sign outside this building.
"Just before that, what really struck me was that my daughters and I were out in Greenport, Long Island, a charming little town. There were two artists who had a space on the main street among the shops. I walked in, and one was just inside the door painting, and they had their artwork on display, and I had this amazing sense of joy at how wonderful it would be to have your gallery and studio space together."
The building in her neighborhood to which Rizzo refers is at 23 Phillips Avenue in Lawrenceville, next door to Vidalia restaurant. She says it has an interesting history and a quirky charm she immediately connected with. Built in 1890, it originally stood on the campus of the Lawrenceville School and was moved to its present location in 1925. Its most recent tenant was Curry Corner Dog Grooming.
"I suspect that it (the building) had a little trouble getting here because there is not a straight line in the building," she chuckles. "It's two feet wider in the front than it is in the back, and the ceiling is higher in the front than the back. But that's what gives it its charm, along with the bead-board walls and the skylight. I was the first one to call. The landlord liked my idea, and that's how I got here."
Zuzu's official grand opening was September 18, after a soft opening on June 12 during Lawrenceville Main Street's Arts Festival.
The large plate glass windows, whitewashed walls, and the warm glow of the hardwood floors add to the charm, a perfect setting for the display of an eclectic collection of artwork that Rizzo has assembled by area artists she has met while showing her own work.
"I want to feature a mixture of styles and media," she says. "I don't want one artist competing directly with another, and I want to appeal to different tastes. I think I've accomplished that. I also have room to accommodate more artists because I have wall space in the back where my studio is. So the gallery can expand and display additional work by an artist in the main room whose work proves to be popular."
Most of the current work on display is two-dimensional — paintings, prints, and such — but Rizzo is on the lookout for artists in other media as well. "I've invited a ceramicist and two more painters to come in," she notes, "and I'm looking for more three dimensional art, sculpture and the like."
As to her financial arrangement with exhibiting artists, Rizzo says her business model is commission-based. Contracts between the gallery and an artist are currently for one month, renewable by mutual agreement. "I'm experienced in retail, but an art gallery is a whole different animal," she says. "I'm open to suggestions from other artists, and I'm looking into how other galleries work; nothing is carved in stone. I do want to rotate the artists in and out because there are so many artists out there and not enough places to show their work."
Asked if she was daunted by opening a business in this time of uncertainty, when COVID is still with us, she says, "I don't worry about that. It is what it is. It's like when people ask me why I paint and I reply that 'I can't not paint.' I cannot not create something, whether it's in my garden or in my home or at the easel or whatever. That's just who I am, and I can't not do this.
"Like any business, it's going to take time to get off the ground, for people to get to know I'm here," she continues." I do want to offer items at lower price points, more gift items. It's going to morph a little over time, and not just into a fine art gallery. I'm not sure exactly what yet, but I know that people will be able to walk in and find something reasonable that might make a nice take-along gift to a dinner party or for their home. I have a million ideas and I simply can't get to all of them at once."
One thing that Rizzo says she'd like to accomplish in the not-too-distant future is make Zuzu Gallery a place for artists to gather and share ideas. "We spend so much time online these days," she says, "and it would be good to have a place where artists can meet face-to-face, to build that connection, because what I've found interesting is although a lot of artists know each other, there are a lot of artists who are showing their work here don't know the other artists whose work is hanging next to theirs.
"I had a preview party the night before the opening, and they all came and had such a lovely time. You have an instant bond with somebody you share a love of creating art with."
Regarding the gallery's name, Rizzo says, "Everybody asks how I came up with the name 'Zuzu.' It does relate to 'Zuzu's petals' (a key element in "It's a Wonderful Life," the iconic 1946 Frank Capra film,). My younger daughter is starting a family, and we were talking about grandmother names. I suggested 'Zsa Zsa' because Zsa Zsa is Susan in Hungarian. She didn't care for that name, but thought of Zuzu, which is Susan in Czech, and her father is Czech.
"She's in advertising and was trying to give me some branding advice. We're not a serious New York gallery, so naming the gallery Zuzu adds a touch of whimsy and rings a bell with people because of the movie. So that's why it's my gallery's name, and when I'm a grandmother it will be my grandmother name."
"I want people who stop by to have fun," she adds. "I want to have fun. I want to connect with people. I want other people to connect with people. I want Zuzu to be part of the community."
Zuzu Gallery, 23 Phillips Avenue, Lawrenceville, Wednesday, Friday, and Saturday, noon to 5 p.m. A reception welcoming new artists Jo Ann Osnoe, Christine Seo, and J. Marion Simmons to the gallery takes place Saturday, November 13, from noon to 4 p.m. www.susanrizzofineart.com/zuzu-gallery.