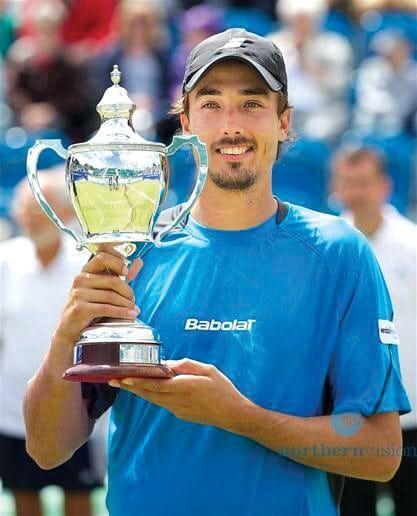 The pros know reaching the top of your competitive game takes more than a knowledge of the basic skills. Confidence on the court comes from knowing what to expect, how to react, and how to behave. These are the skills that Advantage Tennis goes above and beyond to instill. Conveniently located alongside the Windsor Athletic Club at 99 Clarksville Road, West Windsor, Advantage Tennis has world-class coaches who have deep experience in all phases of training athletes.
Steve Lee, general manager and director of tennis, is proud to announce that Martin Alund, former top 100 ATP professional player, remains as Advantage Tennis Club's Director of the Martin Alund Academy of Tennis training. "We address the needs of tennis players at all levels and for those who want to pursue their game to the professional level, Alund's training is key."
Prior to joining Advantage Tennis, Alund played professionally on the ATP tour. He reached the semi-finals of the 2013 Brazil Open losing only in the third set to the king of clay courts, Rafael Nadal. He achieved a career-high singles ranking of World No. 84 in March, 2013. A glance at the internet confirms his experience at the world-class level of competition.
Alund says, "Players who want to move to the top echelons of the game must know how to handle more than their rackets. They must have tournament polish, a combination of quiet confidence and competence. I strive to teach this professional level of behavior in serious students who want to walk out onto the court looking like winners. It's not swagger, but a totally different approach to behavior on the court. I teach courtesy and strategy, the tools of competition."
"We teach the players how to practice. That sounds strange, but you must refine your technique, see your weaknesses, and train to improve. We also concentrate on avoiding mistakes. Not only must you know what to do but what not to do. Players come to understand what playing at the highest level really means; what to expect, what surprises can come up, and most importantly how to respond."
The Martin Alund Academy of Tennis Training at Advantage Tennis offers several levels of classes. "We begin training students as young as 9. Our High Performance Academy stresses correct technique, strategy, tactics, and focuses on physical training to maximize performance. Our Match Play provides students with experience playing with high UTR ranked international players."
Alund's approach shows young players that playing at a world class level is possible. "I admired the top-seeded players from afar when I was a youngster learning to play. It seemed impossible to imagine myself playing at that level, but then I met pros who helped me improve. Learning from those who have experience at the highest level made all the difference. That's what we offer here at Advantage Tennis."
Visit Advantage Tennis and explore the options and training levels that are right for you. The nine-court facility operates under air-supported "tennis domes" from the middle of September through the middle of May. After the tennis domes come down in June, outdoor facilities make it possible to enjoy optimal playing conditions throughout the year.
Advantage Tennis, 99 Clarksville Road, West Windsor. www.advantagetennis.club. 609-799-5806.