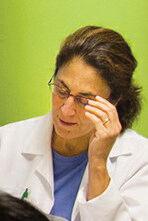 Aware Acupuncture at the Straube Center in Pennington offers Traditional Chinese Medicine and Five Element Acupuncture. Diane L. Ailey, the owner of Aware Acupuncture, is licensed to practice acupuncture in New Jersey and Pennsylvania. Diane is certified as a Diplomat of Acupuncture by the National Certification Commission for Acupuncture and Oriental Medicine (NCCAOM). She received a Masters of Acupuncture degree from the Won Institute of Graduate Studies in Pennsylvania. At Aware Acupuncture Diane has successfully served Pennington and Mercer County for five years.
Diane's practice of acupuncture concentrates on healing body, mind, and spirit while treating the patients primary concern. This holistic approach was encouraged by her training in Five Element Acupuncture which is derived from ancient Chinese medicine theory rooted in Taoism. Five Element Acupuncture is especially beneficial when there are blocks to treatment outcomes or emotional issues are present.
In general the practice of acupuncture is based on the classical theory that Qi (energy) flows through meridians (channels) that run throughout the body, nourishing and moistening the body's organs, skin, muscles, and other tissue. When the flow of Qi energy in the body is obstructed, pain and disease may result.
Through the use of thin, sterile, disposable needles Diane treats a variety of disorders by clearing obstruction and improving the flow of Qi and blood. From a western medical perspective, acupuncture stimulates the nervous system releasing natural chemicals within the body; these chemicals may change the perceived experience of pain or may trigger specific hormones which encourage the body's innate state of homeostasis. By improving the body's biochemical balance, acupuncture promotes physical and emotional health.
Acupuncture is used for the treatment of pain and muscle strain due to repetitive stress, sports injuries, and accidents. It is beneficial in the treatment of chronic autoimmune diseases such as Rheumatoid Arthritis and Fibromyalgia. Acupuncture is also successful in treating headaches, TMJ, Bell's Palsy, and trigeminal neuralgia. Acupuncture helps to relieve the nerve pain associated with diabetes and other neuropathies; and, is used widely for the treatment of a variety of gynecological conditions and fertility issues, urogenital and digestive conditions. Additionally, acupuncture is helpful in the treatment of acne and skin conditions. The World Health Organization has endorsed acupuncture for the treatment of high blood pressure, allergies, ear and toothaches, colds and flu, asthma, and disease prevention and wellness.
In addition to acupuncture, Diane incorporates cupping and medical massage into her treatments when appropriate. These services complement acupuncture to further improve blood circulation and muscle relaxation. At Aware Acupuncture Facial Renewal Cupping is also available. This treatment is intended to improve blood circulation, revitalize the complexion, and improve the overall tone and appearance of facial tissue by eliminating the buildup of waste and fluid in the face and the neck.
At Aware Acupuncture, patients benefit from the caring concern demonstrated by Diane. Her treatments relieve the patients chief complaint while creating a sense of peace and well being. Aware Acupuncture accept most major healthcare insurance. Contact Diane at Aware Acupuncture by phone at 609-737-0970 or via the "Contact Us" portal at www.awareacupuncture.com to schedule your appointment.
Aware Acupuncture, 114 Straube Center Boulevard, Pennington.