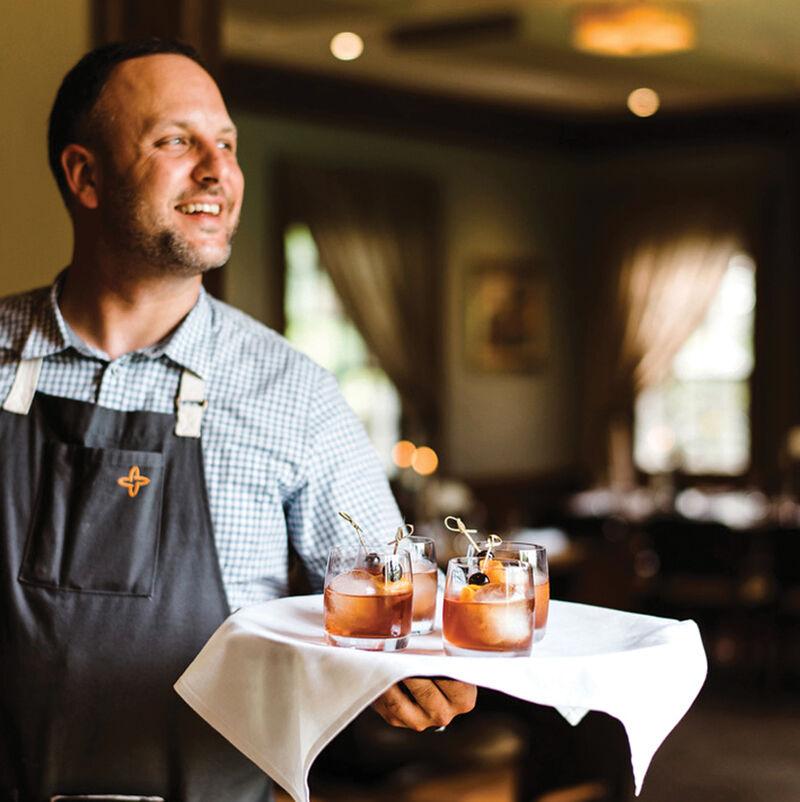 The Brick Farm Group has been in full swing with its new catering entity, Brick Farm Catering, and Commissary Kitchen. Both on site at Brick Farm Tavern and Brick Farm Market, or off site at a variety of locations, Brick Farm has been putting on special events with delicious local food, excellent service, and an attention to detail.
Brick Farm Tavern has several options for private dining and special events.
The Crow's Nest, which seats 10 dinner guests in a "club room" on the second floor, has an adjacent room overlooking the bar for private pre-dinner cocktails and is an excellent location for a quieter, more private event. In the Wine Cellar, guests can be seated at a long community table, comfortably accommodating 18. The Wine Cellar can also be used as a location for standing events, allowing up to 35 guests: cocktail parties, wine tastings, and any variety of occasions where excellent food, drink, and mingling are combined. The Living Room can accommodate up to 30 guests seated and 40 for cocktails, and the Library can be secured for up to 46 guests seated. Corporate lunches and dinners, graduation parties, and birthday celebrations have worked beautifully in these two welcoming, private spaces within the Tavern. Of course, the entire restaurant can be booked for events such as weddings, birthday parties, corporate parties, product launches, bar/bat mitzvahs, and any other marquis occasion. The grand lawn can be utilized as an open-air extension of the festivities or tented for a more structured addition to the event. The Brick Farm staff works tirelessly to create the right menu and feel throughout the Tavern to ensure a memorable experience for both clients and guests.
The Brick Farm Market, a renovated former Chevrolet Dealership with an open floor plan, has been hosting private events since its opening in 2013. The rustic setting is perfect for birthday parties, anniversary parties, team celebrations, work functions, school administration gatherings, and more. Parties of up to 48 seated and 100 standing can be accommodated. Again, the team at the Market works with individuals to create the right theme and feel for the party and takes care of all the details so that hosts and guests can enjoy the food and each other.
Finally, Brick Farm Catering has been fortunate to do a variety of events off-site: intimate dinners in private homes, cocktail parties, holiday parties, and large-scale catering for benefits and corporate events, weddings, family reunions, BBQs, and more. Brick Farm catering can also create a menu of items to be picked up and prepared by the host. As clients' imaginations dream up ideas for entertaining, the staff at Brick Farm Group is there to make it a success.
As is paramount to every entity within the Brick Farm Group, ingredient sourcing is focused on the freshest local ingredients possible, starting with proteins and produce from Double Brook Farm in Hopewell. Grains, dairy, and additional produce are sourced by farming partners in the area who share a philosophy of sustainable agriculture and humane animal treatment. For each event, all dishes are made fresh from scratch either at the Brick Farm Market, the Brick Farm Tavern or the Commissary Kitchen.
Brick Farm Group looks forward to working with you to help you celebrate your next special event with our dedicated catering team or hosting your event at the Tavern or Market!
For more information about events at Brick Farm Tavern, please call 609-333-9200 or email reservations@brickfarmgroup.com. For information about events at Brick Farm Market, or inquiries about Brick Farm Catering and off-site catering, please contact Marianne Murphy at 609-466-6952 or email catering@brickfarmgroup.com.