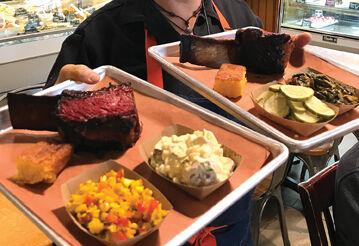 Spring is almost here, and Brick Farm Market has something new coming online! Starting March 16, to coincide with the beginning of Hopewell Restaurant Week (March 16 – March 22), Brick Farm Market is launching "SMOKE & CIDER," a regional BBQ dinner for in-store dining and take-out.
Stop in and sample our new mouthwatering dinner menu of pasture-raised proteins transformed into incredible BBQ by our talented chefs. Hang out in the cool community vibe of Brick Farm Market as you enjoy a frosty, crisp Ironbound hard cider and savor pulled heritage Berkshire pork, smoked beef brisket, pastrami smoked beef short ribs, smoked Double Brook Farm chicken, turkey, and more. Our twist on classic made-from-scratch sides adds layers of complementary flavor. Try root beer BBQ beans, braised greens, local grits, vinegar slaw, sweet corn chow chow, biscuits, and corn bread. House-made BBQ sauces will be available: Carolina Vinegar, Sweet Molasses BBQ, Alabama White BBQ, and Coffee Mustard BBQ. Whether you choose to dine in at the Market or bring your BBQ home, we are sure you will enjoy the flavor of this BBQ using the freshest local ingredients.
Ironbound Hard Cider and will have several varieties of their premier, New Jersey-made hard cider on hand for purchase (21 and older only). It is one of the very few hard ciders you can buy that is not made from concentrate and there is a difference. Plus, Ironbound has a great company philosophy which you can read about on their website (ironboundhardcider.com). Not to mention, cider goes perfectly with our BBQ! If you are not a hard cider enthusiast, you may BYOB your favorite beverage as always.
We hope you can join us during Restaurant Week and beyond for this delicious addition to our offerings at Brick Farm Market.
To learn more and see menus, please visit our website.
Brick Farm Market, 65 East Broad Street, Hopewell. Market Hours: Monday through Friday, 7 a.m. to 7 p.m.; Saturday and Sunday, 8 a.m. to 6 p.m. SMOKE & CIDER Hours: Tuesday through Saturday, 5 to 9 p.m.; Sunday to 6 p.m.; Monday to 7 p.m. Pick up only. Restaurant week March 16 to 22, 5 to 9 p.m. 609-466-6500. www.brickfarmmarket.com.