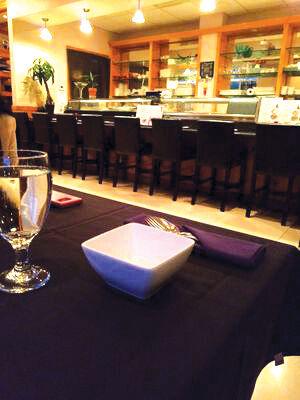 Already in its 11th year, East Asian Fusion Restaurant, conveniently located at 5 Market Street, Plainsboro Township, is becoming better than ever. One of the long-time favorites in the area, its secret to longevity is its attention to the customer. "We always ensure our customers enjoy their every visit," says owner Terri, who started in Lawrence Township and has 30 years' experience in the restaurant business. "It doesn't matter whether they are local, regular diners or travelers. They always come back when they are around the area."
Terri is proud to announce several new dishes and other temptations. "Our newest menu item is the popular dish, the Poke Bowl," she says. "Loaded with sushi rice, lettuce, avocado, cucumber, tuna or/and salmon, it is a huge hit and has diners craving more. A feast for the eyes as well as the palate, it comes with a choice of three sauces: soy sauce with sesame oil, spicy creamy mayo and ponzu (citrus). Also new is the fresh Ramen Noodle soup served Japanese style, one of our biggest sellers. Enjoy it with either Tonkotsu, Miso or Shoyu broth."
The bright and spacious restaurant has established itself as one of the top 100 Asian fusion restaurants in the U.S. "If you have not joined us before, our happy hour from 3 to 6 p.m. Monday through Friday and all day Saturday is the perfect way to discover our menu. We offer specials such a half-price on salmon and tuna during happy hour, served either as sushi or sashimi. It's time to explore our wide variety of dishes, highlighting the wealth of Asian cuisine. We specialize in Japanese, Chinese, Thai, Vietnamese, and Indian dishes."
East Asian Fusion offers diners the chance for a quick bite at their sushi bar or leisurely dining for date night with elegant fare such as fresh twin lobsters served with ginger and scallions or Hong Kong Typhoon Style. The restaurant is BYOB so you can complement your dining with your favorite tipple. Summer welcomes fresh watermelon slush to the extensive range of bubble teas.
"We offer an extensive catering menu as well," says Terri. "Our diverse menu will help you make your next corporate or private event pop. Why have the same old sandwiches when you can offer colleagues and guests exciting sushi platters or even Chunky Tuna Pizza or Unagi Fried Rice?"
Gift certificates are available and special offers abound. Delivery is also available for your convenience. Come enjoy the best Asian fusion cuisine and discover something special.
East Asian Fusion, 5 Market Street, Plainsboro. 609-750-3278. www.eastasianfusionnj.com.