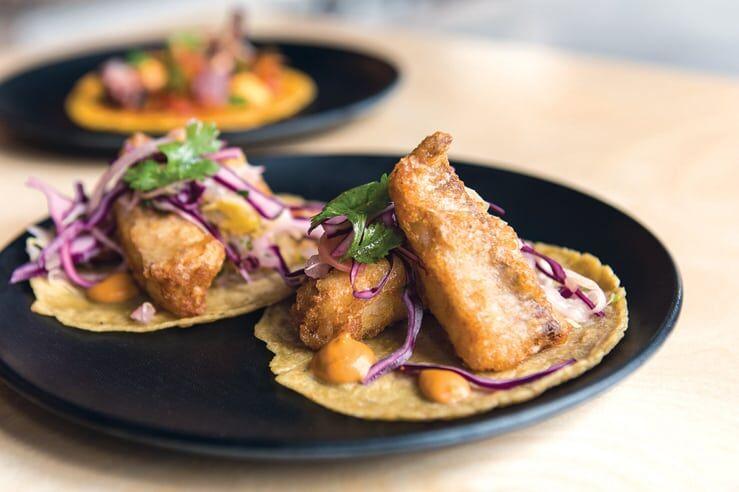 Jim Nawn's Fenwick Hospitality Group has done it again and autumn dining at the Fenwick flagship venues promises to be even better.
The newest of their restaurants, the popular Two Sevens at 277 Witherspoon Street, is now offering exciting new services and specials. First, fire up their website because Two Sevens now offers delivery. A single click has their delicious menu items winging their way to you in about 45 minutes. What could be easier? In addition, Tuesdays are now Taco Tuesdays, only $15 with a Margarita. Two Sevens' margarita are now legendary so this a real deal.
All this is on top of $11 lunch specials and a daily happy hour that is really four, 3 to 7 p.m. Drink and food specials make these very happy hours. On Thursdays, live music ups the ante of happy hour at the bar from 6 to 8 p.m. And make Two Sevens your destination for game day with discounts at the bar. Follow your favorite NFL and soccer teams.
Having a special party? Four distinct private dining areas are available at Two Sevens. Destination Hola can accommodate 24 people seated or 30 standing. For larger parties La Sala downstairs holds 46 seated and 70 standing. Don't forget those warm autumn days that are still to come. The Teraza outdoor dining area is perfect for up to 50 people standing. The Cantina itself is available for smaller groups as well.
Fenwick Hospitality Group was founded by Jim Nawn in 1998 and has now expanded to four dining venues and a full-service catering company. He was in the vanguard of the farm-to-table movement. His first site was Agricola in the heart of downtown Princeton where guests enjoy exceptional ingredients thoughtfully prepared, excellent service, and a relaxed escape from the daily routine. Agricola has become one of New Jersey's top restaurants.
The Dinky Bar & Kitchen and Cargot Brasserie is an exciting partnership with Princeton University and the Arts and Transit Project. Across from McCarter Theater Center for the Performing Arts, these two charming eateries preserve the beloved Dinky train service's original stone buildings. The Dinky Bar & Kitchen offers ingredient-driven, locally sourced small plates, snacks, and more. Cargot Brasserie is a French-inspired brasserie serving a menu of classics for breakfast, brunch, lunch, and dinner, in a space that features a full bar, primarily French wine list, specialty cocktails and raw bar. Outdoor dining is available at both locations.
Fenwick Catering and Events brings the sensibility and flavors from our restaurants to your home, company or venue. Using high-quality seasonal ingredients, we provide innovative, handcrafted food, along with an experienced team, ensuring that every detail is special for your event.
Fenwick Hospitality Group is proud to sponsor and partner with many food-based charities in the Princeton area, including Mercer Street Friends and NOFA.
Fenwick Hospitality Group has a dedicated, passionate team committed to serving the community. The family of Fenwick venues offers a diverse selection of cuisines and ambiance, from lively cantina dining to refined French-inspired dishes. Reserve now for that romantic dinner a deux or the big bash for that championship game. Fenwick does it all.
More information: www.fhdining.com