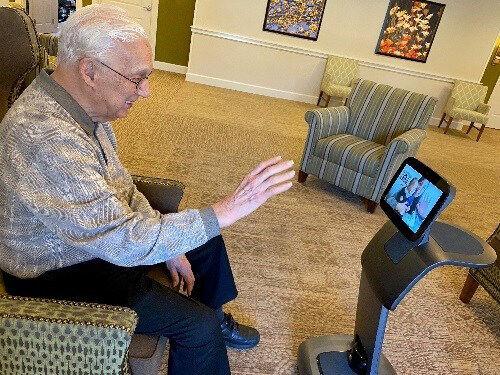 Isolation and subsequent loneliness are not new concerns when it comes to seniors. However, social distance protocols put in place as a response to COVID-19 have many families growing even more concerned about their loved ones and looking for options to keep them happy, healthy, and safe.
Luckily, technology provides a positive solution to staying connected with loved ones while complying with social distancing guidelines. And a growing number of older adults are embracing it. Here are a few examples of how they are using technology to stay active and engaged:
Connecting with Friends and Family. A survey out of the University of Michigan reported that 59 percent of older adults use social media to connect with others at least once a week, while 31 percent use video conferencing platforms. Apps like FaceTime, WebEx, and Zoom are being used to host virtual cocktail parties, dinner gatherings, and book clubs.
Staying Active. Many older adults use exercise and physical activity as a way to connect with others and make new friends. YouTube offers virtual exercise classes like Pilates, dance classes, and chair yoga that can be done with a group, but from the comfort of your own home.
Lifelong Learning. Social connection can occur when people bond over similar interests. For those who like to learn, there are many online options available. Open University offers many free classes, most of which offer online forums that allow classmates to connect with and learn from each other.
When technology alone is not enough to ease your concerns, you may want to consider moving your loved one into a senior living community. Here are a few benefits of a senior living community in a post-COVID-19 world, and what you can look for if you're thinking of a move:
Everything is handled for you. Senior living communities have built-in 24/7 support system of dedicated on-site employees from nursing, lifestyle, culinary, housekeeping, and security. The staff is there to cater for your specific needs, reducing your need to rely on adult children or other family members should you be unable to help.
Wellness and health care services on-site. Many senior living communities offer on-site primary care, medication management, and even specialty services like physical therapy. Having health care and wellness services fully integrated into the living community, with staff who take a whole-person approach to care, provides an extra layer of protection and reassurance during a pandemic.
Strict infection control policies. Common areas like lobbies, elevators, dining rooms, amenity spaces, and hallways are being heavily sanitized. At Maplewood Senior Living communities, all staff members are trained to follow best practices to prevent community spread of COVID-19. Staff are routinely tested and screened for symptoms at the beginning and end of each shift. Additionally, a dedicated COVID-19 Task Force works closely with local and state health officials to stay on top of the latest guidance from the Centers for Disease Control and Prevention.
Safer socialization. New practices like scheduled dining, small group gatherings, and frequent sanitation allow residents to safely continue their active lifestyle with comfort. Across Maplewood Senior Living communities' residents have access to virtual, interactive programming including lectures and discussions, spiritual worship, fitness classes, book clubs, travel, and more. Staff are also there to help introduce residents with similar interests, allowing for new friendships to develop easily.
Every senior living community has different policies and protocols, so be sure to explore them closely. Moving to the right senior living community can provide a host of advantages in a very uncertain time.
For more information about Maplewood Senior Living's newest community, Maplewood at Princeton, scheduled to open Summer 2021 on the Penn-Medicine Princeton Health Campus in Plainsboro, please contact us at 848-200-0131 or visit our website at www.maplewoodseniorliving.com.