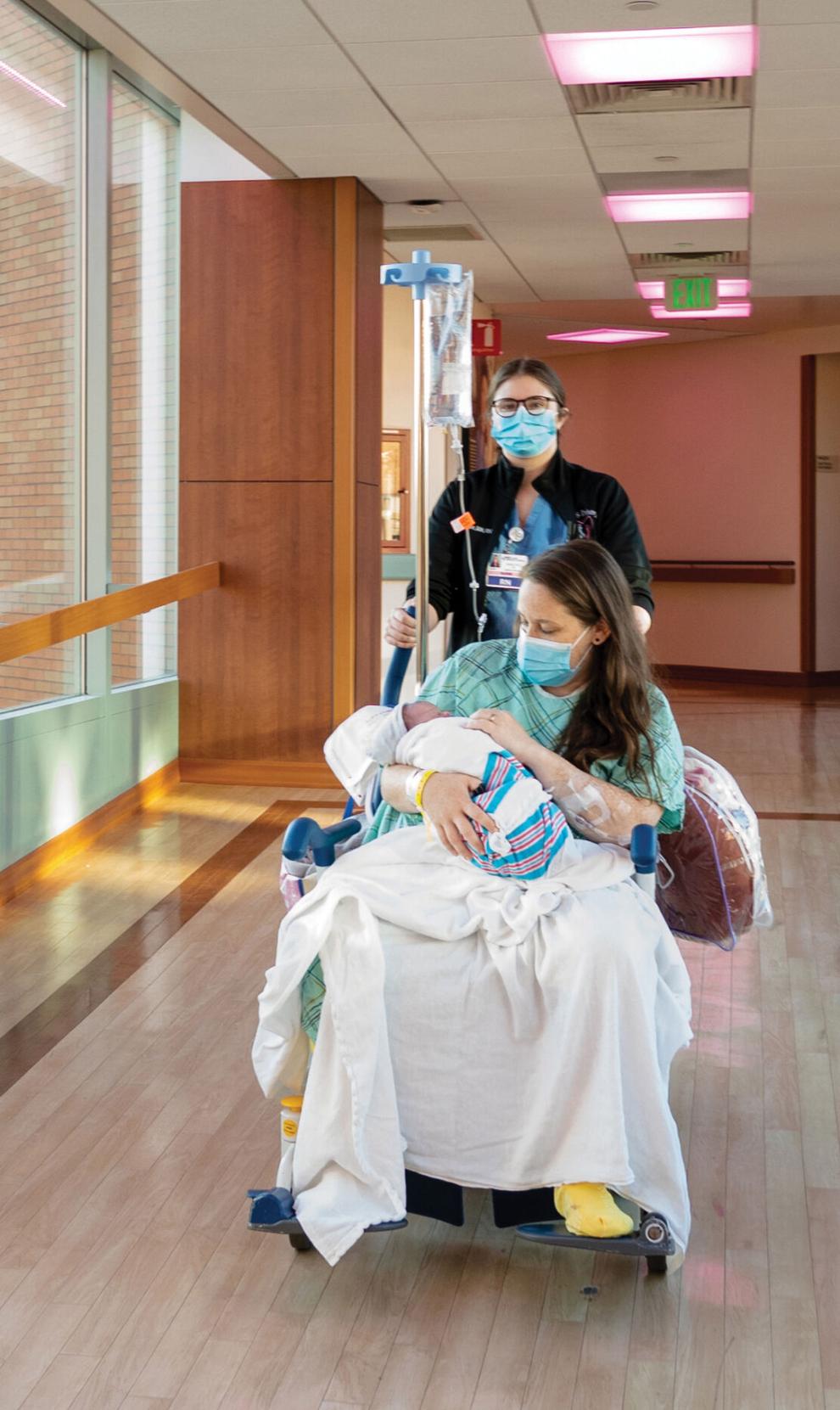 Saint Peter's University Hospital offers New Jersey's most comprehensive maternal health services. As a regional leader in the state in number of births, Saint Peter's maternal health providers apply practices and procedures that are often models of care for maternal health providers locally and nationally. Saint Peter's was recently recognized by Newsweek as one of the nation's Best Maternity Hospitals for 2022. It is the only New Jersey hospital that is a member of The Council of Women's and Infants' Specialty Hospitals (CWISH), a designation it has held since 1997. CWISH is a collaborative of 14 hospitals across the country that works together to establish best practices in support of programs, and national policy for women's and infants' healthcare services.
A long-standing destination for high-risk maternity patients and infants born prematurely, Saint Peter's is home to a state-designated Regional Perinatal Center and nationally recognized Level IV Neonatal Intensive Care Unit (NICU), which recently earned a third consecutive Beacon Award for Excellence from the American Association of Critical-Care Nurses. The hospital's High-Risk Antepartum Unit for pregnant women with chronic medical conditions or complex pregnancies admits patients for observation and treatment with the goal to bring at-risk pregnancies as close to term as possible.
The hospital cares for low-risk patients who have an alternative option to experience birth at the Mary V. O'Shea Birth Center, home to Saint Peter's midwifery practice. The birth center offers state-of-the-art amenities including two birthing suites resembling residential bedrooms including a spa-size tub and shower, and furnishings to accommodate family and other support individuals.
For women who require a Cesarean birth, Saint Peter's Enhanced Recovery After Surgery (ERAS) program has been game changing. The program's goals are to lessen patient anxiety, reduce the need for narcotics utilizing a ground-breaking pain protocol, shorten hospital stays, and increase overall patient satisfaction.
Saint Peter's Department of Medical Genetics and Genomic Medicine provides services to patients of all ages with suspected rare disease, including newborns. Referring physicians may recommend genetic counseling or a genetic evaluation for a variety of reasons, however, the goal is ultimately to ensure accurate diagnoses and proper management so any viable treatment options can be considered. Early identification in conjunction with counseling allows for parents to make informed decisions with the goal to achieve the most positive of outcomes. Department Chair Debra-Lynn Day-Salvatore, MD, PhD, FAAP, FACMG, is internationally recognized in her field and well-known as an expert in lysosomal storage diseases and as an advocate for newborn screening.
The Children's Hospital at Saint Peter's University Hospital is a state-designated acute care children's hospital that includes a dedicated Pediatric Emergency Department recognized with the 2022 Women's Choice Award for Best Pediatric Emergency Care and a Pediatric Intensive Care Unit, which has earned a Beacon Award for Excellence from the American Association of Critical-Care Nurses. The Children's Hospital at Saint Peter's offers a full range of pediatric specialties, from allergy and asthma to diabetes and ear, nose and throat, as well as orthopedic surgery.