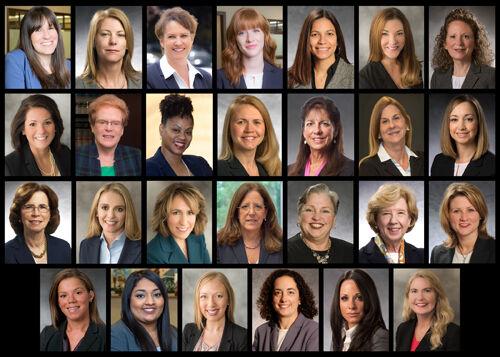 In 2018 Law360 published its annual Glass Ceiling Report, which surveyed more than 300 law firms on the demographics of their attorney workforce. Unfortunately, they found that since the year prior, there had been marginal, if any, increase in the representation of female attorneys at these firms.
Seeing these numbers might be discouraging to women still attending law school, who make up more than 50 percent of the student body. In spite of this, there are firms, like Stark & Stark, who are working to combat this disparity.
At Stark & Stark, the firm has recognized the need to foster diversity and inclusivity and over the last decade has made strides to improve this in the form of various committees and initiatives. In fact, Stark & Stark makes a point to advocate for women in business, and at the firm 27 of its attorneys are women and two administrative directors are women.
"Women still make 80 percent of childcare arrangements, and as a result I think prioritizing family and work is perhaps the most challenging aspect of being a women in the legal industry," noted Shareholder Jennifer Weisberg Millner. "Recognizing that we have hurdles like this is an important first step in improving our culture."
In recognizing the unique challenges women attorneys face, the Stark & Stark Women's Initiative was created at the firm by women attorneys to build a strong network and promote the strengths they each bring in their individual fields of law. Since the initiative was first started several years ago, the group has expanded its goals, and created subcommittees to focus on specific topics, such as marketing, professional and personal development, and community outreach.
The Women's Initiative at the firm also created a robust mentoring program, which matched younger female associates with distinguished female shareholders who would be able to provide support and advice in navigating the field of law.
"The Women's Initiative has given us an opportunity to not feel alone in our struggles," said Shareholder Stefanie Colella-Walsh. "It's an opportunity to support each other personally and professionally."
Shareholder Rachel Stark agrees. "The Women's Initiative has provided a structure to support other women attorneys within the firm and to utilize our strengths as a group, rather than as individuals," she added.
In addition to the firm's Women's Initiative, Stark & Stark also created a Diversity & Inclusion committee. According to the committee's mission, "it is essential that we engage and embrace people with different experiences and backgrounds in our work."
The firm's Diversity & Inclusion committee comprises attorneys who meet regularly to monitor the progress of the firm's inclusion and diversity efforts, as well as identify opportunities to provide education and recruitment.
To find out more about Stark & Stark's commitment and dedication to support its women attorneys, please visit our website at www.Stark-Stark.com.