For Healthy Families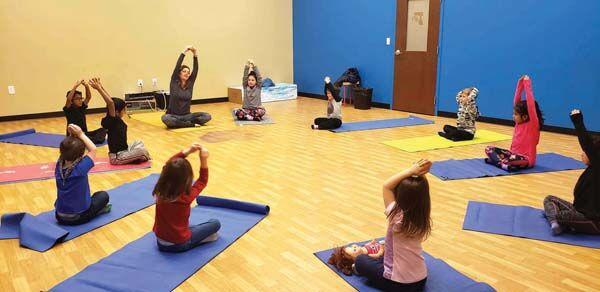 Step up to the plate. Shoot a few hoops. Kick a soccer ball. Make a splash in a super swimming pool. Lead a cheer. Kick up your heels in a dance class, create a painting, complete a crafts project and take a fun bus ride to our optional field trips.
Those are just a few of the activities offered at Team85's Summer Camp in Bordentown. Located in the spacious, state-of-the-art Team85 Fitness & Wellness center, the summer camp welcomes girls and boys (ages 4-13) to an array of fun activities supervised by professional trainers and instructors.
Camp is open from 9 a.m. to 4 p.m. and parents have the option of early drop-off and late pick up as Team85 offers free child care to members of the facility.
"A happy camper is an active camper," says Camp Director, Amanda Douglass. "We offer a safe and fun environment with the core values of physical fitness and an emphasis on wellness, as well as cultivating good eating and exercise habits," she affirms. Campers develop emotional intelligence, teamwork abilities, health appreciation, leadership skills, and athletic ability, all while making new friends. More fun activities include field trips to local sports arenas and attractions.
Sports activities are held in the spacious, climate controlled Field House which includes two full size basketball courts, 80 yard turf field, as well as facilities for sports specific camps, including basketball. The aquatic center with its 25 yard pool sets the scene for professional swimming instruction and water games. All swim instructors are WSI certified and all lifeguards are CPR/AED certified.
You can make waves at a pool party, play water games, and celebrate special occasions. Speaking of parties, campers can celebrate their birthdays any time of year with a party at Team85. Team85 has a variety of birthday party options. The newest addition to the list is the ultimate nerf party! All birthday party packages are listed on the Team85 website.
Team85 offers set menus from which campers can purchase healthy lunches. Free snacks are provided in the morning and afternoon.
During the school year, camp services are offered on school holidays where kids can get involved in a day of activities that will keep them engaged and active. These programs are called day off camps. These mini camps are great for meeting new friends, while previewing for what is to come for the summer.
"Team85 Fitness & Wellness is an independent service provider that is a one-stop shop for every individual and family that comes to us," says Amanda Douglass. "Because we are independent, and not a franchise, we have many more options in creating services that our members both need and enjoy that are not typical of most fitness centers. For example, there is a luxurious salon and spa on site that offers an array of luxury spa services and hair styling." Says Amanda Douglass, "We are family friendly and family focused, helping every member to be their healthiest and at their best." Together everyone accomplishes more. That is what the Team85 family believes in.
Team85 Fitness & Wellness, 8500 K Johnson Boulevard, Bordentown. www.myteam85.com.