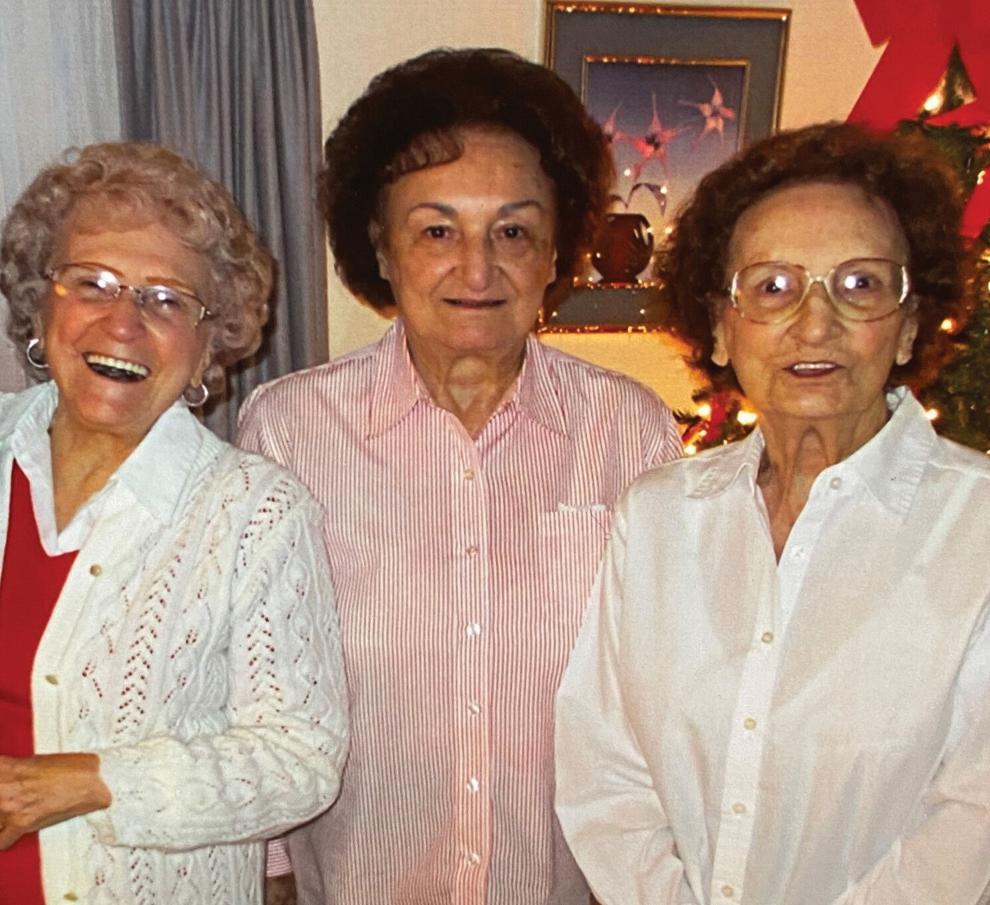 Meet three sisters, ages 92, 90 and 89, Lena B., Rose J., and Lucy S., who feel very fortunate to be in good health, receiving the best care, and residing together on the campus of Greenwood House Senior Healthcare in Ewing Township, NJ.
The ladies' parents, Josephine Serianni Caraccio and Santo "Sandy" Caraccio, married and had a total of seven children: Phil, Mary, Lena, Rose, Lucy, Pauleen and Rita. They originally started their young family in a little coal town in Pennsylvania called Alberta, where Sandy worked in the mines. Later, he secured a new job in the Trenton area with the railroad, and they packed everything and relocated to Pennington Avenue, where Josephine's parents, the sisters, grandparents, had their home just next door, and the rest is their 80-year Trentonian history.
The women were raised, went to school, married, made their own home and families and stayed in the Trenton area since they were school aged: 12, 10, and 9. All three worked in various positions across multiple industries in companies like Bay Ridge Potteries & Westinghouse. "When I asked Lena where she met her husband, she said at place called Schnorbus Pharmacy, where she was a cashier — all the boys hung by the corner there and he used to come by," said Sherry Smith, Director of Marketing at Greenwood House. Rose and Lucy also were married, and Lucy had two children.
Today Lucy's son, Ken, oversees all three ladies affairs. Ken wouldn't have guessed it would turn out this way but was very blessed to accept the responsibility and also is very pleased for his mother and two aunts. He and ex-wife, Debbie Smith, feel so grateful to their friend, Maria, they've known since high school since she being healthcare herself was the person who referred them to Greenwood House. "I am super happy our "golden girls" are doing so well, and Greenwood House has been great" stated Debbie to Greenwood House.
"They all weathered the pandemic, overcame some health issues and made necessary lifestyle changes to better suit their personal needs, and now I feel a sense of relief because they are safe, happy and being cared for by one of the best places in the area with a well-known, long-standing reputation of compassion and care," Ken shared with Greenwood House.
If you would like to write or send greeting cards, please address correspondence to Greenwood House Pen Pal Program, Attn: Leena B., Rose J. or Lucy S., at 53 Walter Street, Ewing, NJ 08628.
Greenwood House is a nonprofit, mission-based organization that has been servicing the aging and elderly in our local community for near three decades, specializing in rehabilitation, long-term care, skilled nursing, respite care, homecare services, assisted living and hospice care.
You can follow Greenwood House on Facebook @GreenwoodHouseNJ or learn more about the organization and their services at GreenwoodHouse.org.