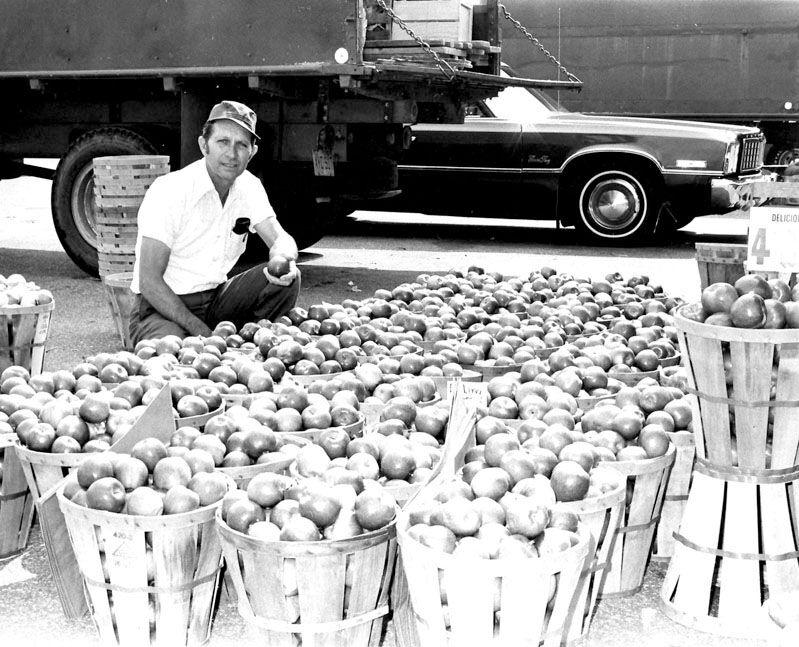 Farm Fresh Food with a Rich History
In the early 1900s a group of farmers came by horse and carriage to Trenton to sell their produce along the Delaware River. In 1939, when the City of Trenton gave notice that Route 29 would be built, the participating farmers formed the Trenton Market Growers Cooperative Association and property was purchased on Spruce Street in Lawrence.
The original two market buildings were moved and the Trenton Farmers Market opened in 1948 on Spruce Street. More than 100 farms filled what had become three buildings with fresh truck loads of corn, tomatoes, melons, and whatever was in season along with one building devoted to livestock and poultry. After one building burned down, the two remaining buildings were reconfigured, creating the cross-shape that stands today.
Over the years farm stalls were replaced with bakers, butchers, and cheesemongers. Kitchens were built, heat was added, garage doors and the iconic roof signs denoting,"FARMERS MARKET" were updated, but the integrity of the original farms remained.
Additions to the market over time include vendors offering jewelry, apparel, body care products, and flea market finds. "These goodies and trinkets add such charm to the overall feel of the market; there's always something fun to purchase", says manager, Chris Cirkus.
Pulaski Meats is well known for its Eastern European meats, cold cuts, and delicacies including pierogi, golabki (stuffed cabbage), and chrusciki (fried pastry topped with powdered sugar);
The Pie'd Piper offers freshly baked pies, cakes, and cookies, along with a wide assortment of pierogi (and the occasional favorite, pork roll pierogi), salads and heat-and-eat favorites including Mama's Meatballs.
Eateries include two vegan cafes: Lady & the Shallot and Savory Leaf Cafe; Hambone Opera BBQ; King's Food (Amish roasted, rotisserie and fried chicken plus salads and their famous soups and banana pudding). Celebrating a grand opening is Kafe Kreyol, a Haitian restaurant located in the middle of the market.
Cartlidge's Quality Meats, an Amish butcher, greets shoppers as they enter through the Spruce Street entrance with a wide assortment of beef and pork, cold cuts, dairy, freshly ground nut butters, and local honey.
Find fresh fish at the Crab Shack, located in an adjoining building along with Win, Place & Smoke for lottery tickets, newspapers, and smokeless tobacco.
Recent new tenants, Terra Momo Bread Co., known in the Princeton area for their French pastries and breads, is currently offering weekly boxes of bread via pre-order; Tea-For-All Tea Shoppe and Cafe and Kafe' Ojala, each with their own specialties and energy.
New Jersey's rich agricultural history is proudly highlighted with the six farmer-owners ranging as far south as Hammonton and as far north as Princeton. Look for Cedarville Farms (two locations within the Market), Corner-Copia Farms, Cranberry Hall Farm, Pineland Farms, Russo's Fruit & Vegetable Farm, and Terhune Orchards New Jersey's seasonal produce is highlighted along with outsourced crops to extend everyone's season, tropical fruits have been added to the market's offerings.
These additions allow shoppers a robust shopping experience at the marketplace rather than needing to visit the grocery stores. Two new farms have joined the market this growing season: Abe's Acres (Hightstown) with fresh greens, pickles, sauces and fruit butters using their own produce, and Zell's Farm ( Hillsborough) offering fresh mushrooms and pastured hen and duck eggs.
The market came under new management 18 months ago after the retirement of the long time co-managers, Marcia and Jack Ball. Chris Cirkus, who also manages the West Windsor Community Farmers Market, has been busy reinvigorating this oldest continuously running year-round market. Cirkus boasts, "The Trenton Farmers Market is such a gift to this area, so worthy of preserving and revitalizing!"
The name Trenton Farmers Market proudly remains even though the market is actually in Lawrence Township. Visit the Trenton Farmers Market on Wednesday (limited farms/vendors) through Saturday (Amish tenants close at 4 p.m.) from 9 a.m. to 6 p.m. and Sunday from 9 a.m. to 3 p.m. The Market will be open on July 4 from 9 a.m. to 2 p.m.
Office: 609-695-2998
Facebook: facebook.com/thetrentonfarmersmarket
Instagram: instagram.com/thetrentonfarmersmarket.