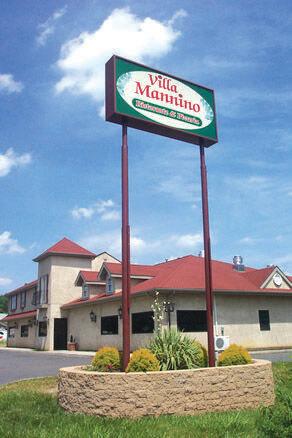 The three Mannino brothers — Marco, Maurizio, and Francesco — learned the hospitality business from their mother, Maria, and their father, Giovanni, who believed in treating everyone as family, a tradition still followed today at Villa Mannino. From the family's first restaurant in 1972 on Hamilton Avenue in the Chambersburg area of Trenton to the large Villa Mannino restaurant, pizzeria, and banquet hall in Bordentown today, the brothers understand the importance of treating your family the same way they would treat their own family.
"Our niche is family functions," Marco Mannino said recently. "Our specialties are bridal showers, baby showers, small weddings, rehearsal dinners, birthdays, special anniversaries, first communions, and graduations. We enjoy accommodating all those functions for families that want to entertain but don't want big halls with big price tags."
Banquet menus reflect Villa Mannino's traditional and casual specialties, as well as the most popular items from the restaurant. The Mannino family strives for comfortable food that appeals to everyone. Pastas can be provided with several tasty sauces, while chicken, fish, steak, and pork are prepared in a variety of ways.
Meals are supplemented with tantalizing salads, appetizers, bread, and dessert depending on packages selected by the customer. Music can be piped into all the rooms, and customers can provide their own DJ in the largest banquet room.
"We've always emphasized family and treating your family like our family," Marco Mannino said. "My father started with that family atmosphere and we haven't changed. We believe in the Italian concept of 'La Dolce Vita' — the sweet life. Everyone should have plenty to eat, no one should leave hungry, and providing service with a smile."
Villa Mannino's recipes have been handed down through the generations, shaped and formed by the family's heritage in Sicily and southern Italy. With one kitchen for the restaurant and another kitchen for the banquet and catering services, Villa Mannino can accommodate all their customers at once.
Villa Mannino has one large banquet room that can be divided into two rooms, as well as two additional rooms that serve well for smaller groups. Having the restaurant kitchen gives the staff the opportunity to accommodate special dietary needs, such as gluten-free, vegan, and vegetarian, in their banquet rooms for those customers who need that service.
Whether you are eating in the restaurant, picking up pizza for take-out or using the banquet facilities for your special function, let the Mannino brothers do the cooking and serving while you enjoy your family and friends on your special day.
Located in Bordentown Township on Route 130, about three-fourths of a mile south of where Routes 206 and 130 split, Villa Mannino is in a large, modern facility with plenty of parking for groups of any size.
Villa Mannino, 73 Route 130, Yardville. 609-298-9000. www.villamannino.com.