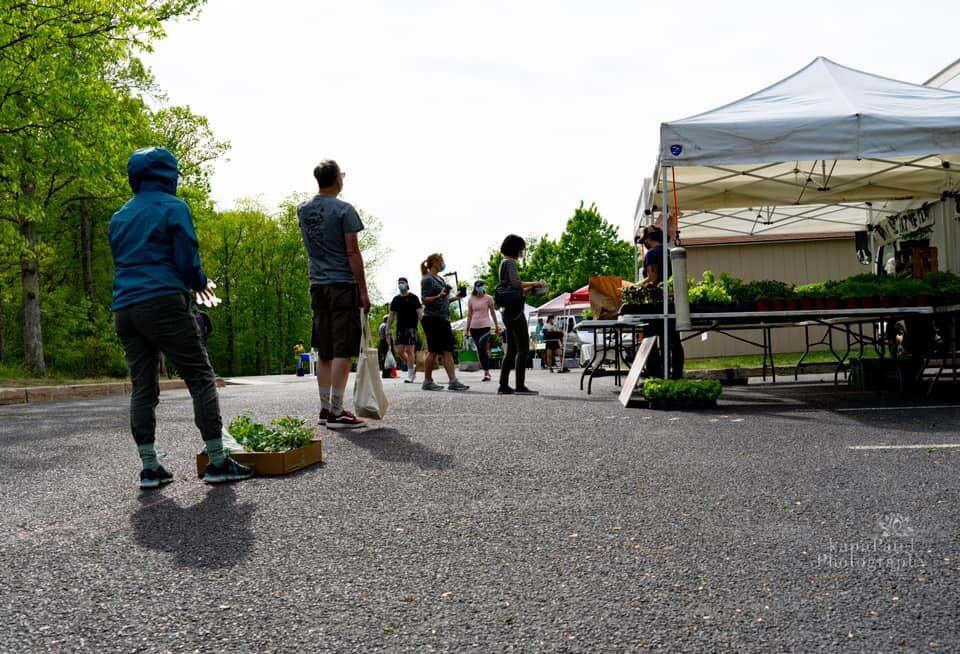 What began as a grass-roots effort by two community members to gather a few central New Jersey farms in 2004 has grown to become an integral part of hundreds of families' lives in central Jersey each week. The West Windsor Community Farmers Market hosts 14 regional farms, all located from within 50 miles of West Windsor and 12 artisan food producers and on-site knife sharpener. Known for its wide variety of offerings, residents can do a good majority of their weekly shopping in one big, positive, and friendly place! Meander about to find seasonal fruits, vegetables, herbs and flowers, grass-fed meats and cheeses, poultry, pastured eggs, local honey, sustainably caught fresh fish, breads, pastries, mushrooms, jams, pickles and pickled vegetables, sauces, locally grown oats, sourdough starter, fresh pasta, local wine, salads, bone broth, along with fresh crepes, egg sandwiches, acai bowls, and fresh-pressed juices and fruit smoothies.
While many of the public events have been curtailed this season due to the global pandemic, the amazing community feel is still very much felt at the outdoor market. The market's layout was changed this year to widen aisles, create queuing areas, and limit the amount of cars parked at any time. Manager Chris Cirkus says, "the sights, sounds, and smells of the market continue to entertain even amidst the most unusual season ever!" Many shoppers quickly shop and go, while others bring their on-leash friendly dogs to wander the open-air market and happen upon a new food find.
The organizers of this 501(c)3 non-profit are local residents and lovers of a healthy lifestyle filled with fresh foods. Cirkus, the market's long time manager boasts, "New Jersey's rich agricultural history and bounty is alive and well at the West Windsor Community Farmers Market! We've adapted and responded to our new now in such a way that customers as well as our farms and vendors feel safe and comfortable." Many farms and vendors offer pre-order options listed on the market's website and in the weekly e-newsletter.
The Market has been voted as New Jersey's favorite farmers market in the annual American Farmland Trust Farmers Market Celebration contest nine years in a row.
Shoppers utilizing FMNP/SFMNP may redeem vouchers at several farms and the market itself is authorized to accept SNAP/EBT and tokens may be spent throughout the market on all USDA authorized foods. Through a partnership with the Garden State Good Food Network, the WWCFM offers a dollar-for-dollar match on EBT towards fruits and vegetables (up to $20/day).
The season doesn't end at Thanksgiving when the outdoor markets close; indoor winter markets continue at MarketFair on Route 1, twice monthly through April.
The West Windsor Community Farmers Market is open every Saturday, rain or shine from 9 a.m. to 1 p.m. until Thanksgiving. The market's entrance has been moved to the upper Vaughn Lot on Alexander Road, while the physical location remains at 2 Vaughn Drive in West Windsor. Bicycles and pedestrians are always welcome, and parking is free.
www.westwindsorfarmersmarket.org. 609-933-4452.