The month of November is one of the most hectic times of the year: preparing for Thanksgiving, finalizing holiday plans and trips, and getting ready for the new year. It keeps most of us busier than ever, and time seems to fly. Here is a cornucopia of ideas for things to mark your November calendar, all local.
Attend a harvest dinner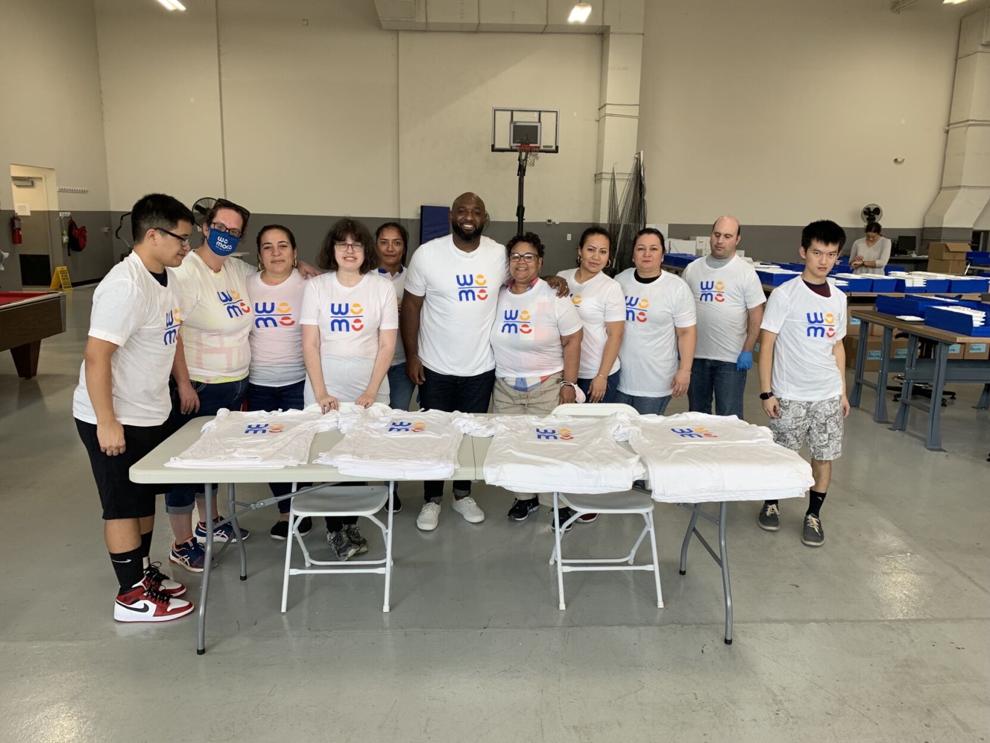 This time of year has its own unique menu filled with colorful foods from the harvest. Sit back and enjoy a delicious, autumnal meal prepared by professional chefs at a local harvest dinner.
On Sunday, Nov. 7, from 1 to 4 p.m., We Make: Autism at Work will host its second annual Harvest Fun-Raiser, a family-style meal and wine tasting fundraising event at the We Make facility at 109 Route 31 North in Pennington.
We Make is a workspace for individuals with autism that provides a safe environment for learning valuable skills. At We Make, employees "assemble and package small parts that will be used in vinyl fencing and railing products sold at leading home improvement stores," according to the website, wemake.works.
"All funds go back to We Make programs," says executive director Muhammad Siddiqu. In addition to the workspace, We Make offers a variety of programs including yoga, art therapy and music therapy. Siddiqu calls the Harvest Fun-Raiser "a great day to learn about our mission and hear from our parents and supporters on how we serve the community in a unique, never-seen-before model."
Last year the event was held virtually and sold out; it featured celebrity chef Kwame Onuwachi. This year's goal is $70,000, and funds raised will go to facility expansion, expanding program offerings, staff infrastructure and hopefully, Siddiqu says, more We Make workspaces. Individual tickets are $75 and can be purchased on EventBrite. 
On Friday, Nov. 12, the Greater Philadelphia Y will host its 11th annual NJ Wine and Food Classic from 6 to 10 p.m. at the Westin Mount Laurel, 555 Fellowship Road, Mount Laurel Township. Proceeds for the event benefit the Greater Philadelphia Y Annual Campaign. According to philaymca.org, "As a nonprofit, the Y uses these funds to support a wide breadth of community programs, and this year we are focused on Building Stronger Kids." General tickets are $100 and can be purchased at www.philaymca.org/nj-food-wine#reserve.The Farm Cooking School in Titusville, 67 Pleasant Valley Road, will host a Paired Wine Dinner on Saturday, Nov. 13, from 6 to 9 p.m. Chef Shelley Wiseman and sommelier Carol A. Berman will present "a multi-course menu paired with all organic or sustainably produced wines," according to thefarmcookingschool.com, and the menu will include goat cheese quiche, seared salmon with French lentils and beurre blanc sauce, and more. Tickets are $115 and can be found here.
Whitesbog Preservation Trust, a historic farm and village in Brown Mills, will also host its Harvest Dinner on Nov. 13 from 5 to 8 p.m. Proceeds for the event, located at 120 West Whites Bog Road, will benefit the preservation and farm programs. The Italian harvest dinner, accompanied by live music, will feature mild Italian sausage with peppers and onions, hot roast beef in homemade gravy, rigatoni in vodka sauce and more. Tickets for non-members are $55 and can be purchased on EventBrite.
Rat's Restaurant in Hamilton, located at 16 Fairgrounds Road on the campus of Grounds For Sculpture, is offering a Thanksgiving buffet on the holiday, Thursday, Nov. 25, for $68 per adult and $35 per child, from 11 a.m. to 7 p.m. The prix fixe menu features choices for soup or salad, vegetable, main course and dessert. They will also feature, on Nov. 4 through 7 and 11 through 14, a reservations-only lunch and dinner event for restaurant week. For more information, visit ratsrestaurant.com.
Buy your turkey (and the rest of the meal) locally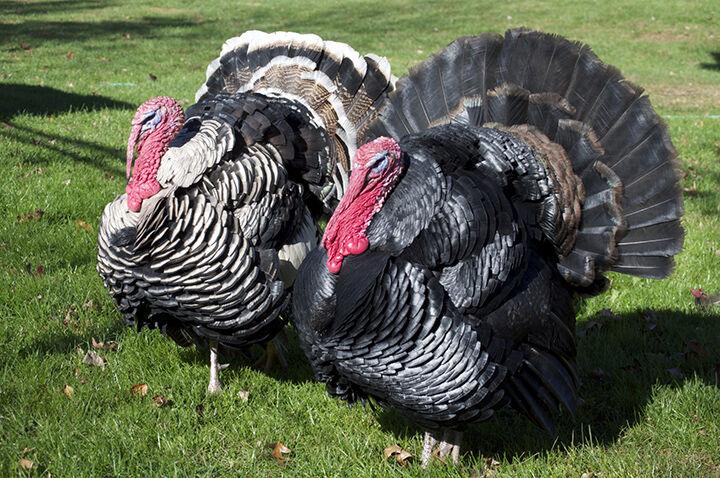 Supporting local farmers is essential to their vitality and offers delicious local flavor as well as benefits to the environment. Why not purchase your turkey (and its trimmings) from a farm within the community this year?
At Double Brook Farm in Hopewell, says owner Robin McConaughy, they've been raising heritage turkeys since 2008. "We started with a small flock of 50 birds and have grown our operation to almost 2,500 birds a year for both Thanksgiving and Christmas, plus year-round birds for the cafe at Brick Farm Market," she says. "We sell exclusively at Brick Farm Market and a couple of wholesale vendors." Brick Farm Market, also owned by the McConaughys, is located at 65 East Broad Street in Hopewell.
McConaughy and her husband, Jon, started Double Brook Farm in 2004. In addition to the farm and the market, they also own and operate Red Barn Milk Co. "We raise turkeys, chickens, sheep, cattle, pigs and goats on pasture in approximately 800 acres in the Hopewell Valley."
Double Brook Farm also sells "everything needed for a full Thanksgiving feast: sides, appetizers, breads, pies, cakes, cookies, cheese, charcuterie, gravy, cranberry sauce and grocery items such as sausage, bacon, butter, breadcrumbs and more," says McConaughy.
Turkey orders will be available for pickup the Sunday through Wednesday before Thanksgiving. Be sure to order your turkey early, as demand has doubled over the last two years "and we will likely sell out a little earlier than usual." Turkeys, sold fresh, can be purchased through the online order form at holiday.brickfarmmarket.com.
DiPaola Turkey Farm in Hamilton, which has been in business for 70 years, offers whole turkeys, ground turkey, ground breast, turkey London broil, turkey boneless thighs, and a variety of other meat options. Online orders for whole turkeys can be placed on their website, dipaolaturkeyfarm.com.
At Lee Turkey Farm in East Windsor, they've been raising turkeys for 80 years, 3,000 per year. According to their website, their turkeys are fed "a natural feed mix with a corn and soybean base that we make ourselves." They also sell farm-fresh fruits and vegetables. Visit leeturkeyfarm.com for more information.
At Griggstown Farm in Franklin Township, established in 1975, you can purchase a full Thanksgiving meal, including turkey, soups and gravies, pies and bread. Visit their website, griggstownfarm.com, for more information, or the store at 484 Bunker Hill Road.
Give back to the community
As Thanksgiving approaches, so does a reminder to be grateful for our blessings and perhaps a desire to give back and help those in need. Here are two opportunities to donate and/or volunteer locally.
This year, National Hunger and Homelessness Awareness Week is from Nov. 13 through 21. Homefront, at 1880 Princeton Avenue in Lawrenceville, is offering a variety of ways to get involved and make a difference within the community. Events for the week include a tour of Sewing Space, a virtual "welcome to Homefront" orientation, a diaper resource center service opportunity, an expert panel discussion, a virtual lunch and learn with Homefront CEO Connie Mercer and COO Sarah Steward, and a Thanksgiving drive, which is collecting laundry baskets or boxes with lids filled with items such as canned vegetables and fruits, stuffing mix, mashed potatoes, dessert items and more. For those who want to donate monetarily, it costs $62 to sponsor a Thanksgiving basket and $136 to provide food for the week of Thanksgiving.
Suki Wasserman, Homefront's community engagement coordinator, says, "This past year, because of wonderful support from the community, HomeFront has been able to meet the greatly increased level of need in our area. Over 560 individuals, a majority of them children, stayed in our emergency shelters or lived in the affordable and transitional housing we manage. Over 770,000 meals were provided to families through our food pantries, Family Campus, motel meal delivery or other programming. HomeFront also continues to provide case management, education, job assistance, and children's programs needed to help families break the cycle of poverty."
Homefront accepts year-round donations of food, diapers, clothing, furniture and more, and offers other ways to volunteer. Visit homefrontnj.org for more information.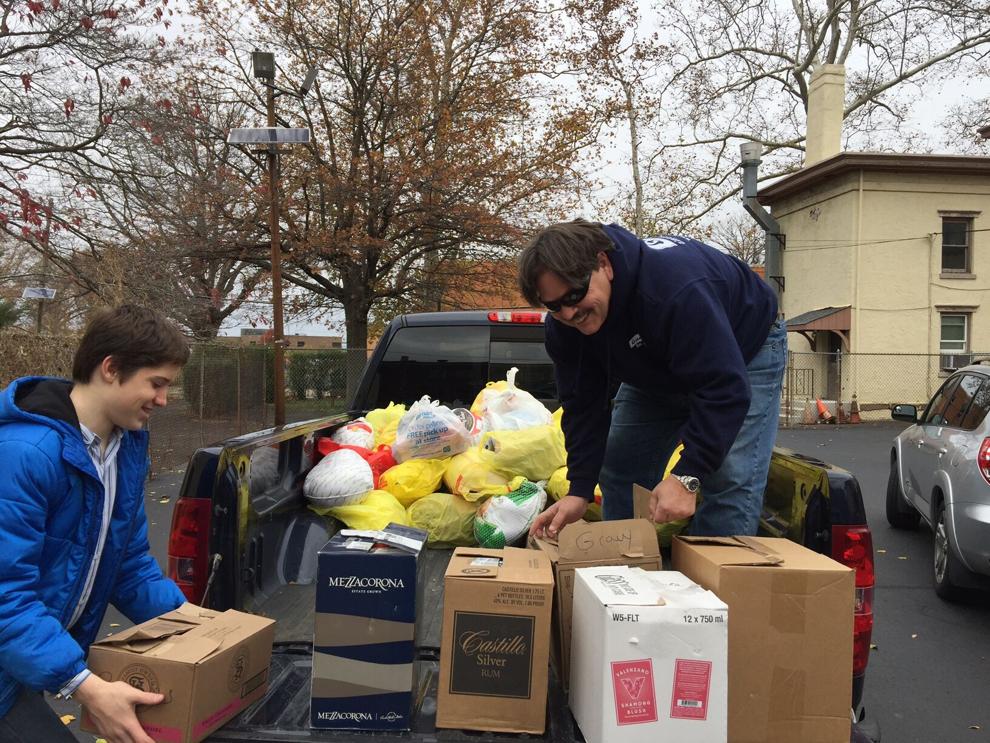 Mount Carmel Guild in Trenton, a food pantry that offers community support to the underserved in Mercer County, is also running a Thanksgiving food drive and requests items such as cranberry sauce, canned vegetables, evaporated milk, yams and grocery store gift cards, and turkeys are accepted as well. The drop-off location is at 73 North Clinton Avenue in Trenton, and drop-off hours vary.
"Thanksgiving is always a time when most people count their blessings and reflect on what they have to give," says Rosemary Kimball, director of external affairs. "It is in the spirit of giving that our donors collect and package items for Thanksgiving." The greatest need this year is turkeys. "In the past we have purchased an average of 400 turkeys to distribute to needy families, and this year there is a shortage of 10 to15 pound turkeys due to the pandemic," says Kimball. "We are hoping to be able to provide 650 families with Thanksgiving meals this year."
For more information, please visit mtcarmelguild.org or call 609-392-5159, extension 100. Like Homefront, Mount Carmel Guild also offers year-round ways to volunteer and donate.
Participate in a Turkey Trot
After enjoying a hearty harvest dinner (or before the Thanksgiving meal), you can run off the calories at a local turkey trot.
Trinity Turkey Trot will take place on Thanksgiving Day at Trinity Church, 33 Mercer Street in Princeton. It is a 5k, and all ages are welcome; there is also a virtual option. Tickets are $30; register at trinityturkeytrot.org.
Hopewell Valley will host a 5k turkey trot on Thanksgiving morning at 424 Federal City Road in Pennington. Top overall male, female, turkey costume, and in each age group will receive a prize. Prices vary depending when tickets are purchased; more information can be found here.
The 9th annual Mercer County Turkey Trot is a virtual event that will be held from Saturday through Sunday, Nov. 20 to 28. Participants may complete a 5k race or a one-mile fun walk; tickets are $30. For more information, visit mercercountyturkeytrot.com.
Go on a staycation
Rest up for the holidays at a bed and breakfast or hotel with local flair to experience the community in a different way.
The Inn at Glencairn, located in Lawrenceville, is a renovated 1736 Georgian manor that features a luxurious farm-to-table breakfast: innatglencairn.com.
The Peacock Inn, in Princeton, is a colonial-style mansion transformed into a boutique hotel that boasts an elegant afternoon tea in the garden: peacockinn.com.
The Ocean Park Inn in Ocean Grove is a quaint and cozy bed-and-breakfast right next to the ocean: theoceanparkinn.com.
Enjoy the fall colors
Finally, intentionally enjoy the autumnal foliage with a scenic fall walk.
Although taking a stroll through your own neighborhood suffices, consider the Delaware River Scenic Byway for walking, biking, fishing, horseback riding and more. Spanning 11 towns from Frenchtown to Trenton, the byway is lined with nature, restaurants, shopping, and historic sites. Visit delawareriverscenicbyway.org for a map and more information.