As the season changes, welcoming in the sun and blooming flowers, central New Jersey shows its charming, rustic effervescence through a selection of sprawling wineries. Take in the sweet scents of grapes, as well as fun in the open air, while state COVID-19 policies allow for larger, mostly outdoor, gatherings. There are events planned for the entire month of May, as well as specifically for Mother's Day on Sunday, May 8, where it's only fitting for these important family figures to relax — whether that be with a glass of wine in hand or just to bask in nature's warmth.
Terhune Orchards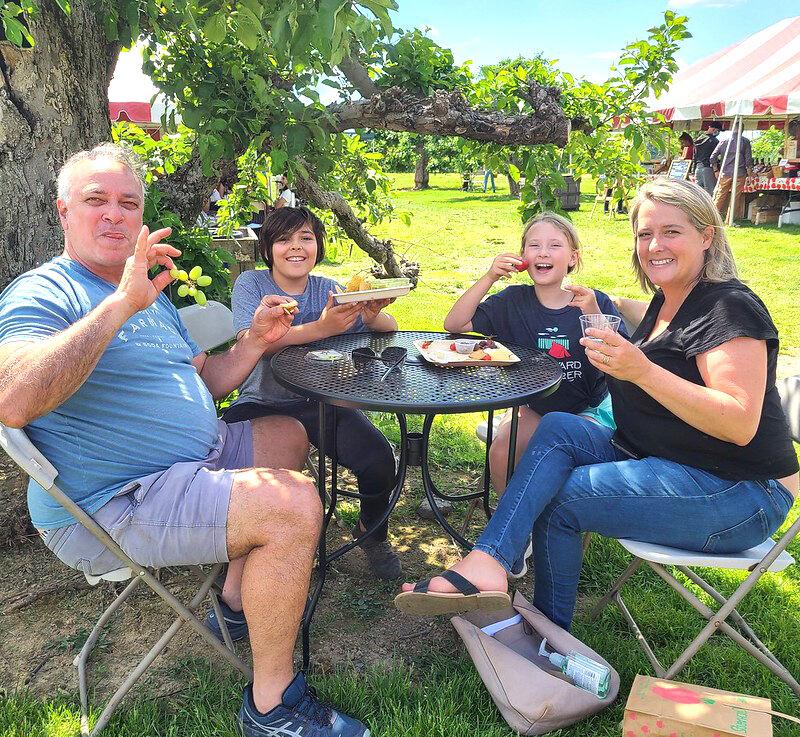 Kite Day, Sunday, May 1, 10 a.m. to 5 p.m. $12 in advance; $15 at the door. Winery Weekend Music Series, Saturdays and Sundays, noon to 5 p.m. 330 Cold Soil Road, Lawrence. www.terhuneorchards.com.
Take flight with Terhune Orchards through its annual kite-flying festival that is perfect for entertaining more than just families. Guests can make, bring or choose a kite to use while country music, pony rides, games and other activities round out the day.
Animal lovers looking to observe Terhune's sheep shearer cutting fleece off of the animal may do so on Sunday, May 1, at 2 p.m. while other farm creatures, including dwarf Nigerian goats, donkeys, and bunnies, mill about leisurely.
If that "shear" amount of fun activities are not enough, for the adults in attendance, the Wine Orchard is open with Terhune's 18 varieties of wine available by the glass, tasting flights, and in slushies. Light fare will be available for everyone, as well as apple cider donuts and three varieties of apple cider made from the orchard's own fruit. Children under three are complimentary and parking is free.
"It's great for all ages," said Tannwen Mount, who is proud to be the 10th generation of the Mount family to farm in the central New Jersey area. "It's just a fun way to celebrate the renewal season."
The Mount family has a long lineage dedicated to owning, and running, the farm for more than 45 years, according to Tannwen Mount. The 250-acre property is open all year long, but the warmer months are where the Mount family's expertise gets to shine.
As part of those plans, Terhune's Winery Weekend Music Series will see local musicians playing out in the wine orchard, where Mount hopes that their "historic" apple trees will be ready in time for the full visual experience. Reservations are not required.
On Mother's Day weekend in particular, the lively tunes are set to continue, but mothers will receive $2s off of Terhune's tasting flights. Mount said that while the orchard is a family friendly place, their goal for May 8 is to help mothers take it easy.
Then, the owner of Terhune, Pam Mount, is set to run her free annual herb and garden class on Saturday, May 14, to help attendees recognize the timely importance of preparing their gardens.
"We're farmers here at Terhune Orchards, in addition to the winery and other things. We like to share our knowledge with everyone and everyone, after a long winter, is ready to get out and about and get their gardens ready," Tannwen Mount said.
Terhune's pick-your-own crop is also back on as soon as their asparagus pokes its head out of the ground, which is set to happen in early May. The farm grows 46 different crops in total, and about a dozen of them are offered in this "hands-on experience of being their own farmers," as Tannwen Mount noted. A full list of what crop is next to pop up, from strawberries to pumpkins, can be found via updates on their social media.
Working Dog Winery
610 Perrineville Road, Hightstown. Open Fridays, noon to 6 p.m. and Saturdays and Sundays, 11 a.m. to 6 p.m. Saturdays from 11 a.m. to 6 p.m. www.workingdogwinerynj.com.
Dog days are far from over at this award-winning winery, which is set to feature live music and food trucks every weekend in May. On Mother's Day, there will be music by local rock band Spoondrift from 1 to 5 p.m., as well as Lobster Rolls and More, a seafood-oriented food truck.
Working Dog is only for those 21 and older and does not take reservations. Attendees are encouraged to bring their own chairs, pop-up tents, umbrellas and/or blankets. Outside food, except for pizza and large hoagies, is allowed, and Working Dog has a list of suggested pairings at their website, workingdogwinerynj.com/our-wines. No outside beverages are permitted. Dogs are allowed outside on leashes only.
Wine from Working Dog is featured at Mercer County locations such as Padrino's Bistro & Italian Steakhouse in Hamilton, Chambers Walk Cafe & Catering in Lawrenceville, and Villa Mannino in Bordentown.
Hopewell Valley Vineyards
46 Yard Road, Pennington. Mother's Day Brunch, Sunday, May 8, 11 a.m. $38.95 each adult plus gratuity ($46.74) and tax; $13.95 each child 10 and under plus gratuity ($16.74) and tax. Reserve by May 4. Regular Business Hours: Monday to Thursday, 11 a.m. to 3 p.m.; Friday to Saturday noon to 8:30 p.m.; Sunday noon to 5 p.m. 609-737-4465 or www.hopewellvalleyvineyards.com.
Hopewell Valley Vineyards' menu for this brunch features their famous ricotta pancakes, brick oven breakfast pizzas, baked goods and more. Wine, mimosas and bellinis will be available for purchase. Children under two are complimentary.
Unionville Winery
9 Rocktown Road, Ringoes. Release weekend Saturdy and Sunday, May 14 and 15. Open noon to 5 p.m. daily. Wine tastings are $20 per person. 908-788-0400 or www.unionvillevineyards.com.
It's release weekend for the newest edition of Unionville Winery's three Rhône-inspired wines, the Hunterdon Mistral Series, which have a uniquely French background. General manager John Cifelli explained that the inspiration came from the term for the intensely frigid, powerful wind that travels through Southern France to the coastland.
"The mistral is a wind that blows through the [Rhône] River Valley every spring, and so we named this collection of wines after the wind," Cifelli said. The force gives grapes grown during the fierce weather a unique advantage. By ridding the sky of clouds and the cooled vines of insects, the grapes are less likely to rot, making for a delicious, prized wine.
Tastings are by appointment at noon, 2, and 4 p.m. Guests can enjoy à la carte lunch options made-to-order by Skillman cafe Blawenburg Bistro, and there will also be live guitar music with singer-songwriter James Popik on Sunday.
Old York Cellars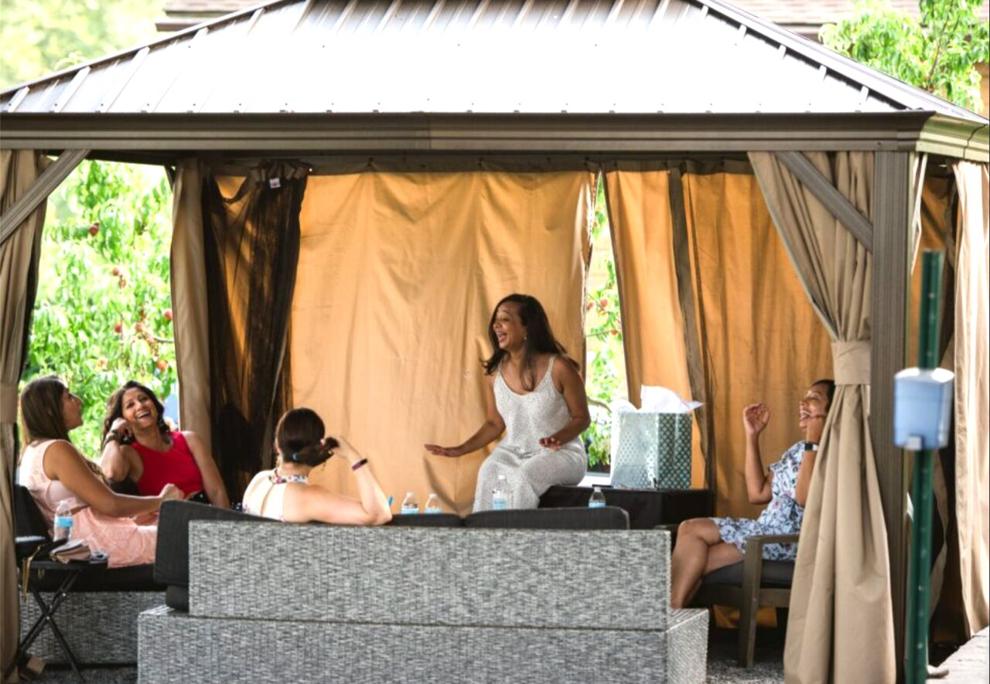 80 Old York Road, Ringoes. Mother's Day Weekend Celebration Friday through Sunday, May 6 to May 8, 11:30 a.m. to 7 p.m. Regular Business Hours: Saturday to Thursday 11:30 a.m. to 7 p.m.; Friday 11:30 to 9 p.m. www.oldyorkcellars.com.
Mingling Spanish cuisine and luxury wine, Old York Cellars prides itself on its diversity, continuing that trend for Mother's Day weekend. Anthony Rossi, director of B2B & partnerships, recommends that anyone looking to spend the holiday in style make reservations for Old York's array of wine tasting experiences supplemented by live music acts and numerous culinary options.
For $55, the "Special Mother's Day Platter & Wine" features an artisan board of Spanish chorizo, serrano ham, gouda and manchego cheese, olives, almonds and grapes. A pair of wine-infused cupcakes from BAM Desserts will be served in two flavors — chocolate with red wine, and vanilla with Old York's Riesling wine. Also included are two chocolate truffles from The Fudge Shoppe, as well as a choice of a bottle of Old York's red, white, or blush "What Exit" wine.
The musical acts for Sunday, May 8, are rock singer-songwriter Josh Zuckerman, followed by the Mike Viscel One-Man Band, from noon to 6:30 p.m.
As part of its regular ensemble, "Chef José's Wine and Tapas Experience" features Spanish tapas created by Old York's Chef José Diaz in a "treat for the senses" available weekends at 2 p.m. for $40 per person.
"Chef José's Six Course Pairing Experience" highlights Diaz's "old world style" of Spanish cooking, taking guests through the courses and explaining "how the unique components of the food and wine create epicurean harmony," as stated on the Old York website. The menu includes tapas, entrees, desserts and wine, available on Fridays, Saturdays and Sundays at 5 p.m. for $70 per person.
The "Wine, Charcuterie and Chocolate Experience" features artisan meats and cheeses, as well as chocolate truffles, on weekends at 12:30 p.m. for $30 per person.
In addition to these tastings, weekend table reservations are open from Friday to Sunday. Old York has cabanas, available for weekday and weekend reservations. The cabanas can seat up to six people as they look over the vineyard, warmed by a fire pit, and guests at both the tables and cabanas may order from the winery food menu. Table reservations are $20 per person, and cabanas are $30 per person. $15 of each purchase is allocated towards credit for purchases while visiting the winery.
Beginning in late May, there are also plans to have "Paella on the Patio" every Friday night from 5 to 7 p.m.
"Chef José gets out the big pan, basically doing a live cooking paella demo on our patio. There's music playing, people drinking wine and sangria. It's a really nice vibe," Rossi said of the experience, which also includes live music until 9 p.m.
There is wine and live music on Fridays, Saturdays and Memorial Day. Other events include wine and comedy nights on Saturdays, May 7 and 21, as well as the virtual Foreign Language Educators of NJ Wine Tasting Experience on May 13 to raise funds for senior scholarships. Tasting kits are $80 each.
Wine from Old York Cellars is featured at Mercer County restaurants such as Delorenzo's Pizza in Hamilton and Local Greek in Princeton.
Old York's online Mother Day's gifts consist of wine or sangria gift box collections, wine-infused products, and other unique options like customized labels for wine at $20 per bottle.
Laurita Winery
85 Archertown Road, New Egypt. SpringFest Food Truck Festival, Saturday, May 21, 11 a.m. to 9 p.m., and Sunday, May 22, 11 a.m. to 7 p.m. $12 in advance; $14 at the door. Under 21 free. www.lauritawinery.com.
While Laurita Winery's Mother's Day Brunch is sold out, there will be one of the winery's signature food truck festivals, SpringFest, on Saturday and Sunday, May 21 and 22. With fireworks on Saturday night, live music, and a free souvenir Laurita wine glass, the weekend can be used to spoil anyone, especially mothers.
Children are welcome but must be supervised. No pets or outside food or beverages are allowed, with bags subject to inspection for public safety. "Unique and popular" food trucks in the lineup include: Cousins Maine Lobster, ColdStone Creamery, Shore Good Eats n Treats, Kiersten's Creations, Mexi-Boys, REDs Pizza Express, Snack Shack, and 5 Sisters Food Co.
Cream Ridge Winery
145 County Road 539, Cream Ridge. "Mom-Mosas," Saturday, May 7, noon to 6 p.m., and Sunday, May 8, noon to 5 p.m. Free admission. Regular Business Hours: Monday to Saturday, noon to 6 p.m.; Sunday noon to 5 p.m. www.creamridgewinery.com.
On Mother's Day, kick back with a bubbly cocktail of Cream Ridge Winery's sparkling Riesling and Seyval wine blend, Sparkling Personality, and tart orange juice. The last call is 30 minutes before closing.
Every weekend in May, like many of the wineries featured, Cream Ridge has live music, their performers playing from 2:30 to 5:30 p.m. on Saturday, then 1:30 to 4:30 p.m. on Sunday. For more sweet treats, Waffle Cabin Monmouth County Food Truck will be serving up hot Belgian waffles made with sugar pearls all of Sunday.
Tastings, glasses, and bottles are available for purchase. Children are welcome, and pets are allowed outside on leashes only. Coolers are subject to inspection for public safety.
For groups of six people and more, Cream Ridge requests patrons to call ahead, but otherwise, reservations are not required. Outside food is allowed, but no outside alcohol is permitted. Attendees are welcome to bring their own set-up of chairs, tables, tents, etc. to get comfortable as they take in the 14 acres of vineyard.
* * *
For other wine trails and Mother's Day events throughout New Jersey, the Hunterdon Wine Trail goes across the county's five wineries, which includes two of the Ringoes locations featured in this article — Beneduce Vineyards, Mount Salem Vineyards, Old York Cellars, The Federal Twist Vineyard and Unionville Vineyards — for what the Garden State Wine Growers Association calls "the 'Napa Valley' of New Jersey." Tomasello Winery in Hammonton also has a Mother's Day Brunch on May 8.
Regardless of if you visit these New Jersey wineries sometime in May or for Mother's Day, there is little to "wine" about, as this part of the state certainly knows how to keep the celebration going.