Officials at St. Gregory the Great Church in Hamilton describe their wall-length stained glass work, "The Creation," a "series of dynamic swirls and colors (where one) will find the Holy Trinity, the planets and the colors of the liturgical season."
Artist Nikki Vogt simply calls it "an explosion of color."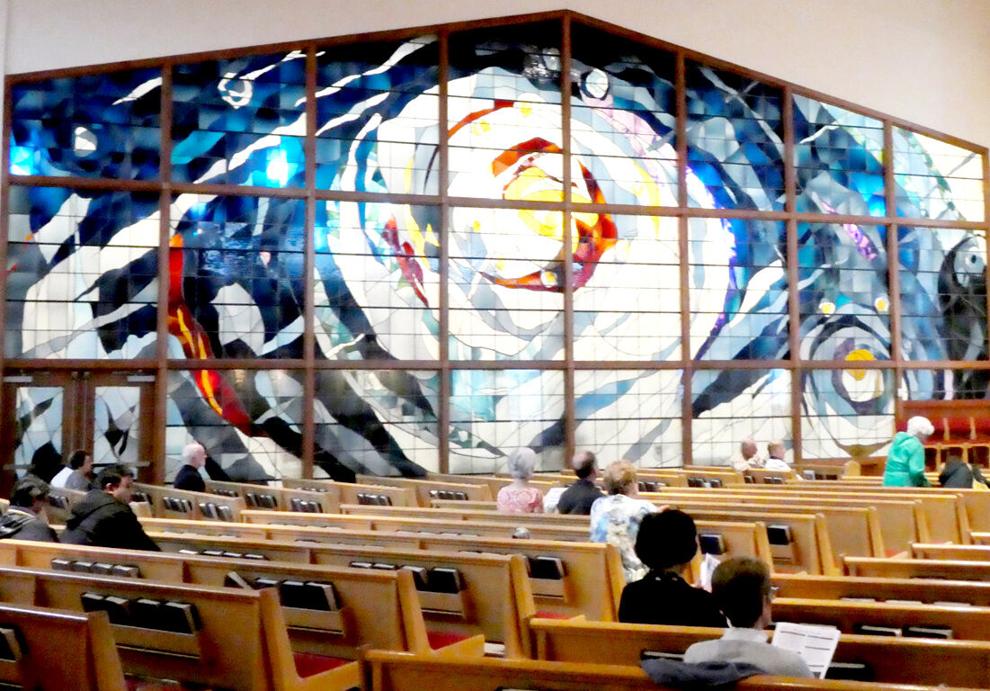 During a recent telephone conversation from her home in Lynchburg, Virginia, the stained glass artist says she designed the massive glass work "around the seven gifts of the holy spirit (wisdom, understanding, counsel, fortitude, knowledge, piety, and fear of God). It was an abstracted idea of everything made in an order."
She used opalescence and various levels of transparent glass to create a sense of a diagonal upward sweep.
Vogt, the creator of church windows across the nation, says becoming a stained glass artist was a surprise. "It's not like you decide to pursue it, it finds you, she says. "I thought of being an ad director."
"I always liked drawing," she says about her connection to art. "I have pictures of me drawing when I was three. I just stumbled into it for a living."
Another connection is her parents. Her father was an architectural draftsman father and her mother was a legal secretary and poet "who always drew. I remember of picture of hers of roses and it looked so real."
Vogt says she did well in art at her Lynchburg area high school and participated in its annual portfolio day when businesses would come in and look for potential talent. Representatives of the Lynchburg Stained Glass Company came, saw her ability, and hired her as an artist.
"When I got (to the company), I started learning what it was about."
That learning soon took her to a summer program at the Atrium School of Stained Glass in New Hampshire. The school was founded and coordinated by Dick Millard and attracted new and established stained glass artists from around the world.
Founder Millard began working with stained glass companies in New York before launching a 30-year career as an independent artist. He was also an active part of America's stained glass industry.
Vogt again impressed and when the 100-year-old New York/Jersey City based Rambusch Company called Mallard, a former employee, and asked for a substitute artist, he readily recommended Vogt.
Rambusch asked Vogt to join the company, but she declined, citing the steady jobs she and her husband had in Virginia and the higher cost of living in New York.
The company manager responded by offering a good salary, finding work for her husband, and covering the cost of her move to New York City. "They made it impossible to say no," she says.
Vogt joined Rambusch in 1998, but only stayed for three years, noting that the emotional aftermath of the World Trade Attacks in 2001 made her want to go back to return to Virginia and continue working on projects from there.
Yet during her time at Rambusch ,she worked on several glass projects, including Marble Collegiate Church in New York City and St. Gregory the Great, which was creating a new center.
As the artist assigned to the project, Vogt designed "The Creation," three works evoking the life of St. Gregory, and a window connecting the saint to music — more specifically, the Gregorian chant.
"I did all of those windows. I also did the mosaic baptismal font," she says. "It was the last job I did before I left Rambusch.
"(The church committee) said they wanted an abstract window in the front of the church. They said wanted to see a cool glass window, Saint Gregory and doves descending. From outside at night from the distance you can see it.
"They basically said, 'Do something beautiful.' I did a drawing and they took it right away."
Vogt says, "when you work with a committee, they usually change something."
But this time, the presentation meeting went differently. "They were so nice. They didn't change anything," she says.
A next step was a visit to Lambert Glass Company in Germany. "I got to select the glass, $60,000. It was fun picking it for that job," she says.
Reflecting on her work at St. Gregory, Vogt says, "One of the windows is the last supper. I didn't want to get too representational but you can look at it and you can see some people. There is also an orb with light coming from it. And there was one window with angels descending up and down Jacob's ladder.
"If you look at all of them together, they read like abstractions," Vogt says. "But if you look at them you can see things.
"It's been so long that I thought of or looked at the windows."
It is also some time since she's worked on stained glass. Several years ago, she was diagnosed with multiple sclerosis and couldn't hold a pencil.
But with the aid of an iPad and an app, she has started creating again.
"I draw everyday now. I got all these ideas in my head, but my body is prison. I thought I was going to be teaching one day and passing the baton to other people. But it didn't happen that way.
"I love doing stained glass. (Art) was something I always did and was good at it. There wasn't anything else that I could do.
"If (researchers) could come with anything to make this go away a little bit, I'd be so grateful."
St. Gregory the Great, 4620 Nottingham Way, Hamilton. For hours to view the glass, visit stgregorythegreatchurch.org.