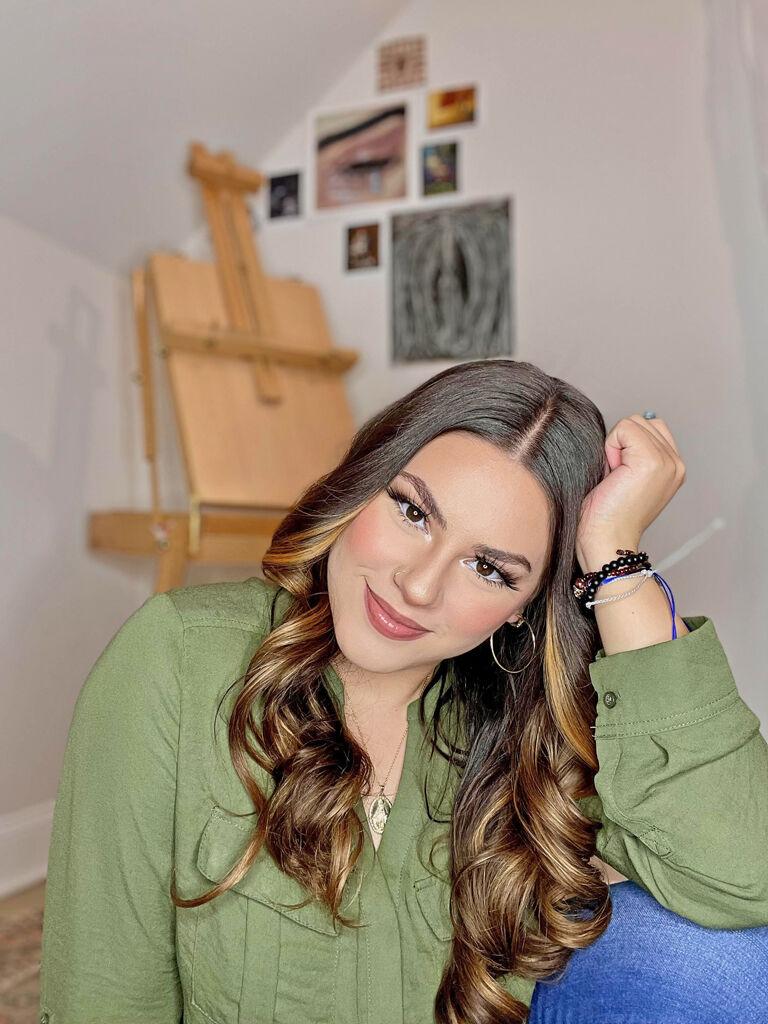 Finishing up a degree in digital arts and multimedia design with a minor in art history is Kiara Santiago. The Hamilton resident has a fresh outlook, and is focused on a career in the arts.
Though art was not her original chosen path, Santiago has pursued her passion and is motivated to succeed. It is refreshing to hear a new voice and that even in this digital world, an artist's favorite tools can still be charcoal and paper.
How did you begin going to school for art and what is your schooling focused on?
I had decided to go to school for nursing during my senior year of high school because I convinced myself it was what I wanted. I got into LaSalle University with a major in health and sciences, but as my freshman year of college progressed, I realized it wasn't my passion.
Growing up, I was always into drawing and creating things, but told myself going that route would never lead to success. As I grew unhappy with school, I finally decided to drop health and sciences to become a digital arts major. I became extremely interested in my classes and felt like I was finally able to truly express my creativity while also striving for a professional career.
The program at LaSalle focuses on digital artistic expression and multimedia design. We were taught animation in 2D and 3D, digital photography, web scripting, and so much more. Since the moment I decided to switch majors, I knew things were going to change in a more positive way for my future.
I recently added art history as a minor, and have been obsessed with learning the background of the art we know and love today.
What media do you use, and what is your favorite?
I grew up using a pen for drawing, I really liked the way the dark bold lines made the art more pronounced. I think because I enjoyed using a pen so much, it led me to want to learn how to use graphite pencils to create more realistic art using the grayscale and shading.
Throughout college, I have also been taking courses that teach how to use charcoal and willow, which have recently grown to be my favorite form of media.
What fight/struggle do you have regarding your art?
I often feel as though I allow my personal issues in life to get in the way of my artistic process and creating more pieces. I tend to grow very doubtful of my work and begin to question if my art is even worth noticing.
This often puts a physical and mental limitation on what I think I am capable of. I would to be able to gain confidence in my work so that I can create more things for my own pleasure, rather than for the approval of society.
I also struggle with self-marketing. I would love to get better at promoting my skillset person to person, through my social media platforms and on my website.
Which career path are you pointed toward? What are your expectations?
I have juggled many different career paths since becoming a digital arts major, from animator to web designer, but I could not decide. But when I decided to become an art history minor, I felt as though I found my professional calling. After college, I would like to earn my master's degree and earn my way to becoming a curator.
I fell in love with learning the world's history through artwork and would love to have the opportunity of running a gallery one day in the future.
How do you find studying art is different from other studies?
I feel as though studying art has opened me up so much more to our world and the social issues we have dealt with for centuries. I have come to better understand creativity from the artists' perspectives and realized how much impact art truly has on the world.
Who are your artistic influences?
In my middle school art classes, we were learning about artists like Frida Kahlo, Georgia O'Keeffe, and Pablo Picasso. Picasso always stuck with me because I was always drawn more toward his expression of abstract and color application.
I began to look further into abstract art and discovered surrealism. I immediately fell in love. I began to discover other artists like Salvador Dali, Remedios Varo, and Wilfredo Lam. Their artwork inspired me to express myself freely through my art while also understanding art does not always have to be serious.
How is your family supportive of your studies and career path?
My family has encouraged me since day one to pursue art. I am very fortunate to have such a supportive family who encourages me to continue creating things and pushes me. Ever since I was a little girl, they would buy me art supplies for Christmas and birthday because they knew how much I loved doodling.
I will never forget the day I decided to tell them I no longer wanted to become a nurse, and how proud they were of me for finally deciding to pursue my passion.
What was the most challenging class you had at college?
The most challenging class I had in college was web design using HTML and CSS language. I never considered myself to be tech savvy, so having to basically code a website from scratch was challenging.
Where can we see your work?
To see my work, I have created a website to sell prints of some of my previous drawings and paintings. I also promote my artwork on my Instagram page, which is dedicated only to my creations and the process behind a few of them.
What are you looking forward to?
Upon earning my bachelor's degree this upcoming spring, I am planning to continue my education and attend graduate school for a master's degree in curatorial studies. I intend to find work within the field while attending school and of course, will continue to create more art in the process.
A dream of mine is to one day have the opportunity of curating my own artwork for a gallery.
Kiara Santiago on Instagram: kvs.designs. Email: kvskustomzdesignz@gmail.com.