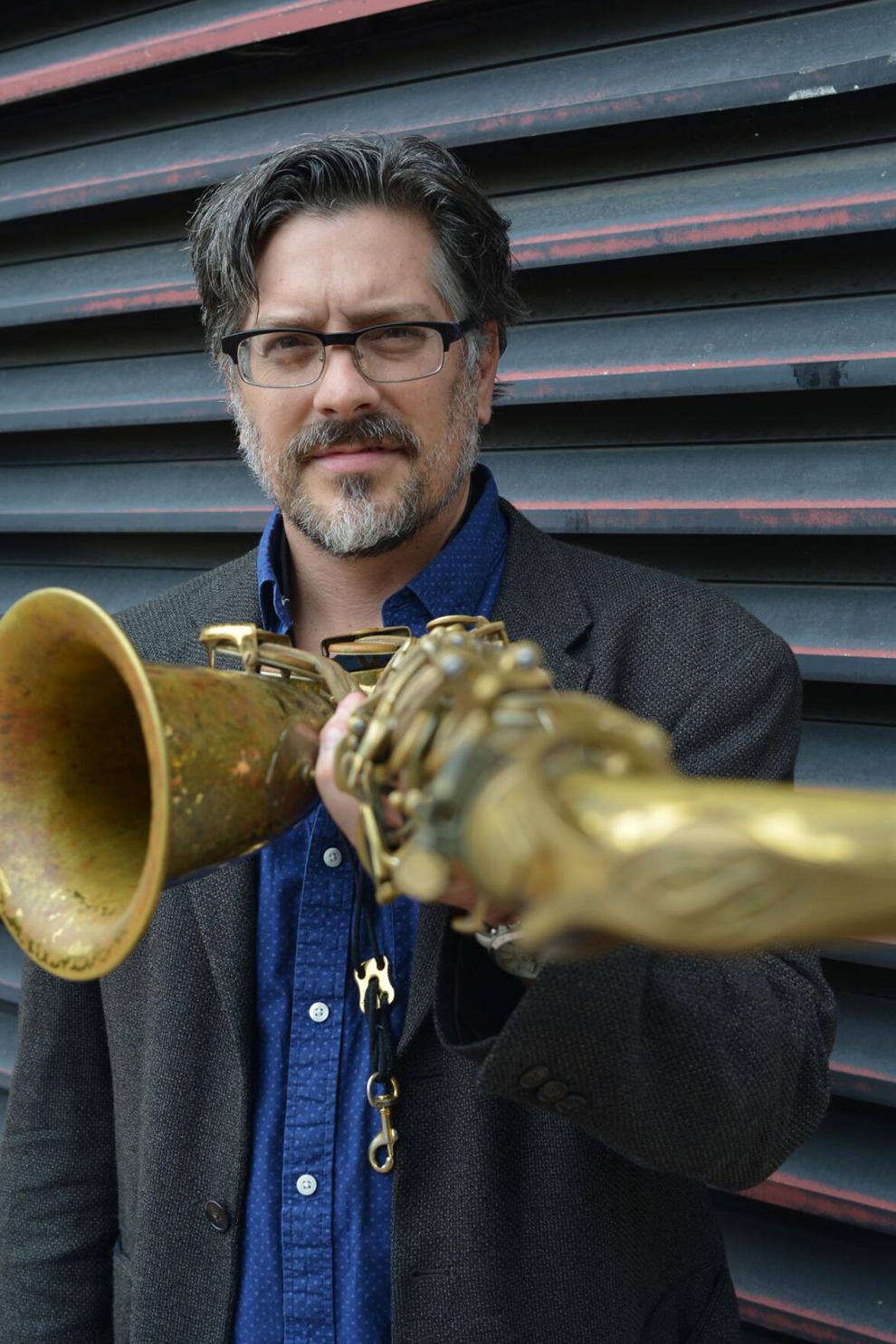 Tom Tallitsch is almost too busy to say how busy he is.
Tallitsch, the accomplished jazz musician, composer, radio show host and music educator, took to Facebook last month to reveal that he had updated the look and feel of his website.
Yet his calendar page contains only the following message: "I'm all over the map and haven't had time to keep this page up to date. Give me a shout to see where I'm at. tomtallitsch@gmail.com."
Few would begrudge Tallitsch for the oversight. Most fans would say they are glad to hear that musicians are too busy for anything.
When it comes to the topic of musicians and the pandemic, the focus is often on the financial challenges that performers faced when there were few opportunities to perform.
With weddings postponed, corporate conferences canceled, and restaurants and clubs closed to the public, gigs had been hard to come by, especially over winter, when it was too cold to play outdoors.
Tallitsch went through all of that. It got to the point that when offers to perform live started coming in at the end of the spring, he was concerned about how long it would take to shake the rust off.
Since then, though, he has had plenty of work: a few restaurant and club dates as a side man, and "private parties galore," he says.
Truth is, live outings are only part of what keeps Tallitsch so busy. He spends a majority of his time, then as now, giving music lessons. Lately, he is able to do some half of the lessons in person, but for more than a year, he was teaching mostly online.
"A lot of educators have felt the stress and confusion of how to do this online," Tallitsch says. "It's been very busy, but my biggest concern has been that it is so challenging for music educators to work with these kids (remotely). There's fatigue from being online, and also, little kids in my opinion should not be online," Tallitsch says.
Many schools, both public and private, struggled to find ways to do music instruction during the past year, meaning many kids fell behind where they might normally be as instrumentalists.
"It's really been my concern that kids play. That's been my primary focus with my students, let's play play play," Tallitsch says.
Although online instruction during the pandemic worked out, and indeed ended up even growing his student base, Tallitsch admits he had some trepidation at the start.
"When I moved my entire studio online, the first thing that I had was fear," he says. "Would I be able to support my family, am I going to have financial insecurity? There was a lot of fear for myself and my family."
There were hiccups along the way. Some younger students did not take to the online instruction format, and dropped off. At the same time, Tallitsch saw an influx of older students who contacted him about looking to learn how to play an instrument.
"All of these adult students came in who were like, 'I'd like to do something, I'm bored and stuck in the house,' and I got this whole wave of adult students from Seattle, Arkansas, Maryland, Montana and a handful of other places," he says. "Before the pandemic, I had a few online students in Europe, but now all these students from across the country were coming in. It's awesome."
Tallitsch, a Cleveland native, has lived for 4 years in Hopewell Borough. He has 11 albums to his name, including Message, which he released on his own label in February.
He had plans to bring a group together to record another album this summer, but says he has postponed those plans until at least the fall for now because he has been so busy. A multi-instrumentalist who plays clarinet and piano, Tallitsch is best known for the saxophone.
He first got into jazz because of his father, who grew up in Chicago and who attended the same high school as Benny Goodman, the legendary bandleader.
"My dad didn't really know anything about Benny Goodman, but he was really proud of the Chicago jazz heritage, and he played me all that stuff growing up, and that kind of gave me the introduction to music," Tallitsch says.
He says he thinks of jazz music as a kind of Americana. "I love these old show tunes or country tunes, I love listening to stuff that just has a strong melody and a strong harmony," he says. "It doesn't matter what the music is. In jazz music we tend to improvise, but it's all about the song."
Those same feelings inform his compositions as well. "I really feel like melody is important. Sometimes when you listen to stuff, it's less about the melody and more about the song being a vehicle for improvisation," he says. "I feel like the structure and the melody is important. My process now is, I sing into my phone, say when I'm driving in the car, and then I come home and I transcribe it. I've found that all my best compositions are ones that I didn't labor over or think about."
He is only half of the creative force in his family. Wife Carrie Ellmore-Tallitsch is also a performer. Ellmore-Tallitsch was a principal dancer with the Martha Graham Dance Company for 10 years.
The couple have even worked together. Ellmore-Tallitsch has a dance project of her own these days, the Big Sky Project, and Tallitsch often provides musical accompaniment for Ellmore-Tallitsch's performances, as in 2018 when they collaborated for an art installation, "Within and In Between," in Princeton's Dohm Alley.
Both Tallitsch and Ellmore-Tallitsch are graduates of the University of Cincinnati. They have a daughter, Melissa, who is 5.
After finishing college in 1996, Tallitsch moved to Philadelphia, where he worked at a music store and taught lessons here and there. In 1998, he moved to Trenton and got a job selling pianos while continuing to teach.
In 1999, he started teaching at Mercer County Community College and the Westminster Conservatory. "I realized that I liked teaching," he says. "It's been a great business, but more than anything, I really like working with students. I like seeing them grow, I like having the challenge of taking a student who might not be getting it and finding a way to make it exciting and interesting and just trying to get them to do it. It's all sort of built from that very beginning."
Since 2005, he has worked with the Princeton Child Development Institute, teaching students who are on the autism spectrum. He works with a whole range of students on piano, ranging from high functioning to nonverbal. During the pandemic, some were able to maintain their lessons online.
"That was something that I never thought that I could do," he says. "I may have learned more than they have, because there were times when I was so frustrated, you know, 'Why can't they get it?' And they have challenges, but there was a time when I realized that the problem was not them, it was me. I needed to learn how to be more effective and more patient, I needed to use the motivational systems that they have in place. And honestly I think that has helped me with all of my students."
He teaches piano and woodwinds at The Princeton Junior School, as well as homeschooled students, whom he notes were less affected than most students by the pandemic.
"They were like, 'What pandemic?' They already had their bubble," he says.
Tallitsch also hosts the Modern Jazz Radio Show the Mercer County Community College station, WWFM Jazz on 2.
"The radio show is really a labor of love," Tallitsch says. "The Modern Jazz Radio Show is music that is recent, from the last 10–20 years. This new millennium there is so much new and amazing stuff, and now I'm keeping it to like stuff that came out past year or two years or three years."
The show is broadcast Thursdays from noon to one. Tallitsch has been recording the show at home, but then that was nothing new — he says he hasn't been in the WWFM studio for a decade.
"I do it in my house," he says. "I try to play music that is not being promoted by promoters, music that may not be getting exposure, music that I own. It's all my music (on the show). I tend to buy a lot of music because I like to support the artists and I like to listen to stuff over and over."
In terms of performing, Tallitsch and his fellow musicians did what they had to do to stay busy during the pandemic. They found gigs playing for online corporate events, as entertainment during breaks. It meant taking some risks, because they had to be all in one place to play together, even if the people viewing the performance were remote.
And now, at least for the moment, the live gigs are coming as fast as musicians can take them. Many of the jobs are in New York or Philadelphia. Most of the time at these performances, patrons have not been masked and have been excited to get out. "Masks have started to come out more lately, though," he says.
As far as Covid and its potential impact going forward, he's currently planning to do what he's doing through the fall and winter, but he knows that he can't count on things staying the same, with the Delta variant of the coronavirus currently on the rise throughout New Jersey.
"I'm keeping my eye on it daily. If it continues to go in the wrong direction I will put everyone back online until it's safer," he says.