When people think of art studios with classes, they think of a busy colorful room with easels, painting tools and supplies, maybe clay wheels and drying rack with bowls and vases. At Leaping Dog Art Studios, they have found this vision.
Begun in 2014 by art teacher Jennifer Szeto, the studio was a way for her to stay local for her growing family. Begun at the Bordentown Open Arts Stage complex, on 130 South, Leaping Dog Art Studios is now located in the heart of Bordentown City, at 325 Farnsworth Ave.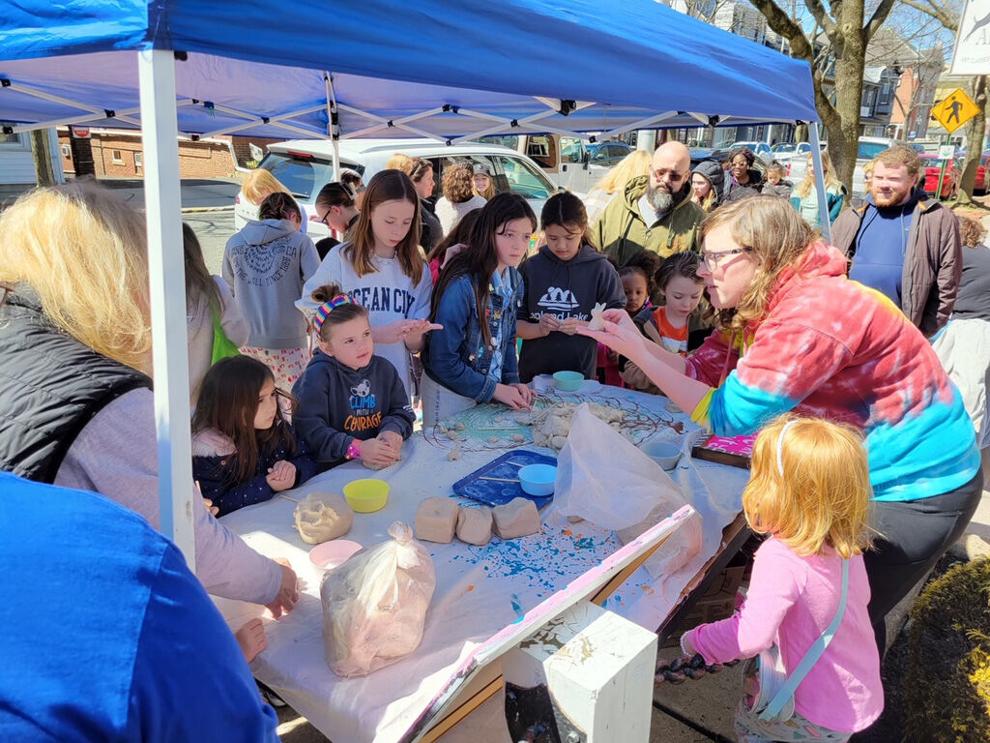 Szeto was born and raised in Howell, New Jersey. Her family has its roots in Hong Kong. There were artistic influences from her mother, who was skilled in fashion and interior design. Her uncle who was proficient in calligraphy was also an early influence.
Szeto studied fine art illustration and graduated from Syracuse University. Before she settled into work, her brother gave her the advice to travel now, when you have very few obligations. Szeto went to China to teach English at a university in Nanjing. She taught at Nanjing University of Science and Technology during the 2000-2001 academic year.
Attaining her master's degree in art teaching from the University of the Arts in Philadelphia, Szeto also studied in London at Central Saint Martin's School of Art and Design and at the Arts Student League in New York City.
Szeto taught art in the Philadelphia school system in charter schools for 6 years, and then was a long-term substitute teacher in New Hope, Pennsylvania.
"I think all humans are creative. I see it in the children, drawing freely and boldly. It is so good to see the children at the studio. They are so happy to make art." says Szeto.
"As Picasso said, it took me years to paint like Raphael, but a lifetime to paint like a child."
"I see it as a natural way for children to express themselves. For adults, it is intrinsic and can be therapeutic. Drawing well is also a matter of learning how to observe, how to look at things. You need to set the goal of what you wish to accomplish, and then practice."
Besides Picasso some of her early influences were the Post-Impressionists such as Vincent Van Gogh and Paul Cezanne. Other influences include Frida Kahlo and Georgia O'Keefe.
Szeto is also an admirer of cartoons and comics. One current favorite is Bill Watterson, who created the comic strip Calvin and Hobbes. Calvin and Hobbes follow the daily life of a young boy and his stuffed animal who is a tiger. The characters are fun, but the issues can be deeper than they appear.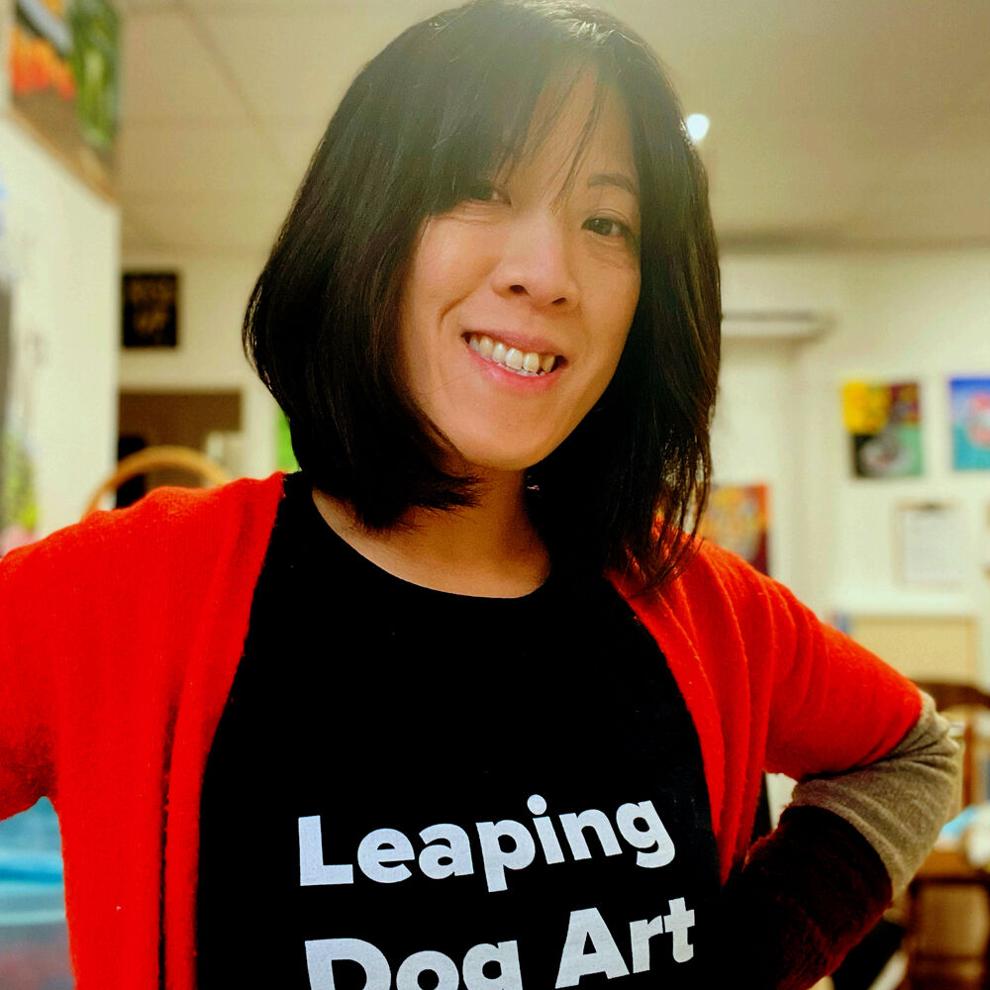 Szeto's personal art is currently focusing on portraits of both people and their pets.
The Leaping Dog studio is in Bordentown City, and Szeto and her family also live in town. "Bordentown is very supportive, and we are glad to be able to supply classes to help nurture and teach the kids here about art and how to create it," she says.
Szeto's family consists of her husband Carter, who teaches high school English in Sayreville, and daughters Ava, age 13, and Mei, age 10.
In her much cherished free time, Szeto enjoys the small-town life with her family. She enjoys walking the family dog around Bordentown, cooking, and playing piano and banjo.
Calling herself an unintentional entrepreneur, Szeto opened the art studio as a way to stay very close to home with their young daughters. The studio opened with kid's classes and family parties. Clay classes were soon added, and proved to be very popular.
Covid dealt a terrible blow to in-person learning, but the need to create was very strong for the housebound community.
"We created online classes and made art kits that people could pick up on the porch. We would make the kits with paints and canvas or other crafts that could be worked on at home," she says.
The name Leaping Dog came from Szeto's own leaping dog, Liza, who is now 15 years old. When thinking of the name, Szeto thought of how Liza, a yellow Labrador retriever, would be so happy at time she would leap boundlessly.
"I thought, a yellow lab off the leash is such a joyful being. I secured the website domain name, that night and Leaping Dog Art Studios was born," she says.
"We were greeted very warmly from the beginning. We were filling a need in Bordentown for sure. We do also get students from Hamilton, Chesterfield, Florence, Princeton and even as far as Philadelphia.
"We began as a place for Mom and kids and then added classes for mom and dads by themselves. We help preschool kids develop their motor skills, but also help the kids develop their social skills. This is definitely a place for social interaction," she says.
More programs were added as calls came in for adult art classes and requests for paint-and-sip parties. "There is just this need to create something that people have. The staff and I figure the kids and adult classes are divided 50% love to create and 50% meeting new friends and continuing relationships," she says.
Leaping Dog Art Studios has 7 instructors on staff. There are classes offered for kids and adults in drawing, painting, cartooning and ceramics. The classes are once a week, and three sessions are offered; fall spring and summer. There are also summer camps for kids, which Szeto says are very popular.
The studio now has eight wheels for throwing clay, and also offers classes for hand-building with clay. Ceramics classes take a lot of effort and skill to finish the pieces to their conclusion. After the initial throwing of the pot or building of the piece, there is time to allow drying, then glazing and finally firing or baking of the clay.
Szeto taught herself the skills needed to run a successful ceramics program during the quarantine time of the pandemic. Now the studio has two kilns that are very busy. For artists who wish to work in clay but cannot commit to a class schedule, there is open studio time where they can come in and work on their pieces on their own schedule.
Being positioned squarely on Farnsworth Avenue, Leaping Dog is happy to be able to participate in the various street fairs and festivals that occur during the year, such as the Cranberry Festival, Bordentown Street Fair and Bordentown Porch Fest.
"We have an open house and even have had tables out front offering the students work for sale to the public. We work with fundraisers and try to be very community minded," she says.
"The studio offers a family atmosphere, and probably 50% of our student are repeat students. We love that they keep coming back and we can see the progress they make in their art."
Looking to the future, Szeto would like to be able to offer more room and capacity for classes, especially ceramics. "The students love working in clay so much. It is wildly popular," she says.
Providing a means to create, teaching artistic skills and methods while allowing fun interaction with the community of artists and art lovers. Leaping Dog Art Studios fulfills and creates a need at the same time.