Editor's Note: Both Aubrey's "GFS 'Klips' Dark Season with Bright Dreams" and "The Village Potter Opens for Business at GFS" ran in previous issues of U.S. 1, Community News Service's Princeton metro area paper, on Jan. 5 and May 18, respectively.
The articles have been edited and updated for currency, as well as general clarity.
---
Klip Collective's Night Forms: Dream Loop and Infinite Wave
On a chilly evening last November, Klip Collective's Ricardo Rivera came to the podium for the press unveiling of "Night Forms: dream loop" at Grounds For Sculpture. in Hamilton.
"We have just finished the installation, and I'm a bit beat up," he said about testing the 12-station suite of dramatic lighting, video, and music commissioned by GFS.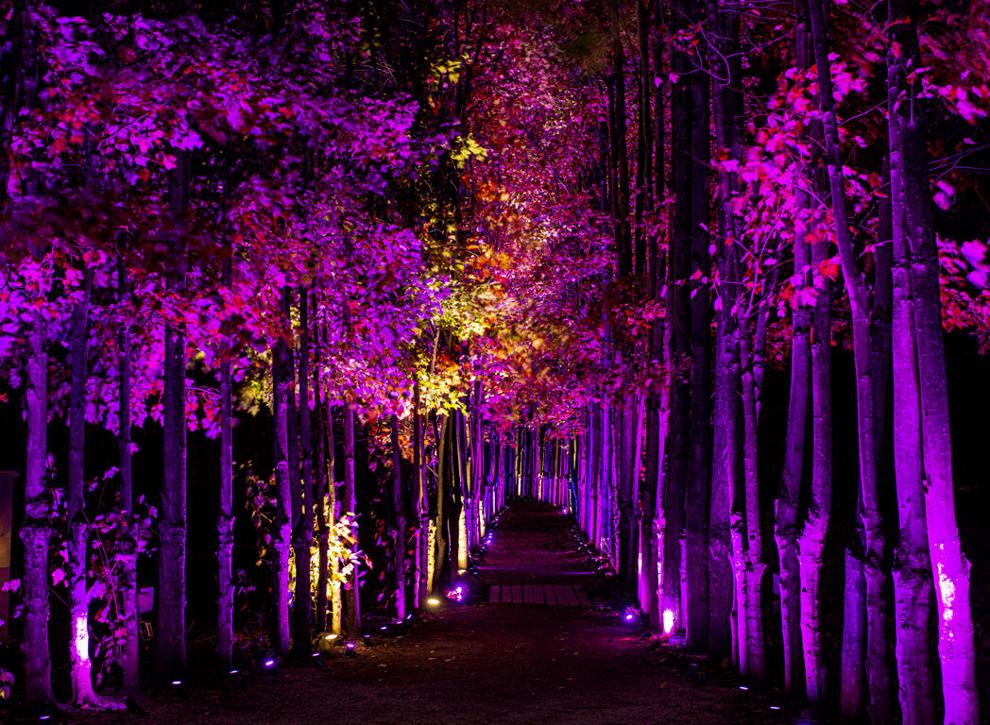 After daylight turned to darkness, "Dreamloop," an exhibit by Klip Collective, ran from Nov. 26, 2021, to April 3, 2022. Now, 'Infinite Wave,' the second, expanded iteration of the project, will take its place in the coming month.
When Rivera first introduced the project a year prior, he said that the group "used the space as a canvas."
"The site specificality of our work drives what we do. The music and color are being driven by the sculpture. The conversation between the existing sculpture is paramount," continued Rivera, whose other work has included a light and sound installation at Longwood Gardens in Pennsylvania and Philadelphia's City Hall.
Then, the group of reporters walked into the night—and into Rivera's dreams.
"Klip Collective is just a production company," Rivera said at the group's studio in South Philadelphia's Bok Building, a renovated industrial art school, a few weeks after the press event. "I'd like to call it adhocracy, which means we build our teams per project and pull the rest of the resources we can for the project."
Rivera said while he is the creative force behind the company, it is supported by a core team comprised of his coordinating director and wife, Michelle, as well as a studio assistant, sound technician and producer.
"It's like a movie studio," he explained. "They don't have cinematographers and directors with them every day."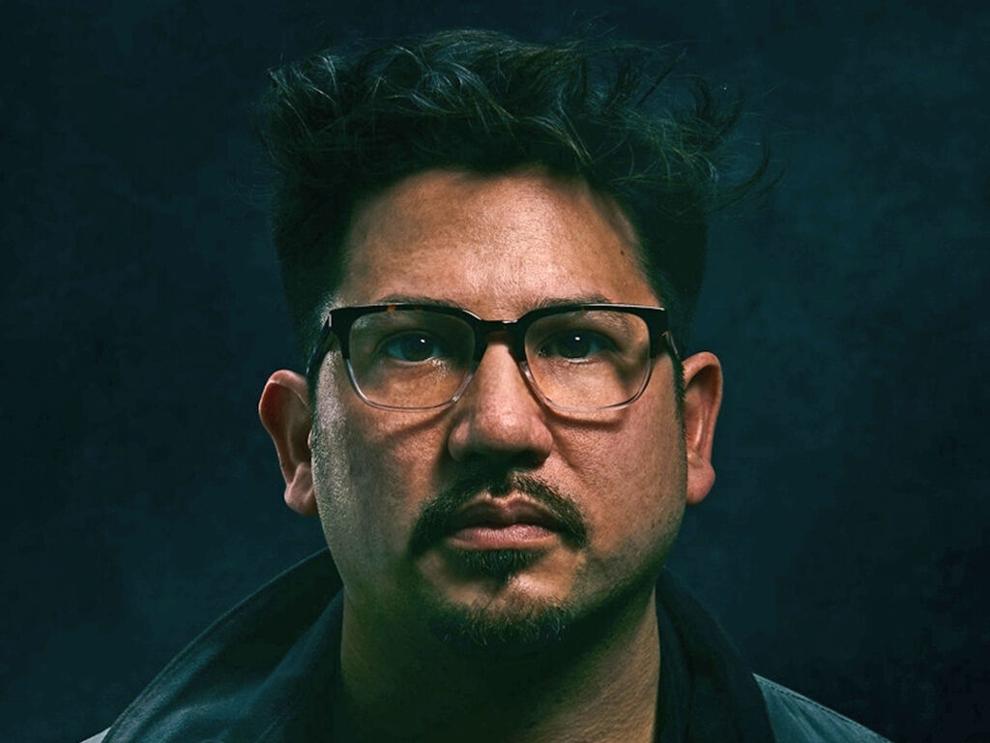 "The studio is a place for me to experiment and develop products. It was established in 2003. We've evolved since then," Rivera said.
The 46-year-old father of two daughters grew up in Delaware. His Puerto Rico-born father ended a military career in Dover, worked for the state, and then the federal government. He credits his Thai mother with getting him interested in American music and film; early in life, Rivera created homemade videos featuring burning toys.
That fascination also took him to the University of Delaware. While he said it was not the place to learn to make films, he got involved with theater and worked in a student-run production company where he taught himself how to use the equipment, launched a film festival and "started having my own art shows."
Rivera said his curiosity began when he and his college roommates rented a space over a Chinese laundry that "held art parties," then hung out with the bands featured there.
"One of the musicians was an electronic music producer, and all these DJs were coming [to his studio]. He said he had a projector and asked if I wanted to show videos," Rivera said, then added he brought out some mixes, having just finished his second film with original music.
The result was that Rivera learned that he was part of a new vanguard in the music scene—a video jockey or VJ. He was also invited to illuminate shows and events in Baltimore.
"I wanted to be a filmmaker and also wanted to make art," he said. Rivera thought about attending New York University film school, but chose his own path when Kevin Smith, the New Jersey-raised director of "Clerks" and "Chasing Amy," advised him to not pay thousands of dollars to create a film no one is going to see. Instead, he suggested to use a 'do-it-yourself' type of approach.
Rivera, gesturing to his three-room studio, said, "It all came from this weird ride—doing raves" and using video clips—the genesis of the company's name (with a K added to steer people away from thinking of the term "clip art").
"We honor where we came from," he said. Rivera met his future wife at the University of Delaware and then settled in her hometown of Philadelphia. "I learned a lot all those years and developed an aesthetic and a vibe. My production soul was born," Rivera shared.
Eventually, that vibe started getting him work in advertising with credits for Nike and Target. In one case, a Red Bull advertisement that Klip Collective projected on City Hall in Philadelphia turned into a partnership with the city; he created the highly visible, annual holiday video installation on the landmark building.
His work in botanical gardens is a direct link to the Grounds For Sculpture series, which is now set to continue over the next several years in different installments.
Part two, 'Infinite Wave,' will run Thursdays to Sundays from Nov. 25, 2022 to April 2, 2023. As the visions of Rivera's collective come to life, both the team's new works— and some returning favorites—shine bright.
Pieces from Elizabeth Strong-Cuevas ('Arch II, Set II'), Michelle Post ('The Oligarchs,' in 'Frog Head Rainbow'), and Carlos Dorrien ('The Motherboard' and 'The Nine Muses') remain on display. As of press time, the new additions have yet to be fully installed.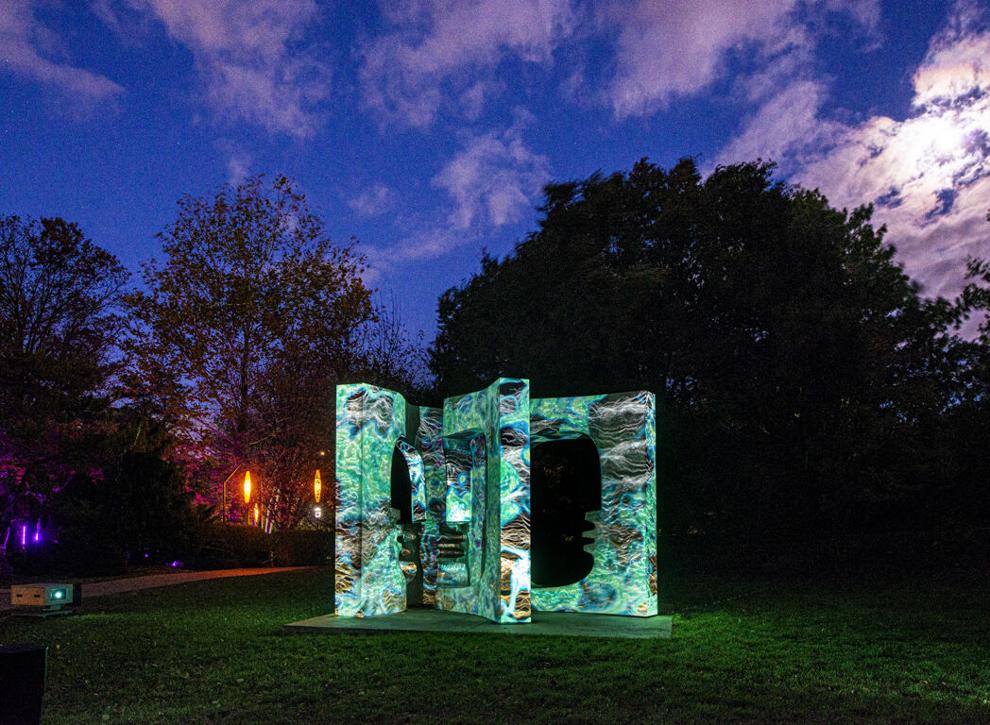 In a "reimagined" experience, according to a GFS press release, "visitors will be able to interact directly with and manipulate the illusory landscape [by] using a joystick feature at one installation that will allow visitors to control the visuals there," as well as "a musical instrument that visitors can play to create corresponding reactions."
Rivera said the frame of the project fits with his evolving aesthetic of working with nature and art to create video-light images for actual three-dimensional spaces, rather than only on a screen.
For the GFS exhibit, he "started conceiving a cyberpunk dystopia — but a beautiful one," a feat that was enhanced via a soundtrack from Klip musical producer Julian Grefe.
"It is hyperreal. Add sound to it and you're walking through this psychedelic dreamscape. I am a big fan of the surrealist movement. I'm really into dreams and that kind of subconscious reality—that space is really exciting and worth exploring," Rivera said.
"When people ask what this show is about, the narrative is anything they make of it," Rivera explained, then added that he will lead others along the paths, but they need to walk it themselves "like a trail of breadcrumbs you have to follow."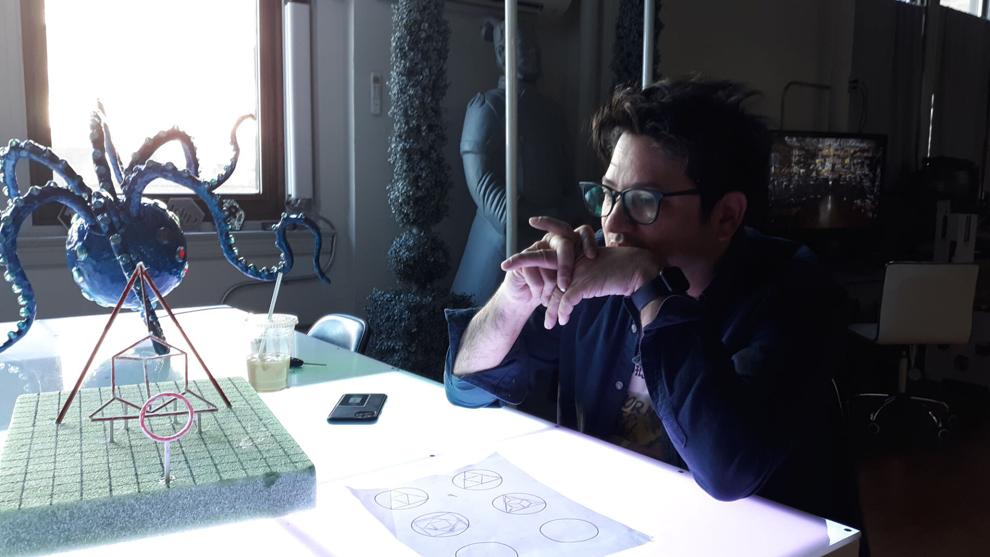 The sentiment behind Night Forms "goes back to the digital technology with nature," he began.
"We're in a pandemic, we had a crazy leader, companies are running the world. We live in a cyberpunk dystopia, but where's the neon smoke I was promised [in the films]? We got the Walmart version."
Rivera first shared his excitement for the future of "Night Forms" nearly an entire year before the exhibit would surf the 'Infinite Wave' of a second show.
"What I'm adding is a layer of interactivity," he teased. "There are going to be more discoveries."
You can find your own revelations in this neon haven when it opens in late November.
Nightforms: Infinite Wave by Klip Collective. Thursdays through Sundays from sunset to 11 p.m. with the last ticket at 9:30 p.m.
---
Roberto Lugo's The Village Potter
In a pottery studio at Grounds For Sculpture, Roberto Lugo's carefully crafted pieces still engage the visitors of his solo exhibition; "Roberto Lugo: The Village Potter" opened on May 22, 2022 and runs until January 8, 2023.
The Philadelphia-area ceramicist became a nationally known artist after winning the 2019 Rome Prize. His work is in the permanent collections of the Philadelphia Museum of Art, the Brooklyn Museum and the Metropolitan Museum of Art.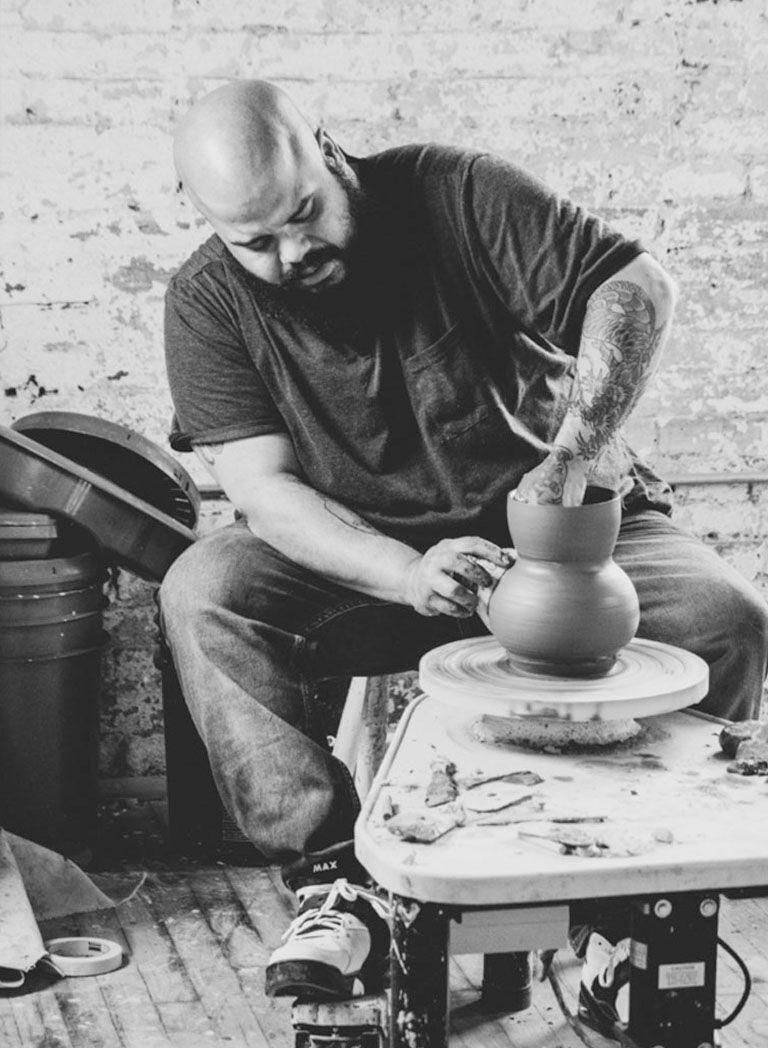 Born in 1981 to parents who left Puerto Rico to build a new life in Camden and Philadelphia's Kensington section, Lugo said his first connection with art was through graffiti.
His formal studies came after family efforts to improve his life—including his mother's push to get him into a magnet school—sent him to live with relatives in Florida.
It was there he enrolled in a community college and took a ceramics class.
Lugo said he was drawn initially to the practice because he could meet other students and have a college experience, but without having to write too much. He also appreciated the tactility of the materials because it reminded him of something he saw in his community—physical labor.
Then, he found something more.
"When I started working in pottery, it felt so right, and it was the first time people gave me encouragement," Lugo said in an interview earlier this year.
However, he said, there was also doubt. "I realized that there weren't a lot of people I know who were artists, and none who were potters. It made me realize how few people could make a living from the [potter's] wheel. I tried to make functional, production pottery, but I kept asking why people would buy these when [mass-produced pottery works] were cheap."
Then, Lugo came across an edition of art magazine 'Ceramics Monthly' that featured a graffitied pot on the cover.
"[The piece] had a shape I had never seen before and used the wheel in a different way. It made so much sense to me, and I felt [at] that moment that I could do that, that I had something to contribute," he said, additionally with the hope of representing the people and artists he could not see in the studio.
With an imagination fired by the thought of a career firing ceramics, Lugo began seeking out opportunities, and he decided to go to Kansas City Arts Institute.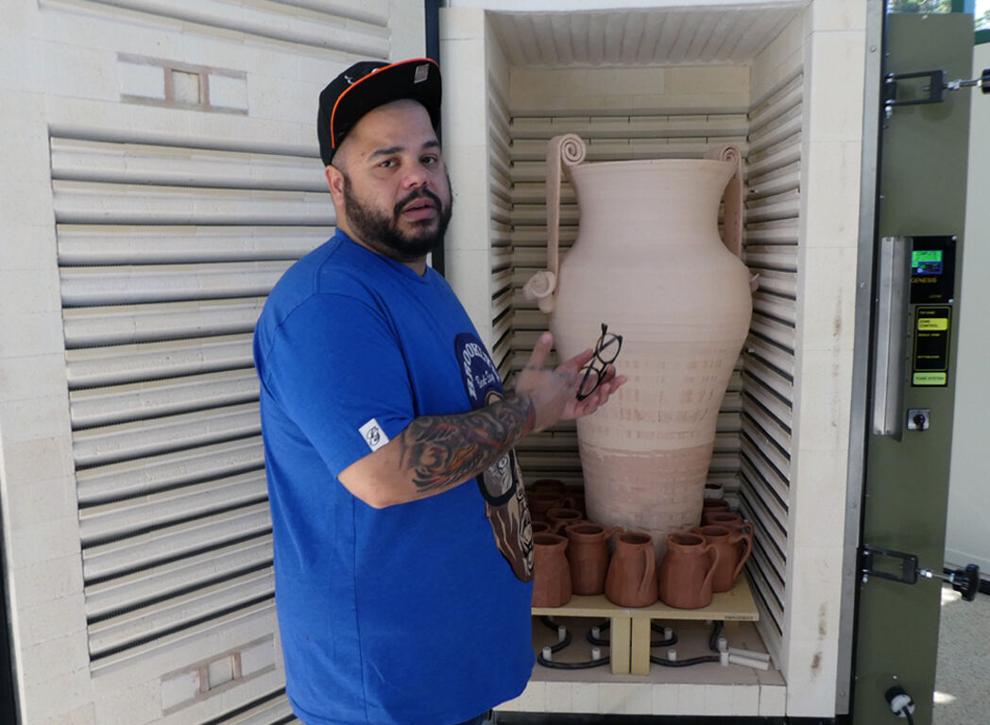 Lugo knew he needed a portfolio of work, and enough money, to be accepted. With his kiln, determination and a broken back, Lugo sold about "$10 or $15" pottery pieces.
Afterwards, he applied to Pennsylvania State University to work with Chris Daly, whom Lugo called a legendary potter, educator and mentor whose "whole life is art." Also at Penn State was Shannon Goff, an "influential mentor as a teacher, and the first person who understood what I wanted to say with my work, understood the content."
As part of a tribute, Lugo included both Daly and Goff in an exhibition section devoted to the artists who mentored him, as well as those he similarly helped guide. "I wanted to show [that] it takes a village to make an artist," he said.
While at Penn State, where he received an MFA, he took a leap that launched him into a gallery and into the art world; established California-based documentary photographer Richard Ross was on campus to discuss his work photographing incarcerated youth for a book, as well as to critique student work.
Lugo said that at the time, his brother had been arrested back in Kensington, and that Ross was planning an exhibition in Philadelphia. He decided to talk to him and ask him to assess his street-inspired pottery.
"He was the first person who was actually interacting with people from the neighborhood that I was from," Lugo explained. Ross asked him to be in an exhibition, the Crane Arts Center's 2013 "Juvenile in Justice" in the Northern Liberties section of Philadelphia. Through that experience, Lugo put his blend of traditional pottery, street design, and social commentary on the art map.
His other opportunities were as an artist-in-residence at the Clay Studio in Philadelphia, an instructor at Marlboro College in Vermont and a current faculty member of Temple University's Tyler School of Art. He also had a series of exhibitions. The artist's 2016 Philadelphia display, "Defacing Adversity," served as a glimpse into his work.
Regarding the title, Lugo said, "I grew up doing graffiti art. It was my first art form. I never took art classes before I did pottery. People often see graffiti as just vandalism and use the word 'defacing,' so I thought of different ways of defacing. I thought of defacing adversity; I had lots of experiences growing up with racism, so making art in spite of it was defacing over it—defacing it and negative things."
Lugo's 2018 piece in the Smithsonian National Museum of African American History and Culture, "Reckoning: Protest. Defiance. Resilience" extended that idea further.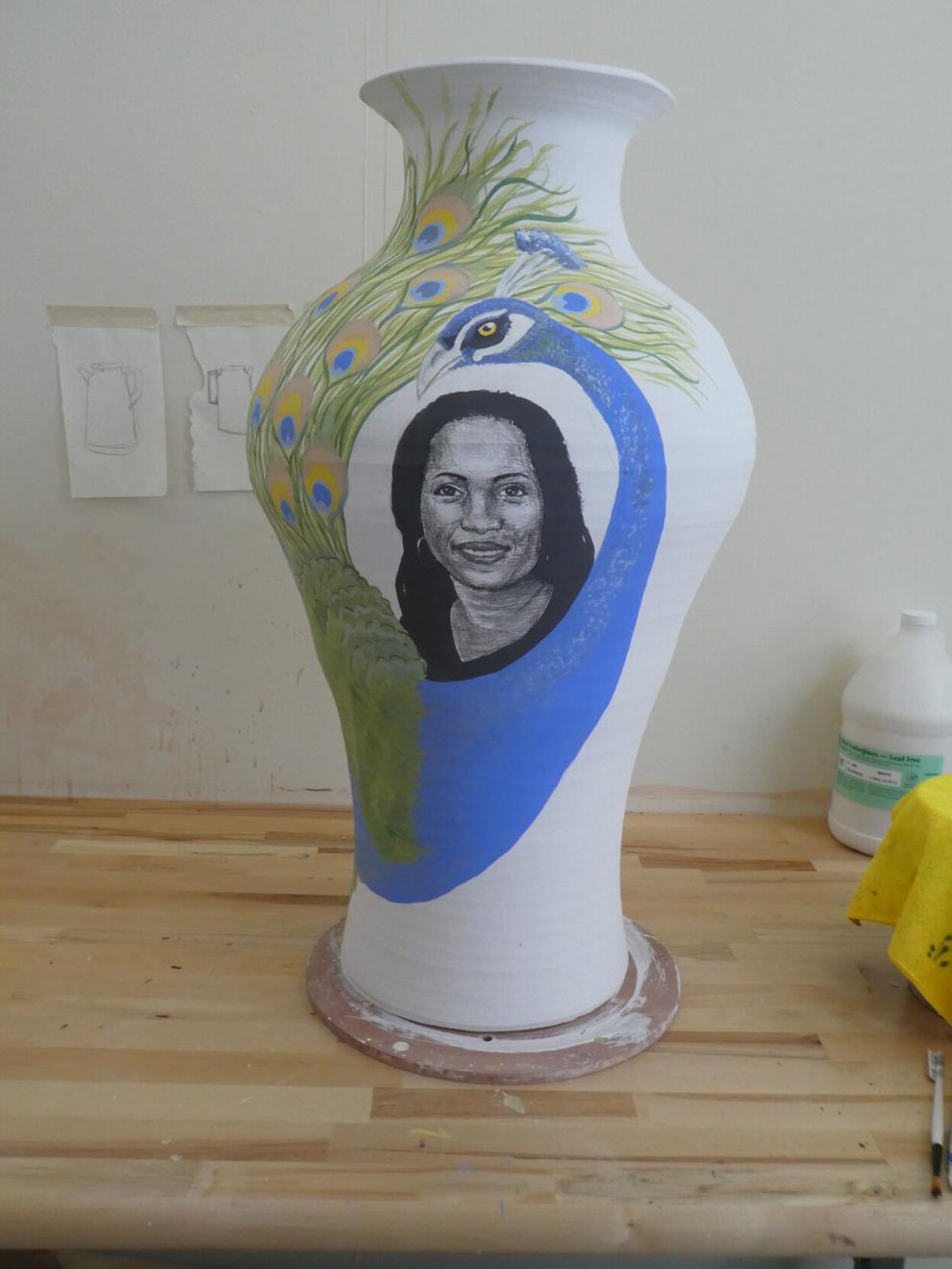 According to the museum materials, "Lugo reframes the traditional color, form, and repetitive imagery of ancient Greek kraters to focus on the issue of violence that disproportionately affects people of color in economically disadvantaged urban communities, including violence at the hands of law enforcement."
Represented in the composition are depictions of kneeling figures, police officers clad in riot gear and pointed guns.
When speaking about the themes and images, Lugo said that while he focuses on urban situations, his intent is broader.
"I want to clarify that my entire experience is not negative; it's about celebrating people who contributed. A lot of my work is a celebration and rooted in that. Even in situations where you find yourself with different people of color, they all have different experiences. Poverty and race are distinct."
"I approach art from the place I know—hip hop culture," he said. To make the point, Lugo explained his affinity for the Staten Island hip hop group Wu-Tang Clan.
"They took a combination of Kung Fu movies and hip hop and synthesized them together to give a unique sound. They gave the beauty of how you can fuse two cultures."
"I'm referencing and making connections, but I'm not trying to own that culture as an identity; my work is trying to synthesize, combine," Lugo emphasized.
When he pulls from his interest in Royal Porcelain tea cups, for example, he also pulls from his memory.
"Both of my parents are from Puerto Rico," Lugo said. His father was a Pentecostal minister and spray painter, and his mother was a school cafeteria worker turned registered nurse.
"Culturally, I'm from the Indigenous people from Puerto Rico, [as well as] Portuguese and Spanish. It's a huge part of what I paint and draw," explained Lugo, who has two sons, Theodore and Otto, with artist wife Ashley.
He also draws on these experiences as both a spoken word artist and a lecturer — during his 2015 National Council on Education for the Ceramic Arts (NCECA) emerging culture presentation, Lugo addressed an audience of approximately 3,000 ceramic educators with the following line: "We're a culture that can change the world."
Lugo noted that having the opportunity to deliver that speech was "the most influential" aspect of his work thus far.
He also explained that it started him on a different career trajectory to focus on connecting with exhibiting venues where his ceramics would be seen as "visual art and design and allowed me to take on unique projects — like working here [at GFS]."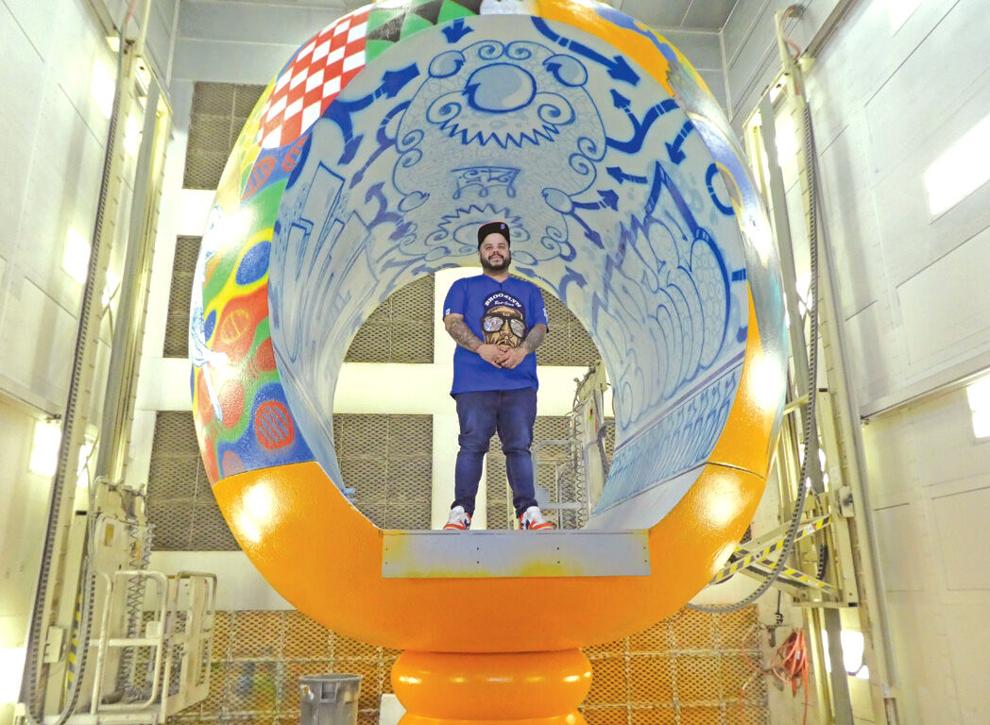 The decision also seemed to support Lugo's approach to creating.
"With my particular practice, most of my time is spent painting pots. I take twice as long to paint. Part of my aesthetic is to [paint] over things. It comes from my graffiti days. I just paint over [the work] until it makes sense, and all that layering gives a depth to the piece that I find appealing."
Yet despite his success, Lugo said, "I ask myself, 'Do I have the agency to make the work that I do?' I ask myself, 'Why do I have the opportunities I do?' I think a lot of the challenges. Pottery lends itself to patience and a lot of detail—two things I'm not good at. People are looking for a refinement of craft, but I fail in a lot of those ways. My obsessions are different, [but] I'm working on it. It's a lifetime commitment."
Looking at the exhibition, Lugo appreciates that he is exhibiting next to Trenton and mentioned the city's history as a major world ceramics producer.
While he hoped that connection would stimulate interest, he also bet on something bigger.
"One of the great things about this exhibition is the 20-foot-tall vase," Lugo said. "Usually, I make a vignette on one. But people can walk into this vase and be the vignette in the pottery and become part of the artwork. Part of the art is having people interact with it. It becomes about people remembering the big pot, not the artist. I never had the opportunity to make a piece like this, bigger than human size."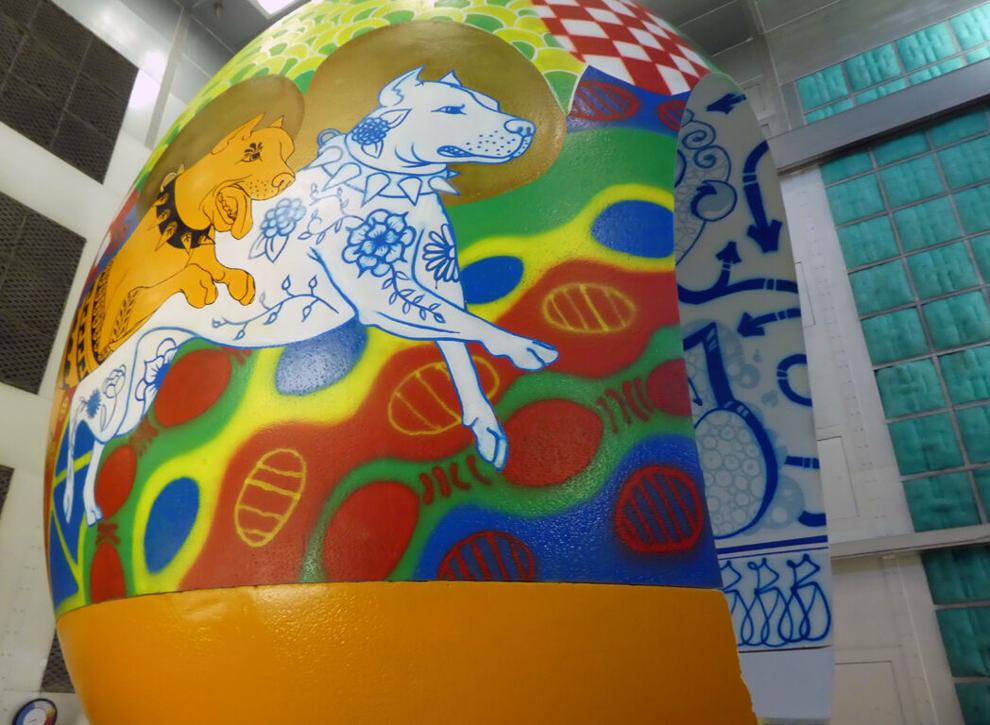 Lugo shared one final thought: "I really hope that this exhibition makes Black and Brown communities feel that there is art here that connects with them. I hope to be a bridge and make connections. Going into any space and gallery can be intimidating, but going into any space where there's familiarity can be less so."
Roberto Lugo: The Village Potter. May 22, 2022 to January 8, 2023. Wednesday through Monday, 10 a.m. to 5 pm.
---
Grounds For Sculpture, 126 Sculptors Way, Hamilton. Call 609-586-0616 or visit the website at groundsforsculpture.org for more information.
Current Admission Prices: adults (ages 18+), $20; seniors (ages 65+), active military/veterans (ID required), healthcare workers (w/ ID), $15; students (ages 6-17 or w/ ID), $10; children (ages 5 and under), members, free.