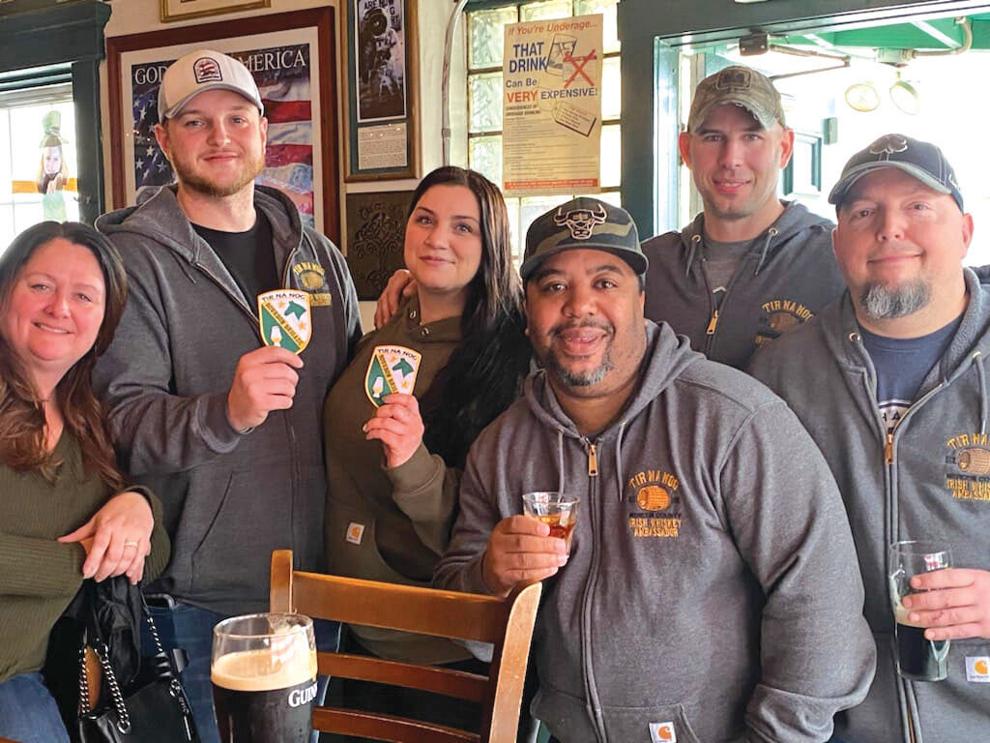 With a basting brush of whiskey and water, Todd Faulkner informally blessed his patrons, most of whom were there to celebrate a non-denominational "communion" as part of the Irish pub Tír na nOg's successful 'Whiskey Ambassador Club.' Each person walked out the back door, then used the alley to come back around through the front, ringing a bell to signal their victory over 32 types of carefully-curated Irish whiskeys.
Faulkner's mixture of "holy water" wished the ambassadors a safe St. Patrick's Day at the March 6 event, where just shy of 50 attendees helped commemorate the club's milestone. Faulkner presented each person with a token, the ceremony itself a tongue-in-cheek, symbolic representation of an Irish Catholic custom close to his heart.
As the pub erupted into a party at the Trenton bar, customers completed additional tiers of the liquor lineups, even piquing the interest of newcomers who joined in on the celebration. The 102nd ambassador was honored, the number leaps and bounds over the March edition of Six09, where Faulkner said that 91 customers had officially become ambassadors—in less than a month since, though, more than 100 have risen to the challenge.
"It's created a lot of new customers, and it's been a fantastic run. I hope to keep it going," Faulkner said of the initiative. "I'm beaming with pride."
Faulkner and his wife, Maureen, have owned Tír na nOg since 2012. The gathering was a timely culmination of the program's accomplishments, and a sign that the idea, which had been fully realized during the pandemic, was a worthy investment.
The earliest stages of the club's concept started about five or six years ago, back when Faulkner, browsing the liquor section of Wine Enthusiast Magazine, came across a whiskey trail highlighting four Scottish distilleries.
He thought that a similar idea could work for the country behind his own business, but set in America instead. Tír na nOg's tastings would have been a way to give customers a true taste of Ireland, yet Faulkner waited until the timing felt right.
Faulkner renovated the bar area when Tír na nOg was closed from March to late September in 2020. In November, they were finally ready to begin the long-awaited program, elevating a collection of 10 whiskeys to the final 32. The number is not insignificant or random, but a nod to the number of counties in Ireland.
For Faulkner, who is always "shooting from the hip," as he maintained, the name for members of the club came from a representative of Kilbeggan Irish Whiskey that helped run an event at Tír na nOg. The pub took on the title with their signature Irish flair, debuting the 'Tír na nOg Irish Whiskey Ambassador Club.'
Those who finish receive the title of 'Tír na nOg Irish Whiskey Ambassador,' as well as a Carhartt hoodie bearing a logo specifically designed for the club—both the honor and the apparel can only be attained through earning them, because Faulkner is unwavering on not making the "prize at the end of the rainbow" available for purchase.
The high supply and demand, Faulkner remarked, meant he almost could not keep up with the interest in the coveted club. As of press time, nearly 400 people have signed up.
It did so well, Faulkner continued, that they had to add multiple tiers with other incentives, such as badges for the hoodies. The second tier is the 'Chief Whiskey Officer Club,' which includes eight more whiskeys of Irish and American origin. The third tier is the 'Bourbon Brigade,' comprising eight kinds of the namesake liquor. Both tiers are given corresponding C.W.O and B.B. badges.
The fourth tier, expected to be available for eligible ambassadors sometime in April, will be a 'Pacific Whiskey Fleet' featuring Japanese and Taiwanese whiskeys. Victorious customers will collect the 'Tír na nOg Pacific Whiskey Fleet Challenge coin' to mark their accomplishments.
On the anniversary of the first official inductees in 2021, New Jersey recognized Nov. 13 as 'Tír na nOg Irish Whiskey Ambassador Day,' naming every inaugural member in a statewide proclamation. The document acknowledged Tír na nOg for "navigating through the uncertainty of the Covid-19 pandemic" with a true Irish spirit.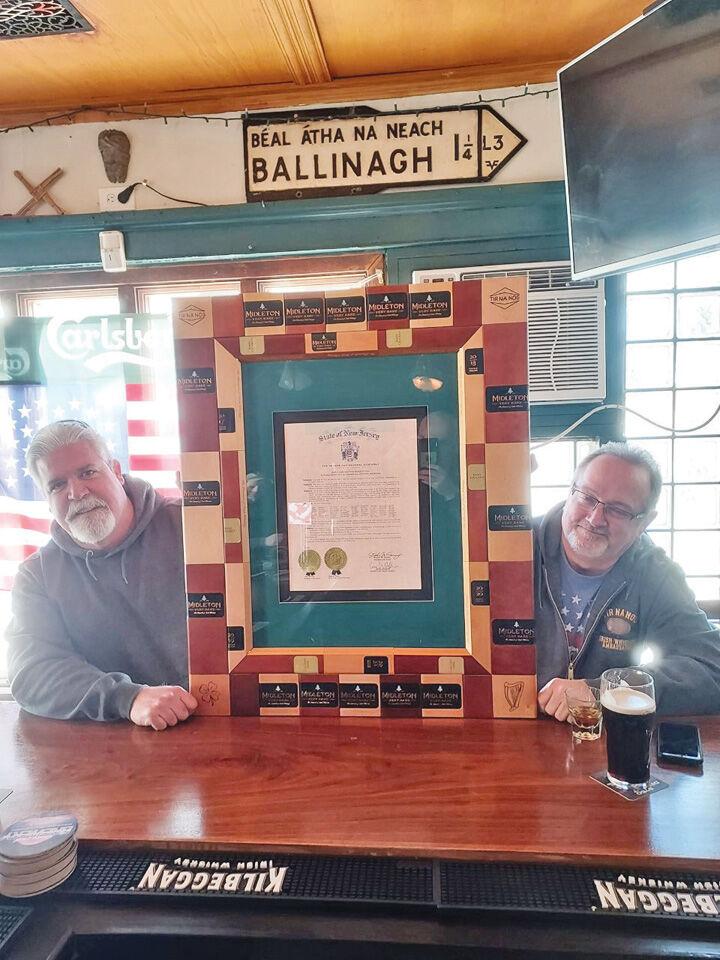 While there are lingering requests for a club centered around other liquors like scotch and tequila, at the moment, Faulkner is focused on preparing the 'Whiskey Hall of Fame,' a system of the highest honor where two members will be inducted each year.
After finishing three tiers, customers order a Midleton whiskey and earn a 'ballot.' At a later date, Tír na nOg plans to announce the two people who received the most votes, giving the winners 'Hall of Fame' jackets resembling that of professional sports stars.
Rather than just the physical incentives, Faulkner is proud of the environment the club has created at Tír na nOg, whether patrons are playfully egging each other on or talking about whiskey preferences with fellow connoisseurs.
"People now know each other in the bar intimately," he said. "They might have had a common ground coming into the pub, but they have an even more common ground next to each other like 'hey, that's an ambassador.' It brings them together."
"Now I have relationships with every single one of these people," Faulkner explained. "You're serving them all the time, you have more and more of these conversations, so it means a lot to me. I think we have created a family within a family."
Peter Gallagher, a resident of Hamilton, met Faulkner at a local Irish festival. Gallagher was intrigued at his proposition of the whiskey club, as Gallagher confessed that he always has about seven or eight bottles of whiskey in his home liquor cabinet.
"I only drink one at a time. I like to really taste it and enjoy it," Gallagher said. "Even when I was doing the 32, I would do two at a time, generally, just because I wanted to taste it. For me, it was all part of just being with everyone and the banter, the camaraderie that everyone shares there. I think that's what made it really fun."
His personal favorite from the selection was a Jameson Caskmates Stout edition, which he immediately purchased for his own collection. At the party, Gallagher's daughter added her name to the list, the elaborate tasting process attracting people of all age groups.
"I leave there happy every time, I really do," Gallagher said.
Katie and Ray Gallagher (no relation to Peter) are husband and wife who currently live in West Windsor. One of their old traditions was to attend the Hamilton St. Patrick's Day parade, then head off to Tír na nOg with their children for a night of Irish music.
"It's such a family atmosphere," Katie Gallagher said. Since the business was one of the few places open in late 2020, the couple started going more frequently, eventually joining the whiskey club. Katie Gallagher's favorite is the Connemara, which she says is notable "because everyone else in the bar hates it," leaving more for her to enjoy.
Ray Gallagher, who prefers a Midleton whiskey, said that the "friendly competition" has turned the quiet spot from years ago into a formidable force in the neighborhood.
"It's a special place to us, and it always will be," he continued.
They are not the only people who feel that way. The bar was named the number one Irish bar in the state of New Jersey by NJ.com on March 16, one day before St. Patrick's Day.
Tír na nOg, 1324 Hamilton Ave., Trenton. Open 1 p.m. to 2 a.m. Monday through Friday; 4 p.m. to 2 a.m. Saturday; noon to 2 a.m. Sunday.