Spend a morning with organic farmer Jim Kinsel, and his wife Sherry Dudas, owners of an Ellisdale Road farm in Chesterfield, and you might agree with my daughter's conclusion after our visit.
"Mom," she said, "people think farmers just put seeds in the ground. They don't realize everything farmers have to know and do to grow food."
That observation is true, but what seems more true to me is this: Jim Kinsel is a modern-day Ben Franklin, using his farm in Chesterfield, as Franklin once used his New Jersey farm, to improve farming methods for fellow farmers in an effort to yield healthier and more abundant food choices for consumers.
Yes, that Benjamin Franklin–printer, postmaster, and diplomat–retired at the age of 42, leaving Philadelphia for a farm on the Delaware river in Burlington County. According to a 1929 research paper Franklin purchased the farm as an estate, but it became "a miniature experiment station." Franklin carried out "projects in drainage, in crop rotation, and especially in the utilization of the newer grasses and in liming and fertilization."
Many accounts about Franklin refer to him, as well as George Washington and Thomas Jefferson, as "the fathers of scientific American farming." The Rutgers College of Agriculture published a history of NJ farming in 1927 recounting a tale about Franklin's promotion of Plaster of Paris use for fertilizer. Franklin reportedly "chose a grass field along a much traveled highway, and sprinkled the plaster in the form of large letters 'THIS HAS BEEN PLASTERED.'" Rain soon washed away the white letters, "but days later, the letters stood out clearly" as grass grew in the place where the plaster had been.
Franklin lived on his New Jersey estate from 1748-1757 before being pressed back into government service. Now, about 15 miles northeast of Franklin's 18th century farming playground, one finds Kinsel doing much the same on his 118-acre, 21st century farm.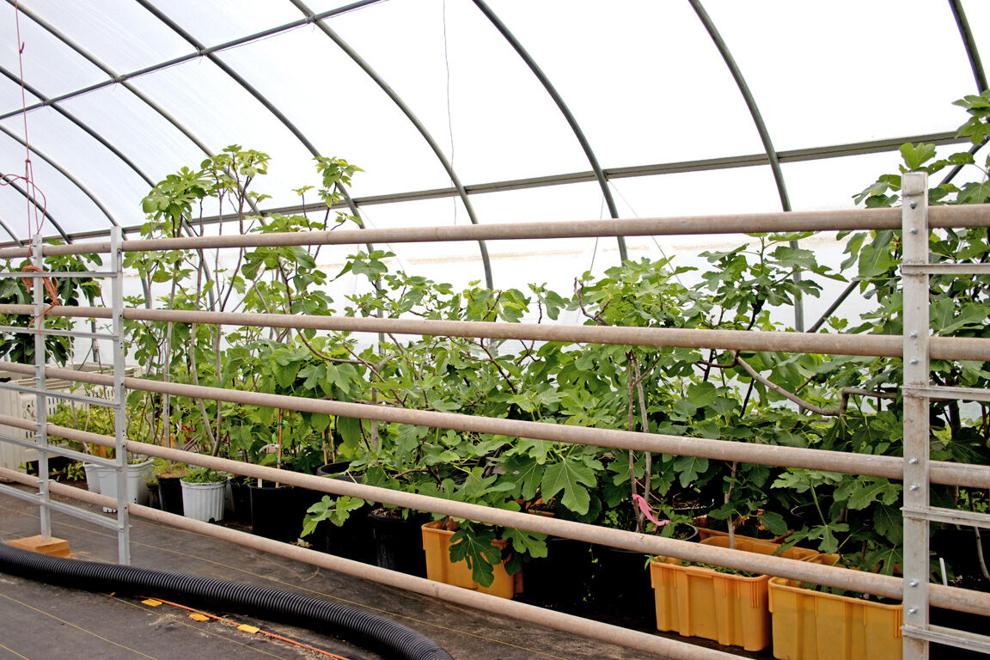 Like Franklin, Kinsel is exploring how to improve crop fertilization. He wants to plant unusual fruits. He is constantly thinking and learning.
For 30 years, Kinsel and Dudas worked the land at Honey Brook farm in Pennington, land owned by the Watershed Institute. When the agreement ended last year, the couple made the Chesterfield property their home farm. Honey Brook ran one of the oldest Community Supported Agriculture programs in the area, but support for the CSA dwindled. Kinsel says when he started as an organic farmer, people didn't have easy access to organic vegetables.
"The market has changed for organics," Kinsel tells me. "Now, organics are readily available. You have dozens of delivery services bringing organics and meals to homes. The support for local farms is waning. Losing money means selling a tractor, or going into debt."
So, much like Ben Franklin did during his lifetime, Kinsel decided to pivot and do something new.
"At some point," Kinsel says, "planting cabbage becomes boring." But Kinsel always found the community aspect of farming most rewarding. So the quest to continue farming with the community in mind led to a new adventure: Chesterfield Organic Orchards.
Our tour began at a compost pile. As an organic farmer, Kinsel has consistently made and used compost. But today, he is running a grant-supported experiment on two methods of composting. One is called ASP, or Aerated Static Pile composting, the other is called windrow composting. The grant was awarded through SARE: Sustainable Agriculture Research and Education, a program based at the University of Maryland-College Park.
Without getting too deep in the muck here, both methods involve creating compost mounds using manure and wood chips. Composting using the ASP method means those ingredients are piled over a piping system which can blow air into the pile to hasten the process. ASP composting can take a matter of weeks.
Windrow composting is more labor-intensive in that farmers essentially have to create long rows of composting material–the windrows–and then those windrows have to be turned by machine. This composting method can take 6 to 12 months to complete.
Kinsel's proposal aims to figure out which method of composting is most cost-effective for farmers to use. And there is no shortage of materials for his experiment. New Jersey has many small-to-midsize horse farms; manure is plentiful. Local tree companies deliver wood chips to Kinsel's farm. His initial results lead him to conclude that windrows is the better way to compost materials like manure and wood chips; the ASP method is suited to difficult to compost materials like food waste.
Leaving the compost pile behind—keep in mind the piping underneath—we enter a greenhouse where the temperature reads 76 degrees. But how is that possible on a day when the temperature is not much above 50? While the ASP system forces air into the compost pile, the warm air generated by the decomposition of ingredients can be sucked back into the greenhouse. Electrical cords run along the floor and a grid of pipes spans part of the room, all rigged up by Kinsel. The blowers are nothing more than what one would see being used to inflate bouncing houses for birthday parties.
The heating via the compost pile has captured Kinsel's imagination, but it needs tweaking. Kinsel notes the "heated air coming through the ASP plumbing is also very, very humid. We are now working on a way to dehumidify the heated air using a giant radiator made out of 2" X 40' aluminum irrigation pipe, which is slightly damaged and so unusable as an irrigation pipe."
Kinsel is either Ben Franklin reincarnated, or he channels Franklin through the compost pile. Kinsel laughs and tells me his dad was a physicist at Bell Labs. "So I was a nerdy type," he says. Readers can see the ASP process on the Chesterfield Orchards Facebook page.
Inside that very warm greenhouse sat an array of vegetation, all part of Kinsel's next farming experiment–fruit bearing plants, both trees and bushes, from many corners of the world.
Kinsel began with fig trees, what Dudas jokingly calls her husband's "new passion." Kinsel tells me about figbid.com, the Ebay for all things fig, and then gives me a brief history lesson.
He tells me today's fig tree varieties traveled to the US with immigrants from places like Italy, Greece, Albania, Turkey, Germany and Spain, immigrants who mainly settled in New York City and planted their trees in containers. Over time, through natural selection, people had trees which could withstand the weather in the Northeast.
"Figs are well suited to hobby growers," Kinsel says, "because you can grow them in pots and put them in a garage for the winter."
Kinsel is playing with 300 varieties of fig trees. He explains some trees need the fig wasp for pollination; but fig wasps don't live in New Jersey. Other fig tree varieties can produce fruit without fertilization, a process known as parthenocarpy. According to the Oxford English Dictionary, the word comes from Greek–parthenos, meaning virgin, and karpos meaning fruit.
One of the fig trees is potted in a macro bin filled with compost. Macro bins are large, white and square containers found on farms and usually moved with a forklift. The fig in compost looks beautiful and healthy while it soaks up the joys of this greenhouse sauna.
Alongside the fig trees sit two Asian pear trees Kinsel bought from the Kim Farm in Yardville. Also in the greenhouse, an array of fruit bearing plants including buckthorn, persimmon, pomegranate, pawpaws, Nanking cherry–a tart red berry often used in jellies and pies, Chinese melon berry–a fruit which resembles a raspberry, honeyberry which is found in Japan (haskap) and Russia (zhimolost), goji berry, jujube, and a berry from Ukraine and other parts of Eastern Europe and Western Asia called the Cornelian Cherry–a variety of dogwood with either yellow or red berries, also used to make jams and pies.
"Part of our mission," Kinsel says, "is to introduce these crops to the public–new varieties which they can grow in their backyard and without pesticides."
Kinsel hopes his fruit groves will be open for pick-your-own opportunities. He also hopes to sell trees at some point. Additionally, Kinsel intends to grow Asian chestnuts and unusual varieties of beans to be dried and sold.
But Kinsel hasn't bailed entirely on traditional crops. Neat rows of apple trees sit across the street from the 1710 farmhouse Kinsel and Dudas live in. Eight acres of asparagus will soon be ready for harvesting. And, there are rows and rows of strawberries which will be available in late May for customer picking.
"There is something very primal about strawberry season," Kinsel tells me. "Everyone loves their farmer at strawberry time; it's the best time of the year. Strawberries are the first sweet thing to pick!"
Beyond experiments, the planting of new crops, and the sowing of old favorites, Dudas and Kinsel will use the farm for teaching. As part of the SARE grant, Kinsel will instruct fellow farmers about composting methods, something he says traditional farmers are interested in given rising costs of fertilizer. On May 6, the farm will host a stargazing event so people can see the Eta Aquarids Meteor Shower, "one of two meteor showers created by debris from Comet Halley" reads the Facebook announcement which also promises "up to fifty meteors an hour!"
Dudas says the stargazing event is the first in her mission to use the farm for ecotourism. She hopes that in light of the fact that a warehouse is being proposed for the Old York Country Club site, people will leave the stargazing event understanding that light pollution often blinds people to the wonders of the sky. She also plans to host an event on Saturday, June 18, the day before Father's Day, inviting visitors for wagon rides around the farm.
Yes, there has always been much more to farming than planting seeds. Even Benjamin Franklin knew that 275 years ago. But perhaps it was Jefferson who summed up what Kinsel and Dudas know in their hearts. "Agriculture ... is our wisest pursuit," Jefferson wrote, "because it will in the end contribute most to real wealth . . . and happiness."