Despite losing last year to COVID-19 shutdowns after reaching the 2019 NJSIAA Group II state final, Bordentown High's softball team still had four solid starters returning this year in senior Hailey Cope and juniors Angelina Marino, Brianna Fischer and Sofia Peterson.
That in itself led to promise, and the addition of talented newcomers has helped turn that promise into results as the Scotties were 13-1 as of May 24.
The most important new face—if only because of the nature of the position—has been Allison Hoppe. In 65-2/3 innings, the sophomore pitcher was 8-1, having allowed just 40 hits and 25 walks while striking out 82. She yielded only nine runs (seven earned) in fashioning a 0.75 earned run average.
"She's been really consistent for the most part," Bordentown coach Nicole O'Leary said. "She's definitely taking the mound by storm and shown what she has. I think her composure and going out there and working hard every day in practice is big. She's continually making herself better and it does help that our younger group of girls all know each other so she does have some corral of comfort around her which could definitely help. Her sister's on the team so she had that little added sense of comfort that I think helped."
Oh yes. In case Allison isn't a big enough contribution from the Hoppe family, her twin sister Erin was 5-0 and had not allowed an earned run in 27-1/3 innings.
The sisters are part of a large nucleus of players from the Bordentown Bombers travel team, which was started by the Hoppe's father, Michael, when the girls were playing at the 10U level.
"My dad just started it up and didn't know a lot about softball, but he started working at it," Hoppe said. "He started learning as we were playing."
He apparently learned his lessons well, as Hoppe said all but four of the current Scotties roster are on the Bombers.
"It's a great atmosphere here and kind of calms my nerves whenever I go out there," Hoppe said. "We've grown up together, that definitely helps. And the older girls, with their experience, that definitely helps too."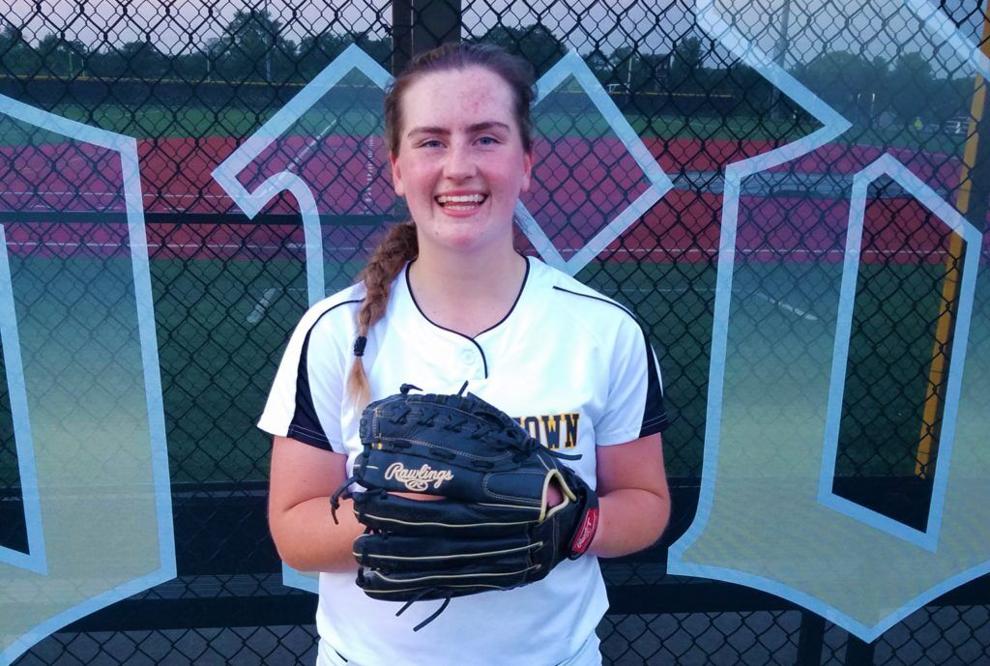 Aside from their leadership, the veterans are contributing statistically as well. Through 14 games Peterson led the team in batting (.412), RBIs (16) and runs (12) and Marino was batting .436 with a team high 24 hits and seven doubles. Fischer was at .370 with eight RBIs and 12 runs scored and Cope was batting .288 with five RBIs and nine runs.
Leading hitters among the first-year players are freshman Kaci Benton (.378) and Erin Hoppe (.319).
"Overall this team has exceeded a lot of my expectations," O'Leary said. "Taking a year off you don't get to see what the girls have done in that period of time. Are they still playing and practicing? Are they getting reps in? But they worked out every day and did some team bonding so when we got them in person they were that much more acclimated with each other and I think that helped. It's just a really great group of young ladies. They get along so well, they talk outside of practice and keep that cohesion which really helps when it comes into game time."
In softball, however, the biggest help will always be a strong pitcher, and Hoppe has certainly provided that.
She started in Bordentown Little League at a young age and began pitching at age 9.
"I wasn't the best pitcher," she said. "I just kept working at it. I would go to pitching lessons and throw with my dad on the side as much as I could. When I first started I was just throwing fastballs as fast as I could, and slowly I gained control of my pitches."
Hoppe began taking lessons from the late Jerry Herrera, one of the area's most renowned pitching coaches. Since Herrara passed she has been with Rachel Gagliardo for the past several years.
"Jerry taught me all my pitches," said Hoppe, who went undefeated pitching in middle school. "I didn't know how to pitch at all. Around 12U my hard work paid off. I started getting more innings in. I just kept working hard on my pitching, my spins."
As Hoppe began to learn more pitches, she said "My confidence started to get better. When a pitch was called, I knew I could hit the spot with it."
O'Leary is impressed with her hurler's arsenal, saying "She has six or seven different pitches. She moves the ball in and out, fast and slow. She just keeps it moving."
Like everyone else, Hoppe was distraught when last season was shut down. She did, however, see a bright side.
"It gave me the opportunity to work more on softball," she said. "We basically had full days to play softball. So we just went to the field, my sisters and I (she has sister in 8th grade), and we just practiced all the time."
It obviously helped make a difference.
"For having a year off and it being your first year in high school she's definitely exceeded my expectations coming in and getting the job done and doing it well and being a leader in that position," O'Leary said. "It's great to see for a sophomore who didn't get a freshman year."
One of the more impressive factors has been an increase in Hoppe's strikeouts from middle school and travel ball.
"I've always thrown a lot of strikes, I really don't know why I'm getting more this year," she said. "I think it's mixing the pitch calling and having a great defense behind me so I have confidence to throw strikes to certain spots and if they hit it, the defense will get it. But if they swing and miss that just works more to my favor."
Hoppe also credits Fischer behind the plate for being a big help.
"She does a great job of keeping me calm," Hoppe said. "She's just really energetic and really motivating. That definitely helps."
It doesn't hurt that Allison has her own mental toughness in the circle.
"That's something she came in with all on her own," O'Leary said. "She didn't have a year, per se, to pitch some games and learn some from upperclassmen. She kind of just came in and took it on and she's done really well with it.
"It was absolutely a concern not knowing how she's gonna do under pressure in these big games. You just don't know. But she's come in and held her head high, and she's worked. She's walked batters and come back and gotten strikeouts right after. She's definitely kept composure and worked through some tough innings with runners on and gotten out of different situations. She's definitely stepped it up."
And she has provided the main component all softball teams must have.