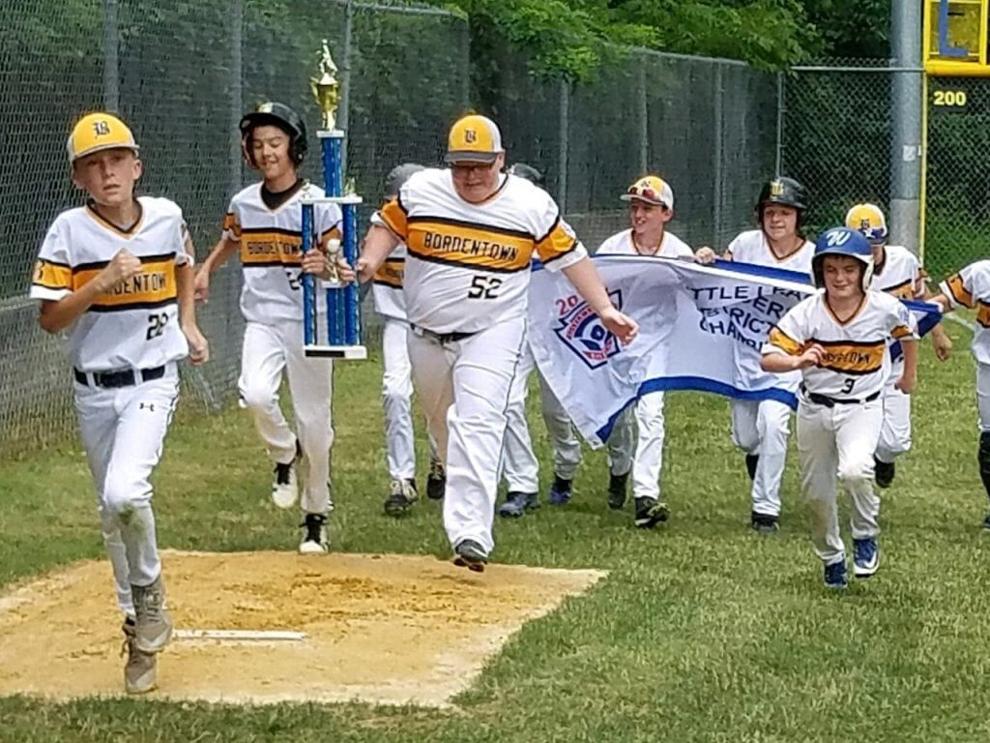 It was a five-year run like no other team ever made in the history of Bordentown Little League, and it certainly could not hurt the league's profile when it comes to bumping up enrollment.
The BLL 12-year-old All Stars went undefeated in District 12 this year to win their third straight district title, and followed that by reaching the Section 3 finals for the third consecutive year. The team's nucleus won districts and sectionals as 10-year-olds, claimed the districts again as 11s and pulled of the three-peat this year with a gutsy effort that saw them post the biggest comeback victory in the tournament. They nearly pulled off another in sectionals when they fell behind 6-0 after two innings, but loaded the bases with two outs in the sixth before losing 6-4.
"These kids were not afraid to come out and battle," said manager Brian Guire, who was assisted by Nick Carlini and Tim Dromboski. "It was phenomenal the effort the kids put in day in and day out at practices and games. Whatever happened they didn't give up. To get to the sectional finals three straight years, I'm not sure how many teams can say they did that."
Aside from the last three years, the group also won each of the tournaments they played in as 8- and 9-year-olds. With success comes recognition, and that is what little league programs across the nation need to battle the tidal wave of travel ball.
Ryan Forster, a board member for eight years, just completed his first year as league president and feels the 12-year-olds' success can only help the big picture. Forster does not hide the fact that BLL's enrollment has gone from 500 to 300 since he started, but that is still more than numerous other District 12 teams.
"I understand there's travel, I coach travel myself but I always make my son play little league," said Forster, whose 11-year-old son Andrew played with the 12s. "You're playing for your community, you're representing the town you live in, which is something really cool to do. Especially when you win. It can really help.
"Any team that wins, it's 'Oh wait a minute, this team must be really good; this league must be really good,' and then we're gonna get more kids to come out instead of sitting home playing X-box or something. They want to be part of this. Especially after seeing this group. We won it three or four years ago as 12s, which was great, that put us on the map. Now doing it again is even better. We're actually doing something right here and it's pretty cool."
It was been a group effort from a lot of people, according to Forster, who is a member of the Bordentown Police Department. He noted internal squabbling among board members is a thing of the past; BLL graduates that now play for Bordentown High and Post 26 come out to lend their support at games and also work winter clinics; and that the league has regained a strong relationship with the township.
"I have to give kudos to Mayor (Steve) Benowitz and our business administrator, Mike Theokas," Forster said. "They have helped us every step of the way. If I ask for something, we usually get it. When parents and coaches see that, they want to step up even more."
And that is a key factor with any little league. It all starts with adult participation; but it needs to be done in a positive manner.
"Some of the coaches and some of the kids do travel ball together, but when it comes time for little league they shut down the travel program and concentrate on Bordentown," Forster said. "Maybe other leagues don't do that as much and maybe that's why they're not winning as much. This shows their dedication to little league. There's so much behind the scenes that every league has to do, and these coaches and parents are dedicated to our league. It's great to see everyone come together."
Forster could not say enough about the coaches throughout the league and was especially impressed with how the 12-year-old staff handled their talented team.
"They were doing two-hour practices every day," Forster said. "I know a lot of leagues do that stuff, but how are you practicing these kids? The coaches got the best out of these kids all the time. They instilled sportsmanship. The kids got along, there was no inside stuff, never fights or arguments or anything. No 'I don't want to play here, I don't want to play there.' It was great to sit back and watch it unfold.
"And not only did the kids buy into it, but so did the parents. In a lot of leagues, parents will be like 'How come my kid's not playing? I want him playing here, I want him playing there.' But they were buying into what our coaches were doing. They believe there's something special here."
There certainly was something special with the 12-year-olds, whose roster featured Luca Mannino, Luke Guire, Nick Dromboski, Nick Filipponi, Nick Carlini, Cole Clugsten, Jake Bartlett, Danny Catrupi, Anthony Dziubak, Josh Guire, Andrew Forster, Connor Collora, Chris Mirabelli and Ryan Wood. Josh Guire, Wood, Bartlett and Forster will all be back next year.
Bordentown opened districts with a 12-2 win over East Windsor, then held on for a 9-8 victory over Nottingham after amassing a 9-0 lead. That was followed by the game of the tournament for BLL, when it fell behind 7-0 to West Windsor only to charge back for an 8-7 victory.
That set up a memorable battle with Sunnybrae, which needed to beat Bordentown twice in order to claim the title. With the game tied 3-3, the skies opened in the sixth inning and everyone had to return the next day. Mannino ended it in the eighth with a walk-off single.
Brian Guire felt that title was the biggest one of them all for his group.
"This was what these guys were talking about," he said. "This is what they were waiting for."
Bordentown dropped its Section 3 opener but battled back with three straight wins to reach the finals once again. Their resilience throughout the tournament was not lost on the league president.
"I've coached little league, travel and Babe Ruth, and these kids were probably the best group of kids I've been around, along with some of my travel kids, they're dedicated too," Forster said. "These kids believed in their coaches and what they were trying to do. They showed tremendous heart. You could never count them out. That would have been great if they came back and won that (sectional game), but they definitely have some good baseball coming up in their lives."