While "dynasty" may or may not be too strong of a word to use, "promising" is certainly a good description of the Bordentown Bulldogs 115-pound football team.
The talented group of 11- and 12-year-old players won their fourth West Jersey Youth Football League (WJYFL) championship Nov. 27, taking a 27-0 victory over Belmawr in the playoff finals.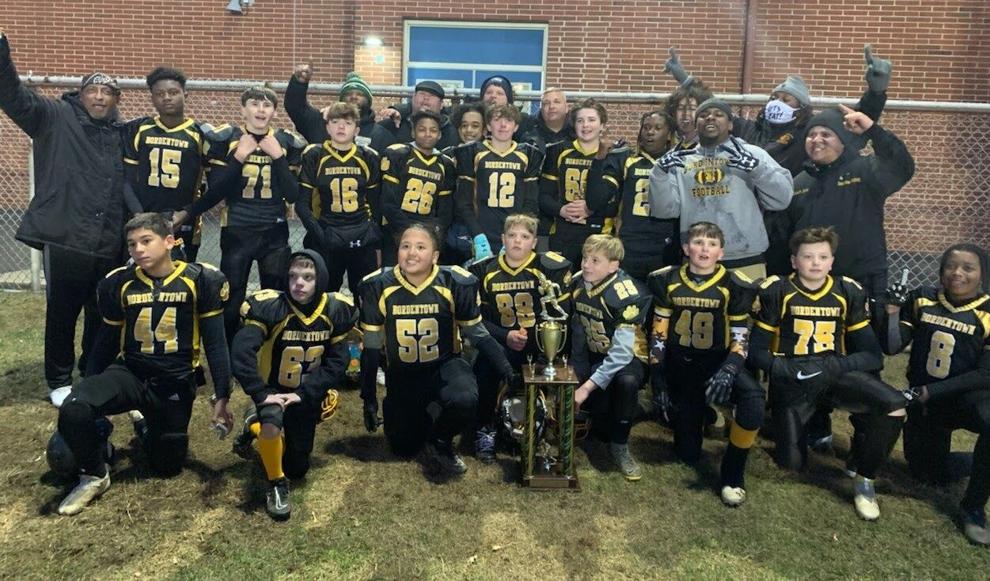 It marked the fourth WJYFL championship in the past five years for a group of which 90 percent of the nucleus has been intact since it came together as 7-year-olds. Under coach Thomas Lee, Bordentown won the 85-pound league crown in 2017 and took the 100-pound titles in 2018 and 2019. After falling in the 115-pound finals last year, they reclaimed their throne by finishing 9-1 this season.
It was a group that Bordentown High School varsity coach Skip Edwards watched with great interest, since they are potential future Scotties.
"I had the opportunity to see them play Robbinsville in the (playoff) semifinals," said Edwards, whose own team went 10-1 this year. "I came away impressed with the players, coaching staff and the fans. The Bulldogs were impressive from the start to the finish."
Bordentown allowed just six touchdowns all season, with three of them coming in a 19-18 victory over Northern Burlington. Its lone loss came to Lawrence when several players were missing after having contact with Covid 19 sufferers.
With the Bulldogs sterling history, this latest success did not come as a surprise.
"To be honest, going into any season the goal is to win it all," Lee said. "It's not to make the playoffs, not to have a winning record but to win it all. Every time we step on the field we expect to win, every time we lose, the whole city is down, the fans are down."
The Bulldog players were Thomas Lee (CB/QB), Connor Peters (S), Tahj McCrary (LB), Terril Tift (RB/LB), Xzavier Torres (DE), August Cassidy (DT/OT), Nick Cucchiaro (S), Gregory Stainaker (TE), Jadin Perez (OT), Jordan Carthan (RB), Aidan Peters (DE), Connor Bramley (LB), Gabe Fresco (OT), Jazeer Oliver (OT/DT), Pierce Peters (OT), Jaxon Raynor (DT), William Buddenbaum (S), Jumari Glover (RB), Jose Santiago (WR) and Ty Brabrook (WR), who unfortunately missed the final two games with a concussion.
It was a group with few weaknesses.
"We had everything," Lee said. "We teach three things – be physical, play disciplined and don't have penalties, and be conditioned. We condition hard. That was our three mottos, if we do all three stages of the game we could dominate any game."
And did they?
"Most of the games were blowouts," Lee said. "The game against Northern Burlington was probably one of the best games I ever coached in; that was a close one. And we lost to Lawrence in overtime. They were the only close ones."
When it came down to the playoffs, the Bulldogs couldn't be touched as they beat Robbinsville 32-12 in the semifinals before recording their seventh shutout against Belmawr.
"We play very physical on defense," Lee said. "We had a stout defense. I'm talking about hard-nosed defense in the playoffs. The championship game is supposed to be the best of the best and we didn't give up a point."
Offensively, the coach estimated that Bordentown ran the ball 60 percent of the time and passed it 40 percent, which is a high number by youth standards.
"We threw the ball a lot this year, we were like the (Super Bowl champion) Rams in 1999 – the Greatest Show on Turf," Lee said. "We had a quarterback (Lee's son Thomas) who could throw the ball and we had receivers that could catch it. It threw a lot of teams off this year because a lot of the teams in this league run 99 percent of the time. And I was surprised, we were throwing the ball downfield, throwing straight fly routes and corner routes."
Lee started with this group of players when they first came together in 2013 as 5-year-old flag football players. The coach was not predicting any future championships at the time.
"When I took them as little kids they couldn't even tie their own shoes or buckle their own chin straps," he said. "Some were crying, some didn't want to play. I have watched these kids grow from boys to become little men. I have watched kids who didn't want to play who want to play. I have watched kids who didn't want to run the ball who want to run the ball. I have watched kids who could not catch the ball, period, to learn how to catch.
"I also see kids who didn't know the plays. They couldn't see the holes on offense or the gaps on defense, and they learned the whole offense and how to run plays. At first we were calling left, right, left right. Now we actually call the plays and everybody knows where to line up."
Lee did not coach the team its first year as 85-pounders, but has been with it for the four championships since. This past summer, many of the team's players attended Bordentown High's youth football camp.
"Our coaches were impressed with the athletic ability of the group," Edwards said. "Observing the team against Robbinsville it was clear we have talent coming up in the future. The backfield of the Bulldogs is skilled and their offensive line worked as a unit. What that means for the Scotties is talent is starting to come from the feeder program. It now becomes imperative for the players to stay in Bordentown when they become high school players."
Lee would love for nothing more than that, as he proudly noted several players he formerly coached helped the Scotties this season.
He was quick to pass around credit, saying "it was a big team effort."
"I want to give a shout-out to all my (six) assistant coaches, they did a great job," said Lee, whose team moves up to 140-pounds next year. "A big shout-out goes to President Phil Allen, he worked with me a lot; and a big shout-out to the parents for trusting me with their kids during this period of Covid. They could have sat the kids out. Football is a contact sport, you have to touch somebody, so for them to trust me with their kids and their lives means a lot to me."
Lee returned that trust with yet another championship. It's a dynasty at the youth level, and a team of promise for the future of Bordentown High football.