In a spring high school sports season where few coaches know what kind of talent they have returning due to last year's COVID-19 shutdown, Notre Dame's Joe Drulis is among the fortunate when it comes to pitching.
The Irish are set with their No. 1 and No. 2 starters, who are both right-handers, both hail from Bordentown and will both pitch in college.
Gavin Martin returns as a three-year starter and will be the staff ace, while Josh Petrone looks like a solid No. 2 man after having a strong summer season with the Sportika Gallagher travel team. Martin is headed for the University of Massachusetts and Petrone will pitch at Stockton State.
"They're both great kids," Drulis said. "They're respectful, they get it. They understand as pitchers you're gonna have ups and downs and you gotta weather the storm and worry about the next pitch. You've gotta have the memory of a goldfish, which is 15 seconds."
There are some things they would like to remember, however, considering their track records.
For instance, Martin wouldn't mind recalling this season's opening-day start on Apr. 20, in which he allowed two hits, no runs and two walks while striking out 10 in four innings as the Irish beat Steinert 13-2.
Martin has been known as a hitter for most of his career, and won the Mercer County American Legion League's Rookie of the Year for Bordentown Post 26 as a sophomore. Much of that was on the strength of his hitting, as Gavin won the league batting title.
But he has come on as a hurler the past two years.
Stuck behind some outstanding pitchers as a sophomore, Martin pitched just 7.2 innings and allowed one earned run despite giving up eight walks.
When last season got shut down, he focused on pitching over the summer with his New Jersey Niners club team out of Manasquan.
"He just exploded over the summer," Drulis said.
"My coach with the Niners really helped me with my training and mechanics," Martin said. "Turns out I've got a lot of velocity on my fastball and a lot of movement on my curveball."
But he's hardly done developing his mechanics.
"I always feel there's always someone better than me so I've got to keep working," Martin said. "Just having only a fastball is not gonna beat teams, so I have to develop other pitches. I'm coming into this season with confidence but you always gotta work hard."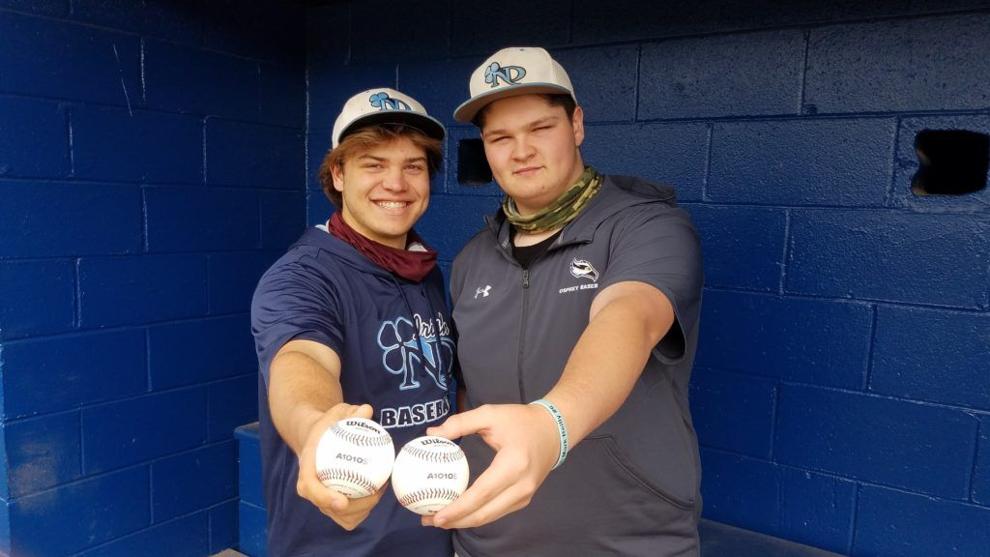 Drulis was pleasantly surprised when Martin returned this year and his fastball topped out at 92 miles per hour.
"He's just gotten better and better," the coach said. "He has an excellent curveball, and an outstanding change-up. He's got the whole package. That's why he's going to a Division One program, because he's such a good pitcher."
Martin credits his Niners coaches for getting his name out to college recruiters. He also received attention from St. Joe's, Richmond and Davidson before accepting an academic scholarship to UMass. There were no baseball scholarships available due to the seniors who missed last year returning for their extra year granted by the NCAA.
"That really helped," Martin said. "My parents always said academics would help you out and since I was young I focused on academics. UMass has a good business school and I want to be a business major and be part of sports management. So I feel they can give me a good education, and that's important."
Gavin began his baseball career with the Hamilton Little Lads and continued with the Hamilton-Northern Burlington Babe Ruth program, which he helped get to a World Series. His first year with a Bordentown organization is when he had his standout rookie year with Post 26.
"I knew a bunch of the older kids and just knowing everybody on the team helped me out there," Martin said. "And the coaches were awesome. It was a really fun year."
It ended early for Martin, however, as he had to leave for Louisiana to play in a high-level tournament with his travel team.
"I missed most of the playoff games," he said. "That was tough, after playing all season with both teams. I love both teams and it was hard to make a decision, but I had made the commitment to go to Louisiana."
Martin will do more than pitch this year, as Drulis loves his bat.
"He's a heck of a hitter," the coach said. "He'll play some first base to save his arm when he's not pitching, and can play third as well. He's gonna be our number three or four hitter. I think once he gets to Amherst, they'll take a look at his hitting and maybe he'll do a little of both."
They wouldn't have to twist his arm.
"I would love to," Martin said. "Hitting is something I've done all my life. I never was really a pitcher, but with everything going on I'll take what I can get. I love pitching; I also love hitting."
Either way, playing D-1 baseball is a dream come true.
"I'm very excited," Martin said. "It's what I've worked my whole life for."
Petrone has been working hard as well and is anxious for his first varsity season, although he got a little taste of it in last summer's Last Dance tournament.
"Josh was a little green behind the ears as a freshman and he just kept getting better and better," Drulis said. "He had a really good sophomore year with the JV and we were looking for some good things from him last year before the shutdown.
"He was good as a sophomore but we went 24-2 that year and had a lot of really good pitchers. It was a loaded staff so he was on JV and did really well. He's got a good two-seam fastball and four-seam fastball, and an excellent curve. He's not afraid to throw any pitch at any time. He's a very confident pitcher.
"He just has that pitcher's mentality. He's tough. He's a bulldog."
Petrone began playing in the Bordentown Little League before moving to Sportika Gallagher. After paying his dues at ND for two years, Josh was dismayed when last year was halted.
"It was rough, it was difficult to take for a while," he said. "But once we heard about the Last Dance tournament, we got really excited. We got together, got some practices in. I was really excited to finally get some innings on the varsity mound and be able to show what I've got."
Martin really showed what he had with Sportika Gallagher, which was where he caught the eye of Stockton coaches.
"I did a perfect game tournament where they saw me and ever since then they were interested in me, and started to come to my games and watch me progress over time," said Martin who plans on majoring in Hospitality, Tourism and Sports Management at the Pomona-based school.
"I got to see him a few times in travel ball," Drulis said. "He pitched one game at Arm & Hammer Park and looked great. He had an explosivefastball, a very good curve. He struck out a lot of batter with his curve, and he has a good change-up. He has a whole repertoire of pitches, I'm sure he's chomping at the bit to have a good year."
The hurler won't disagree with his coach as to his best pitch.
"Definitely my curveball," he said. "I've been progressing over the years with that and trying to get more break and make it less loopy."
Both pitchers are just happy to be in the Notre Dame loop with each other, since their paths never crossed on the baseball field while growing up. Nor did they go to school together, as Martin went to Bordentown and Petrone attend St. Raphael's in Hamilton.
"It's cool we ended up going to Notre Dame together," Petrone said.
"He lives in the neighborhood right across from mine," Martin said. "We knew of each other, but we never really played with each other until we got to Notre Dame. Now I can talk to Josh about mechanics or anything I need help with; or if I think he could use a tip to help him in the long run I can tell him something."
Aside from what they bring to the team, Drulis appreciates the players as people.
"On top of everything," he said, "they're just great kids."