The Bordentown Regional School Board unanimously voted in favor of the campus plan proposal starting in the 2018-19 school year during a Dec. 13, 2017 meeting.
The plan involves the reconfiguration of the three district elementary school in order to deal with issues of class size and resources for special needs students.
The campus plan will expand Peter Muschal School, currently a pre-K to third grade school, into a pre-K to fifth grade campus. It will also combine Clara Barton and MacFarland Intermediate schools into one Bordentown City K-5 campus.
The problems of overcrowding and special needs resources were noticed over the last year and were then discussed at three public forums in October. Four proposals were developed by the administration for alleviating these problems: the Princeton plan, the K-5 school plan, full redistricting and the campus plan.
A survey was then sent out to district parents and faculty regarding their preferences for the plans, and the results were recently tabulated and published by superintendent Edward Forsthoffer in his recommendation to the board. Based on over 900 survey responses, there was a clear preference from parents and faculty for the campus plan.
Both groups of voters favored the campus plan over other alternatives, and it received 54 percent of the total vote. Parents that voted for the campus plan indicated the strongest opinion for their vote, with an mean of 3.75 out of 4, although faculty voters had a lower mean of 3.58.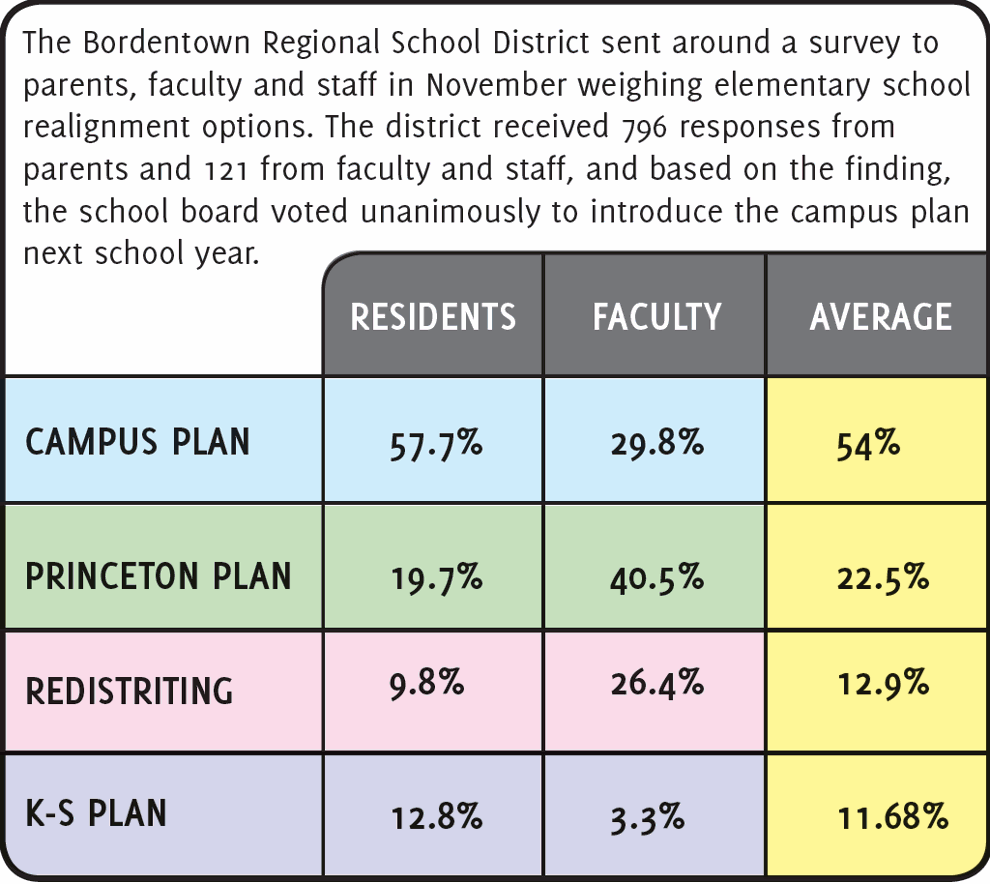 After analyzing the statistics, Forsthoffer remained mostly in favor of the campus plan, as it "met our objectives while removing some of the detriments of the other plans," he said. "Utilizing the campus plan enables us to correct an imbalance that exists with our population of children with special needs and creates a more balanced number of students across the district. The other plan that we looked at increased the number of transitions that our students would need to go through between kindergarten and twelfth grade."
As board president Stephen Heberling summarized, "aside from being the plan that the community appeared to want, [the campus plan] resolved the issues that led to us looking at this change while being less disruptive to a majority of our students."
School administration, such as CBS principal Louisa Kenny, also had a positive view on the plan. "Yes, the campus plan is going to address the program imbalance at Clara Barton and will provide an opportunity for a shift in class structuring," she said. "My initial reaction to the choice of the Campus Plan is that a change was needed in order to serve the students of Bordentown, and this plan will help to build community and school ownership for our students while equalizing programs and creating less movement from elementary school to elementary school based on program needs."
The district faculty and administration believe that the plan has various benefits. Heberling mentioned that "by having PMS being approximately the same size as the two school campus, we should be better able to equally allocate our resources," he said. "It also allows us to keep our special education students in a 'mainstream' environment with their neighborhood friends, offering them the best possible environment for learning and development."
The plan is also expected to be cost-effective. Forsthoffer mentioned that there should be no "major budgetary impact on hiring. We were already planning on modest increases in special services for next year, so that will be incorporated into the plan." Kenny added that there are minimal physical and staff changes needed and resources will mostly be moved around to accommodate the plan.
'…by staying focused on the needs of our students, we have met our obligation to the community and can feel confident in our decision.'
However, the campus plan is not a panacea and will require additional considerations. For example, there is still a need for some redistricting.
"In the end, we would like to have a balance between Peter Muschal and the Bordentown City campus so that there are approximately 570 students in each," Forsthoffer said. "We are currently working on new boundaries and sending areas and this will cause worry for some of our families if their child is redistricted to a different school.
"We are also paying special attention to the current fourth graders that came from PMS. Some families are concerned that, if their child goes back to PMS as a fifth grader, he or she will see that as a step backwards step back because it was their 'baby school.' We will be very conscious in creating an experience for all of our fifth graders so that they will not feel this way once they are in their school."
Forsthoffer reaffirmed that although there are possible obstacles, the district hopes implement these changes in "one step so that we are not dragging these changes out over the next several years."
Within CBS, Kenny believes that the school environment and culture will survive, and even thrive, with the new changes.
"The CBS staff are special and our new families will soon feel the community and personal care which is tendered by our teachers," she said. "We already have Kindness Cohorts, which meet as regular groups of K-3 students at least once a month for activities such as letters to the elderly or recognizing veterans. We look forward to extending our cohorts up through fifth grade as we become a campus."
Both Kenny and Forsthoffer mentioned that, given the significant history behind the two city schools, there is no official plan to change school names despite the new campus configuration.
Now that the board has approved the plan, Forsthoffer will be working with the administration to draw community boundaries, work on staffing assignments and organize the logistics for the upcoming year.
"Change is difficult," he said. "It would be much easier for me and everyone involved to leave what we have in place. However, that is not what is best for our children. We are making these changes to make a better school district. Children will learn in more authentic learning environments, and we feel this offers a better learning environment."
Heberling said Forsthoffer and the board had one motivation in mind throughout the process: the students.
"More specifically, the special education population of this district," he said. "We knew from the start that it is impossible to make everyone happy all the time, but by staying focused on the needs of our students, we have met our obligation to the community and can feel confident in our decision.
"Having attended PMS back in the '70s as a K-6 student and knowing the strong commitment the city residents felt about CBS and MIS, I had zero hesitation about the concept of the campus plan from day one. It has worked well for this district in the past and with a new focus on special education, it will work again."