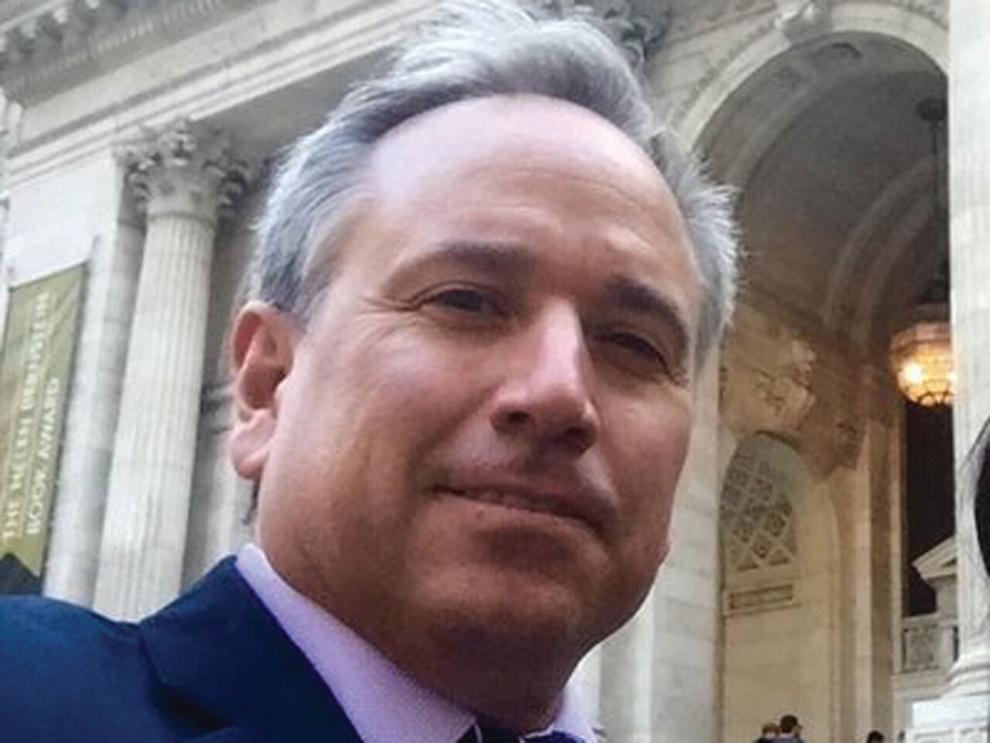 Modern housing complexes, new office developments and parks and recreation upgrades happen constantly in today's world. Even with new technology, it's difficult these days to connect us all efficiently through real estate while remaining visually attractive and environmentally sound.
There are professionals in real estate whose job it is to see that bigger picture and sort all of that complexity out: a talented and dedicated urban planner.
Charles Latini, who works as the township planner and zoning officer as well as the executive director of the Ewing Township Redevelopment Agency, is one of the key people in town whose job it is to visualize that big picture when it comes to land use planning.
But that's not the Ewing native's only role. He also serves as the president of the New Jersey Chapter of the American Planning Association–an 1,100-member organization of mostly licensed planners, which is focused on members doing training and continuing education. As a board, the NJAPA will respond to different pieces of legislation that relate to planning.
Latini, of Ewing-based Latini and Gleitz Planning, says that his efforts with the APA are a result of his passion for New Jersey.
At first, Latini was an athlete. He played football at Ewing High School before enrolling at Trenton State College (now The College of New Jersey). The oldest of four brothers, he transferred to Rutgers University after a stint at MCCC, and he discovered the field of study he's now so dedicated to
"My major was environmental planning and design. At first I wanted to do sports medicine. But I met a sound engineer while I was doing music photography work who talked about the environment and I started to gain a deeper appreciation for it," he says.
Latini feels growing up in an urban area and interacting with different communities and cultures that the level of acknowledgement of our impact on the world isn't as refined as somebody who lives more closely to nature or grew up on a farm.
"I started taking some environmental classes at Mercer. I focused on environmental science. I was dating a girl at the time who was at Rutgers and I looked at their environmental program, which is one of the best in the nation. And I was not happy with it," he says. "To be in the environmental science track you need to be completely schooled in mathematics and science and I'm more artistic in nature. I was frustrated," he says.
While he was looking through the course book one evening, he just threw it down and went out to do a photography gig. Upon returning he sat on the couch and the course book was splayed open on the floor to the environmental planning and design section, which sounded amazing to him.
"It was divine intervention," he says. "It's an intersection between the world, the environment and our interaction with it."
Latini lived in Manhattan for 10 years after college. That's where he started Latini and Gleitz with partner, Paul Gleitz, who specializes in park planning. They worked together at a firm very early in their careers, and had some things in common.
Like Latini, Gleitz, from Manasquan, is also the son of a retired postal worker. Latini was doing some work for New Jersey Transit's transit village program and then some freelance work back home for the Ewing Township Redevelopment Agency when Ewing Mayor Bert Steinmann called on him to help redevelop the old General Motors property.
Latini was going through a divorce at the time, so he decided to move back to the area—but not to Ewing. Instead he moved to Bordentown.
"My college roommates were all from the Chesterfield/Bordentown area, and one owned a bunch of houses in town here. He owned a house on East Burlington Street where I used to live. I grew my business here in Bordentown. I wanted to be back around home but I didn't want to live anywhere I couldn't walk to something," he says. "I need the restaurants, I need the bars. I need that quality of life. I don't like living in a car," he says.
After the move, Latini began to hone his focus on urban areas and their methods of connecting the people to the environment and vice versa. He asked himself some tough questions about what he could do as a planner to achieve that connection and how to best implement those ideas.
"I knew I wasn't a rainbow warrior and wasn't going to work for Greenpeace and chain myself to trees and save forests. But how could I make change, real change for the environment?" he says. "I realized I could turn it on its head and work in urban environments to create better places for people to live since all the infrastructure is there, the capacity is there—we're social beings to begin with—we can take pressure off the environs by creating better places for people to live and congregate.
"Now obviously, we eat up land because the population continues to grow, but if you do it responsibly, we can preserve the forests and the hills and the trees, which help us filter air and give us clean water and all the things we need in the cities."
Planning for a better future in real estate and urban living, as fascinating as it may be, is not without its frustrations.
Politics and bureaucracy are real issues, and when trying to juggle relationships with architects, engineers, planning boards, politicians, lawyers and the general community, it takes someone skilled in dealing with different personalities to navigate these necessary areas of interest. As presdient of the N.J. Chapter of the APA, he works to tackle many of these subjects.
* * * * *
In school, students are taught about architects and engineers, but not the role of the urban planner, which is as important if not more so than those other fields.
An engineer may deal with a parcel of land, it may be a big infrastructure project or several buildings on a development site, but the planners really are the ones in charge of laying out the game plan for the entirety of the community, or state, or nation for that matter.
How should towns be devoting the resources in town? Where does it make best sense for their parks? Should they be expanding their parks? Should towns put better design standards in their downtowns? Or even in those places that don't have a downtown, are there other opportunities for them to create more healthy, walkable communities?
And all this really takes a bigger picture view of planning while drilling down to the rules and politics that apply. This is the plan that an engineer or an architect is going to design a site to fit into. Therefore, the master plan an urban planner creates is probably the most important document that a city or town can have.
Unfortunately New Jersey has a lot of communities sitting on master plans that are fundamentally 30 or 40 years old, Latini says.
They've had some mandated reviews over time for reexamination reports, but if governing bodies don't enact zoning changes to adhere to the master plans, then the town is completely disconnected. The NJAPA has been trying to look at that, educating communities and elected officials on why they should be investing in planning.
"Through the bureaucratic process, if somebody comes in with a proposal and in that proposal is an idea that doesn't exactly fit, as I'm reviewing it I may see a better way," Latini says.
"The process becomes iterative and I can get creative with that property owner and suggest something that doesn't need to go to the planning board and it'll actually be a better project," he adds. "Or if you go to the board and do it an alternative way I'll be right behind you saying, 'This is better than what the rules would normally allow,' and the board, who are all busy part-time volunteers, will say, 'Alright well, we trust our planning professionals and good luck.' It's not as forward thinking as I would like, but it stays in balance."
Bureaucracy is frustrating enough, not to mention stodgy thinking. Latini says he won't go into a town that is not forward thinking or is stuck in some antiquated mindset.
Most of his interactions are with people of like mind, but politics still plays a giant part in all of his work. City or town governing bodies need to give the thumbs up or down in all real estate matters that involve large communities.
It's hyperlocal politics at its best. On a recent trip to Rome, his mind focused on how urban communities function and serve the community.
"Everywhere I go I think about my work. I can't not see work," he says. "It's always the relationship between the environment and the people working within it. In Rome, things are much tighter, much more walkable. You get to the other side of the city without incident as long as you watch out for the Vespas. Its hard to compare it to the States, because you're dealing with structures that are hundreds of years older and need so much more care than over here."
Latini is very enthusiastic and positive about what can be achieved through real estate by connecting neighborhoods to shopping areas to parks to offices, whether it's his birth city of Trenton, the former Ocean Spray site in Bordentown or the General Motors property in Ewing, which is now being redeveloped as the mixed-use Ewing Town Center, a project that he had a major role in guiding.
"We've been thinking about the GM property as a walkable venue, a place people can gather and community events can take place," Layini says. "We can have a food truck festival or a concert and create a sense of place with a pedestrian-first approach. My travels in general have led me to plan for people first, not developments, not for parking automobiles, but for people," he says.
Latini says he is also excited about the the Ocean Spray redevelopment project. Danny Popkin, the owner of the site, operates a business called Modern Recycled Spaces, which takes old, industrial buildings and converts them into cool, hip urban spaces.
The Ocean Spray factory is mostly brick with corrugated steel additions and some other industrial elements. All the historic pieces will get buffed and restored. There will be a brew pub and makers village on the property, which will occupy most of the space.
There will be a custom baker from the area who also does parties who'll occupy part of the site, and a yoga studio too. It'll add a couple of floors of housing on the property as well.
Popkin also developed the Studio Park area on East State Street in Trenton. Trenton is where Latini sees his biggest urban planning ambition being fulfilled.
"I'd like to see the rebirth of our capital city fully realized," he says. "A place for everybody, not new development that pushes everybody out, but real unity for the city of Trenton."
"I've been talking with folks about getting more involved. There are so many assets," he adds. "Things are disconnected, the most being the people. Everybody wants to come in and announce themselves the king of a project. And that's been disheartening over the last few years for me. Not everybody can do everything alone. You need other people. You've got to set your ego at the door and work towards a more altruistic goal. I think if that could happen — and I'm encouraged by Trenton Mayor Gusciora—I think we can take what we've got and figure out how to implement it."