It wasn't hard for Kara Parker to see that her teachers at Bordentown Regional Middle School needed a break. Or at least a treat.
With help from her mom, Raquel, Parker raised enough money to buy two boxes of Girl Scout cookies for every staff and faculty member at the school last month. That evolved into an effort to treat teachers across the district.
"I've been grateful for the staff at school because they've been working really hard throughout COVID," Parker said. "I thought, 'Why can't I get the teachers and staff some cookies so they can enjoy it?' Because they're working so hard."
She brought the idea to her mom, who decided to put some feelers out on Facebook—maybe some friends would donate a couple of dollars to help purchase a case of a few different flavors for teachers to choose from. Kara even purchased a few boxes herself to get started.
They ended up raising enough to provide two boxes for everyone at the school—96 boxes in total.
"Before we knew it, it blew up," Raquel said. "It was wonderful. A lot of families from Bordentown helped, but there were also a lot of people outside of town, people without kids, people without kids in Bordentown. I'm a teacher myself, and especially now during COVID, it felt good to see them be appreciated."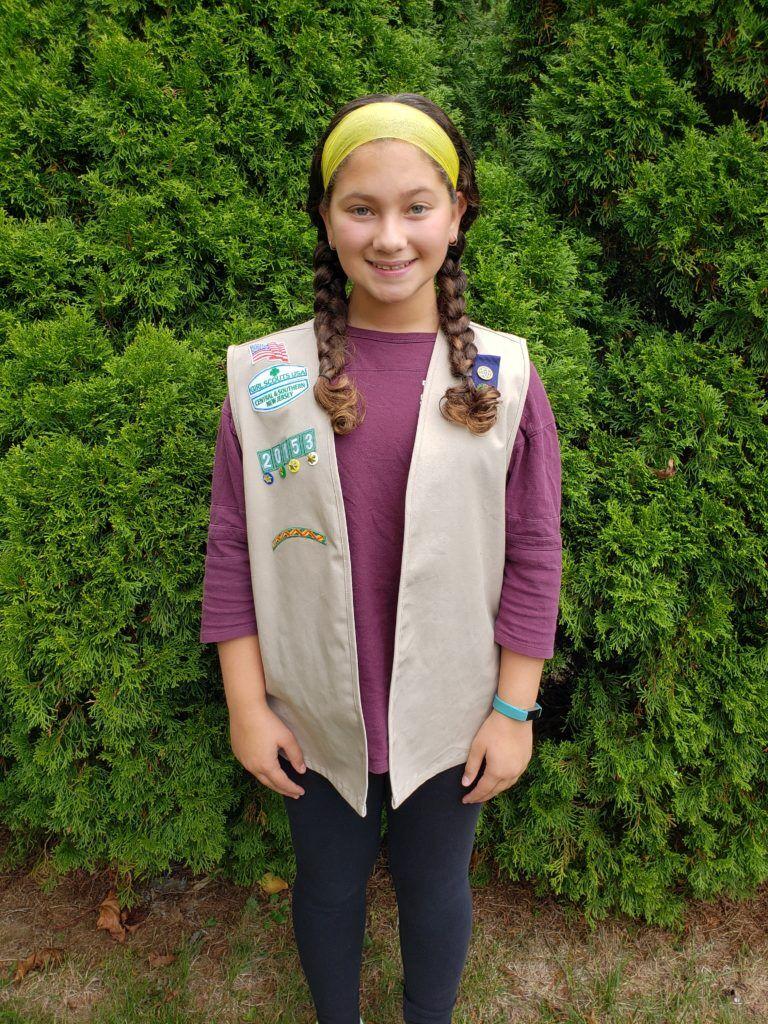 It was nice to help during a year that has been difficult all around, even for herself, Kara said.
"I would log into my online classes and some of my teachers would say 'Thank you,'" she said. "It felt good to know they were happy to get the cookies."
And teachers all across the district felt the same—because of Kara's idea, other local troops were able to donate treats to the rest of the BRSD schools, Raquel said.
The cookies are close to Kara's heart—she's a Girl Scout herself. She's currently working on her Silver Award project, which she was set to start last year but couldn't because of the pandemic. Her goal is to head a community American Sign Language club, but she's starting with one at BRMS.
It was a natural fit—Kara's father teaches deaf students, and she attended the Marie Katzenbach School for the Deaf for three years herself. The club is on the school board agenda for this month's meeting, Raquel said.
"That inclusivity that comes with adding ASL all over the community is important," Raquel said. "It's great for everybody. We weren't sure that we would get enough mentors, but almost everybody wanted to help in some way or another."
Kara is a member of Bordentown Troop 20153. Adjusting to virtual scouting has been tough—most activities are typically held in person in a normal year—but the troop is making it work. They still do community service projects, like baking brownies for the unhoused and working with seniors living at CareOne.
"We did a 'chocolate walk' where we went around the sidewalk around the building and drew pictures for them," Kara said. "On Halloween, some of us dressed up in costumes and marched around outside. We made cards for Thanksgiving and adopted a grandparent for Christmas."
They've also donated items for different projects and do community service whenever they can—and whenever it's safe.
"It's been mostly virtual, but we do things to keep them busy," Raquel said.
Outside of Girl Scouts, Kara is the founder of Project Bolsa, a nonprofit organization that converts old T-shirts into environmentally friendly tote bags.
"Why can't we just take old T-shirts that we don't want to wear anymore and turn them into bags for shopping?" Kara told the Current in 2019. "So, one night we all got together as a family, and we cut a bag. We tried it out, and I was like, 'This is really cool.' We started putting stuff in it, and it held everything. We started making more and more and asking for more donations, and we finally got really big."
She collects shirts, any size, for the bags. To make the bags, she starts by folding the shirt in half lengthwise. Then, she removes the sleeves, followed by the stitching in the neck and waist. The final step is cutting the bottom of the T-shirt into even strips and tying them together one-by-one to form a supportive base.
There is no sewing required. All shirts are donated, and any money the organization receives goes toward purchasing supplies, like scissors, or is donated to Motel Meals, which helps provide food for families living in local motels.
She started the project as part of her Bronze Award, but she has sustained it over the last few years. Project Bolsa is a staple at local events, where Kara gives away bags for free—she has partnered with Mimosa Goods, the Bordentown City Green Team, the Bordentown Library and the Bordentown City Farmers Market. She was also able to sponsor the Bordentown Green Fair in 2018.
Kara was even honored for her efforts in 2019—she was nominated for Sustainable South Jersey's #FindOurGreta contest, which honored young eco-warriors who embody the spirit of Greta Thunberg, the 17-year-old Swedish climate change activist. Kara ended up placing second in the contest.
It's been a little tough to keep up with it over the last year, she said, though the bags made an appearance at the farmers market last summer.
"We didn't want to spread germs," Kara said. "This summer, we'll come back. It's still going strong. It just looks a little different."