Top soccer players know that if they want to become the best they can be — and stay that way — they must train, day after day.
When 10-year-old Allie Fasanella decided last year that she was going to compete in the Elks' National Soccer Shoot Grid Goal Contest, she knew she would need to train like the pros. So she did, and the work certainly paid off — as Fasanella finished with the best score in the nation.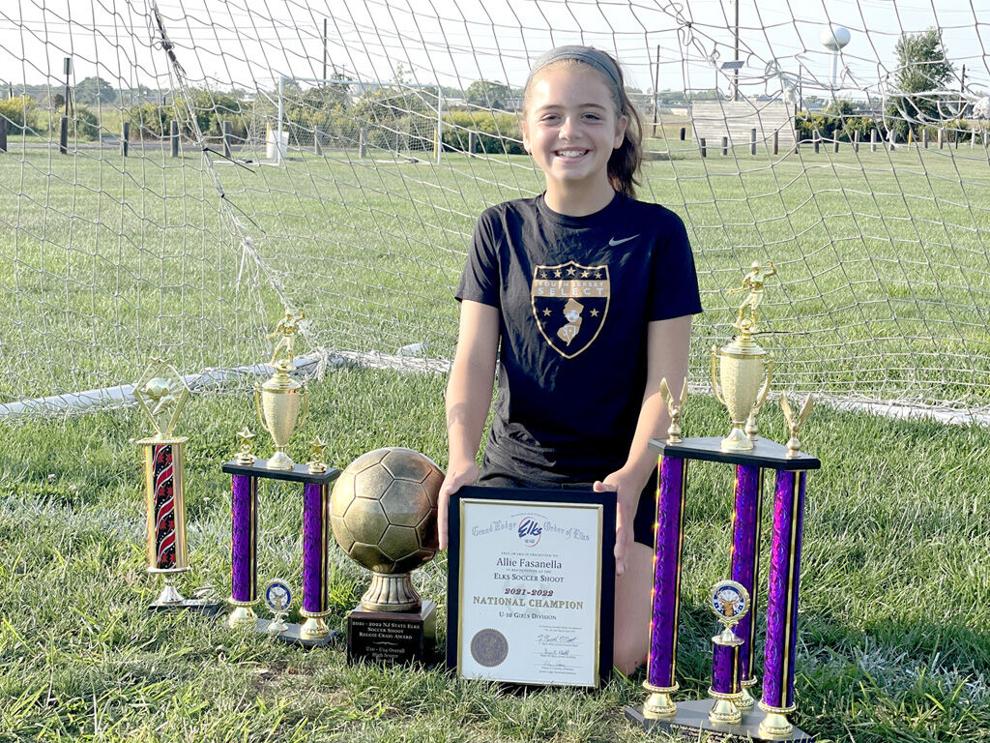 Started in 1997, the Elks' National Soccer Shoot Grid Goal Contest is an annual nationwide event. Local Elks lodges invite youth contestants in various age groups to compete to make shots into a regular soccer goal that is divided into sections.
Shots made in some sections worth more than others. Shots made in the upper right and left hand corners of the goal, for instance, score the most points, while shots that enter the net along the ground score the fewest. After each contestant takes all their allotted shots, the scores are added up, with one winner named for each age bracket.
Fasanella was the winner of the U10 girls bracket last September when the Bordentown Elks Lodge's held its local Grid Goal contest at Friendship Field, That sent her through to the district competition, held in New Egypt in October.
District winners were invited to compete in the state championship held in January in Manasquan, where Fasanella won again. That advancing her to the regional championship, held in York, Pennsylvania in March — on her 10th birthday, as it happened.
Again she finished with the best score and was named champion of the Mid-Atlantic region. Then finally in July, after scores from the champions of all the regional contests were tabulated and compared, Fasanella learned that she had the best score in the country — not just for the U10 age group, but in fact across all girls' groups, from U8 to U16.
Last year was not the first time that Fasanella had entered the contest. She also competed the year before, but did not advance past the local competition.
She says failing to win on her first try motivated her to work harder with the goal of entering the contest again. This work involved regularly taking shots into a net that her dad, Anthony, set up in the family's Bordentown Township backyard.
Fasanella estimates that she averaged a hundred practice shots a day, with the aim of getting at least 50 shots a day into those high-value top corners. "I remember one day, I hit the top corners like 60 times," she says.
When she is not winning national trophies, she plays travel soccer with two teams at Bordentown FC (formerly Bordentown Community Soccer Association): the 2011 Renegades, a boys team (Fasanella is the only girl on the team), and the 2010 Lightning, a girls team. Born in 2012, Fasanella is playing up for both teams.
She says she tends to be more aggressive playing against boys than against girls. She plays as a central midfielder or forward for both teams.
In the summer, she was also selected to compete in the South Jersey Summer Select 2012 girls team, where she also played in central midfield and was the team's leading scorer.
A student at Peter Muschal Elementary School, Allie comes from a Bordentown family through and through: her parents, Pam and Anthony, both grew up here, and her grandparents and great-grandparents still live locally. She has a younger brother, AJ, 8, who also plays soccer for Bordentown FC.
She says she wants to be a professional soccer player when she grows up. But as for looking to repeat as National Soccer Shoot Grid Goal Contest champion again, she says she's not sure if she will make another run at a title.
"Maybe I will do it again," she says. "It was just so stressful and so much work. I think I might do it again, but I don't really know."